Hot Off the Press! May 2017
By Playtimes Contributor | 5 May 2017
The hottest happenings around town! Loads of entertainment happening in Hong Kong in the coming months – much  loved children's characters like Geronimo Stilton, The Tiger Who Came to Tea, Dr Bunhead and even Harry Potter! There's a lot for grown ups too – Britney will be in town and so will Priscilla, Queen of the Desert and many more. Don't miss out, read Hot Off the Press! May 2017
What's On

6-7 May

Geronimo Stilton
The hero of the popular book series makes his first Hong Kong appearance at this fun stage show. Geronimo comes face to face with witches, dragons and gnomes while attempting to save the Queen of Fairies. www.hkticketing.com.hk

11-14 May

Dr Bunhead
Dr Bunhead turns science into a burning, bubbling, exploding ball of fun! Find out the answer to questions such as 'does your brain boil, or get sucked out of your ears if you go into space without a spacesuit' in Dr Bunhead's latest joy-ride through the world of science. www.hkticketing.com.hk

13 May

Indigo Living
Celebrate Mother's Day at the Cyberport Indigo Living store. The event features games, a child psychology seminar, kids room decorating tips, movies and more. www.indigo-living.com

14 May

Peter & the Wolf
Part of the popular HK Philharmonic family series, Peter & the Wolf is suitable for children age one upwards. In this children's classic, Peter ignores his grandfather's warnings and ventures out into the forest in the hope of finding the fearful wolf. www.hkphil.org

17 May

Surviving Summer
Summer can test the most patient of women. Add pregnancy, a new baby or being a mum of multiples to the mix and summer just got real! Midwife Sofie Jacobs of Urban Hatch offers practical advice in a talk at Bumps to Babes, Horizon Plaza. Eventbrite Registration

20 May

Philosopher's Stone in Concert
Audiences will relive the magic of the first Harry Potter film in high-definition on a 40-foot screen, while listening to The City Chamber Orchestra of Hong Kong perform John Williams' unforgettable score. www.hkticketing.com.hk

20 May

Snow King
Based on Hong Kong Players' Christmas panto, The Snow Queen, this mini panto is a musical entertainment starring seven young people with Down Syndrome who will get up onstage at Grappa's Cellar to share their talent and their endless enthusiasm. Tickets are available through Ticketflap. www.hongkongplayers.com

21 May

Kingdom Hearts
Uniting the worlds and characters of Final Fantasy and Disney to create a new thrilling mythology, Kingdom Hearts follows the adventures of Sora, Goofy and Donald as they rescue the world. The concert features more than 70 musicians and amazing HD video cinematics. www.hkticketing.com.hk
Coming Soon

2-4 Jun

Dragon Boat Carnival
Thousands of the world's top dragon boat athletes will battle it out in the dragon boat races. With cold beer and live music adding to the atmosphere, and interactive kids activities, it'll be fun for the whole family. www.discoverhongkong.com

2-4 Jun

The Tiger Who Came To Tea
The tea-guzzling tiger returns to Hong Kong in this family show packed with magic, sing-along-songs and clumsy chaos. www.hkticketing.com

3-4 Jun

Giselle
The National Ballet of China will perform Giselle, a classical ballet from the 19th century romantic era. Suitable for children over six years. https://ticket.urbtix.hk

6 Jun

Ping Pong Diplomacy
Ping Pong + orchestral music = lots of fun. Children will love this one-of-a-kind combination of classic sport and music, with ping pong players and musicians playing together live on stage. Just don't get hit by the ping pong balls across the hall! www.hkphil.org

16-18 Jun

Hong Kong Sinfonietta – Good Music For Kids
Featuring the lively music of the playful clowns, the tightrope walker, magicians, horses, lions and the ringmaster; your child's imagination will run wild. http://hksl.org

27 Jun

Britney Spears
She's sold nearly 150 million records worldwide and her cutting-edge Las Vegas residency, "Britney: Piece of Me," has been voted "Best Show in Las Vegas" and "Best Bachelorette Show in Las Vegas." Don't miss your chance to see her in Hong Kong. www.hkticketing.com

19-24 Sept

The Play That Goes Wrong
In this hilarious show, which received rave reviews in the West End and Broadway, a drama society puts on a murder mystery but, as the title suggests, everything that can go wrong… does!   www.hkticketing.com

29 Sept-15 Oct

Priscilla, Queen of the Desert
Based on the Oscar-winning hit movie, Priscilla is the heart-warming story of three friends who hop aboard a battered old bus named Priscilla, searching for love and friendship. www.hkticketing.com
Around Town
Le French May Celebrates it's Jubilee Anniversary

Inventing le Louvre
To celebrate the 20th anniversary of the establishment of Hong Kong SAR and the 25th anniversary of Le French May, the festival organisers and the Leisure and Cultural Services Department present Inventing le Louvre: From Palace to Museum over 800 Years – an exhibition which celebrates the diversity and richness of le Louvre's collection. Hong Kong Heritage Museum until 24 July. https://frenchmay.com

Nicolas Buffe Exhibition
Le French May introduces Tokyo-based French contemporary artist Nicolas Buffe in an exhibition featuring the artist's famous mural drawings, large-scale cut out sculptures and new works. Visitors will take part in the artist's magical adventure of love, battles and dreams. 4–29 May. https://frenchmay.com

Hong Kong's own toy story
If you've not yet made it to the Hong Kong Museum of History to check out The Legend of Hong Kong Toys, it's well worth a visit. Hong Kong was once the world's largest toy exporter and this exhibition showcases over 2,000 sets of toys (including Cabbage Patch Dolls and Transformers) which were either popular toys in Hong Kong or were made locally. There is also a play area and on 14th May a lecture (in Cantonese) on Parent-child play therapy at home. Until 15th May. http://hk.history.museum
GIVEAWAY*

Affordable Art Fair
Browse art from local, national and international galleries showcasing a wide range of contemporary paintings, original prints, photographs and sculptures. Maybe a piece will take your fancy?
We have 50 tickets to give away to Playtimes readers. If you would like to receive a pair of tickets, please visit our Giveaway page www.playtimes.com.hk/giveaway (and sign up to receive our online version of the mag while you're there! Just click on any front cover image on the site) https://affordableartfair.com

East Meets West
East Meets West is a solo exhibition by the "Godfather of Street Art", Ron English. Held at the Qube in PMQ from 6–14 May, the exhibition explores the pop prankster's billboards from the early years of the New York street-art movement as well as the in-depth world of POPaganda, then and now. www.popaganda.com
Food Glorious Food

Let There Be Cake
The Mandarin Cake Shop is offering a selection of homemade treats that make the perfect gift for any sweet-toothed mothers this Mother's Day. Choose from chocolate pralines, signature Rose Petal Jam, Fresh Mango Cream Cake, or how about this Rose-Shaped Jasmine Tea with Berries Mousse Cake ($498). For orders, contact The Mandarin Cake Shop on 2825 4008 or email mohkg-cakeshop@mohg.com.

Family Brunch at The Verandah
Toast the weekend with a family feast at The Peninsula's The Verandah. A dedicated Kid's Corner features
child-approved savoury bites (BBQ pork buns, soba noodles, finger sandwiches, assorted sushi, pasta salad, and cheese) alongside cupcakes, chocolate lollipops, candy jars, and colourful bite-sized pastries. There's also a fun range of props and costumes for children to try on for photographs at the themed backdrop. Available every Sunday and public holidays, $798 for adults, $588 for children. www.hongkong.peninsula.com

Eat, Play, Repeat Afternoon Tea
Head to WooBar at the W Hotel for a deliciously fun afternoon tea in collaboration with fashion brand Moschino. Sweet treats include a Moschino iPhone 7 case chocolate biscuit, a white chocolate high heel and a sponge cake in the shape of the Moschino signature tote. Savoury delights include mini miso lobster rolls and sesame tuna tartare. Available until the end of this month, guests can opt for an afternoon tea set ($481+10 per cent) or an afternoon tea buffet ($330 +10 per cent). Both include a miniature "Pink Fresh" perfume gift per person. Contact: 3717 2889 or woobar.hk@whotels.com

A Sky-High  Mother's Day
Ladies who join the weekend brunch at Ce La Vi during the month of May will be presented with a complimentary De-Stressing Gift Pack, courtesy of Aromatherapy Associates. And let's face it, we could all do with a bit of de-stressing! Ce La Vi is also hosting Moments with Mum brunches, featuring classic dishes with an Asian twist, every Saturday and Sunday from 6th May. The cost is $488 for food, with free-flow alcoholic drinks (including Veuve Cliquot) costing an additional $298. www.hk.celavi.com
In Other News

Feedi Bottle Log
Forget logging baby journals with pen and paper at crazy times of the night, Feedi frees you up for quality bonding with baby. Feedi is the first smart baby bottle dock that allows carers a fuss-free, paper-free way to track baby's consumption. Whether it's baby breast milk, formula, water or puree, Feedi automatically records consumption at a click. Simply slip the Feedi silicone bottom beneath your baby's bottle, and attach onto the Feedi dock before feeding. Time-stamped data on consumption is automatically synced to the Feedi app on your mobile and so will keep dad and other caretakers involved in real time. www.feedibaby.com

Fancy Winning a $10000 Shopping Spree at Bowerbird Home
Yes, you read that correctly! Bowerbird Home is giving away a sensational $10,000 Gift Voucher to spend on their stylish furniture and homewares. Sign up online at bowerbird-home.com and don't miss this amazing opportunity to feather your nest with a little love from Bowerbird. Winner will be drawn on 31 May 2017.

The Helper Documentary
How fitting for The Helper Documentary, a film directed by Hong Kong mum Joanna Bowers and two years in the making, to have it's premier in May – Helper Appreciation Month. On 14 May the documentary, which shares inspiring stories from some of Hong Kong's large migrant domestic worker population, will be premiered at the Asia Society as a private event but Joanna is hopeful that the film will be available in cinemas in Hong Kong by June. After that it will be available online via iTunes. Plans are also being finalised for a schools and corporate screening programme. helperdocumentary.com
GIVEAWAY*

Helper Appreciation Month – Win prizes for your helper
Do you have a helper that works incredibly hard and has a special place in your family? Why not nominate them in our prize giveaway to celebrate Helper Appreciation Month? Three helpers will each win a pair of cinema tickets to see the film of their choice, a $400 dining voucher for Delaney's and a 925 Sterling silver string  bracelet from Urban Jungle Jewellery. If you think your helper deserves to win, email a photo of them with your loved ones – along with a sentence telling us what you appreciate about them, to playtimes@ppp.com.hk. We would love to feature some of the candidates in the magazine and on our Facebook page as an extra 'thank you," although this is optional.
Shoot and Score at Football

HKFC Soccer Sevens, 26-28 May
Now in it's 18th year, the Soccer Sevens at the Hong Kong Football Club offers a fantastic opportunity to watch some up-coming football stars (past junior players have included Gary Cahill and Anton Ferdinand) as well as some veteran players (previous players include Peter Beardsley, John Barnes, Teddy Sheringham and Chris Waddle). Teams lined up for this year's tournament include Aston Villa, West Ham, Leicester City, Rangers, FC Seoul, Olympic Marseille and Bayer Leverkusen. Children under 16 have free entry all weekend, while adult tickets (available through ticketflap) are $160 per day for Saturday and Sunday or $300 for the weekend. www.hksoccersevens.com
GIVEAWAY*

Soccer Coaching Lessons  worth $3000
Sai Kung Bulldogs Football Club is offering the chance for five children or teenagers to win one-month of soccer lessons. Help your child build their football skills, fitness level and confidence in a fun, welcoming and supportive environment. Grasp the chance for your kids to improve, grow and flourish within Sai Kung Bulldogs – from UnderDog to TopDog. www.saikungbulldogs.com To enter, visit www.playtimes.com.hk/giveaway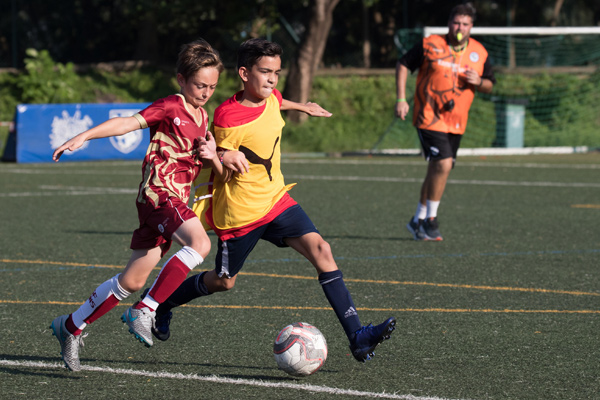 Be A Lion
The ESF Lions Football curriculum allows players age 5-17 the opportunity to develop their football, competitive and social skills. Enjoyment and fun are the main ingredients, with all coaches working to a programme that relates to the age and ability of the players attending. Players are assessed within their age group and placed in a group suited to their ability, allowing individuals to develop at their own pace. www.esf.org.hk

Real Madrid Foundation Clinic in Spain
How about travelling to Spain for football training in Real Madrid City, the greatest sports facility built by a football club? In addition to receiving advanced technical and tactical coaching, there is a tour of Real Madrid's Santiago Bernabeu Stadium and a number of sightseeing tours for the accompanying parents. Dates are 27th July  to 4th August, for information contact info@frmclinicshk.com.
Education Matters

New playgroups launching at ICHK
International College Hong Kong (ICHK) is launching a new programme of playgroups for children 0–36 months in September. The fun and interactive activities will be launched at the Tai Po school and will include toddler yoga, infant massage and sensory play, music and movement, outdoor learning and baby gym. There will also be Early Starters groups in English and Mandarin. Email: playgroup@ichkhly.edu.hk or visit www.ichk.edu.hk.
Playtimes Magazine's The School Book is OUT NOW!

ESF Applications
From August this year, application to year 1 and 7 at ESF schools will be through a 'one‑form' application system for ESF primary and secondary schools, including Discovery College and Renaissance College. Parents will only be able to submit one online application per child with their selected preference of schools. Details of the 2017/18 admissions process will be available at the end of June. www.esf.org.hk

Kindergarten Festival, 27 May
Tops Schools and Education Post are holding a Kindergarten Festival at Cordis Hotel in Mongkok. Head along to find about local and international kindergartens, as well as respected pre-nursery and playgroup institutions. en-kln.kindergartensfestival.com
Dates for the Diary
Malvern College Pre-School Hong Kong
Saturday, 6 May 2017, 9:30am–11:00am
www.malvernpreschool.hk
Malvern College Hong Kong
Saturday, 6 May 2017, 1:30pm–3:00pm
www.malverncollege.org.hk/infosession
Mount Kelly Hong Kong
11 & 20 May, 10.30am–12.00noon
mountkelly.com.hk/information-sessions
Shrewsbury International School
23 & 25 May, three sessions each day
www.shrewsbury.hk/Open-House-May-2017
Sign up for the
latest news and updates!