Reading Time: 4 minutes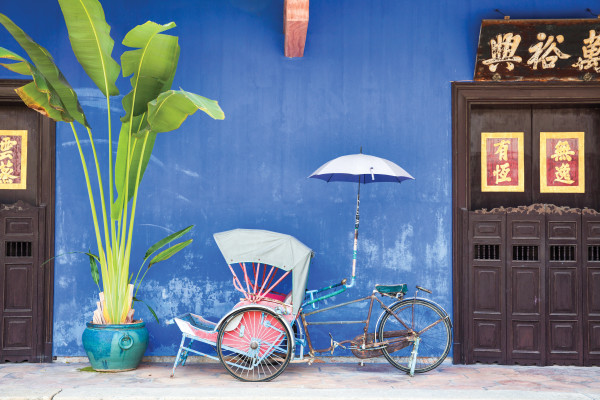 A rich melting pot of Chinese, Indian and Malay cultures meddled with a vivid colonial history create rich culture in Penang that's alive for all to see. A gastronomic playground famous for its hawker stalls, this vibrant destination offers plenty of play space for grown ups and kids alike.
The island space is easy to traverse, is well set up for tourists and is welcoming to them, although major sightseeing attractions are easily crammed into a few days. Mixed with lots of messing about at the pool and a few daytrips into Penang's capital city Georgetown or out to cultural activities in Batu Ferringhi, this is a destination best enjoyed nice and slow over a lazy week or as an easy weekend getaway.
Here are 10 tried-and-tested recommendations for things for families to see and do…
1. 

Travel in a trishaw
Hotels can arrange rides across Georgetown, and riding two-to-a-carriage is a great way to get around town and see the capital's major sights. Many guides speak English (although make a point of requesting this) and if you tell them what you'd like to view, will rustle up a route quick smart.
A half-day's tour of around three hours will get you to the clan jetties, where small communities still live in stilted houses on top of the water, a few of the historical sites, such as the well-preserved Blue Mansion or the Pinang Peranakan Mansion, where Hollywood movie Anna and the King was filmed, and a trot though Little India and Penang's quaint Chinatown, as well as a few choice hawker stalls. Streets can get traffic clogged in the weekdays but are far quieter on weekends. If you take a tour ending around dusk on a Saturday, ask to get dropped off near the buskers on Armenian street, and enjoy a pleasant stroll past iced snack sellers – or stop and sample one – whilst taking in the street-side performers.

2. 

Chase some street art
Since Lithuanian artist Ernest Zacharevic began painting scenes of typical local daily life on buildings in Georgetown, the artsy trend has taken off and is transforming the streets of Penang. Chasing down his beguiling murals, or the 52 iron structures that describe the streets where they are located, or even the lost cats in the series 101 Lost Kittens is a creative way to discover this wonderful city. Get a head start by heading to Armenian Street in Georgetown's Heritage Zone, where lots of art is on view, and follow up the rest by downloading a brochure at http://www.tourismpenang.net.my/pdf/street-art-brochure.pdf.
3. 

Splash-tastic!
Sub-tropical Penang has an almost year-long summer, and you'll feel the searing heat even flying in from Hong Kong. Opt for a hotel with a decent sized pool to calm, cool and refresh the little ones. Best bet is to head to Penang's beachy area at Batu Ferringhi. The Shangri-la's Rasa Sayang or Golden Sands are often the top picks for Hong Kongers, but Park Royal, which has giant slides, a wading pool and a kids' club, and all-time glamour puss Hard Rock Hotel are also good choices.
4. 

Ride the Hoho!
Not only does a ticket on this recently launched 'hop-on, hop-off' bus allow you to take in activities at whatever pace you feel up to, riding an open top double- decker is fun in itself for most kids. A City Route takes you past Georgetown's UNESCO status heritage gems, Penang's Botanical Gardens and Fort Cornwallis, which was built by the British East India Company in the 1700s. To hit Shamrock and Miami beaches, climb aboard a Beach Route bus. The double-deckers on this trip also chug past the hotels in Batu Ferringhi, up
to tropical spice gardens, a batik factory and the Straits Quay. Tickets can be bought on-board and you can opt for either a 24- or 48-hour pass, depending on your schedule.
5. 

Take a taste tour
If you stay at the hotel to eat, you are missing out. Penang is world famous for its street food, found in lively hawker centres or at food carts, many of them clustered in Georgetown. Tuck into a huge assortment of truly delicious dishes originating from the Chinese, Malay and Indian cuisines. Hokkien Mee, noodles in a prawn-based spicy broth, and Char Kway Teow, a dish of flat rice noodles with egg and shrimp, are national dishes, but popular orders for kids are chicken rice or the pancake-like egg dosai. Finish with sweet shaved ice desserts like Ice Kacang or Cendol for a cooling treat.
6. 

Occupy a street
Unlike Central, there are no yellow umbrellas. There are no cars either. Every Sunday 'Occupy Beach Street' legally closes the road to cars to offer activities for families, including street games, face-painting, magic, vintage shopping and, when in season, free durian tasting! There's plenty to keep young and old amused, but the action happens early so be there from 9am and leave as the sun gets its sizzle on around 11am.

7. 

Escape at Adventureplay
This mammoth eco-themed adventure park brings together rugged and rustic-looking rope courses, zip-slides, climbing towers and rubber tubing for wannabe wilderness explorers. There's nothing this comprehensive or spacious in Hong Kong, and as you cross a rope ladder slung between jungle trees, or take a 20-metre free fall, Escape Adventureplay feels like a real departure. Most of the 15 or so activities suit ages six and over, but there's a tots' trail and cubs' playground as well as some caving for littlies. Do go early. Everything happens here in lush grounds but temperatures soar as midday draws near.
8. 

Sniff, sprinkle and stir
Little chefs and their parents can try their hands at replicating some of that tempting local cuisine at the Tropical Spice Gardens cooking school, which runs sessions on Malay classics, hawker fare and Indian recipes, or just let your noses do the wandering. There are over 500 types of flora and fauna growing here, some particularly pungent, which can be discovered on day and night tours. The centre is welcoming to children and what better way still to introduce your children to than cooking delicious food. But cooking classes get busy, so make sure you book ahead to avoid any disappointments.
9. 

Take off!
Kids can let off some steam in the Golden Sands' Adventure Zone. The playground is open to residents and non-residents, and offers the usual mixture of curling bumpy slides, ball pools and climbing nets as similar parks seen in Hong Kong, but with a much bigger footprint. It's open until 9pm every day and, thankfully, air-conditioned, so if you are flagging after sightseeing and want to while away a few hours, this is the perfect place.

10. 

Horse around
Hire a cab and drive along Penang's west coast to the rural Sungai Burong and the Countryside Stables. Roads dotted with yellow signs lead you to a well-kept ranch housing 28 horses, including some cuter-than-cute miniature breeds. There's also deer and donkeys to feed beside the horses, and pony-mad kids can take horse rides or go for a spin in a horse-drawn carriage.