Reading Time: 5 minutesAfter living in Hong Kong for nine years, we recently found ourselves facing relocation to the US, and with it, the likelihood that once we leave, we probably won't be coming back to Asia too often. So we did what we imagine everyone does when this happens, and began making bucket lists – what things must we check off before we leave? Most of the list was repeating old favourites like eating good dim sum, hiking Dragon's Back, going to Ocean Park – but we realised there was one big thing that we had never done – we had never taken our daughter to see the Great Wall of China.
It is said in China, 不到长城非好汉 – You're not a true hero until you have visited the Great Wall. Well, we weren't going to take that lying down! So a quick trip was arranged, and off we went. In November. Not the best time of year as we knew it would be cold, and smoggy days would be likely, but needs must.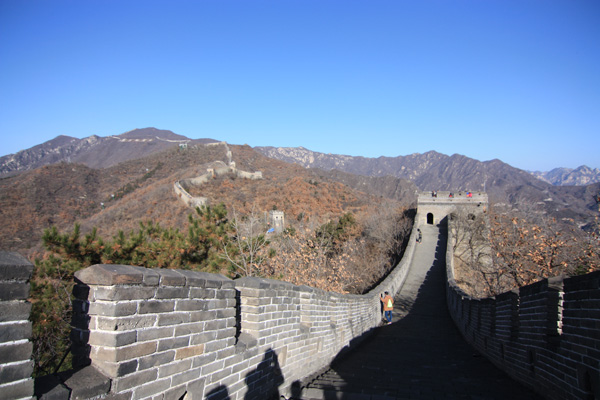 Friday
We took an early morning direct flight with Cathay Pacific, taking carry on luggage only for our three-night trip. We arrived in Beijing, cleared customs smoothly with no waiting and were at our hotel by mid-afternoon. We stayed at the Four Seasons in the Chaoyang district, a relatively new hotel that turned out to be surprisingly child-friendly – there were welcome gifts for our daughter and a personalised note welcoming her to the hotel. Small fancy cakes and a panda soft toy all magically appeared over the duration of our stay. It was the little touches that made it special.
Looking out of our 20th floor window, we took in the city-views of Beijing – and saw nothing at all. We all know the pollution in Beijing can be bad, but this was something else. Grey smog covered everything; you could smell it, you could even taste it. It smelt like horse chestnuts being roasted in tar, only there weren't any horse chestnuts. It tasted of sore throats and ash. We put all plans for the afternoon on hold, made arrangements for Saturday with our fingers crossed for better weather, and stayed in the room for the rest of the day. Not a great start!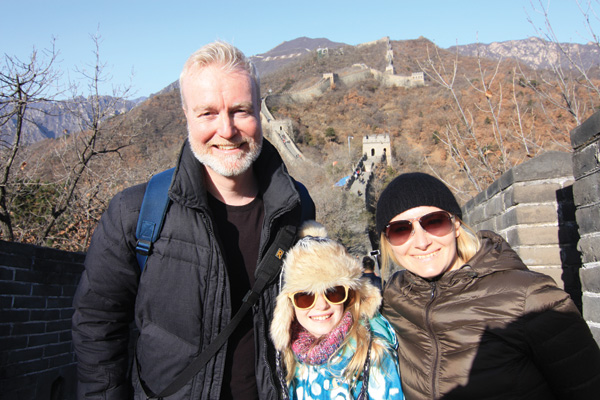 Saturday
Overnight there had been a persistent fine drizzle which, luckily for us, had served to wash the air clean. When we woke up, the sky was miraculously blue, and a glorious day was dawning. We counted our lucky stars. I can't tell you how happy I was that the murk of the day before had blown away.
We had arranged through the hotel concierge for a private car with driver and guide to take us to the Great Wall. While it isn't difficult to make your own way there using public transport, and it's certainly much cheaper to do that, we decided it was a no-brainer and to just suck up the cost. We chose to visit the wall at the Mutianyu section, which is further than Badaling, but significantly less crowded.
Arriving at the Wall, it was nice to see that the souvenir hawkers have been mostly cleared away or housed in modest shops, and there are now restaurants at the base if you want lunch. You take a chairlift up to the Wall itself, no need to climb mountains.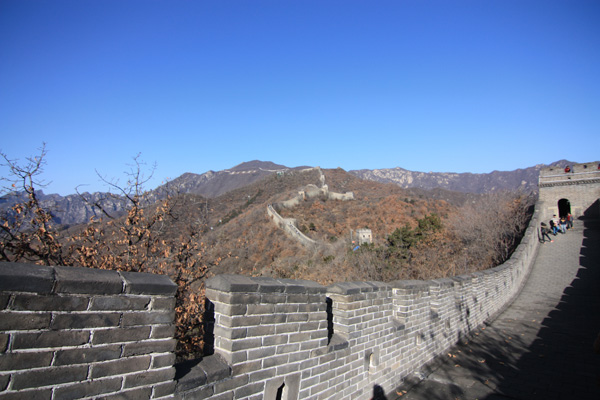 Walking along the Great Wall was amazing, the view of the Wall winding its way over mountain ridges and ever into the distance is quite awe inspiring. Our guide imparted nuggets of knowledge, and we learnt that the Wall has been built and rebuilt, extended again and again over many centuries, and is the labour of millions of men, many of whom ended up buried inside the wall itself as part of the foundations. Eeek! We were also told that the Great Wall is visible from space, which is a bit of a myth, but we just went with it.
Our guide came into her own when it came to taking photos. "Stand here, I'll take a good one of you for Facebook!" She knew how to use every camera, every phone. And really did know all the good angles for photos. The perks of having a guide! We walked the Wall, and it became a glorious photoshoot for Facebook, smiling and waving. I had to remember to look at the surroundings and take it all in, to forge those memories proper.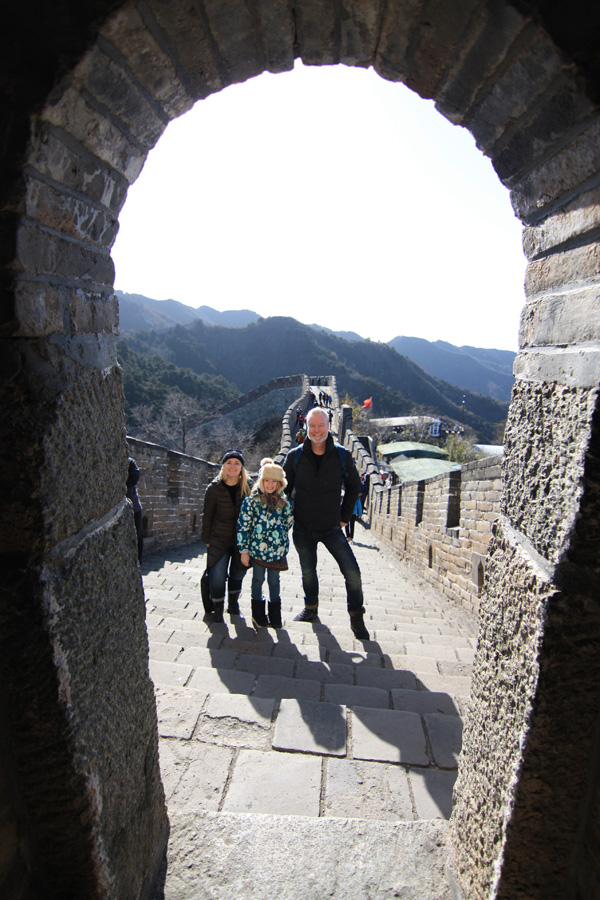 We spent about two hours on the Wall, taking in three castles. After that it all became a bit 'samey'. Coming down we took the toboggan slide, a fun way of getting back down, shooting along a steel half-pipe in a rickety plastic sled. You can control your speed with a built-in brake, but really, who wants to go slow? We went pedal to the metal, but in truth even the top speed feels quite stately, though it still managed to elicit an excited scream or two from our daughter.
On our route back from the Great Wall we stopped off at the Summer Palace. This was crowded with red-hat tour groups and rather confined. Perhaps the Summer Palace is better in the summer as, in November, it was too cool and blowy. We breezed through it and headed on to Beijing, to Hou Hai and the Hutongs, which sounds like a rock group but isn't.
The Hutong district around Hou Hai is one of the few remaining areas where traditional courtyard homes are still clustered. Many have now been turned into boutique hotels, and the main lake-facing streets have become busy with bars blasting live music into the street. It's a great area to walk around at night. We picked up some strawberry tanghulu (traditional candied fruit) and some deep-fried scorpions, because why not. Turns out fried scorpions taste like crunchy soy sauce.
Sunday
The morning brought greyer weather, but thankfully no return of Friday's smog. We headed over to Lama Temple, which is a mix of Han and Tibetan styles (not that I could tell the difference), lit some incense sticks for good luck, then moved on to nearby Wudaoying street for an egg and bacon breakfast in one of the cool cafes there with Beijing friends. Yes you really can get a proper fry-up big breakfast!
We took the metro to Tiananmen Square, which was very easy. If you can manage Hong Kong's MTR, you can manage Beijing's metro, so don't be afraid to try. Tiananmen Square itself is unremarkable and there is little to see, other than the front entrance to the Forbidden City. Make sure to pose for a photo with a giant picture of Chairman Mao in the background.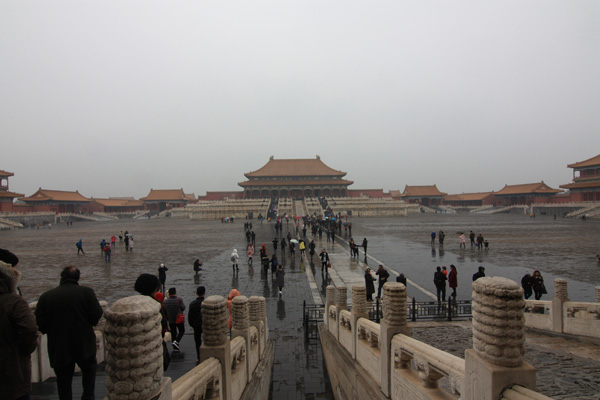 If you are going to visit the Forbidden City, you will need to pass through multiple security checkpoints, and then when you buy your tickets, you will be asked to show your passport ID. Uh oh… we did not do our homework, and didn't realise this was a requirement; our passports were back in the hotel safe. But luckily, we had our Hong Kong ID cards in our wallets where they always live, and the nice ticket person accepted these as good enough.
Walking through the Forbidden City you are, to use a cliché, transported back through time. I can only imagine how impressive it must have been when it was first built, because it is still pretty impressive by today's standards. Huge rooms, courtyard after courtyard, palaces, palaces and more palaces. When visiting the Forbidden City, walk straight through the middle, don't deviate to the edges. When you get to the gardens you are almost finished.
Getting a taxi at the exit of Forbidden City can be tricky, and taxis here play the no-meter game, offering outrageous prices as they know they have you over a barrel. Or, you can walk for 20 minutes like we did and get lucky waving down an honest driver with his light on.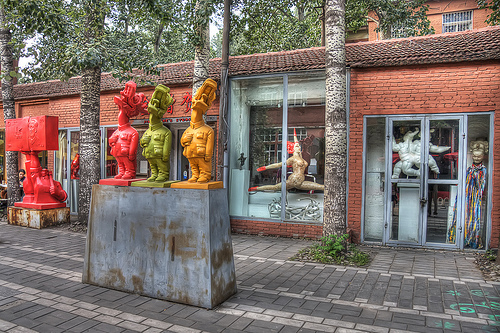 Using my most basic of Chinese language skills, I told the driver "qī jiǔ bā" and thankfully I didn't mangle it too much, as he promptly took off and delivered us to the 798 Art Zone, a former military factory district, that now houses galleries and artists in residence. You can check out the latest in Beijing's thriving art scene, and when your feet start to ache from walking, there are plenty of great restaurants to eat in or unique cafes for a coffee and slice of cake if you are peckish.
There's a lot to see in Beijing, but if you are selective about where you go and how long you spend at each place, you can cram it all in to two days, quite easily. Our feet were sore at the end of it, much walking was done, but I am glad we went despite the cold. We have all now walked the Great Wall, and we can leave Asia happy that we are all 'true heroes'!