Reading Time: 2 minutes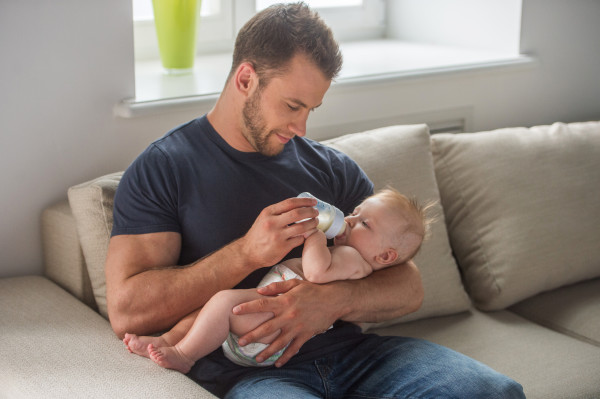 I'll tell you why men have great difficulty coping with newborns. Babies don't come with instruction manuals, unlike other cool, portable accessories. Guys need clear, detailed directions in a style they are used to.
So here they are.
Congratulations on acquiring Microswift Baby 0.1™.
Your Baby will give you years of fun if maintained properly. But first, take a moment to register. Click here to register now. Or click here if you want Microswift to send a representative to your home who will pop up from under the sofa at regular intervals to say: "NOW would you like to register?"
Be sure to read the following QUICK START instructions before using Baby 0.1. Failure to do so may void the guarantee.
Your Microswift Baby 1.0 comes in a handy container known as Microswift Woman 2.0. This container should be placed at a convenient working height. It is recommended that you use a soft surface such as a hospital bed, rather than a normal garage worktop. Woman 2.0 is inherently unstable and can react in an unpredictable manner.
First, take Baby 1.0 out of the container. In case of difficulty, you may use forceps. It is not recommended that you use other metal tools, such as a crowbar, screwdriver, or lobster-grip pliers.
The box will contain the following items:
Baby 1.0
Placenta
Umbilical cord
(If any of these three items are not present, please see your dealer immediately.)
Once Baby 1.0 is out of the package, it should switch itself on automatically. If not, pick it up and pat it gently on the pair of touch sensitive pads you find on the underside ("the buttocks"). It will immediately respond with a wah-wah-wah sound. This is normal, and should not be considered a fault.
Be sure to fully charge Baby 1.0 after unpacking. The charger is built into the container. On the upper side of Woman 2.0 you will find a storage device with a protruding jack, known as a teat. Two are provided on each container. Be careful to put it into the correct opening on Baby 1.0. The Mouth has a reddish outline. Warning: Your Baby 1.0 will not charge if the charger is connected to the Ear or Nostril.
A single charge can keep Baby going for several hours, however, it should be topped up at regular intervals, including during the night.
Always use the original container to recharge Baby 1.0. The use of random women for this purpose or other related purposes is strongly discouraged and will void the guarantee, and generally ruin your life.
After six months of daily use, Baby 1.0 will no longer be chargeable using Woman 2.0 as the sole source of power. At this stage, we recommend you use a bank direct draft document to have your salary paid directly to the local supermarket.
If Baby 1.0 gets dusty or lightly smeared, do not put it into a washing machine. Simply wipe with a damp cloth. However, if it gets extremely dirty, or starts to smell bad, it is recommended that you do not attempt to correct the problem yourself. Place the product back on top of Woman 2.0 and leave the room for 10 minutes.
Enjoy Baby 1.0 and show it off to your friends and family.
We are convinced that you will have so much fun that you will soon want more Microswift Babies.
And if you don't – well, there's a no returns policy. So get used to it.
---
More family-friendly humour can be found at our columnist's website, www.vittachi.com