Reading Time: 6 minutesTo meet their full potential, some children need a little extra help in the classroom. This could take the form of a short-term focus on an area of difficulty, or it might be a more long-term supportive approach to learning throughout a child's school career. Children with additional needs all benefit from a teaching approach that can be tailored to suit their way of learning.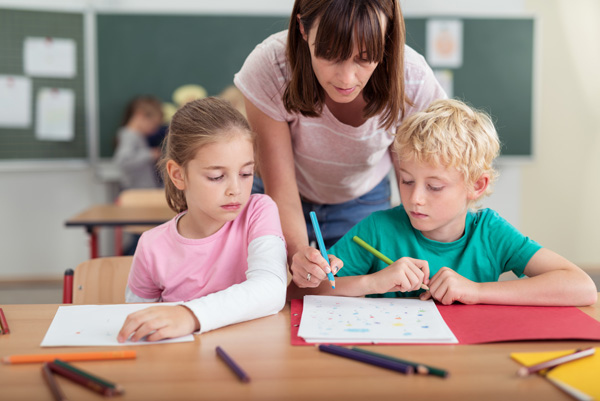 Of course, parents of children of all abilities want to find a school that is a 'good fit' – and this is all the more important for a child with additional learning needs. Trisha Tran, a parent and advocate for special needs education in Hong Kong for non-Chinese speaking children, suggests some questions that parents should consider when looking for a suitable school:
• What level of need does the child have? What specialist help is required?
• What structure and approach to learning is offered by the school, academically and organisationally?
• Is there clear leadership support and vision, for both educators and parents?
In terms of structure, one of the first things to consider is whether your child will benefit from a mainstream classroom setting. Integration into a mainstream class for children with mild to moderate learning difficulties is the goal for most educationalists and parents, and it may take different forms.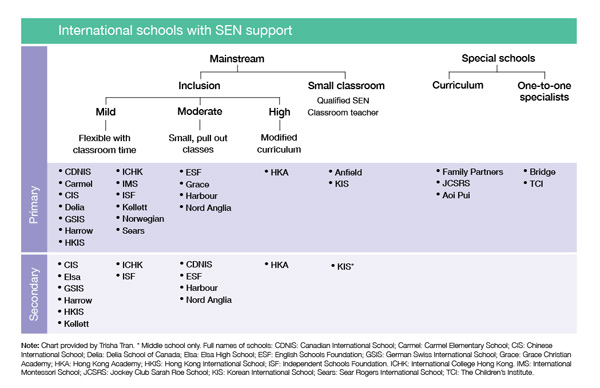 Levels of integration
Some children learn well within a mainstream classroom with 'pull-out' or 'withdrawal' support into small groups, and this is the approach of most schools in Hong Kong offering integration for children with additional needs. Others may benefit from an alternative 'small classroom' setting where children with special educational needs (SEN) are taught more intensively, spending some of their time in joint activities with mainstream classes. Some children with a higher level of need may also benefit from a 'shadow' or assistant working with them one-on-one to guide them through the curriculum in either setting. However, some educators discourage 'shadow' support over concerns they may present a barrier to a child's learning. Teacher-student ratios are also important, and the best-funded special needs places offer more teachers per child. The approaches and levels of support offered for children with additional needs varies within Hong Kong's schools – please see the chart above for an overview.
While all parents should aim to select a school with provision that matches their child's needs, Hong Kong does present some challenges, especially if your child would find it difficult to access a Chinese-language curriculum. As Trisha says: "It would be wonderful if we could choose from any one of the schools that provides SEN places. Sadly, many are full and we tend to be stuck with whichever institution offers us a spot."
Applying for a primary school place can be a time of anxiety and uncertainty for parents as they grapple with their child's learning difficulties and are unclear about the consequences of the educational path they choose for their child. Connecting with other parents of children with SEN can provide perspective, understanding and much-needed support.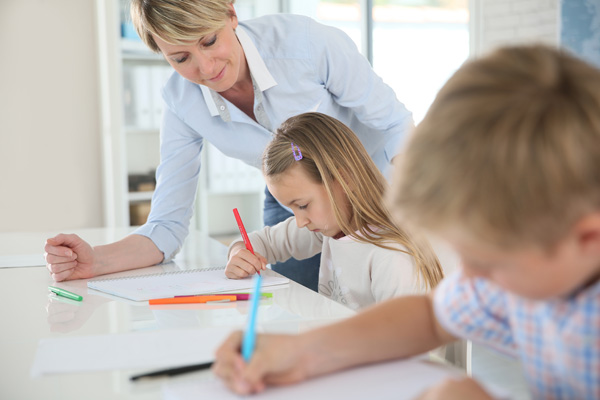 Monitoring progress
For those lucky enough to secure a school place, the journey doesn't end there, however. Parents of a child with learning difficulties will need to keep a close eye on the child's experience and progress at school, asking: are expectations for your child being set high enough? Might the school be focused too much on 'limitations' rather than 'expectations'? Sometimes inclusion may be offered but not extension. An individualised education programme (IEP), which is offered for all children with identified needs (and may be called a 'student support plan' in some schools for interim provision), becomes crucial in monitoring your child's progress. It sets out both short-term and long-term learning targets for your child.
Creating and working with an IEP is a great opportunity for parents to be involved and encourages frequent dialogue given the need to revisit the plan throughout the school year and implement strategies at home – since learning doesn't stop in the classroom. Therapists working with your child (for instance, in speech or occupational therapy) may be invited to contribute to the IEP and, in some instances, an individual behavioural plan (IBP) may be drawn up. When individual needs are identified only once a child is enrolled in school, communication between teacher and parent is also very important; flexibility in learning approaches may be needed and ongoing dialogue with the school is critical to ensure progress is being made.
Parents of children with special needs speak unanimously of the importance of working closely with the school to ensure teaching staff are adopting the right strategy to help your child learn. There are certainly no one-size-fits-all solutions when it comes to special educational needs and a school that embraces this should be a good partner.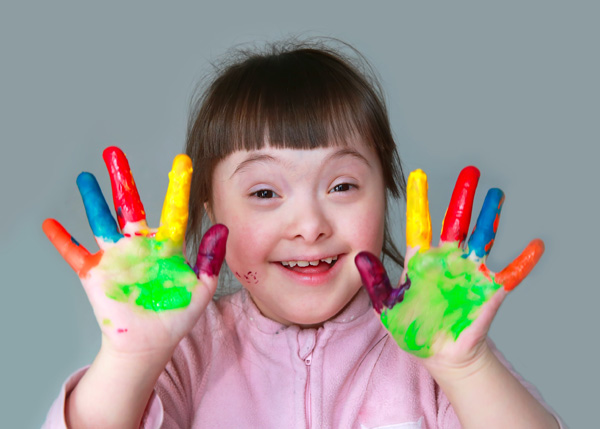 Grace Bolger, whose daughter has Down syndrome, talks enthusiastically about how well her daughter has integrated into a small primary school in Discovery Bay where she is treated like any other child. Grace has worked hard to find the best approach and has sought out, hired and managed a number of 'shadows' over the years to provide one-on-one support for her daughter in the classroom, with inclusion being a priority. This is a full-time job for parent as well as assistant, and daily reports and regular meetings with the school are integral to this approach. Finding the right balance is important, with the assistant needing to know when to back off and encourage independent learning and when to step in to help interpret teacher instructions. Grace says a smaller school community is advantageous as it allows for close contact and enables her to promote a 'team' approach to her daughter's learning, with teacher, assistant, principal and parents all playing a role.
Parent involvement and ability to advocate constantly for your child is crucial to progress, and Trisha Tran advises staying connected, being observant and watching for signs of real learning development.
 
The ESF approach
As well as local government-funded schools in Hong Kong, a number of private international schools offer places to children with special educational needs, as outlined in our chart (p.35). The English Schools Foundation (ESF) offers the most places for English-speaking students across its network of 22 schools, with 105 primary and 110 secondary SEN learning support class (LSC) places currently. In addition, there are 70 places at the Jockey Club Sarah Roe School, the ESF's dedicated special school and one of only a few English-medium-of-instruction schools in Hong Kong that cater to children requiring higher levels of intervention.
Nicki Holmes, SEN leader and therapy centre manager for the ESF, explains the Foundation's six-tier classification of children with additional needs: children at levels 1-2 are in a mainstream classroom setting and are given some additional support to meet a specific (and sometimes temporary) learning challenge, while those at levels 3-4 are assessed as having mild to moderate special needs and hold one of the learning support class places, where levels of adjustment are needed to help children reach their full potential. Children assessed at levels 5-6 have the most complex needs requiring a very individualised programme, and are suited to the Jockey Club Sarah Roe School.
Schools in the ESF network each take their own approach to structuring SEN support in the classroom and responding to the individual needs of their students, following Foundation-wide guidance, according to Nicki.
The number of SEN places available varies, with Bradbury School and Beacon Hill School offering the highest numbers of primary LSC places across years 1 to 6. An ESF special needs place comes with additional funding and staffing, with typically one LSC teacher plus educational assistant per learning support class. This teacher works with class teachers to plan for differentiated and personalised support for each child. In some instances, children from the same age group may be grouped in a single mainstream class, giving the opportunity for two class teachers to work together. Parents can expect their child to have a combination of mainstream class time as well as some small group or one-on-one focused teaching, depending on the individual needs of the child.
For one parent of a child with an LSC place at the ESF's Kowloon Junior School, integration into the mainstream class has brought real social benefits while providing additional academic support. The LSC teacher worked closely with her to learn about her child's condition, decide on strategies and ways of learning to suit her child, and also incorporate input from an outside occupational therapist, which was really beneficial.
Applying to ESF for a SEN place
• SEN applications are separate from mainstream applications.
• Applications are assessed by the moderation panel (which includes SEN advisors, educational psychologists, managers of school learning support classes and school principals).
• The child is visited in his or her current setting and assessed on a six-tier grid of strengths and needs.
• Once the level of provision is agreed, the child is put on a waiting list for their year group.
• The application is processed as a place becomes available.
• ESF won't reject a child who has gone through the moderation panel; he or she will stay on the waiting list until a place opens up.
• For the Sarah Roe Jockey Club School, the panel meets only when a place opens up.
• Secondary school places are offered to holders of primary SEN places (if the same level of support is needed).
The early years
With integration in the classroom, as well as in social and extra-curricular activities, being something of a mantra for many of Hong Kong's schools that provide for children with special needs, Bridge Academy in Sheung Wan is one place that provides a first step. Its goal is to prepare preschool children to integrate successfully into a mainstream classroom once they reach primary school age.
Using an ABA (applied behaviour analysis) approach, intensive therapies and small-group teaching are offered to children aged between two and six in an environment that simulates a mainstream classroom. The goal is to nurture skills and an academic approach that can be practised prior to school application, setting a child with learning challenges on a stronger path to mainstream schooling. Bridge Academy's Christine Chan explains that the preschool years are crucial in a child's development and ABA, with its focus on breaking down skills into very small steps, can make it easier for children to learn and be better prepared to pass that all-important primary school interview.
If you are interested in meeting and engaging with parents of children with special educational needs, Special Needs Network Hong Kong (SNNHK) offers support and information, as well as informal meetings and talks. To contact or join SNNHK, please email snnhkg@gmail.com.