Reading Time:
6
minutes
Angela Baura investigates ways to maximise your healthcare, answering that age-old question: Is there affordable healthcare in Hong Kong?
"I have the nicest dentist. We have no health insurance and he only charges for when he does work and he does not do work unless it is necessary. That for me in a town that seems to charge you to simply breathe is so refreshing," Charlotte Douglas, a yoga instructor and mother-of-two, says of her private dentist at Fung King Yan Clinic in Causeway Bay.
In a city renowned for its extortionate cost of living, you'd be forgiven for thinking that a visit to a dentist to clean your crowns or a doctor to snuff out your sniffles will cost you an arm and a leg. But, as Charlotte attests, there is a plethora of low-cost, high-value ways to keep your health on track in Hong Kong.
Depending on the situation, Charlotte has either relied on public services ("$100 for an x-ray and treatment on a broken bone at Queen Mary Hospital!" she says), private care, or a clever concoction of both.
"I go with my gut feel. When my daughter had an infection on her leg, for example, we went to our local clinic on Lamma Island. The consultation and medication cost $50. Another time, I saw a private dermatologist because I had a basal cell carcinoma that needed removing. I was referred to QMH and my case was marked urgent. I was contacted a couple of days later, tested to ensure it wasn't aggressive and then had surgery, which was performed by a head surgeon- all within three months and $500!"
Add NGO services into the healthcare mix, and you're guaranteed to get the best for your buck. Here are our top tips to help you find affordable healthcare in Hong Kong:
Go public
Hong Kong boasts a formidable public healthcare system that provides anyone with a Hong Kong identity card, as well as children under 11, access to quality medical treatment.
There are currently 42 hospitals and institutions, 73 General Outpatient Clinics and 47 Specialist Out-patient clinics (SOPCs), managed by the Hospital Authority statutory body in Hong Kong.
The outpatient departments in these hospitals charge $100 for a consultation. General Out-patient Clinics charge $45.
If you're referred to a specialist, for example, an ENT specialist or neurosurgeon, the fee is $100 for the first consultation, $60 for each subsequent attendance and $10 per drug item.
If you choose the public route, you could go through pregnancy, labour, mother and child check ups, and vaccinations, all for around $600 to $800. Going private, on the other hand, could easily cost you a whopping $80,000 or more.
For public consultations, in the first instance, register with the Family Health Service Maternal and Child Health Centre (MCHC), which offers shared antenatal care with your public hospital. All antenatal and postnatal appointments are free. There is a charge of $300 for an ultrasound and $100 per day that you stay in hospital. Child check-ups and vaccinations are free.
"With our first child, we had all her vaccinations done at a private clinic. It worked for us as we had health insurance at the time. Now we don't, so for our second child's vaccinations we've gone with the public system. We've saved over $4,000, even after topping up with elective vaccinations at our private clinic,"
says Alyssa Chan, a property consultant and mother-of-two.
Alyssa says that for the past three years her eldest daughter has benefitted from the Student Health Service and the School Dental Care Service (SDCS).
At the start of the school year, her daughter brings home a single form that covers both medical and dental services. Alyssa fills it out, encloses $20 and returns it to the school. At some point during the year, she receives notification of her daughter's annual appointments.
The School Dental Care Service includes an oral examination, preventive dental treatment and basic restorative dental treatment. The Student Health Service, depending on the child's age, includes a physical examination; screening for health problems related to growth, nutrition, blood pressure, vision, hearing, spine, psychological health and behavior; individual health counseling and health education.
NGO healthcare
The public sector is not the only option for value-for-money healthcare. Whilst their offerings all come with a price tag, the Family Planning Association's menu of affordable services makes for exhaustive reading.
Take, for example, their comprehensive women's health check-up. For $500, you get a general physical examination (including measurement of blood pressure, pulse rate, body weight and height; examination of the thyroid, abdomen, breasts and pelvis; auscultation of heart and lung), urine analysis (for glucose and protein), pap-test (where appropriate) and you're taught how to examine your breasts.
The NGO also provides osteoporosis care, menopause check-ups, sexual and reproductive health counseling and men's health care, to name but a few of the services available.
Keep it private
Hong Kong's Government boasts an exemplary healthcare system that provides millions of people every year with high-quality treatments. Subsequently, the public system is synonymous with long waiting times, a reduction in comfort and privacy, and unfamiliar doctors. For these reasons, some families choose to go down the private route, with and without health insurance.
For Faith Jasmin Sim, a mother of two, it's the rapport that her family has built up with her private doctor that has kept them going back.
"Sometimes we've had outpatients insurance with my husband's work and sometimes we haven't. Either way, I've been taking my family to see our family doctor at Quality Health Care in Tsing Yi for over six years. He's very calm and reassuring and a consultation only costs around $320," she advises.
Like Charlotte, Alyssa considers her family's health issues before choosing the private or public route.
"Recently, my eldest daughter couldn't stop vomiting. I took her to our private doctor in Taikoo Place, where I knew she'd be more comfortable and where we wouldn't end up having to wait for hours, Language isn't an issue and our doctor knows my daughter's medical history. In my mind, that's $300 well spent," she says.
Private care doesn't always have to cost the earth. Dotted around Hong Kong are a number of clinics and lauded hospitals that charge $400 or less for a consultation with a doctor that you know, trust and can establish a long-term relationship with.
For example, the world-renowned Matilda International Hospital perched atop the Peak recently opened a Matilda Clinic in the heart of the Midlevels. There, you only need to fork out $380 for a consultation.
Also new on the scene is the Gleneagles Hospital in Wong Chuk Hang, which prides itself on its transparent pricing system. A consultation there costs only $320. Meanwhile Hong Kong's first-ever private hospital, Hong Kong Baptist Hospital in Kowloon, charges $230.
The ever-popular Hong Kong Adventist Hospital and the Hong Kong Sanitorium and Hospital in Happy Valley both charge $400 and at the Canossa Hospital in the Midlevels, the fee is only $300.
For cheap and cheerful dentists, Caroline Law, a mother of two, recommends the Caritas Dental Clinic.
"I pay $60 for a consultation and if we need an X-ray, the cost is $80. It's a no-frills set-up but the staff is nice, the service quick and thorough,"
says Caroline, who visits the Caine Road branch.
The fees outlined above do not cover medication and further treatment. So, while patients or caregivers may be comfortable with dishing out a few hundred dollars to see a private doctor, unexpected circumstances and the associated costs may be a bitter pill to swallow.
The fees outlined above do not cover medication and further treatment. So, while patients or caregivers may be comfortable with dishing out a few hundred dollars to see a private doctor, unexpected circumstances and the associated costs may be a bitter pill to swallow.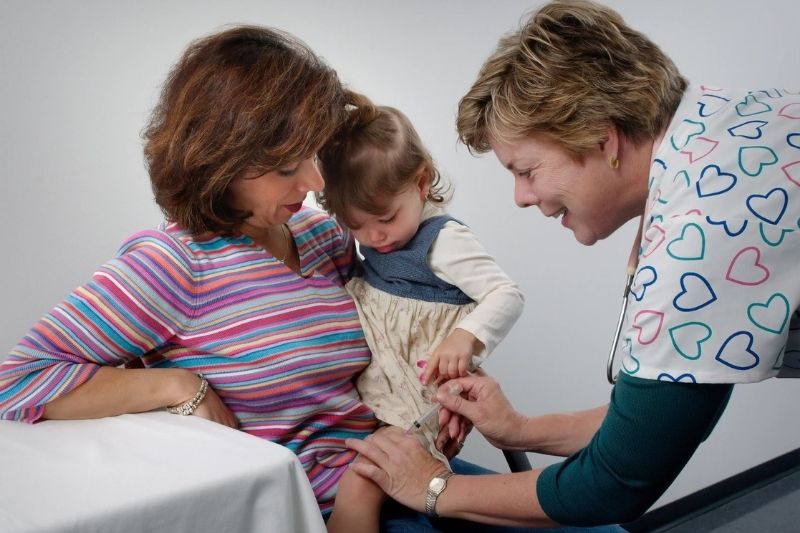 Get insured
This is where health insurance comes in handy. If you don't have an all-inclusive family health insurance package courtesy of your- or your partner's- high-flying career, you may wish to consider investing in a plan of your own or topping up the plan that your company has included in your benefits package.
Kwiksure Insurance, a leading insurance agency in Hong Kong, offers different types of health insurance plans to cater for all people, based on their specific needs. According to Christian Moore, Business Development Manager at Kwiksure, a family of four with dad age 36, mum age 34, and kids ages five and three, for example, could have the security and peace of mind that health insurance gives for as little as $2,000 per month, depending on the coverage required.
Plans such as Generali Prestigio, Cigna HealthFirst Elite and William Russell Elite FMU all offer the best value in the current market, says Christian.
"Unlike local plans, these plans will cover the costs up to what is considered reasonable instead of putting a cap on each type of treatment/surgery,"
he explains. He adds that the Generali policy offer has the best value maternity coverage on the market right now.
Whatever your budget and personal definition of affordability, the beauty of Hong Kong's medical landscape is that high quality treatment is accessible to all. Whether you choose to go public, private, down the NGO route or you use a medley of all, don't assume that you'll have to dig deep into your pockets. Do your homework, ask around, and you'll discover a myriad medical options to suit your budget.
Hong Kong Sanitorium and Hospital
Family Health Service – Maternal and Child Health Centre
More health advice here