Reading Time: 4 minutesTwo months after having had my third baby, I was totally smitten with my utterly delightful and amazing daughter and thrilled to have a newborn in the house again but I was also very, very tired and resigned to the fact that I probably wouldn't be feeling like sporting a bikini any time soon. And so, I was of course delighted when I was approached by Karen Loke, also a mother of three, and owner of Restoring Mums, offering me to trial five days of traditional Jamu massage and abdominal binding at home.
What's it all about?
Jamu is a traditional Indonesian treatment that uses herbal oils, in a deep and thorough massage to help the body heal itself naturally. The 'binding' is exactly what it sounds like: having the area that has grown most during pregnancy (stomach and hips) wrapped up tightly to help bring the body back together again.
 What new mum wouldn't find the idea of being pampered in her own home hugely appealing, especially when it comes with the promise of helping to get her body back on track to recovery? It's a double win!
The treatment
The set of sessions started with a consultation with Karen Loke, who has brought over much of her expertise from Malaysia. Her passion for the relationship between traditional postpartum recovery methods of her own culture and advances in scientific massage techniques and therapeutic treatments, led her to study and train in this area. Alongside formal courses and professional training, Karen has explored the field at a grassroots level, learning traditional methods of Malay postpartum care from midwives, industry experts and local native therapists. I was confident that I was in good hands.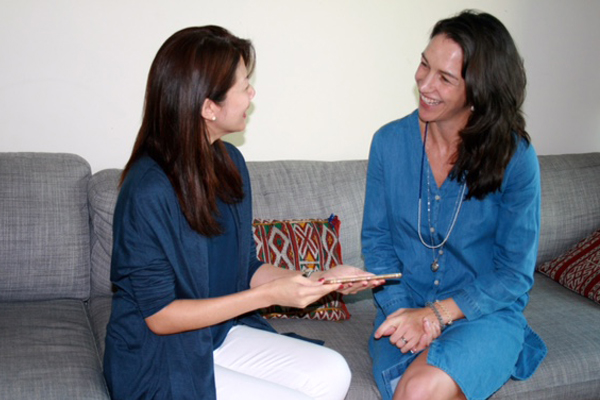 She meets and consults with each client so that the treatments can be tailor-made for your body and your postnatal experience. This includes measuring any tummy muscle split you may or may not have experienced through pregnancy, photographing your stomach (to compare with after the treatment), assessing whether you have fat deposits and if so, what areas need special attention and what kinds of oils to use during the week of treatment in order to help meet the relevant goals set out after the assessment.
One of the great things about this treatment is that you don't need to leave the comfort of your own home, which is something most new mums really appreciate, what with feeling exhausted, often not wanting to venture out too far and wanting to be close to 'bubs' most of the time.
Day one
The therapist arrived at my home and set about transforming my bedroom into a mini spa complete with heated bed, relaxing tunes and aromatic fragrances. She then got to work with preparing the bespoke oils and lotions previously selected for me by Karen.
I laid down face first on the heated bed, with my stomach placed carefully on top of the warm, scented cream, with ingredients designed to work on toning my stomach while the massage began. I then slipped into a state of semi-slumber for a full hour and a quarter of blissful massage. The complete body rub from top to toe was heavenly with the therapist paying special attention to the three areas I had mentioned in the consultation: my shoulders that are always tight from carrying the stresses and strains of motherhood, my love handle/stomach/lower back area that was in need of some extra TLC and my upper thighs. My therapist responded to my request for a strong, hard massage and really gave my body the treatment I craved. She also spent a good amount of time actually massaging my stomach and working with the muscles on bringing the stomach split back together.
Afterwards, I was wrapped up tighter than an Egyptian mummy with what seemed like a very long, wide and strong bandage. This covered my midriff from my hips to my breastbone and I was told to try and keep it on for six hours or so, which I didn't quite manage on day one.
Day two
The following day, the therapist returned for a repeat. The session was pretty similar to day one with more time spent on my stomach, plus arms and hand massage and a full head massage. I managed to keep the binder on a little longer this time around.
Day three
This was set to be a tummy day which consisted of a hot stone massage on the tummy drawing the separate muscles back together again, rubbing toning oils into the area and more massage. I also had a head massage and breast massage designed to help the milk flow for breast feeding.
Day four was a repeat of days one and two and the final day a repeat of day three, with each ending with me being wrapped up tightly with the binder, pulling in my tummy, ribs and hips.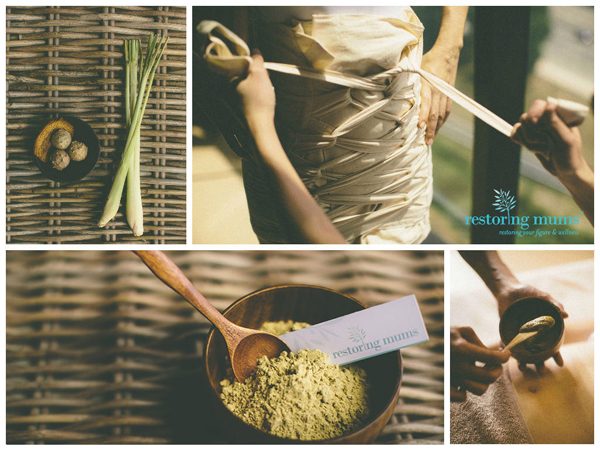 The results
Whilst Karen did say that to get the best results, you should really have 10 days of treatment, I have to say that I do actually think my stomach looked more toned after the five days I experienced. My very pronounced ribs seem to have been brought back in slightly and my 'muffin top' seemed to spill over a little less. All in all, these were good results in only a few days.
I really appreciated having an hour a day for myself – I really cannot stress enough how luxurious this felt. Just as you finish one amazing massage, you realise that the therapist is coming back again the next day! If there is one time in your life that you really deserve a fully indulgent pamper, it is after giving birth and taking care of a new born.
Each night I slept very well. Apart from having the time to relax and be pampered safe in the knowledge that you are doing something positive to help your body recover after labour, having your muscles massaged actually makes it easier to sleep at night (that is, of course, if you are not woken every hour by your lovely little bundle of joy!).
As is the case with most bespoke, home-based treatments, this doesn't come cheap at $9,200-14,000 for five sessions and $17,440 -26,400 for 10 sessions, but I would say that after all the hard work, love and care you've put into your new little family, it is money well spent on someone who truly deserves it.
Top tip
My advice would be to arrange your appointments for the end of the day or on a week that you don't have much on, as it is quite difficult to do much bending, lifting or sitting when you are wearing the binder. Apparently, many clients actually choose to sleep in theirs and I can understand why.
All in all this was a very pleasant experience: who said "No pain, no gain"?!