Reading Time: 3 minutes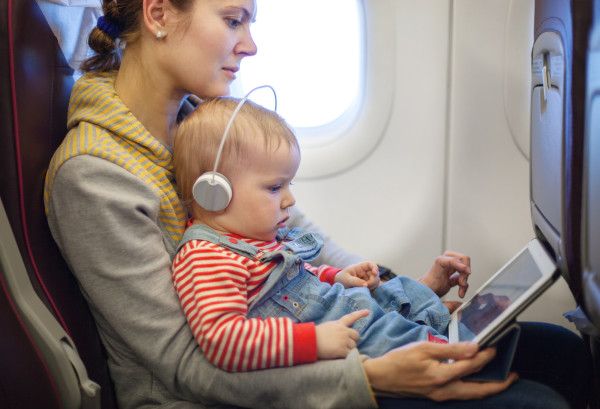 The first thing to do when planning baby's first trip is to make the logistics as stress-free as possible. Be flexible and plan a simple itinerary; this means allow extra time for everything, especially to catch connecting flights. If it's a long international flight, you may want to organise a stop-over and take a break, although some prefer direct flights to avoid handling the luggage twice. Whatever you decide to do, it will be an adventure for you and your little one, so keep it fun and stay flexible and creative for any last minute changes. Once your itinerary is planned, you can really start to get organised…
Planning is everything
Before booking your tickets, it is advisable to check what services a particular airline offers for families and young children.
Remember, if you're bringing your newborn, he or she also needs a passport.
Some airlines require babies to be at least 7 days old, or 14 days old, to fly. They may require a doctor's note if you fly with a child before this time.
Although lap babies don't get a seat, airlines will still charge and issue them a ticket. It's a good idea to check with your airline to see if they give extra luggage allowance for lap babies.
For mothers or fathers travelling alone with young children, some airlines offer a service to fast-track them through immigration and passport control.
Children's meals can be ordered on most airlines.
If you have a baby, you should try to pre-book a bulkhead seat with a bassinet.
Arriving in good time for the flight can take away some of the stress of queueing with young children. Since you only have to check your pram or pushchair in at the gate, if the flight is delayed your baby has somewhere to sleep whilst you wait.
Good medical insurance is a necessity. Look for insurance that provides cover for last-minute flight cancellations due to unexpected childhood illnesses, as well as comprehensive medical coverage for when you reach your destination.
Speak to the hotel in advance to see what they offer for babies or toddlers. Some have special features for littles ones, such as children's programmes, family suites with separate kids' rooms, or even nannies.
If your child is sick, or has some sniffles two or three days before travelling, make an appointment with your paediatrician.
Packing
Parents who use a backpack as their carry-on luggage have both of their hands free for handling luggage and to take care of the kids. Baby carriers are great if you have one.
If your baby is formula fed, bring some extra meals in your hand luggage in case of delays or cancellations.
It is advisable to take a small medical kit with you for travel. This may include:
– Saline nose drops
– Paracetamol suspension
– Plasters and antiseptic wipes
– A thermometer
– Any medication your child takes regularly
Bring any favourite toys, crayons and stickers to entertain your children.
Bring an extra change of clothes for yourself and the baby for the flight.
The flight
On take-off and landing, put babies to the breast or offer a bottle to try to combat the unpleasant feelings associated with changes in cabin pressure. Young children can be encouraged to chew or swallow. Making funny faces and the yawning motion also help relieve the ear pressure. Avoid hard-boiled sweets as they are a choking hazard.
A damp flannel or cotton wipes in a zip-lock bag may also prove useful.
During the flight offer regular drinks and healthy snacks to your child and avoid junk food and sugar, which can encourage restlessness.
Jetlag
This is a temporary condition that some children experience after travelling across time zones. Children may have to make adjustments to their body clocks on any trip with more than two hours time difference.
Jetlag may include symptoms of daytime fatigue, hyperactivity, irritability, insomnia, headache, stomach ache, irregular bowel patterns, abdominal distension, ear ache, dry eyes and a dry and irritated nose. Some of these symptoms are caused by the environment on the aeroplane of dry air, pressure, noise, vibrations and cramped conditions, as well as time differences.
The following measures may be helpful:
Adopt local hours for sleep, waking and socialisation, even if this means getting up when you least feel like it.
Have as much exposure to natural daylight as possible.
Take meals at appropriate times with plenty of fluids in between.
If your children can't sleep at night, rest quietly with dim lighting.
Avoid naps longer than two hours at a time.
Babies should be breast- or bottle-fed on demand to keep hydrated.
Prior to departing, you could try to shift your child's bedtime by 20 minutes each night for a few days before leaving, to accommodate the time difference of your destination.