Reading Time: 5 minutesHaving not visited Barcelona for several years, we squeezed in a weekend during a recent trip back to the UK. It's an easy hop from most of Europe (by plane or train) and the airport is close to the city centre. Unfortunately, the Spanish sun didn't come out to play, but the rain dampened neither our spirits nor our enjoyment of España.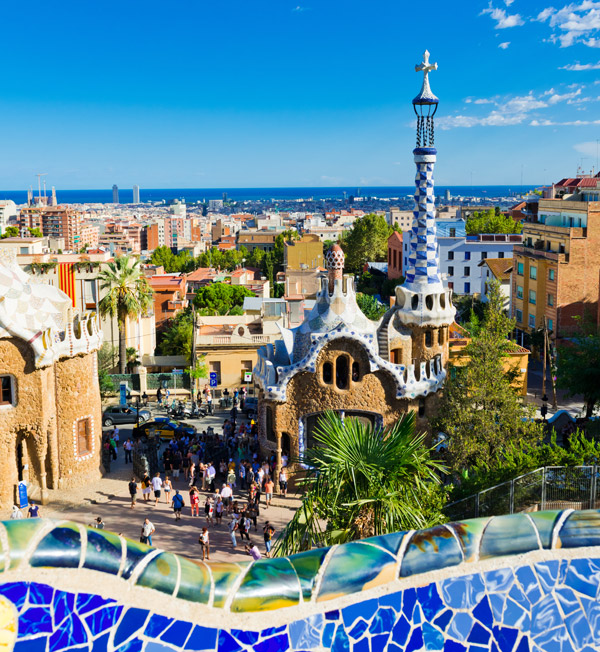 This cosmopolitan city is famed as much for its team and its tapas as its arts and architecture. Barcelona has an enviable location, nestled between the Mediterranean Sea and the mountains. As well as a long history of culture, this city is also contemporary in its cuisine and style.
Spain's second-largest city has its own distinct charm, being proudly Catalan with a separate personality and language. This is a city full of football fanatics (you'll see flags flying from many windows), all supporting their beloved FC Barcelona (Barca), undoubtedly one of the world's best clubs. Tours of their hallowed Camp Nou stadium are available.
Central Barcelona is flat and accessible on foot, boosted by an extensive metro system. You can hire bikes (including guided tours) to freewheel around. Accommodation is available to suit all pockets and preferences.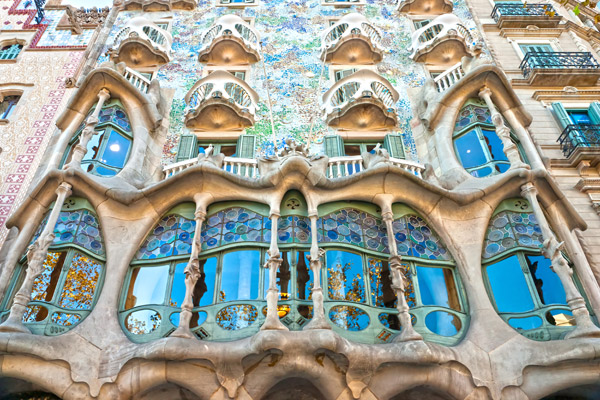 Avant-garde arts and architecture
Every – and I mean every – tourist will venture along the central La Rambla street at least once, by day and by night (when it becomes a mecca for performers and revellers). The city's grand 19th-century wide boulevards are perfect for strolling and soaking up the awe-inspiring Art Nouveau buildings. The beating heart of Barcelona is Ciutat Vella (Old Town) and Barri Gòtic (Gothic Quarter) where your camera will click incessantly at picture-postcard-perfect winding alleys, and beautifully preserved buildings and churches. To get a sense of history, visit Antic Mercat del Born, a former market (dating back to around 1700) housing a fascinating large-scale preservation of parts of the city's remains.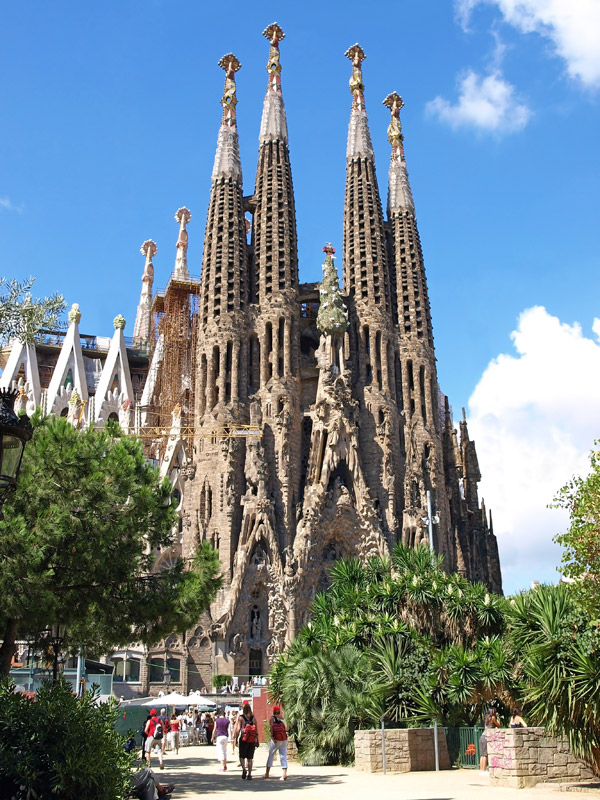 Basilica de la Sagrada Familia is probably Barcelona's most famous landmark, even if it's not yet finished! Designed by Antoni Gaudi and started way back in 1882, the enormous church reaches to heaven with a heady mix of tradition and plain craziness. It's a compulsory sight for every visitor, as much to view the city from on high as well as the ongoing works of Gaudi's dream. Book tickets online for a dedicated timeslot and hire headphones for a detailed commentary. It's wild, wacky and wonderful! The Sagrada is (eventually!) scheduled for completion in 2026 in time for the 100th anniversary of Gaudi's death.
Another deservedly popular tourist attraction is the Picasso Museum, housed in a row of Gothic-Baroque mansions where you can marvel at the artist's ability to produce masterpieces from a young age. Amongst Pablo Picasso's paintings exhibited is a selection from his famous Blue Period.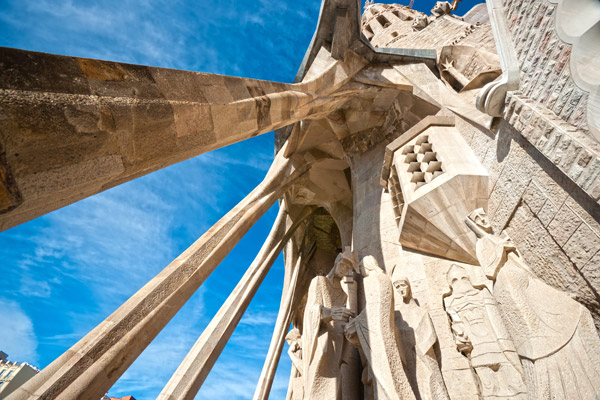 Trendy neighbourhood El Raval houses Barcelona's Museum of Contemporary Art (MACBA) where works from the main Spanish artists are proudly displayed alongside international pieces. Concerts and exhibitions are held in the adjacent Contemporary Cultural Centre. Nearby is the outstanding Palau Güell, a townhouse designed by the young Antoni Gaudi.
Outdoor action
Aside from Catalan culture, there's plenty to entertain the whole family at the city's beaches and parks, to say nothing of the harbour. Walking along the waterfront from Port Vell harbour takes you past the marina (full of flash yachts) to Barceloneta. This old fishing quarter teems with restaurants and boasts an accessible beach where you can watch surfers catch the waves. Jump on a boat to sightsee from the sea. Port Olimpic is perfect for ambling to one of the city beaches, and offers excellent facilities. For a day of outdoor action, take the train south to Sitges, boasting 17 sandy beaches.
Escape from the bustle of Barcelona by catching the cable car or funicular up to Montjuïc. Hilltop attractions include museums (amongst them the Fundacio Joan Miró) and stroll-able gardens, notably the botanical garden with views all the way to the sparkling sea. Montjuïc, which housed the 1992 Olympics, is a veritable cultural leisure park, perfect for kids, with its very own ancient castle.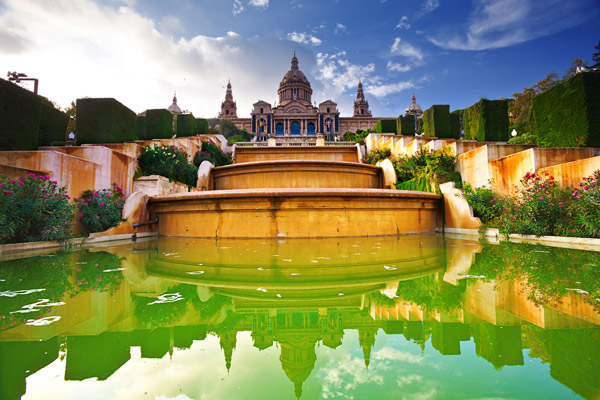 Soak up some green space at the large and leafy Parc de la Ciutadella or Gaudi's amazing Parc Güell, with fabulous city views. Entertain children at Barcelona's historic zoo or at Port Vell's aquarium. Tibidabo, one of the world's oldest amusement parks, situated atop a nearby mountain, provides thrills and spills.
Shopping, Spanish-style
Feast your eyes on the colourful produce and pick up picnic supplies at local markets. La Boqueria is the most famous market, and it's certainly bustling and historic, but I prefer the beautifully restored and less touristy Santa Caterina. During our visit, mushrooms were in peak season and there were delicious-looking displays of exotic varieties.
Barcelona is a seriously style-savvy city with shopping options from designer to quirky. Hit up the bohemian areas of El Born and Gràcia for unusual souvenirs or make a beeline for Gran Via Corts Catalanes' flash international shops. Be sure to check out a branch of El Corte Ingles, the classy Spanish department store.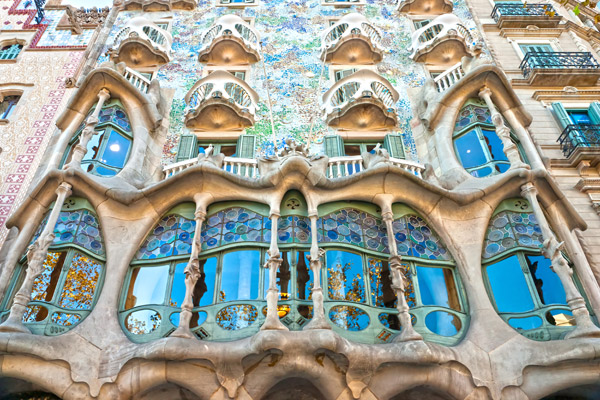 Eke out your euros at one of the outlet stores dotted around to snap up a bargain from local or international brands. Devotees of shoes and bags will find paradise in this city! Bear in mind that small, local retailers tend to close for an afternoon siesta.
Catalan cuisine
A recommended, informal introduction to Spanish fare is through tapas – tiny tastes of a few quality ingredients. These bite-sized savouries (usually served on a slice of baguette or speared on a cocktail stick) range from cheeses to jamón ibérico (the ham so adored by Spaniards that they dedicate entire shops to it!) to seafood, plus a few sweet options. Find somewhere to feast, grab some stools, and get grazing whilst sipping a glass of wine or beer. Ubiquitous tapas will be patatas bravas (chunks of potato with a spicy sauce), tortilla (Spanish omelette), stuffed vegetables and breads oozing with goat's cheese.
If you're more of a Michelin-star groupie, there are numerous fine dining restaurants, several with rising stars of chefs serving modern Catalan cuisine. After all, it is in Barcelona that the renowned Ferran Adrià chose to open his next venture (Tickets) after El Bulli. Even vegetarians like me can dine well in a city of carnivores, including at many sophisticated or organic spots.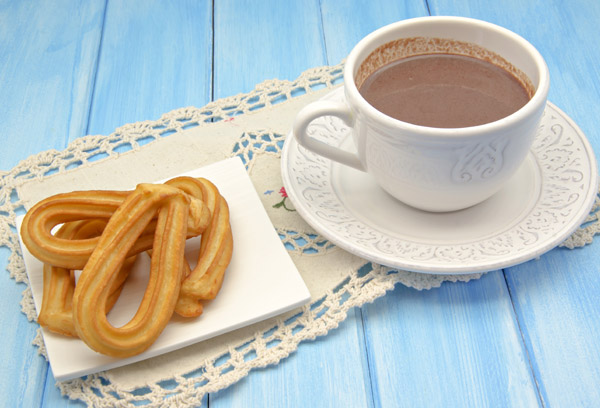 No holiday is complete without sampling the local drinks. Catalans favour beer, wine and cava, but also adore la hora del vermut, the customary time of day to savour a measure of vermouth served with ice and orange. You may view gin and tonic as a predominantly British tipple, but the Spanish sure are serious about this spirit.
Get a sugar hit or just gaze at the gorgeous offerings in the innumerable bread and cake shops. Turron, a local nougat with almonds and honey, makes a great gift. Kids will love warming up with an unctuous spoon-able hot chocolate served with churros (mini doughnuts) or drinking a creamy horchata (made from tiger nuts). And all those chic cafes make ideal spots for people-watching, sipping seriously good coffee.
A bite-sized selection of Barcelona's best attractions, over a weekend or longer, will give you a fantastic flavour of this stylish city.