Reading Time:
5
minutes
Why not bring the spa to you with a beauty self care at home spa day? Here are some of our favourite self care tips while staying in.
Body
Most often than not we are always in such a rush, that we skip the bath and opt for a quick shower. With some time on your hands, why not turn your bathroom into a relaxing tranquil spa for a few hours. Furthermore, add some bubble bath, some music, maybe throw in some flower petals, a face mask and don't forget that glass of wine!
Light candles – You can easily create a soft, relaxing and tranquil atmosphere with simply lighting a few candles.
Epsom salts – A great way to relieve stress, relax tired muscles with all those home workouts and wash away any anxiety you may be feeling.
Bath bombs – With the combination of essential oils, and moisturising ingredients bath bombs are a great way to add some luxury. You can even make it into a fun activity and make your own at home with some DIY bath bombs.
Essential oils – A few drops of your favourite oil will very quickly transport you back to that spa day you're dreaming of. There is no end to the benefits of essential oils so why not try a few. Lemongrass is my favourite, it instantly takes me back to lying on a beach in Thailand…
Face
An easy win for some self-care is starting with your face. Easier said than done we know, with so many products on the market, and so many options it's difficult to know where to begin.
Beauty blogs – Why not use this time to research online, read some beauty blogs, look into ingredients, and identify the right products for your skin. Blogs are a great way to get some insider information on tried and tested products. To get you started try: Caroline Hirons, Christing C, and Pixiwoo.
Check out the secret to beautiful Korean skin care with their 10-step beauty regime and try it for yourself. Read all about it here.
Masks – Sheet masks, cream masks, overnight masks, there is something out there for all of your beauty needs! Masks are a great way to inject some life into your skin and to also target problem areas. You don't need to schedule time in to do this, and we all need to get into the habit of fitting these self-care remedies into our daily lives. Home schooling? Throw on a cream mask while you tackle math. Making your 5th cup of coffee for the day? So, do it with a mask on! If you want it to be a relaxing affair, then put on a sheet mask in bed while you read a book or browse your social media, trust me you can make the time.
DIY face masks – Beauty doesn't need to be complicated and with everything going on currently it's not always easy to get to the shops. You can find a huge range of homemade masks online, many using the simplest of ingredients. Why not try this turmeric face mask at home.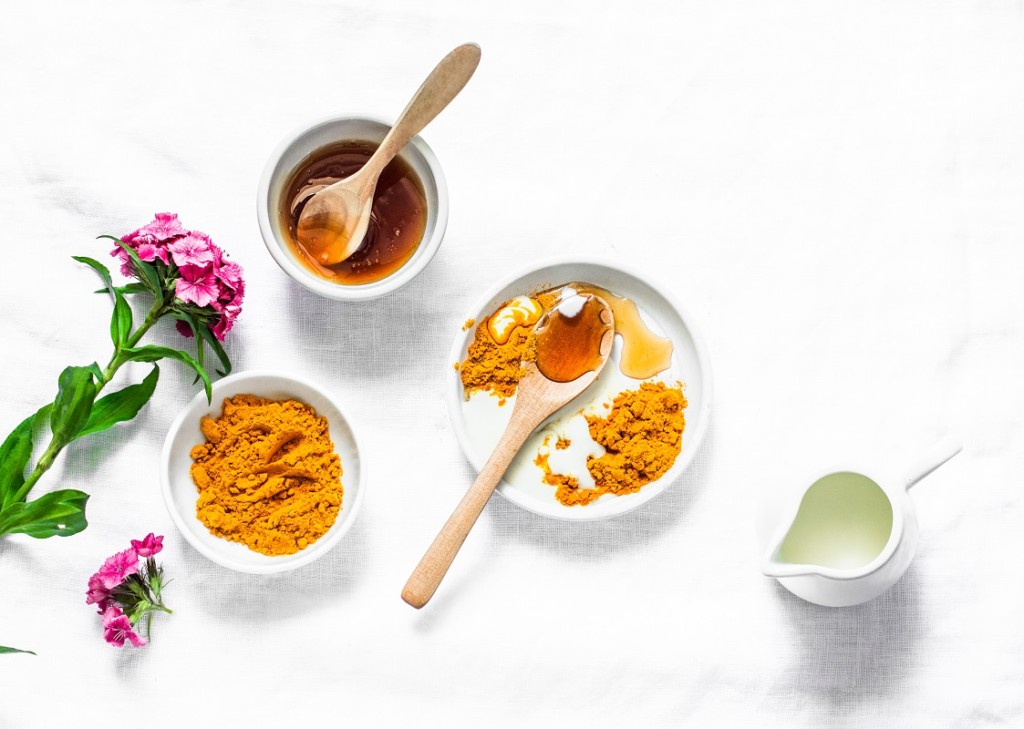 Try It At Home Turmeric Face Mask
Ingredients:
1 teaspoon turmeric powder
1 teaspoon organic apple cider vinegar
1 1/2 tablespoon of organic honey
1 teaspoon milk or yogurt
Directions:
1: In a small bowl, mix the turmeric powder, apple cider vinegar, honey and milk or yogurt. You're going for a paste-like consistency that will stick to your face without dripping.
2: Before applying your turmeric face mask, wash and dry your face to remove any makeup or impurities. Keep in mind that turmeric will turn fabric yellow; so consider putting on an old shirt that you don't mind getting stained during your turmeric spa session. Apply the mask using your fingers or a makeup brush, careful to avoid the eye area.
3: Allow the mask to sit on your face for about 10 to 15 minutes.
*Source: Taste of home
Hair
We often forget that our hair needs just as much love and attention as the rest of us. Regular trips to the hairdresser are great but there is plenty you can do at home. It doesn't need to be fancy. Additionally, if you aren't able to get to the shops or order the right thing online then don't worry, here are a few simple things you can do at home.
Oil
For centuries women across the globe have been using oils like coconut, argan, almond, jojoba, even olive oil to condition and soften hair. A simple massage with oil once a week will do wonders for the condition of your hair. Consequently, for better results leave overnight and wash out the next day.
Hair mask
Why not utilise ingredients at home to make your own hair masks. Honey, eggs, vinegar, coconut, yoghurt, lemon, you will be surprised at how many different variations there are. Accordingly, how many DIY ideas you can find online.
Hair treatments
For those who want something a little extra, your hair salon, and favourite over the counter beauty spots will have a range of specific hair treatments to combat all different hair types, be it dry, oily, thinning, or colour treated hair. Normally, these are usually left on from anywhere between 5 to 20 minutes, while you apply a facemask. Hence, enjoy some peace and quiet (we hope!).
Nails
Now we know your hands are super dry, and there is zero chance of getting to the nail salon these days. So, lets get back to basics and do our own nails for a change…
Manicure – Shake of the dust from your bottles of nail polish. Break out those nail files and carve out some time when the kids are in bed to give your nails some attention. You'll be surprised how oddly therapeutic it can be. Tip: Invest in good cuticle oil or use whatever oil you have at home.
Hand mask – Yes it's a thing! With all the recent hand washing it's important to moisturise and look after our hands. Additionally, there are an abundance of hand masks on the market, with the likes of Sephora, Sasa, Colour mix having plenty in stock. And for those of you who cant get to a store, then make your own with a few simple ingredients.
Try It At Home Avocado Hand Mask
Ingredients:
1 ripe avocado2
tablespoons honey
1 tablespoon olive oil
2 teaspoons plain yogurt
10 drops of your favorite essential oil (optional)
Directions:
Blend all ingredients together in a food processor or blender.
Apply to hands and feet, then wrap in plastic bags and a towel to allow the mask to penetrate the skin more effectively.
* Source: Onecountry.com
Feet
We know those beach holidays will have to be put on hold for a little while. So, that doesn't mean your feet game shouldn't be on point. 
Pedicure – An easy and no fuss solution to sprucing up your feet with a splash of colour. For an extra bonus rope in the kids or hubby to add on a foot massage!
Foot spa – You don't need a fancy foot spa to create some spa like vibes at home. Just something deep enough to soak your feet inside, with some essential oils, some simple household ingredients like lemon. Also, maybe a good foot scrub and your feet will thank you.
Foot mask – These are a simple win, and even applying your regular moisturiser every evening and then pairing that with a pair of cotton socks will be wonders for any dry skin. For something more specific Weleda Skin Food is a miracle worker for dry cracked heels. Furthermore, similar to hand masks, most beauty outlets sell specific foot masks dependant on your need.
More about Beauty and Self Care here