Reading Time: 6 minutesWhether you're looking to learn some new skills, get creative in the date night department or do something fun with your friends, we've got you covered with the best creative workshops in Hong Kong.
We've gathered the intel on the best creative classes Hong Kong has to offer, from pottery classes to coffee brewing class, art classes and all manner of DIY workshops. You are guaranteed to find the right one for you.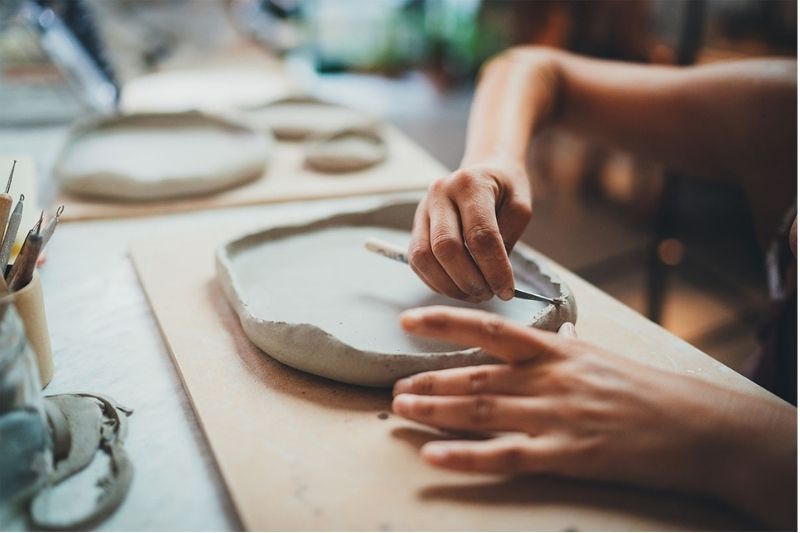 The Best Pottery Classes in Hong Kong
Pottery classes are a great way to bring a little something personal into your own home, from small intricate jewellery pieces to abstract vases, plates and cups. There are numerous pottery studio's dotted across Hong Kong and we've rounded up our favourites giving you the best creative workshops in Hong Kong.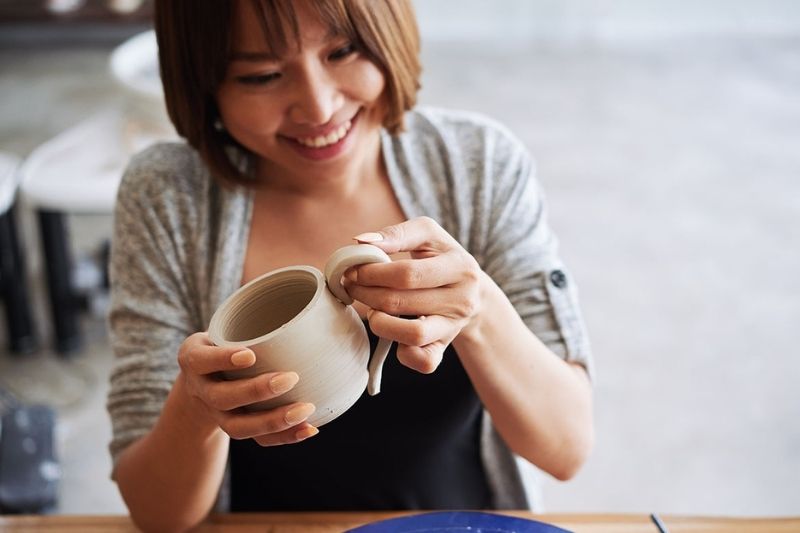 Clay lab has an extensive range of workshops on offer. You can choose from single item workshops to longer membership packages which offer more in depth tutoring on pottery classes. The throwing and glazing workshop is great introduction to and will teach you how to throw and glaze a ceramic object in 2 separate lessons. Prices start from $790 (+$180 for an extra item) for a 1 hour class and you can register online.
Address: 1/F, No. 4 Po Yan Street, Sheung Wan, tungyaoceramics@gmail.com, 2989 2300, WhatsApp 6015 6044
Get stuck into the pottery basics at Two Part Studio and learn to make three pieces of work over a series of five lessons for $1500. All material, bisque fire, glaze, and fire are included and booking is very easy online. They also offer art classes in Hong Kong if you fancy dabbling in something a little different. Check them out online.
Address: Tai Koo, Unit 3, 2/F, Eastern Centre, 1065 King's Road, Quarry Bay, Whatsapp 5505 0828, info@twopartstudio.com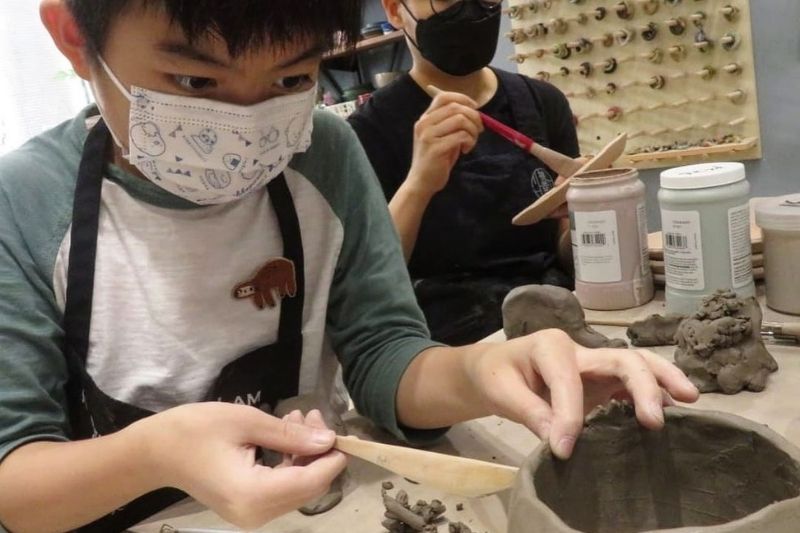 Founded by three Hong Kong artists, Mud – Hey – Tong means clay, ware, and space. The gallery and workshop celebrate ceramic arts education and regularly hold pottery classes and trial classes for both kids and adults. Within the trial pottery classes you can choose to learn basic hand-pinching or wheel throwing technique. Prices start from $400 for children and $500 for adults, for a 2-hour class.
Address: 175 Tai Nan Street, Tong Mi, Sham Shui Po, Tel 9863 2210, mudheytong@gmail.com 
If you're looking for more depth pottery classes, the Toki Studio's 'Pottery for Beginners' course may be right for you. Learn the fundamentals of pottery and craft your own ceramic cylinder and variations of cup, taking home three finished pieces of work. Taught over 4 classes in a month, 2.5 hrs per session for $1900.
Address: Unit 4D, 4/F, 196-198 Tsat Tsz Mui Road, Tung Kin Factory Building, Whatsapp 9385 6673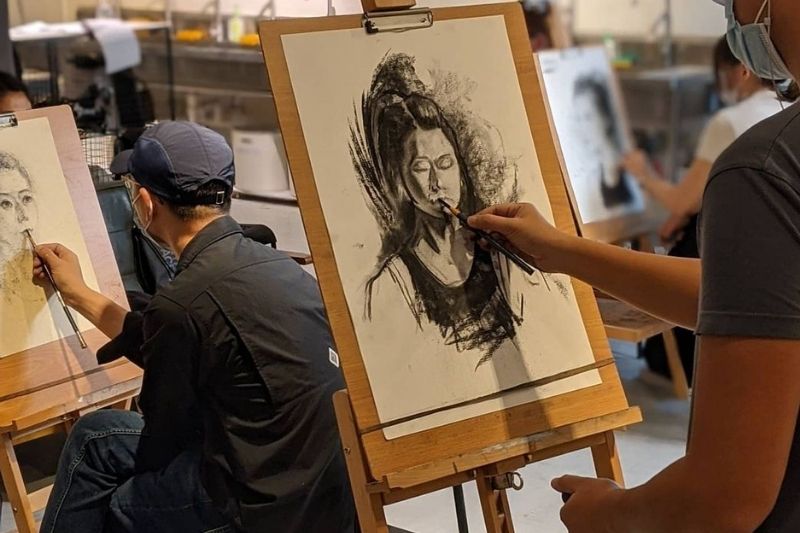 Art Classes in Hong Kong
For a great introduction to art classes in Hong Kong, join an art jamming session at Oscary Art in PMQ. In house artists are available to help with ideas, and each session is approx 4 hours. Priced at $200 per person, which includes 1 Canvas, 2 packed soft drinks and all painting materials.
Address: PMQ, S511, Blk. A, 35, Aberdeen Road, Central, Hong Kong, oscaryart@gmail.com, 9588 1514
Art Loop caters to all aspiring artists, from ages 2.5 and over (including adults). They have a variety of art classes in Hong Kong on offer, which include drawing, painting, sculpture and more. With four studios across Hong Kong. Check the schedule online for classes and contact them directly for pricing.
Address: Unit 1001, One Island South, 2 Heung Yip Road, Wong Chuk Hang, 5238 8186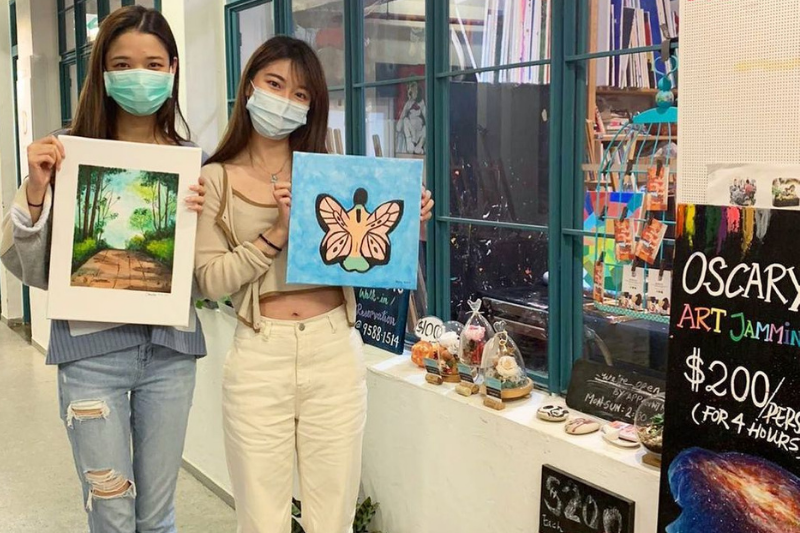 Create your Own Flower Arrangements
Be Tabula Rasa
With an astonishing array of mix and match ideas, you will be captivated by the vibrancy of the dried flowers on offer at Be Tabula Rasa. Attend a flower arrangement class to learn how to create your own floral ornaments like flower crowns and rings (classes are currently only available in Chinese). Visit the shop in Mongkok or WhatsApp them for more information on flower delivery Hong Kong.
Address: 93 Lai Chi Kok Road, Prince Edward, WhatsApp 9010 2761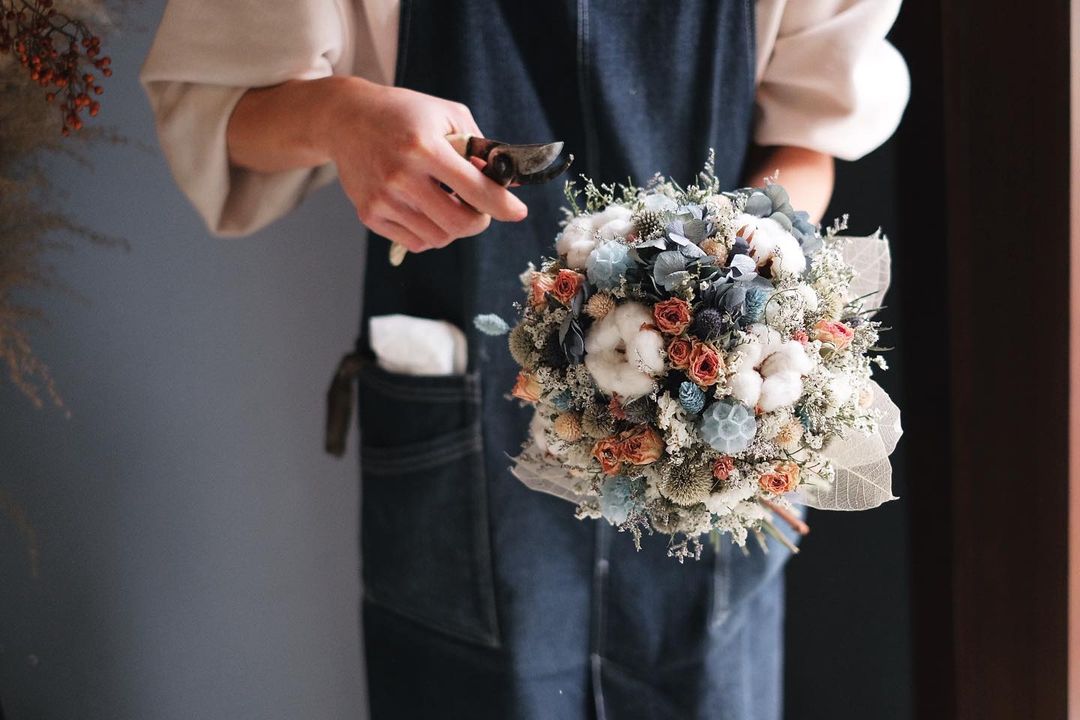 Organise a private flower arrangement class for 6-10 people with Ellermann Design. Workshops include flower crowns, bell jar arrangements and hand-tied bouquets to bridal bouquets and table styling. Contact directly for pricing and availability.
Address: Boutiques at Landmark, Pacific Place and Wong Chuk Hang, 2291 0388, enquiry@ellermanndesign.com
You might also like: Flower Delivery Hong Kong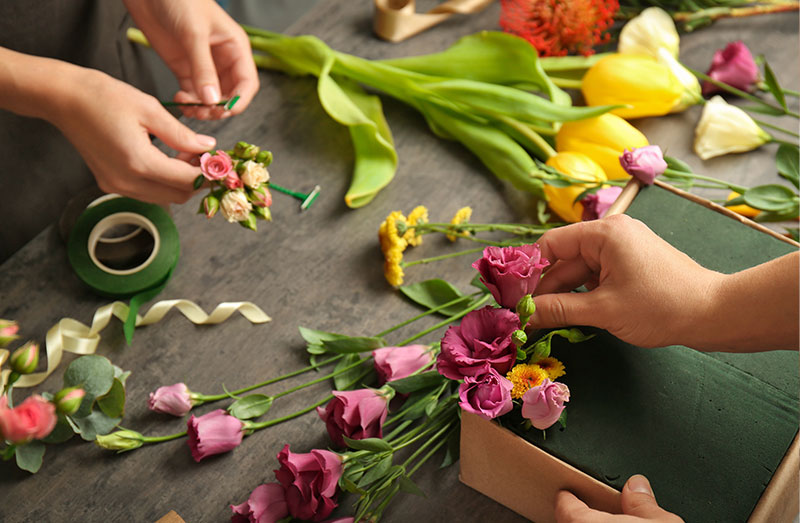 Glass Blowing Workshop in Hong Kong
Head over to Glazden in Wan Chai for a 1:1 workshop on lamp working and/or glass blowing. Glass blowing workshops will teach you how to blow and shape bubbles, and work with colour, pattern, and texture on your own design with the artist's help. Or you can make your own miniature galaxy in the shape of a pendant with their lamp working workshop. Prices are dependent on the workshop chosen, and classes are taught in Cantonese and English. Whatspp for more information and to check availability.
Address: G/F, 23 Sau Wa Fong, Wan Chai / WhatsApp 9133 2698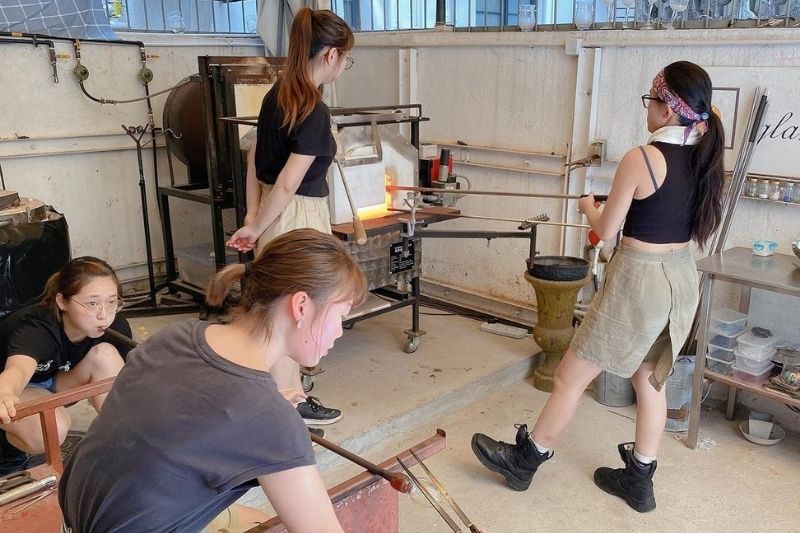 Leather Workshops
Learn the traditional hand-stitch, leather sewing, and sole cementing techniques at a beginner shoemaking workshop with Shoe Artistry. You can choose to make cute tiny kids boots, a pair of adult pumps or some summer sandals. Perfect for yourself or even as a DIY gift. All materials are made from sustainable veg-tanned leather and natural rubber soles and you can choose from an array of different colours. Prices start from $300 to $600.
Address: PMQ Unit S603, Block A, 6 Floor, No., 35 Aberdeen Street, Central, +852 2796 6018
Looking for the perfect handmade gift? Why not make your own wallet, belt, clutch, or passport holder. Motto Carpe Diem is a handmade leather craft workshop offering a range of courses. To make a small air pod holder takes approx. 2 hrs to complete, or you can aim higher and make your own leather bag which can take anywhere from 10/30 hrs. Prices vary depending on the complexity of the product and range from $380 to $4000.
 Address: Flat 1C, 1 Floor, Ka Wing Factory Building, 19-21 Ng Fong Street, San Po Kong, info@mottocd.com, 2152 1716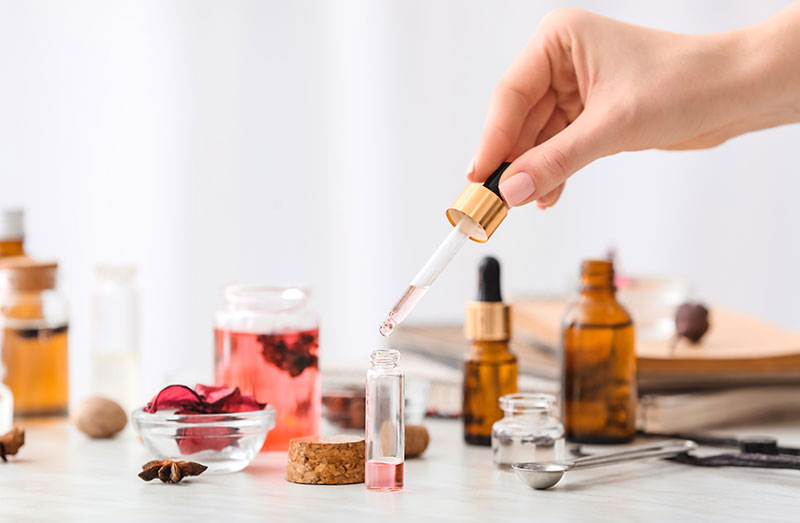 Make your own Perfume
Create your own signature perfume that says, "this is me!" at Intime Artisan de Parfum. A one-of-a-kind personalised experience where you get to choose from 32 scents to find the perfect combination for you. The workshop priced at $995 includes a 30ml Eau de Parfum to take home, with your own personalised label. The bespoke formula will be recorded so that you can order again in the future.
Address: 903, Koon Fook Centre, 9 Knutsford Terrace, Tsim Sha Tsui, 9782 1237, info@intimeperfume.com
Make your own Turkish Lamp
Since we can't travel at the moment, why not bring a little colour to your home and learn to make a beautiful mosaic lamp with the help of a Turkish teacher at Mosaic Art Studio. Choose from carefully prepared hand-cut glass and beads in 12 colours, as well as a variety of traditional Turkish lighting totem collage templates. Prices start from $320 to $790 for a 2.5 hour class.
Address: World Interests Building, Room 705, 7/F, No 8. Tsun Yip Ln, Kwun Tong, 9151 6968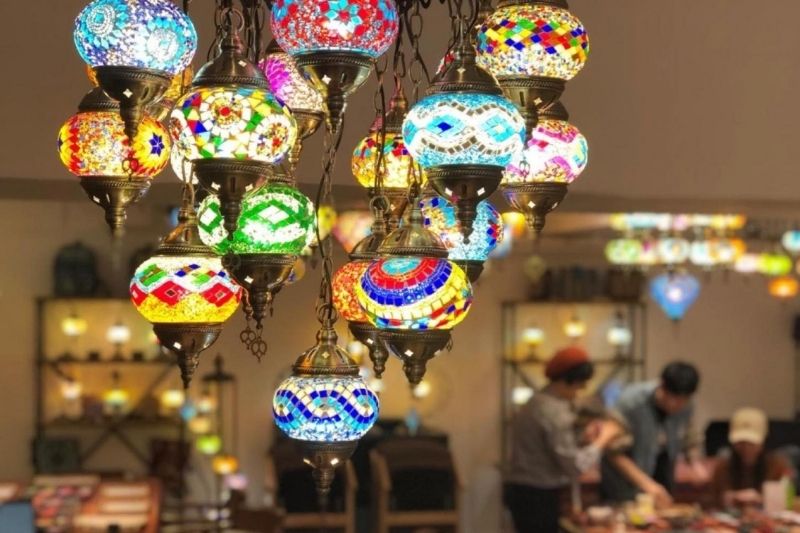 Coffee Brewing Class
Look no further than The Coffee Academics for a coffee brewing class. With everything on offer from learning about espresso, milk, to sensory and cupping. You will be sure to master all and any coffee brewing skills you want to achieve! A coffee brewing class covers all the factors that go into making that perfect brew, from the beans to creating foam art. Classes run for 1.5 hours, in the evenings and prices start from $488. With various locations on offer, check out their website for the most up to date schedules.
Various locations across Hong Kong
Sensory Zero offers all the basics of a coffee brewing class, from learning about the origins of coffee, its processing methods and distinct characteristics, to Latte Art and cupping. They even offer a Roasting Experience workshop which is led by an authorized SCA Trainer & Certifier. Meaning you can obtain a SCA Roasting Foundation Certificate if you fancy!
Various locations across Hong Kong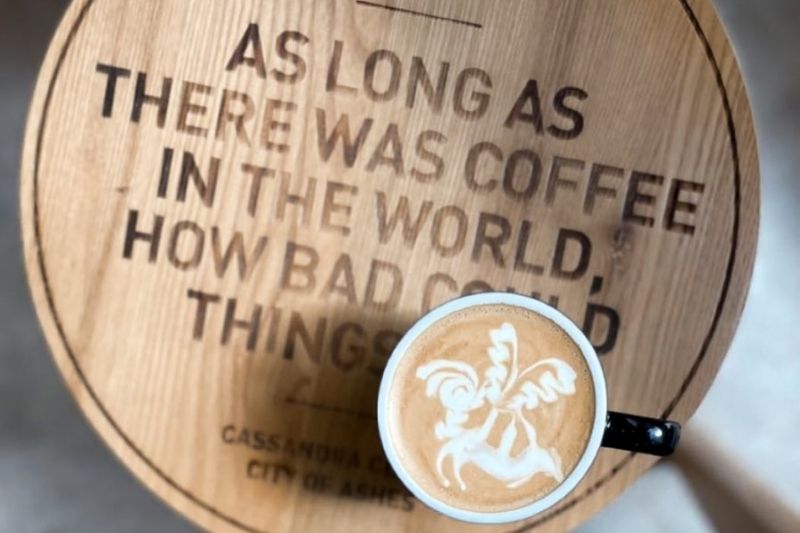 The Creative Workshop Series @PMQ features more than 40 workshops not commonly found in Hong Kong. Hosted by creative talents from different fields. Like Sindart – the embroidered shoemaker since 1958, featuring beautiful patterns of goldfish, phoenixes, and flowers on silk brocade. Playback Concept use the Mokume-gane technique first developed in 17th century Japan for bracelet making. Loupe will showcase traditional silversmithing techniques to make beautiful jewellery. For unique and artistic workshops head over to PMQ to see a full listing of what's on.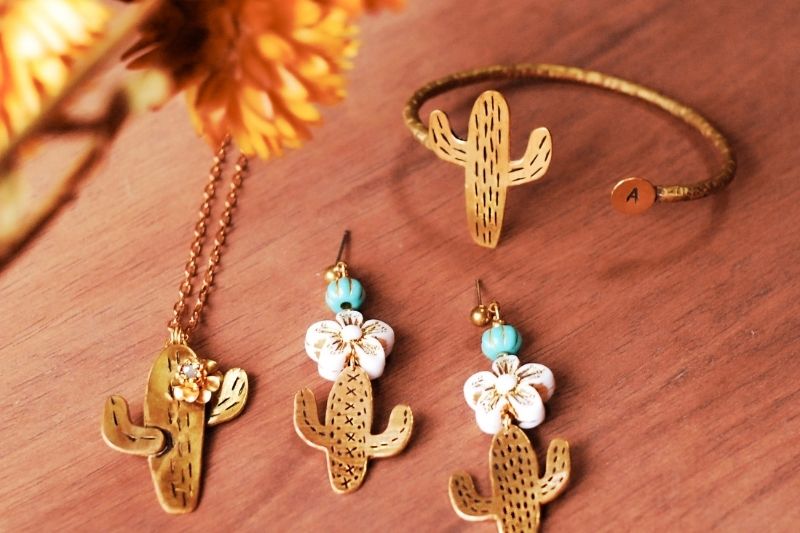 No matter what your interest, hobby or passion may be, get those creative juices flowing with any of these classes. After all the best creative workshops in Hong Kong are right on your doorstep!
Main photo courtesy of Shutterstock; photo 1-2 courtesy of Shutterstock, photo 3 courtesy of Mud Hey Tong IG, photo 4 courtesy of Two Parts Studio IG, photo 5 courtesy of Oscary Art, photo 6 courtesy of Be Tabula Rasa; photo 7 courtesy of Shutterstock; Photo 8 courtesy of Glazden Glass Studio; Photo 9 courtesy of Shutterstock; Photo 10 courtesy of Mosaic Art IG; Photo 11 courtesy of Coffee Academics IG; Photo 12 courtesy of PMQ – Loupe. 
Related Articles