Reading Time: 5 minutesAs the temperatures start to rise with the approach of summer, keep the kids cool – and happy – with a scoop (or two!) of ice cream. There's plenty of ice cream shops in Hong Kong offering their own twist on the creamy dessert, from DAMA's colourful dual-flavour swirl to Baekmidang's milky soft-serve. With so many flavours that will be sure to delight the whole family's taste buds, don't wait to sprinkle a little joy in your life and read on for the scoop on where to get the best ice cream around Hong Kong.
The Talk of the Town: Gelato Messina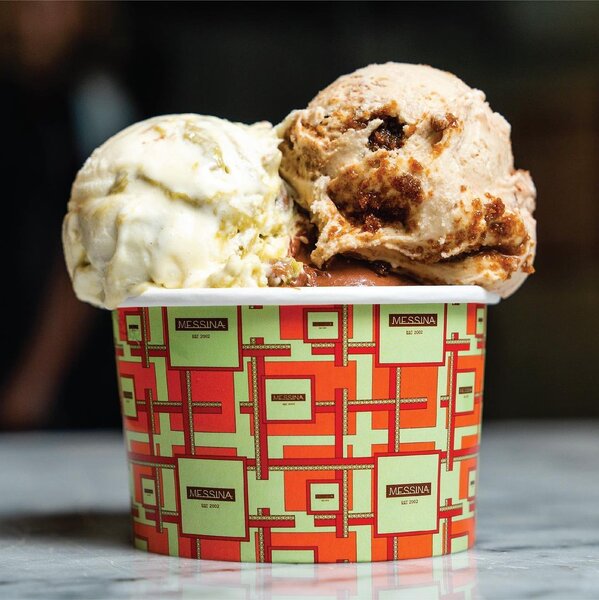 With the help of Black Sheep Restaurants, Australian gelateria Gelato Messina has landed in Hong Kong. This ice cream brand prides itself on creating their offerings from scratch – in addition to churning all 40 of their flavours on-site at their 2,000 sq. ft Pottinger Street location, their dairy even comes from Messina's very own herd of cows in Australia. The pistachio flavour is a must-try, and the local-inspired exclusives – among them being egg tart, Hong Kong milk tea and tofu fa – are also ones not to miss. Scoops are going for $60 for one, $75 for two and $90 for three. Ice cream birthday cakes are also available to order.
Address: G/F, Car Po Commercial Building, 37-43 Pottinger Street, Central
Opening hours: Tuesday-Thursday 3pm-10pm and Friday-Sunday 3pm-11pm
Fruit-Packed and Plant-Based: DAMA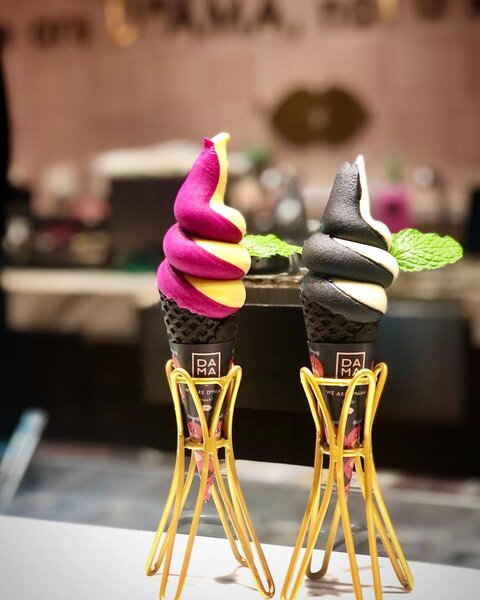 Once a small cold-pressed juice shop situated in Central's Gough Street, DAMA has since grown up to become a fully-fledged vegetarian cafe at K11 Musea. After enjoying their selection of plant-based eats, which include veggie-packed wraps, noodle sets, fruit smoothies and more,  order their vegan ice cream in a charcoal cone ($42 and up) or in a fruit-filled parfait complete with a vegan chocolate bubble waffle. Every day, DAMA makes four vibrant soft-serve flavours that are sure to light up a smile on your little ones' faces – past ones include red dragon fruit, durian, mango and Black Hawaii. For an additional $4, you can get a dual-flavoured twist cone to enjoy the best of both worlds.
Address: Shop 411, 4/F, K11 Musea, Victoria Dockside, 18 Salisbury Road, Tsim Sha Tsui
Opening hours: Monday-Sunday 12pm-8:30pm, Public Holidays 12pm-10pm
For Matcha Lovers: Via Tokyo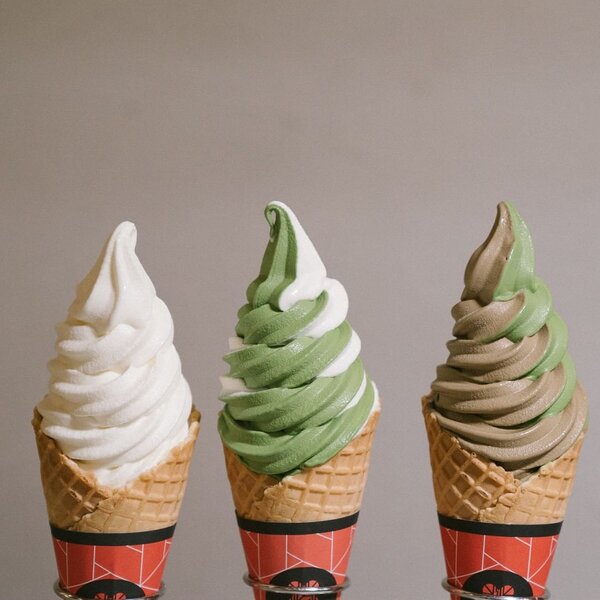 Green tea and ice cream has always been a matcha made in heaven, and if there was any doubt about that, one look at Via Tokyo's after-dinner queue will instantly quell any naysayers. This shop in Causeway Bay may just be the most consistently popular green tea dessert cafe in Hong Kong, with its status earned over years of serving up delectable matcha, hojicha and Hokkaido milk ice cream in cones, waffle cups, sundaes and more ($35 and up). If you're not quite in the mood for ice cream (though we're not sure why you wouldn't be), other desserts like matcha roll cakes and cheesecakes will be sure to satisfy that sweet tooth. 
Address: Shop 1A-1B, G/F, Leishun Court, 106-126 Leighton Road, Causeway Bay
Opening hours: Monday-Sunday 1pm-11pm
Seen on Instagram: Barista by Givrés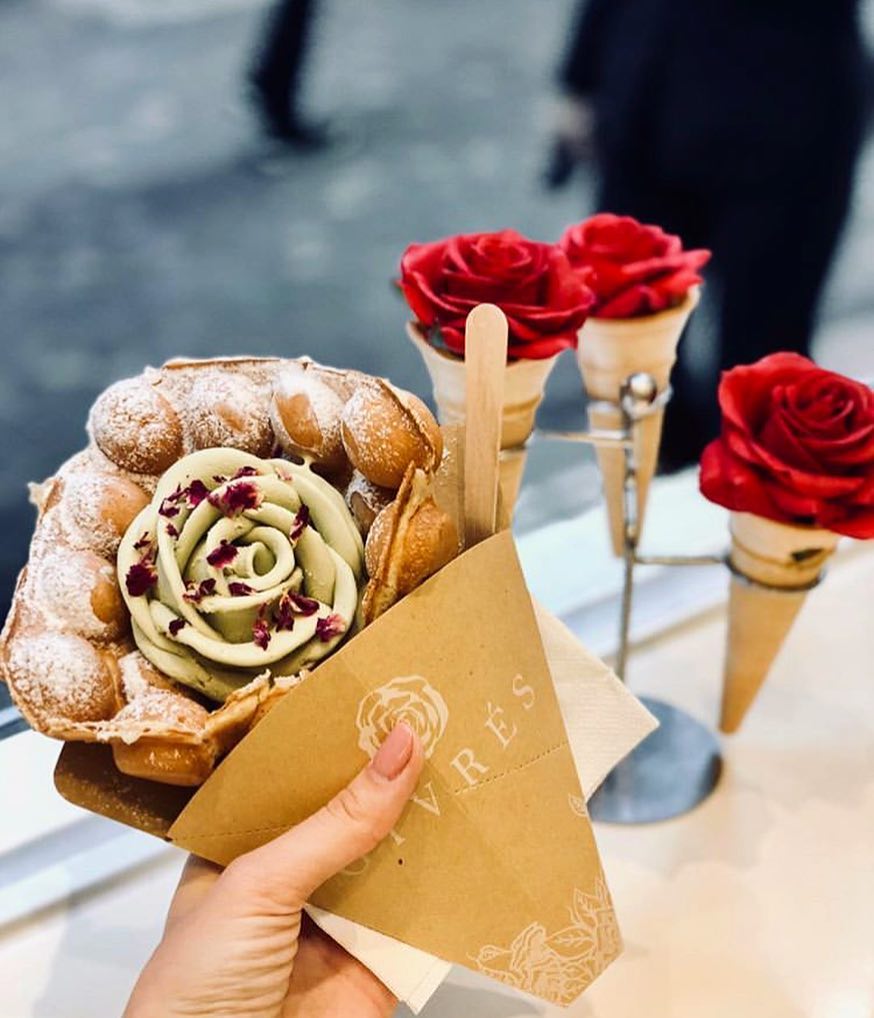 Roses are red, violets are blue. If you go to Givrés, get a gelato rose or two. If you've spent any time scrolling through a food influencer's account, you'll surely recognise the cafe's signature gelato rose. After your chosen ice cream flavour(s) bloom from a rosebud into a flower, you can continue to appreciate its beauty in a classic cone ($50 and up), sandwiched between an egg waffle ($75) or floating on top of your drink ($80). If you're up for a family photoshoot, be sure to bring the kids outside the cafe, where they can pose next to the cutest drawing of a little girl licking her ice cream petals.
Address: G/F, 7 Staunton Street, Central
Opening hours: Monday-Sunday 8am-6pm
Milky Soft-Serve: Baekmidang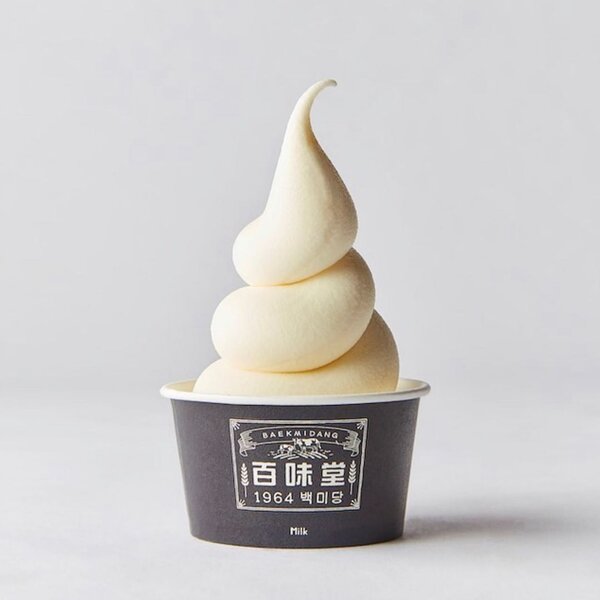 This one's for the milk purists – Baekmidang's specialty is a soft-serve made with 100% organic milk. Its dreamy melt-in-your-mouth consistency makes Baekmidang a top competitor for the best milk ice cream around Hong Kong, and its rich milk flavour shines through without question. While their signature original milk ice cream ($48) is a failsafe, those looking to switch things up can order the iced tiramisu ($78) or the seasonal special (past flavours have included Japanese white peach and fresh passion fruit). 
Locations in Tsim Sha Tsui (K11 Musea), Causeway Bay (Windsor House), and The Peak (The Peak Galleria)
Address: Shop B225A, B2/F, K11 Musea, Victoria Dockside, 18 Salisbury Road, Tsim Sha Tsui
Opening hours: Monday-Sunday 12pm-8pm
Address: Shop 106, 1/F, The Peak Galleria, 118 Peak Road, The Peak
Opening hours: Friday-Sunday 11am-7pm
Address: Shop B71, B/F, Windsor House (The In Square), 311 Gloucester Road, Causeway Bay
Opening hours: Monday-Sunday 1pm-8:30pm
A Local Mainstay: XTC Gelato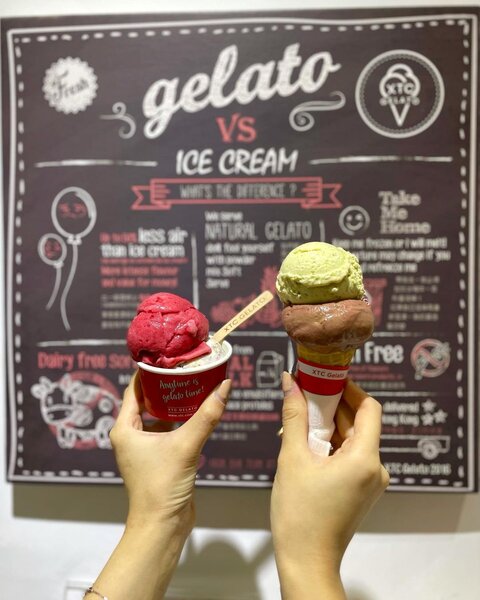 Born in 2001, XTC Gelato is Hong Kong's homegrown gelato brand. With a wide-ranging rotational selection of flavours, XTC will always hit the spot when you or your kids are craving a sweet treat to lift your spirits. Whether you're looking for rich and creamy gelato, or something lighter, like frozen yoghurt or sorbet, there'll always be an option for each member of the family – some of their creative flavours include sea salt caramella, lavender, pineapple mango and clover honey yoghurt ($40 and up). Hoping to take home some of their gelato goodness? Get straight to the pint and pick up their tubs at supermarkets around Hong Kong.
Locations in Central and Causeway Bay and at selected City'super, Wellcome, Oliver's, Great Food Hall, Jason's and Marketplace stores.
Address: Marketplace by Jasons, B2/F, Hysan Place, 500 Hennessy Road, Causeway Bay
Opening hours: Monday-Sunday 10am-9pm
Address: G/F, 45B Cochrane Street, Central
Opening hours: Monday-Thursday 1pm-10pm, Friday-Saturday 1pm-11pm
Straight From Italy: Venchi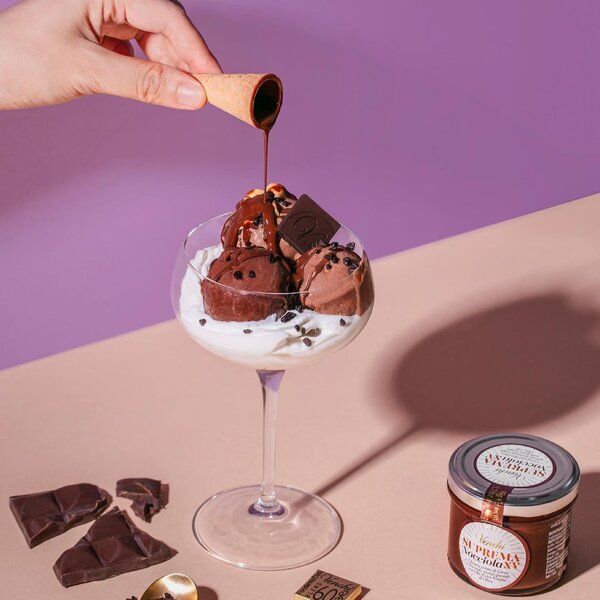 If your kids are crying for chocolate, Venchi is the place to go. This Italian chocolatier prides itself on using raw ingredients like single-origin chocolate from Ecuador, Venezuela and Peru, and also boasts no artificial colourants, flavours, thickeners or palm oil in their gelato. Chocolate aficionados will appreciate selections like cuor di cacao (75% chocolate), gianduiotto (chocolate and hazelnut) and chocolate truffle, but other flavours like mascarpone and caramelised figs, raspberry and pistachio are also delightful. The mini gelato goes for $55, while the regular goes for $68 and the large for $78.
Address: 11 locations all over Hong Kong
Lower Fat Gelato: Holly Brown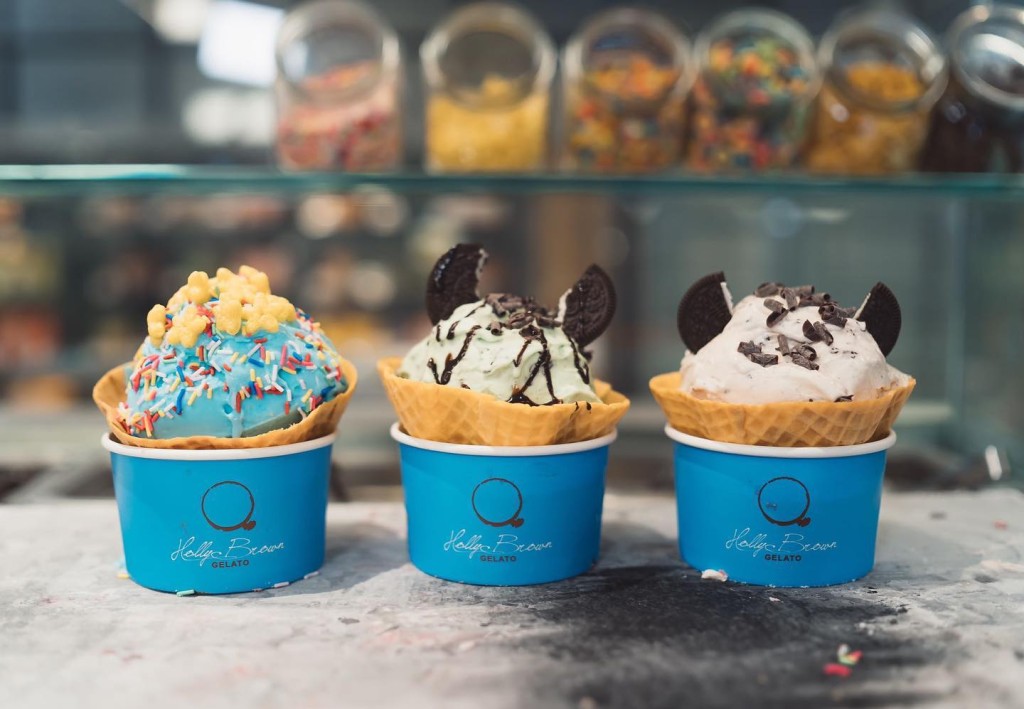 Do you know the difference between Gelato and Ice Cream? Gelato is churned at a slower speed than ice cream so not as much air is whipped into the mixture meaning it is denser . Gelato contains about 25 to 30 percent air, while ice cream can contain as much as 50 percent air. And less fat. And because Gelato contains less fat, the flavours are more intense. The punchline. Holly Brown Gelato contains 50 per cent less fat than many premium ice creams. Perfect!
Holly Brown Gelato is freshly made daily using natural ingredients and real fruit imported from Italy. There are no preservatives or artificial ingredients. Flavours include chocolate fudge, wild berry, banana caramel, mint, Oreo and coffee, all of which can be mixed with your favourite mouth watering toppings. Tubs to enjoy at home are also available.
Address: G/F 22 Stanley Street
Address: D2 Place Two, 15 Cheung Shun Street, Lai Chi Kok, Kowloon
The Pop-Up: Cookie DPT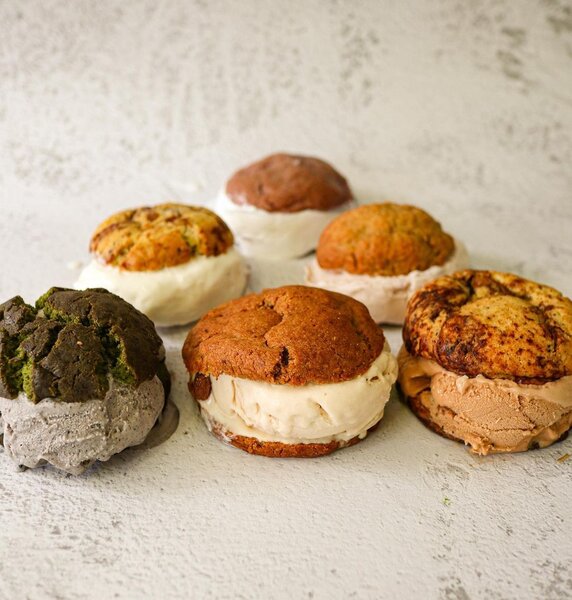 This new cookies and cream concept from Cookie DPT will delight brand loyalists and new fans alike. Known for their decadent and thick American-style cookies, Cookie DPT is now launching ice cream sandwiches ($70) at their new pavilion situated at Victoria Dockside, offering up some of their popular cookie flavours alongside brand new local-inspired cookies and ice cream. There's Milo and Hong Kong milk tea cookies on the menu, as well as White Rabbit candy and peanut butter condensed milk ice cream. Mix and match to create the sandwich of your dairy dreams, and relish it while taking a stroll on the promenade with the family.
Address: G/F, Promenade, K11 Musea, 18 Salisbury Road, Tsim Sha Tsui, Hong Kong
Opening hours: Monday-Sunday 11am-9pm
Whether you're looking to indulge the kids, on the hunt for the best healthy treat or searching for the best Instagrammable eats, there's an ice cream shop on this list for everyone, no matter what age. With so many different ice cream places to try in Hong Kong, the possibilities are simply endless, so go forth and lick away before the ice cream melts!
Related articles
Featured image courtesy of Shutterstock; picture 1 courtesy of Gelato Messina; picture 2 courtesy of DAMA; picture 3 courtesy of Via Tokyo; picture 4 courtesy of Barista by Givrés; picture 5 courtesy of Baekmidang; picture 6 courtesy of XTC Gelato; picture 7 courtesy of Venchi; picture 8 courtesy of Holly Brown Coffee; picture 9 courtesy of Cookie DPT