Reading Time: 5 minutes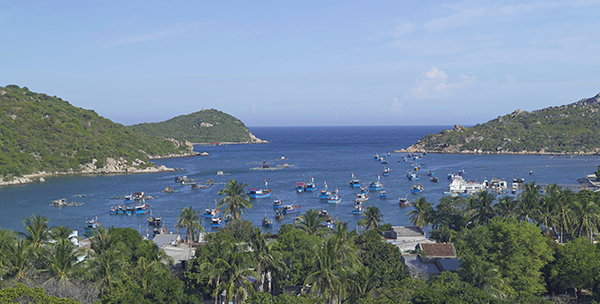 At the moment, "Where?" is the response you're most likely to hear on mentioning your holiday in Vinh Hy Bay. Regarded by the Vietnamese as one of Vietnam's four most beautiful bays, it is still pretty much unknown to outsiders. This is likely to change soon however, considering it is now home to Amanoi – a spectacular Aman resort launched in September. 2013.

Vital statistics
Combine Africa's Bushveld, Australia's Great Ocean Road and Indonesia's beaches, and you'll have an inkling of what Vinh Hy Bay has to offer in terms of scenery. Situated northeast of Ho Chi Minh City (HCM) in Ninh Thuan province – right on the belly button of Vietnam's seahorse-shaped coastline – Vinh Hy Bay is part of Nui Chua National Park. Ranging from sea level to the summit of Nui Chua Peak (1,039m), the National Park protects more than 29,000 hectares of tropical dry forest, as well as an adjacent marine reserve of over 7,300 hectares. Streams carve their way through ravines, giant granite boulders balance above verdant vegetation, and weathered trees curl their gnarled branches into organic pretzels. In the Vinh Hy Bay Sea Conservation Area there are at least 307 varieties of rare coral, including 50 varieties recently discovered in Vietnam. And the views? Well, the views are magnificent.
While much of Vietnam's coastline slopes gently into the western waters of the East Sea (also called the South China Sea outside of Vietnam), for about 10 kilometres around Vinh Hy Bay the shoreline rears up and juts rugged promontories into the ocean. This, in turn, is pierced by pinnacles of rock in a multitude of fascinating shapes. Prickly pears and thorn trees tangle with more tropical foliage atop rocky bluffs, white curls of sand smile in every protected inlet, and beyond the shoreline, dusky green hills roll away to the distant Truong Son Mountains. Vinh Hy Bay is picturesque in the extreme. And did I mention the weather? Ninh Thuan province is renowned for having the best climate in Vietnam, with average temperatures ranging from 22ºC to 35ºC, and approximately 250 days of sunshine a year.
Getting there
The problem with being in the vanguard of exploration is logistics. Vietnam is just a skip and a jump from Hong Kong – a mere two-and-a-half-hour flight direct to HCM, and less than two hours to Danang and Hanoi. When we visited Vinh Hy Bay, we had to travel via HCM after a rather early start in Hong Kong. While not too arduous a trip (the connecting flight between HCM and Cam Ranh Airport is 40 minutes), we had a few delays – and any trip with multiple flights is going to be a challenge with two little people in tow (and only one iPad!).
On arrival at Cam Ranh Airport, we fell straight into "the loving arms of Aman" as my husband puts it, and were whisked to an air-conditioned SUV for the 90-minute drive to Vinh Hy Bay. (The coastal road was being tarred, and would surely speed up the journey considerably when finished.) The other travellers in the airport didn't seem at all nonplussed about not having loving arms to fall into, however, and all simply made their way to the taxi services counter.
I was all set to snooze in the car, but the buzz of seeing a new destination perked me up, and soon we were cruising through rice paddies, past quaint farmhouses and then alongside the sea. One moment stands out – a glimpse of a woman working at her sewing machine, framed by a window, with the shirts she had sewn hanging on the wall behind her and visible through the open front door.

Where to stay
One is spoilt for choice in terms of accommodation in most Asian beach retreats these days, but often the competing hosts inadvertently spoil their stomping ground to some degree. Vinh Hy Bay is a babe in arms in comparison, offering the budget Vinh Hy Resort and Amanoi. There are more hotels in Phan Rang, the capital of Ninh Thuan province located a 40km/60-minute drive south of Vinh Hy Bay, outside the boundaries of Nui Chua National Park.
Amanoi would certainly be first choice if your budget can stretch to it. Aptly named after the Sanskrit-derived word for "peace" and noi meaning "place", the resort offers a central pavilion (housing the restaurant, bar and library) and a breathtaking cliff-top pool overlooking the bay from the property's highest point. Thirty-one guest pavilions (16 with private pools and all with impressive views) are situated along a ridge or next to a lake covered in lotus blossoms, and five Aman villas (ideal for families) dot the property. The lakeside Aman Spa offers a Pilates studio, gym, yoga pavilion and hydrotherapy suites, while the Beach Club backs a private beach and provides another swimming pool. The resort also features two tennis courts and, more importantly for a family travelling with small children, a resident doctor who is available 24 hours a day.


What to do
Snorkelling the reefs of the marine reserve fringing Vinh Hy Bay and the East Sea leave you humbled by nature's creativity. For scuba divers, the National Park at present offers two options: dives with shore entries and two- or four-hour dive trips by boat. Dive sites abound in the area, and an independent PADI-certified dive operation is soon to set up shop. Fishing is the main industry in Vinh Hy Bay, and those keen to throw out a line can easily arrange a spot on a fishing boat with local fishermen.
Hiking is an attraction, considering the National Park's size and beauty, but the sport is still in its infancy. The National Park offers two hikes guided by National Park Rangers: The 5km route to Red Rock (300m above sea level with stunning views) goes via a Raglay ethnic village and past Lo O Spring, while the second trail takes in Rock Park, with its striking rock formations, and Thit Beach, where turtles lay their eggs in season.
Cultural excursions in the vicinity of Vinh Hy Bay take in several historic Cham sites. Forming an important ethnic group in Vietnam, the Cham are the remnants of the Kingdom of Champa, which ruled the region between the seventh and 18th centuries. Noteworthy sites include 13th-century Poklong Garai, a collection of ancient towers; Bau Truc, a traditional Cham pottery village; and My Nghip, a Cham brocade village.
A Vietnamese cooking class with one of Amanoi's chefs is a superb way to engage with local culture, as you learn how to make the dishes that constitute this world-renowned cuisine. Banh xeo hai san (rice pancakes with seafood and bean sprouts) is a popular dish in the province, and you can't go wrong with a traditional bowl of pho bo (noodle soup with beef) with handfuls of fresh herbs.
While Wikipedia and Trip Advisor are still rather stumped when you search "Vinh Hy Bay", it won't be long before the birth announcement is out. Don't miss your chance to get in before the crowds! And while you're there, why not toast this new destination with your ca phe sua da (iced Vietnamese coffee), and hope the area retains every nuance of its current natural beauty as it develops apace.