Reading Time: 5 minutes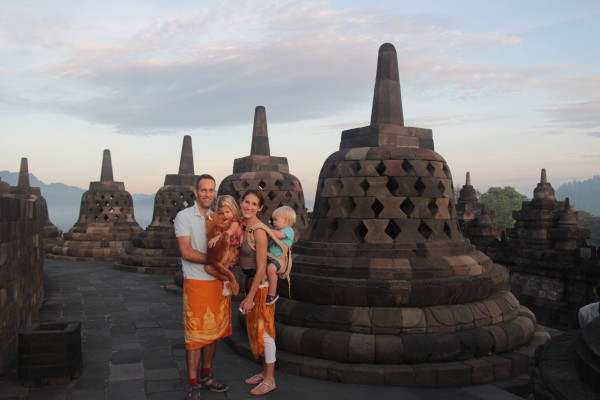 Remember the thrill of riding a rented motorbike (probably without a helmet) up Bokor Mountain in Cambodia? Or the utter relaxation of tubing down Nam Song River towards Laos's laid-back Vang Vieng? Oh, and that time you trekked amongst the hill tribes of northern Vietnam? You felt so alive, so intrepid… so free. Just you and that long-lost companion so fondly remembered by parents all over the world – Time: Time to read; Time to philosophise; Time to take 22-hour bus rides to the most secret, exotic destinations of all. 
I don't miss the bus rides, but I do miss the exotic destinations, so it was with some excitement that we planned a recent holiday to Central Java, to Borobudur to be exact. Every time I mentioned it and someone asked, "Where's that?" the dormant backpacker spirit inside me (long since swaddled, pacified and put to bed) stirred and smiled in its sleep. Somewhere NEW, somewhere EXCITING, somewhere MYSTICAL… And we were going with the kids!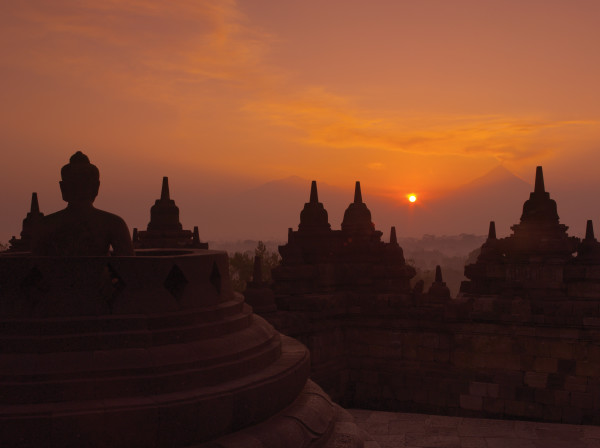 Where's that?
If Indonesia were a dragon, swooping east towards Australia's north coast, then Java would be its head, puffing the islands of Bali, Lombok and Sumbawa from its nostrils as it went. An ancient centre of power and wellspring of art and culture, Central Java is situated right where it says it is, and was home to some of humankind's oldest ancestors: The remains of Java Man were found in the region in the 1890s and are believed to be about 1.7 million years old.
Central Java is also incredibly beautiful, with lush jungles, serene temples and misty volcanoes enhancing its palpable air of spirituality. Recorded history began in the region in the seventh century, when writing was introduced from India, along with Hinduism and Buddhism. Competing dynasties championed one or the other religion over the next few centuries, leaving intricate monuments and temples (think Angkor) dotting the volcano-ringed Kedu Plain. But it is the ninth-century temple of Borobudur that is the showstopper. The largest Buddhist sanctuary in the world and a UNESCO World Heritage Site since 1991, it is decorated with more than 2,600 detailed stone relief panels and more than 500 Buddha statues.
But more on that later. No one feels close to God at the end of a flight with children under four. Luckily, it was a short one, as instead of messing about with connecting flights from Hong Kong via Jakarta, we chose to spend a couple of days in Singapore, then took the direct, 2.5-hour flight from Singapore to Yogyakarta – a mere hour's drive from fabled Borobudur, and more importantly on arrival, our hotel.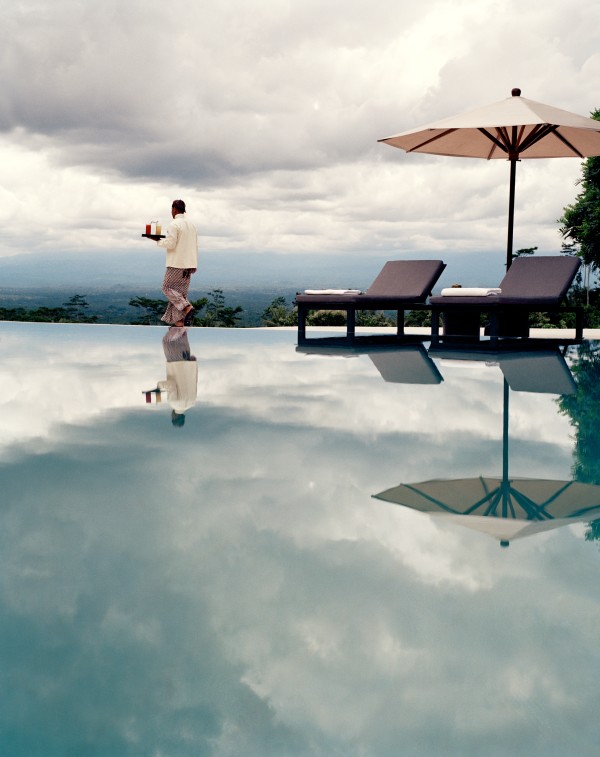 Beyond luxury
The word "hotel" does not do Amanjiwo justice, however. Neither does "resort" to be honest, with its connotations of holiday clubs and buffets. Designed to complement Borobudur, which is perfectly framed in the distance as you enter the lofty, stone-columned entrance pavilion, Amanjiwo is a graceful work of art. Mimicking the tiered nature of Borobudur's metaphorical ascent to Nirvana, Amanjiwo rests against the forested Menoreh Hills in a series of descending stone arcs, and is lapped by verdant rice paddies at its base. Frangipani trees shade the main steps that appear to lead all the way to Borobudur, and one almost feels like a spectator in a natural amphitheatre – with no fewer than four volcanoes looming on the horizon (Sumbing and Sindoro to the west, Merbabu and Merapi to the east).
Despite their reputation as honeymoon destinations, Aman resorts are actually fantastic for families, offering babysitting whenever needed and providing sterilisers and any other baby paraphernalia required. Amanjiwo's children's playroom is spacious and well-stocked, with activities such as painting papier-mâché animal masks on offer. In our suite and on every outing, our children were presented with sketch books and water colours, which they loved squeezing into the copper paint trays. We didn't miss a single complimentary afternoon tea either, sipping our freshly made Javanese tea and nibbling local sweet treats served by a cheerfully wrinkled village matron, while local children practised their traditional court dances, inviting our daughter to join them every time.
And then there's the magnificent swimming pool. I could have simply enjoyed Borobudur from the water, if it weren't for the ensuing cultural guilt. The lawn and rice paddies alongside the pool are ideal for pony rides, and our children were in seventh heaven bobbing along on their placid, ribbon-bedecked steeds. Amanjiwo can also arrange elephant rides, a preferable option to those offered near Borobudur, where, sadly, the elephants are chained in their enclosure.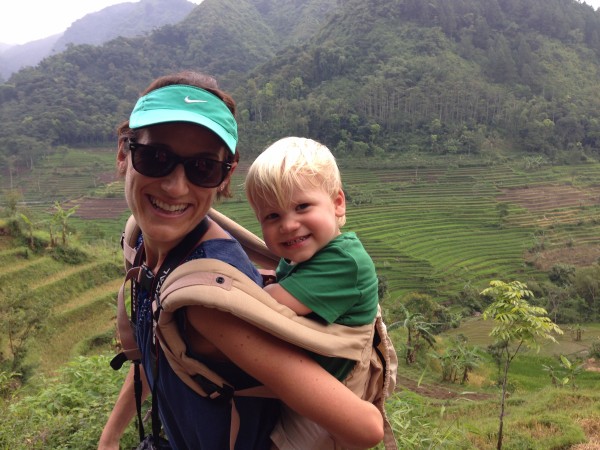 Culture vultures
Back to that cultural guilt… After two days of pure relaxation and play, we were ready to explore further afield, saving Borobudur for our final day. Central Java is a mecca for trekkers and casual hikers alike. Deciding that the challenging ascent of 3,000-metre Mount Merapi – an active stratovolcano – was best left to those unaccompanied by children (one sets off at 10pm and summits in time for sunrise), we chose instead to hike to Selogriyo, a tiny isolated temple high on the slopes of Mount Sumbing. The easy 45-minute walk to reach it was reward in itself, starting in a village with farm animals in abundance, and winding through a spectacular valley with emerald rice paddies cascading from top to bottom. A relaxed picnic lunch in the garden surrounding the temple was enhanced by a friendly farmer, who fashioned two rolling birds out of grass. These accompanied us back down the mountain and home to Hong Kong.
Temples we could have visited the following day include the haunting shrines of the Dieng Plateau northwest of Borobudur; jewel-like Pawon; the ancient Hindu complex of Prambanan – famous for its outdoor theatre; and many more. Instead, we took the local mode of transport – andong (a horse-drawn cart) – to the atmospheric morning markets. After browsing at length, we declined the deep-fried water buffalo skin in favour of another picnic lunch in a garden overlooking the dramatic convergence of two chocolate brown rivers.
We saved the best for last, and on our final morning in Central Java, we were eager to experience Borobudur's fabled sunrise. I found myself filled with anticipation as we walked through the park-like grounds of Borobudur in the pre-dawn hush (despite carrying the rather large toy lion from Amanjiwo that our two-year-old son had demanded accompany us). At first glimpse, the temple is unprepossessing, but as we ascended its steep stone steps to the fifth terrace and its monumental stupa, its grandeur was revealed. We were not the first to reach the top, but there was no jostling to find a good vantage point. As the sun painted the sky a vivid pink and lit the unseeing eyes of the imposing Buddha statues, its first rays gilded the reliefs lining every wall. History sprang to life in the figures going about their daily business – carved in stone well over 1,000 years ago.
I would have liked to walk every terrace and examine the incredible reliefs hand in hand with Time, but toddlers need breakfast… now. And as we picnicked on Dagi Hill overlooking Borobudur in the valley below, my children gleefully squeezing paint on their clothes, I smiled at the sunlight dappling my babies' heads – a smile worthy of a Buddha with all the time in the world.