Reading Time: < 1 minute
For 50 years, Alcoholics Anonymous (AA) has been supporting recovery from alcoholism in Hong Kong to both residents and visitors. Starting with just two attendees at the first meeting, it has since grown to include more than 40 meetings every week in locations all over the territory, in English, Cantonese and French. Several hundred members represent every race, faith, class, age, and profession.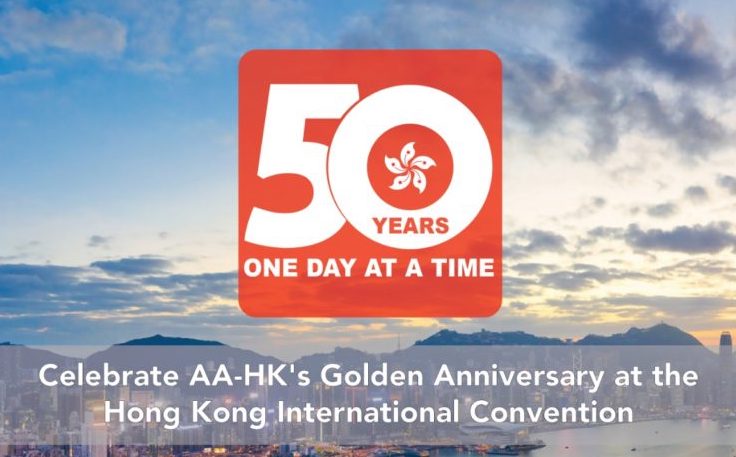 There are no age or education requirements to attend AA and membership is open to anyone who wants to do something about their drinking problem. AA has approximately 2 million members in more than 180 countries.
This October, in celebration of the 50th anniversary of AA-HK, the 11th annual Hong Kong International Convention provides a special weekend of fellowship with dynamic local and international speakers, workshops and panel discussions. The Convention welcomes locals and visitors to convene and share their recovery. This year's theme:
"50 Years: One Day at a Time".
It's a time to revitalise your programme, focusing on working through the 12 Steps.
WHEN: October 26 & 27 from 8:30am – 5:30pm
WHAT: 11th annual Hong Kong International Convention of Alcoholics Anonymous and banquet evening. This is an open convention – all are welcome.
WHERE: Convention Venue
THE HUB Hong Kong
1F Fortune Building
150-158 Lockhart Road, Wan Chai
​Banquet VenueThe Charterhouse Causeway Bay Hotel
209-219 Wan Chai Road, Wan Chai
TICKETS: Fellowship Package
Convention ticket, Banquet, Donation to support a newcomer and carry the message
HKD1,500
Banquet only
Saturday night, 26 October 20196.30 – 10.30pm
The Gazebo Restaurant,
The Charterhouse Causeway Bay Hotel
HKD600
More information here: https://www.aa-hk.org/