Reading Time:
5
minutes
What is Diwali and why is it celebrated?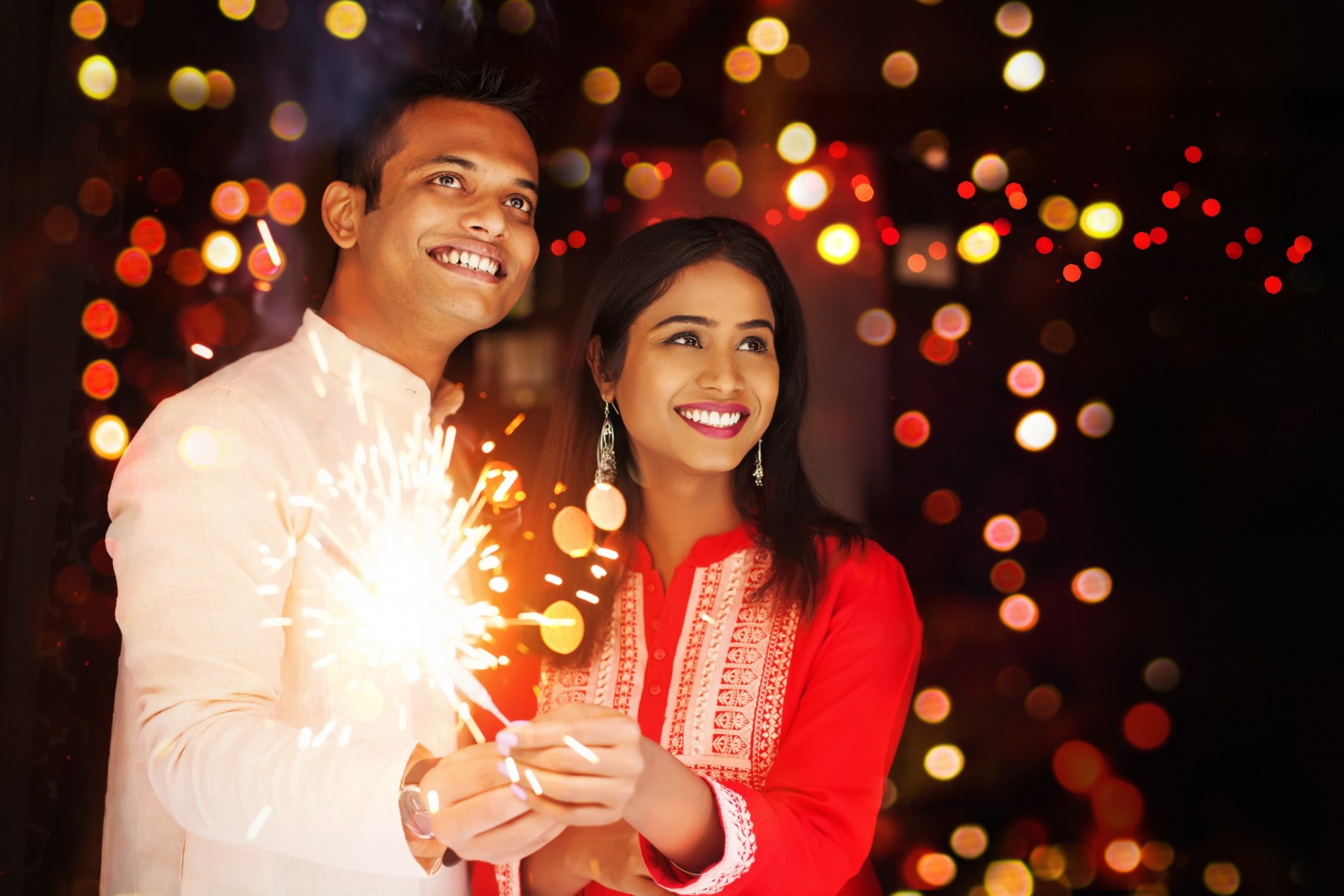 Diwali is called the Festival of Lights and it is one of the most popular Hindu festivals celebrated all over the world. Although Diwali celebrations may vary in different communities, it is the triumph of light over darkness and signifies a new year. Check out our Guide to Celebrating Diwali in Hong Kong.
Diwali is celebrated over 5 days and is said to be in honour of Rama (incarnation of the god Vishnu), who returned home after 14 years in exile during which he fought and defeated the demon king Ravana. People lit their houses with diyas (clay lamp) to celebrate his victory. It is also believed that the Goddess of Happiness and Good Fortune, Lakshmi, roams the earth on this day and the lights act as her guide.
This year, Diwali will be from Tuesday, 2 to Saturday, 6 November 2021. The first day is known as Dhanteras, the words in Sanskrit stand for wealth, and also refers to the 13th day of the Hindu calendar. This day is often marked by praying to the goddess Lakshmi and buying an object made of metal. Depending on your own budget, this can be jewellery, coins or simple household items made of iron, copper or brass. Metal is considered to bring good luck and keep negative energy at bay. Businesses in India also mark Dhanteras as the first day of their financial year. The second day is called Chotti Diwali, (which literally means small Diwali) the pre party if you will, followed by the main celebration on Thursday, 4 November. The fourth day is the first day of the Indian New Year, when people wish each other Happy New Year! Bhai Dooj, is the last day of the Diwali celebrations, and it celebrates the bond between brother and sister.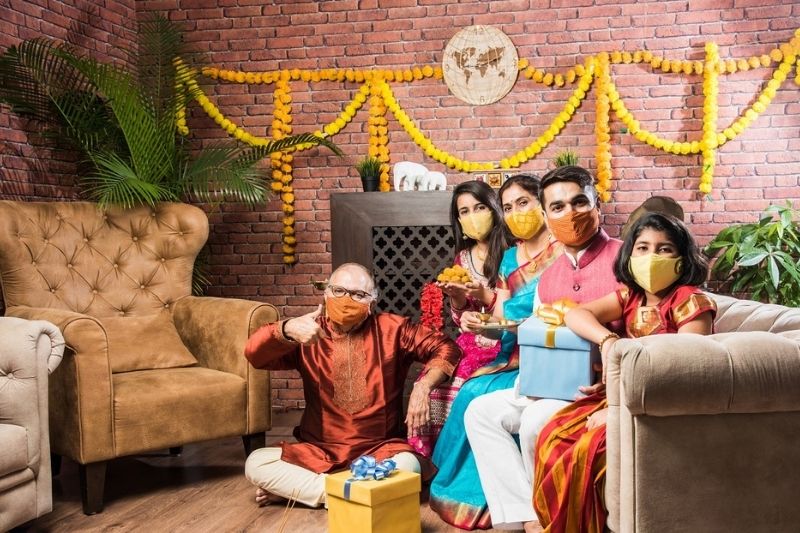 How Do People Celebrate Diwali?
During Diwali people wear traditional clothes, and decorate their homes with diyas and rangoli. Rangoli are patterns traditionally made with coloured sand or rice. You can also use paints and colouring pens to create the designs. They represent happiness and positivity and are generally situated at the front of the house to welcome the Goddess Laksmi. It is also a time to be with family and friends and celebrate together with lots of food, gifts and fireworks. People will also visit temples and perform pujas at home. 
There are a handful of temples in Hong Kong:
Lighting a diya (or any candle) is an important aspect of the celebration. Growing up, we were told that for all five days there must always be a candle lit outside your house, regardless of whether you are home or not. Diyas symbolise many things and are thought to represent goodness, purity and luck. Since Diwali is celebrated on the new moon day, it is also a way to dispel any darkness and bring light into your house. The light from the lamps also helps to guide the goddess Lakshmi into your homes. Most Indian stores in Hong Kong sell plain diyas and you can decorate them at home with the family. Check out StarMart, 4 Season Store, SpiceBox Organics, You Store, Spicestore HK and of course Chungking Mansions to buy your diyas.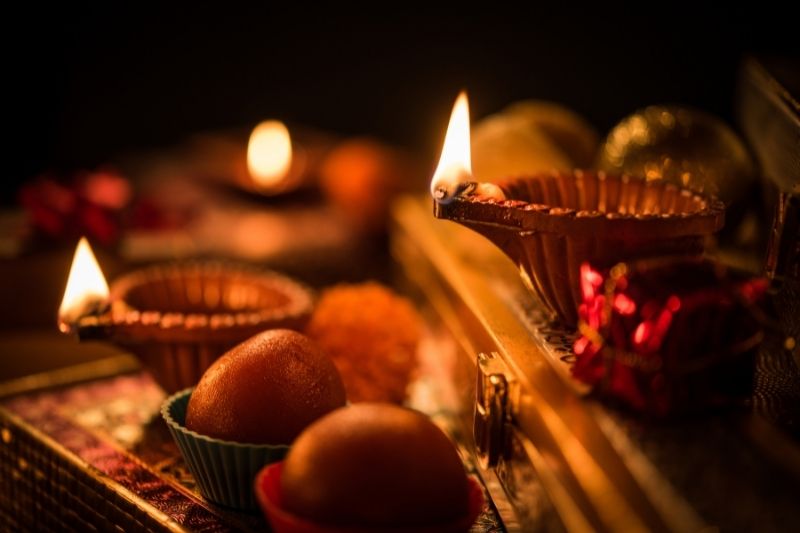 Diwali Books
If you're looking for some inspiration to teach your children and friends about Diwali then there are some great books you can lean upon. We've listed some of our favourites below and they all make great Diwali gifts too!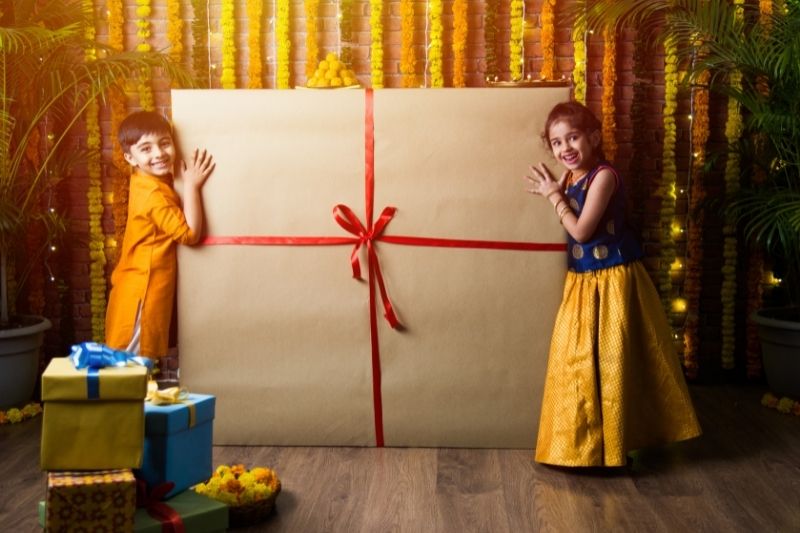 You may also like: The Best Children's Books By Hong Kong Authors
What Traditional Gifts Are Given During Diwali?
No Diwali celebration would be complete without some traditional Indian sweets (Mithai). Traditionally sweet and savoury dishes are made at home with your loved ones and then gifted to family and friends. It is also common practice to buy boxes of sweets to give as gifts to family, neighbours or to eat yourself! There are many options to buy Mithai boxes in Hong Kong. Pre-ordering is required. Check out some of our recommendations below: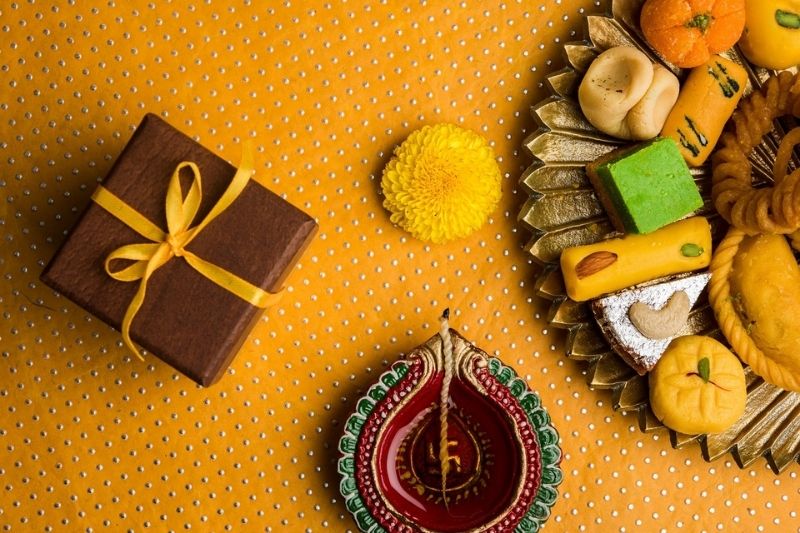 Other common gifts include, statues of gods, for example Lakshmi and Ganesh idols. Rangoli, diyas, jewelry (try Kasido HK) and new clothes. Platters of dried fruits, candles, and other home decor items, like serving platters and bowls are also great gifts. Kowloon Bazaar is a good place to pick up some beautiful gifts, as is Mums @ Play, who often host Diwali Bazaar's.
Mums@Play will be hosting its annual Diwali Bazaar on Saturday 9 October 2021. The Light it Up Diwali bazaar will be hosted at Amazed Learning Centre, located in Causeway Bay (MTR exit A). Expect stalls selling festive items like traditional home decorations, curated gift items, ethnic fusion wear, jewellery, organic skincare, candles and diyas, luxury glassware, organic food items and more. Address: 77 Leighton Road, Causeway Bay.
Where to Eat Indian food in Hong Kong
Diwali is a special time to get together with family and friends and have a big feast. For Diwali dinners try Chaiwala for its festive Diwali brunch menu, including street food bites, dishes from the Tandoor, and curries. Chaat at the Rosewood will be hosting a special Diwali tasting menu on the 4 November for $1288 per person, dishes include, Dhokla Ki Chaat, Lobster Rasam, a Tandoori Kebab Platter and Halibut Polichathu to name a few. Rajistan rifles is celebrating Diwali with an immense feast at the Peak side venue, with a Chaat counter, and the full works, prices start from $628 per person. Black sheep restaurants are offering a dine at home feast by Chef Palash Mitra. Opt for a full feast delivered directly to your door, a box of mithai box, or both! Available to order online from 28 October to 6 November.
There are also many wonderful Indian restaurants across Hong Kong where you can enjoy a wide selection of Indian cuisines from different regions. We've listed some of our favourites below:
Bombay Dreams – Address: 1/F, Winning Centre, 46 Wyndham Street, Central.
Gunpowder – Address: G/F, J Residence, 18 Ship Street, Wan Chai.
New Punjab Club – Address: 34 Wyndham Street, Central.
Rajashan Rifles – Address: G/F, The Peak Galleria.
Pondi – Address: 14 Fuk Sau Lane, Sai Ying Pun.
Jashan – Address: 1st Floor, Amber Lodge, 23 Hollywood Road, Central.
You might also like: NEW Family Friendly Restaurants in Hong Kong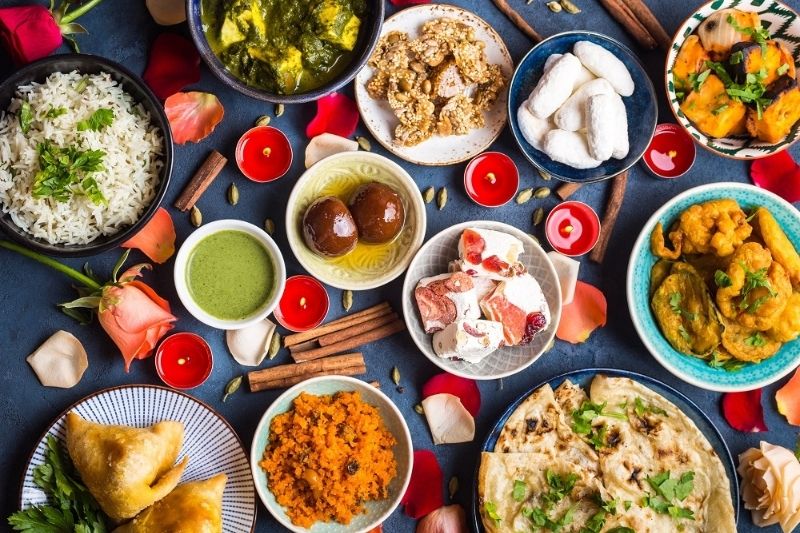 Where to Shop for traditional Indian Clothes in Hong Kong
There are many ways of celebrating Diwali in Hong Kong, and one colourful way to do so is to wear Indian clothing! Outfits like Saree's and Kurta's are made in vibrant colours and often with intricate detailing. Dressing up over Diwali is a must but it doesn't have to be complicated. Anything bright and bold can be worn, dressed up with jewelry. However, if you are after a more traditional Indian outfit you can try any of the following outlets in Hong Kong:
However you to choose to celebrate Diwali in Hong Kong – "May the Divine Light of Diwali Spread into your Life bringing Peace, Prosperity, Happiness and Good Health'. – HAPPY DIWALI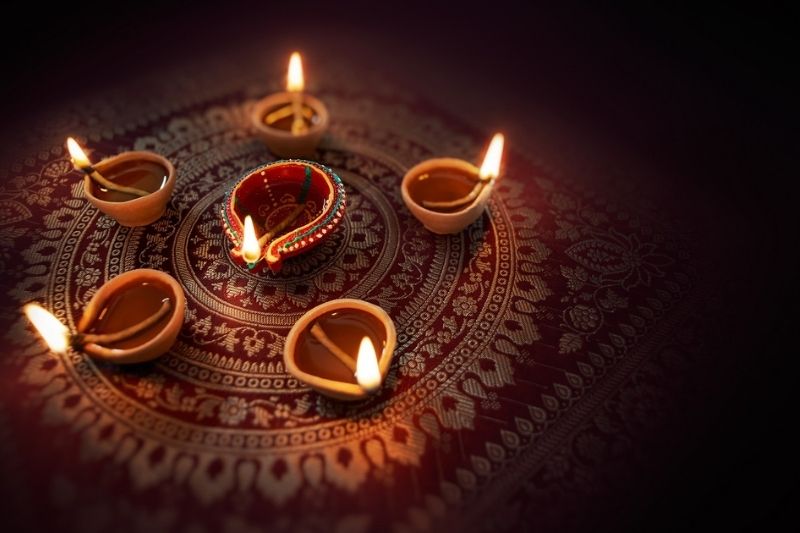 All photos courtesy of Shutterstock
Related Articles: