Reading Time: 5 minutesMy daughter is two-and-a-half. She attends pre-nursery and each week her language of instruction consists of three hours of Putonghua, three hours of Cantonese, and nine hours of English. Now, I am no tiger mother – it's really just a playgroup in the various languages – but nevertheless, this is going to be her grounding for language learning, so I want to make sure I get it right for her – which means homework for me.
We have been in Hong Kong for just over 13 years. At various points I have taken Cantonese and Mandarin classes (spoken only), but I am going to have to up my game to keep up with Holly's. And that starts with what she will be learning in terms of characters. I am keen for her to become fully literate – being able to read, write, speak and listen – in all the languages if possible: Cantonese because Hong Kong is our home; Mandarin because of the importance of China; and of course I want her to be a native English speaker.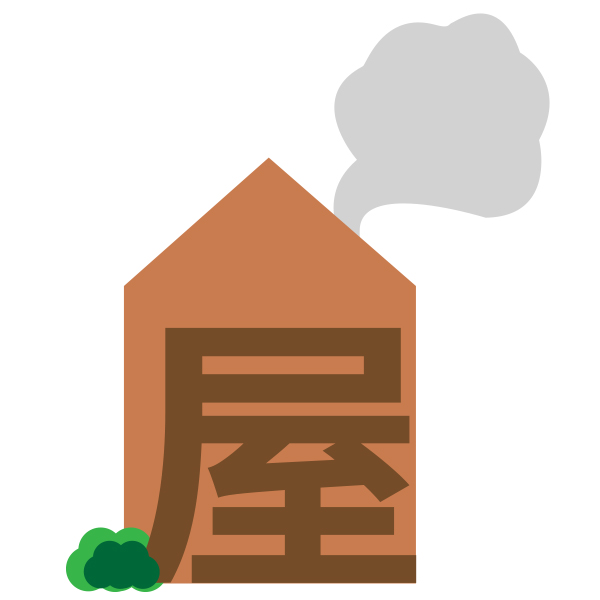 I began by asking a colleague, who is trilingual, to explain to me in basic terms the difference between written and spoken Cantonese and Mandarin. Hong Kong people speak in Cantonese and write with traditional Chinese characters; Chinese speakers from Mainland China generally speak Mandarin (as well as many dialects!) and write with simplified characters. In terms of the written language, they are basically the same; it's just the physical look of the characters that are different. However, the vocabulary, tones and structure for the two as they are spoken are very different. She also told me that Cantonese is a local dialect, with many fascinating slang words and terms, while a lot of Mandarin words are more formal and better in the written form. In summary, the oral languages (Cantonese and Mandarin) are very different, but the written languages (traditional Chinese and simplified Chinese) are fundamentally the same.
But before we get to our Chinese lesson, we need a little bit of history here to explain why traditional and simplified characters exist and co-exist. The movement to simplify the characters began in the mid-1930s, gained momentum in the 1950s and 1960s, and became official when the People's Republic of China issued its first round of official character simplifications in two documents, the first in 1956 and the second in 1964. This was in a bid to increase the literacy rate in China; of the 8,105 listed characters, 6,500 are designated as 'common'. This was updated in 2013 with an additional 271 characters to reflect new language usage.
Now a little bit of geography – which countries use which characters?
Who uses what
To get a better picture of the Hong Kong education landscape, I spoke to three teachers: Danny Kwan of Dramatic English in Mui Wo (part of the Kind Hing Trinity Group); Cathy Zhang, head of Chinese at Chinese International School; and Jenny Chen, head of Chinese Department at Bradbury (an ESF school). I realised that I didn't even know what Holly was learning, so I started by asking her Chinese teacher, Danny, about what form of characters they teach and why.
The school teaches Mandarin as a second language subject, and Cantonese as a communicative language – both in traditional characters. Danny believes "children learn best with authenticity, and authenticity comes with things [they see as part of their] daily routine. Since traditional Chinese is widely recognised in Hong Kong, we teach children the same characters, so they can apply what they learn to their daily lives." This is something that Cathy agrees with: although they teach only Mandarin and traditional characters at the primary level, their secondary students accept both characters. Cathy says "Learning traditional characters is the tradition in Hong Kong, therefore we choose traditional characters."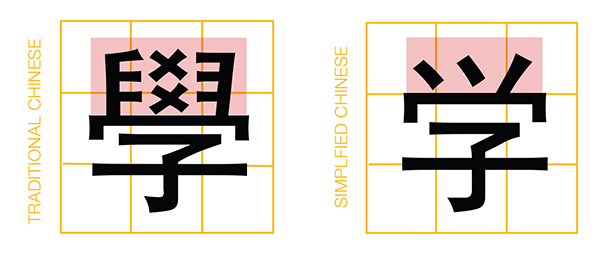 When asked about the pros and cons of traditional and simplified character learning, Cathy thinks that "In general, children find that traditional characters are easier to recognise as they provide more clues (semantic meaning) to decode the character. However, it takes a much longer time to memorise how to write it, as each character has so many strokes. One example is the Chinese character of turtle "龜", it looks just like a turtle, but it is not easy to write it in the correct stroke order."
When asked about switching between the two types of characters, I was surprised to hear from Cathy that it was easier for students who learned simplified characters to switch to traditional characters in both reading and writing. "But for children who learn traditional characters, it seems harder for them to read simplified characters, or they are more reluctant to read simplified characters because some of the characters lose their semantic clues and it is not as attractive to look at," she says. However, she adds "When students grow older, they tend to write more simplified characters because it saves time." Jenny, whose school only teaches Mandarin, uses simplified characters (which is true throughout the ESF system), although she says they accept usage of both: "Children have the freedom to choose the form of characters when writing. Personally I don't think the form of writing affects learning the language, although the simplified characters are easier for sure."
Danny stressed the importance of differences between learners as well. "For example, if the learner is strong in visual memory and language, he/she should be capable of learning traditional Chinese characters. On the other hand, if the learner is weak in language, using simplified Chinese will help him/her to understand better and hence motivate their learning." This is obviously easier in private or one-on-one tutor groups, but a school setting is a bit different, as Danny acknowledges: "We need to unify what knowledge to deliver to the students. So in general we will also consider the interests of the parents and social environment around the school."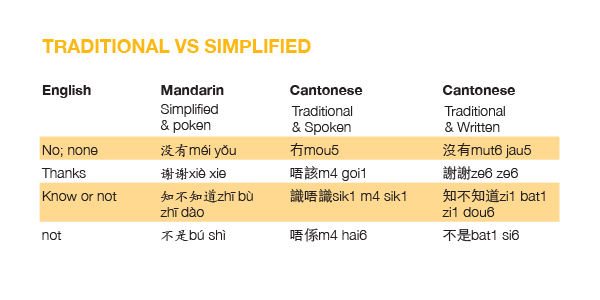 As the source of many Mandarin Chinese textbooks is Mainland China, the majority of textbooks use simplified characters; but ones from Taiwan use traditional. The majority of universities, adult tutor platforms, and further education organisations are preparing young adults to interact with China, so it makes sense that most of them teach simplified.
When I was having my Mandarin lessons, my teacher said to me not to get too hung up on the tones; whilst important, of course, people hearing me speak will take account of my second-language status and decode what I am talking about. And I think the same is true of the characters – the important thing is that your child has an amazing opportunity to learn arguably the world's most important second-language for English speakers. So embrace the prettiness and complexity of traditional characters, or don't worry if you choose to take the simplified route. The important thing is language acquisition, and whichever route you choose,you're building wonderful future communicators.
SCHOOLS THAT TEACH TRADITIONAL
Chinese International School
CIS was established in 1983 as Hong Kong's first school teaching an international curriculum in English and Mandarin.
The ISF Academy
ISF is an independent through-train school offering a Chinese and English immersion education with a global perspective.
International Montessori School
IMS offers an individualised and enquiry-based programme for toddlers to primary years in English/Chinese dual language.
Victoria Shanghai Academy
VSA is a private independent, non-denominational co-educational school for children age 6-18. The primary section is bilingual, the secondary curriculum is delivered in English and supplemented by a strong Chinese programme.
Kiangsu & Chekiang  International Section
KCIS is " Chinese in outook and international in spirit". English is the medium of instruction but Mandarin is studied for 30 to 60 minutes per day in kindergarten and primary.
ICHK Hong Lok Yuen
ICHK Hong Lok Yuen is a dynamic IB World School which has been delivering high quality education for more than 30 years. Children receive 40 minutes of Mandarin every day.