Reading Time: 3 minutes
Are you sticking around this CNY? We've rounded up the best kids camps, whether your child is the creative or active type.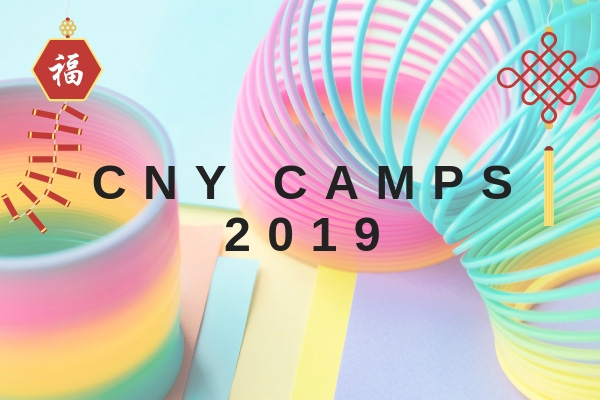 CNY Themed
Lion Dance & Kung Fu
If you want to experience true traditional Chinese culture, this class offers the perfect chance. Children can learn the simple playing and rhythm of Lion Dancing by acting as the lion head and playing an assortment of related instruments.
Age: 4-8 years. YWCA International Kids Club
Year of the Pig Language Workshop
Do you want your children to learn more about the origins of Chinese New Year, as well as keeping up with their Mandarin skills? Mini Mandarins is holding a 2019 Year Of The Pig CNY Workshop which will include a range of exciting Chinese New Year themed activities such as arts & crafts, storytelling and mini chef. All in Mandarin! Early-bird offer – 10 percent off on or before 26 January.
Age: 2.5+. Mini Mandarins
Chinese Calligraphy and Painting Day Camp
This class focuses on basic Chinese calligraphy and painting techniques such as ink, brushes, mixing of colours and use of paper. Students are encouraged to develop their own style through learning the basics.
Age: 3-12 yrs. YWCA International Kids Club
Art and Musical Theatre – Sing! Gunter the Showstopper
Children can help Gunter unleash his vocal prowess in this musical escapade. Discover his genius through singing and impressive dance movements and create a traditional Chinese scroll featuring the flamboyant character.
Age: 3-6 yrs. Kids Gallery
CNY Baking Fun
In this unique baking class, children will have a chance to mix, measure, knead, touch, smell and taste a variety of ingredients. Themes include Lovely Steam Cake, Cartoon Glutinous Rice Dumplings, Valentine's Day Rose Cake Pops and Lucky Fish Icing Cookies. This class is messy, yummy and the perfect combination of fun and learning.
Age: 6+. YWCA International Kids Club
CNY Art and Cookery
Join Maggie & Rose this Chinese New Year of the Pig as the little ones get cooking, arty and messy during holiday camps in Causeway Bay and Repulse Bay. The art camp includes getting messy making a work of art to honour the pig and exploring all things dragons while the cooking camps get the kids involved making sticky rice cakes for good luck, traditional almond cookies, dumplings and spring rolls.
Age: 4-8 yrs. Maggie & Rose
Kiddie Chinese Opera
Your child will develop self-confidence, endurance, self-expression and team work, while exploring Chinese culture, ethical and moral concepts through the opera itself. A short performance will be arranged in the last class for the children to show off their new skills.
Age: 4-6 yrs. YWCA International Kids Club
Chinese New Year Camp
Your children will experience an exciting Chinese journey of discovery, exploring traditional elements such as the lion dance, traditional fireworks, lanterns, zodiacs, fairy tales etc; learning through interactive activities like Chinese painting, paper cutting, traditional costume dress-up, dumpling making, and of course exciting stories, songs and dance performances, all while learning and practicing Mandarin.
Age: 2-12 yrs. Mulberry House
Creative
Sensory Messy Play & Learn
Messy play allows a child to explore their senses by providing the opportunity to pour, mix, squeeze and squelch materials not normally available to them. It taps into a child's curiosity about the world around them and feeds their irresistible urge to try new things out and experiment.
Age: 3-5 years. YWCA International Kids Club
Magic Kingdom
Show off your skills in the many family gatherings throughout the CNY holiday by saying 'Abracadabra'. Through simple tools and techniques, kids can become little magicians. By practicing and performing magic, kids can boost confidence, creativity as well as communications skills. Apart from that, it's just a whole lot of fun.
Age: 4-7 yrs. YWCA International Kids Club
Performing Arts Camp
What better way to spend the School Holidays than at the Rumple and Friends' Performing Arts camp? Join them for a week of dancing, singing, playing games and getting creative with arts and crafts! You'll even perform your very own play at the end of the week!
Rumple and Friends'
http://rumpleandfriends.com
Active
DIY Junk Playground
Armed with hammers, nails, saws, drills and screws, children are invited to turn an open field into their very own play masterpiece with towers, bridges and swings. No parents are allowed during these day camps; this is strictly a kids zone!
Age: 6-12. Hong Kong Forest Adventures
www.hongkongforestadventures.com
Trampoline & Gymnastics Day Camp
This class trains children to learn various gymnastics positions such as running, jumping, balancing, and turns along with routines designed specifically to increase coordination, flexibility, agility and control.
Age: 3–10yrs. YWCA International Kids Club
Multi-Activity Camps
Are you looking for a way to keep your kids learning new activities, staying active, and making new friends? Sport4Kids' Multi-Activity camps are packed with fun and action. Your children will take part in new sports, playing fun games, fun crafts, and much more! All while being looked after by Coaches who love what they do.
Age: 18 months – 14 yrs. Sport4Kids
https://sport4kids.hk