Reading Time:
2
minutes
Over the past few years Christmas Eve boxes have become very popular. It can be quite difficult to keep up with these new and often times expensive ideas, but Christmas eve boxes don't have to be elaborate. You can make them as simple as you want. Here are some ideas you can pick and choose from to make up some fun Christmas Eve boxes for the kids and the adults!
Christmas PJ's 
Always a hit with the kids, and who doesn't need PJ's! There are an abundance of Christmas Pajama's on the market, try Cotton on, Next Direct HK, Zara, Patpat, You can even go one step further and get matching ones for the whole family.
"T'was the night before Christmas" – Christmas Book 
Growing up we always read a Christmas story leading up to the 25th. You can keep it classic with tales like A Christmas Carol, or perhaps some bah humbug with The Grinch who stole Christmas. Maybe one boy and his toy are about to change your Christmas traditions with The Christmas Pig by J.K.Rowling, and for the little ones how about Zog Christmas.

Christmas Mug
A Christmas mug is a quick and easy addition to your Christmas eve box. Fun and useful for years to come! Add some hot chocolate, some marshmallows, your very own Christmas mug, and your favourite Christmas movie and you've got yourself a cozy evening leading up to the big day. For mugs check out Etsy, Franc Franc, Next Direct HK, The Lion Rock Press, Starbucks, Selfridges.
Slippers 
Some fuzzy warm slippers always scream winter to me (even during the balmy Hong Kong seasons). They don't have to be Christmas themed (although that helps!). For inspiration check Asos, Cotton on, Next Direct HK, Marks and Spencer, and Amazon.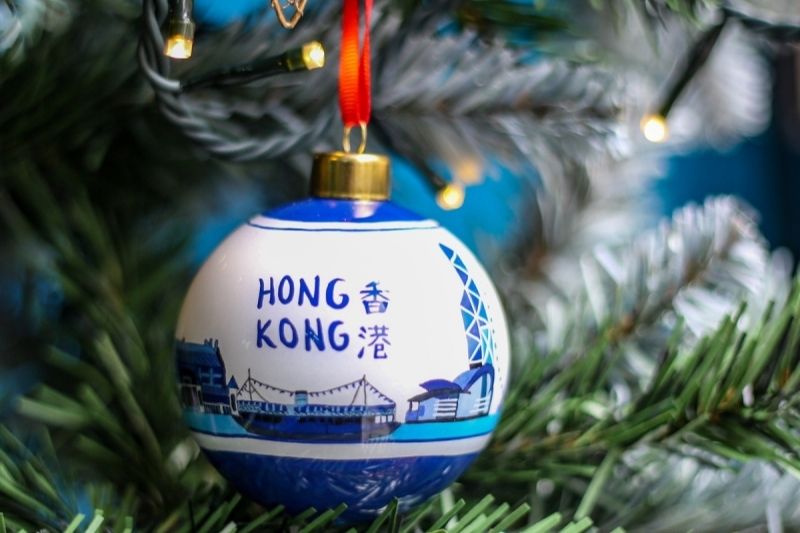 Christmas Bauble 
A personlised or themed Christmas bauble is perfect for a Christmas eve box, as it can be re-used each year and makes a lovely keepsake that will be remembered for years to come and can be passed down the generations. We love the hand painted Hong Kong themed baubles at Lion Rock Press, the personalised ones from Panda Pottery and the baubles from Little Days which can be fully customised. Cuddly toys are an easy win with the little ones  and these lovely hand made ones from Crafty Charity are just delightful. 
For The Adults
Upgrade your Christmas Eve box for adults by adding some bubbly, chocolates, and candles!
You may also like: The Best Christmas Advent Calendars for the Family 2021
Treats for Santa and Reindeers
Treats for Santa and Reindeer – Definitely one for the little ones, and super easy to do. Cookies and Milk for Santa, and some homemade Reindeer feed (nuts/seeds/granola/carrot) for Rudolph and his friends.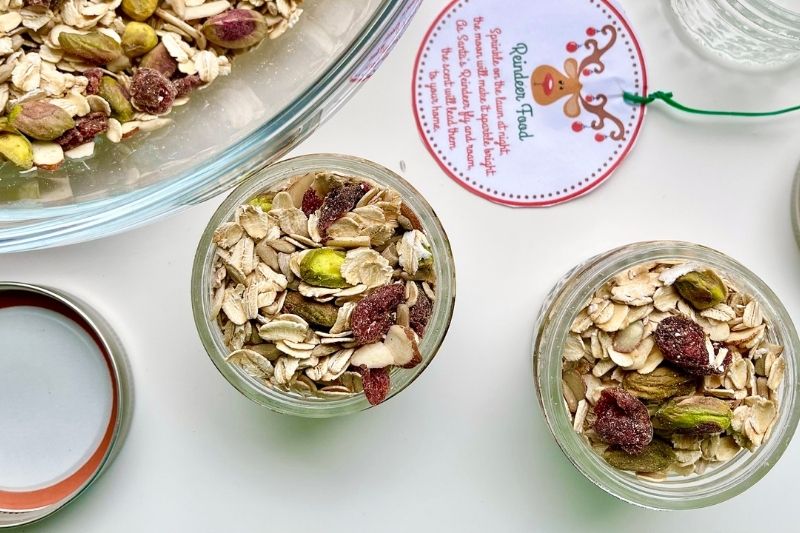 Ingredients
2

 cups oatmeal

1/2

 cup shelled unsalted pistachios

1/2

 cup dried cranberries

1/2

 cup sliced almonds

1/4

 cup sunflower seeds

1/4

teaspoon ground nutmeg
1/4 teaspoon ground cinnamon
1/4 teaspoon ground allspice
Preparation
Combine all the ingredients in a bowl. Put the reindeer food into bags or jars and then sprinkle on the lawn on Christmas Eve.
Main photo courtesy of Shutterstock; photos 1 courtesy of Patpat, photo 2 courtesy of ArtSpoonAndMug on Etsy, photo 3 courtesy of Lion Rock Press; photo 4 courtesy of The Today Show.
Related Articles: