Reading Time:
2
minutes
No one can resist these adorable Christmas pudding whoopie pies! Festive fun for the while Family to get involved with.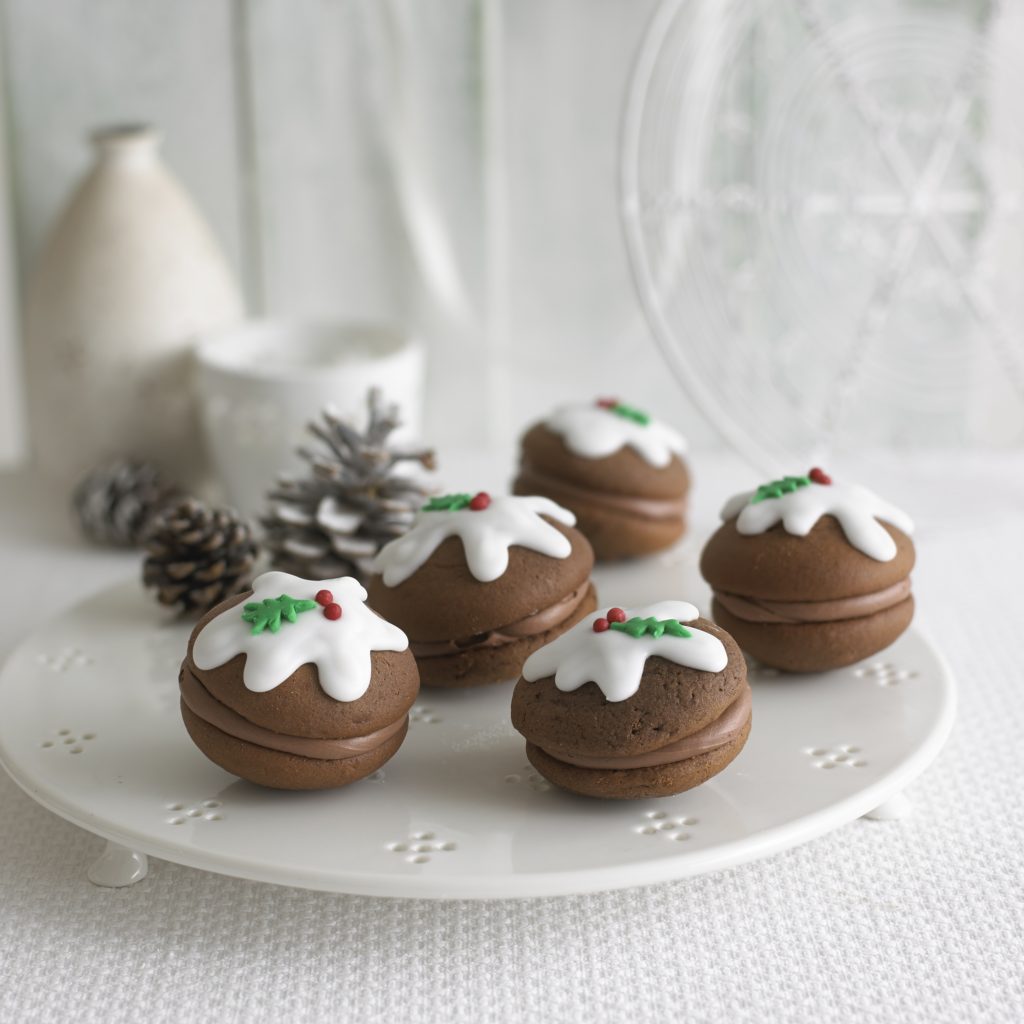 Prep: 35 minutes
Cook: 12 – 14 minutes
Makes: 9 whoopie pies
Ingredients:
125g butter (softened)
200g caster sugar
1 large egg, beaten
350g plain flour
50g cocoa powder
1 ¼ tsp bicarbonate of soda
250ml buttermilk
Filling
150g salted butter, softened
225g icing sugar
25g cocoa powder
Decoration:
400g icing sugar
Approx. 4 tbsp boiling water
125g green readymade Regal Icing
60g red readymade Regal Icing
Method
Pre-heat the oven to 160C Fan / 180C / Gas 4. Line three large baking trays with baking parchment.
To make the pies, cream together the butter and sugar in an electric mixer until pale then beat in the egg. Sift the flour, cocoa and bicarbonate of soda into another bowl. Gradually add spoonful's of the flour mixture to the creamed mixture, beating well and mix in enough of the buttermilk to make a smooth, thick cake mixture (you may not need all of the 250ml).
Using a 5 cm ice cream scoop. Drop 6 scoops of the mixture onto each baking tray, spaced well apart to allow them to spread. Bake in the oven for 12 to 14 minutes until risen, lightly golden and firm to the touch. Cool for about 5 minutes on the trays before transferring to wire racks to cool completely.
To make the holly leaves. Dust a work surface with icing sugar and roll out the green icing thinly. Using a small holly leaf cutter, stamp out 32 leaves and set aside. Break off tiny pieces of the red icing and roll into 32 small balls to make the red holly berries. Set aside.
To make the white icing. Measure the icing sugar into a bowl. Add the boiling water and whisk until smooth and fairly thick but still slightly runny. Spread the icing over the top of the peaked cold pies, leaving it to run down the sides a little. Decorate each one with two green holly leaves and red berries.
To make the filling, put the butter into a mixer and beat until soft. Gradually sieve in the icing sugar and cocoa, beating well after each addition, to make a smooth chocolate buttercream filling. Spread thickly over half of the pies.
To serve, when the iced pie tops have set, carefully sandwich them on to the filled pie halves.
The home of delicious recipes
Join the AK Club for free today and be the first to discover exclusive recipes and special content, insider news, competitions, plus a host of great offers.
Read More: More recipes here