Reading Time:
3
minutes
Treat yourself to some delicious meals and naughty treats this CNY! #cny2019 #hongkong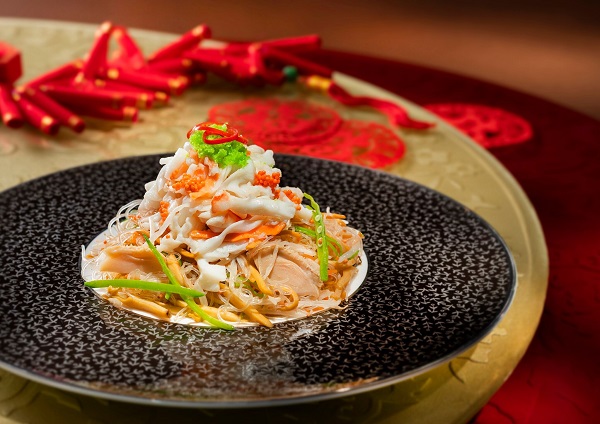 Hoi King Heen
To welcome the New Year of the Pig, Hoi King Heen is presenting a host of offerings, including six auspicious Chinese New Year dishes symbolising prosperity in the New Year. Some of the highlights include the Wok-fried Sliced Abalone and Shrimps with Fine Vermicelli, Pan-fried Mandarin Fish Fillet with Crispy Cereal and Sautéed Diced Spotted Garoupa with Chinese Yam and Chinese Preserved Meat and Braised Pomelo Peel Topped Half Dried Oyster Rolled with Broccoli Leaf in Abalone Sauce. Five varieties of innovative sweet and savoury Chinese New Year puddings will also be on offer. Hoi King Heen's exclusive flavours provide the perfect gift for friends, family and business partners to wish them a prosperous and fruitful Year of the Pig. Starting at HK$268 per box, flavours include Turnip Pudding, Taro Pudding, Sweet Potato & Sugarcane Pudding and more. Hoi King Heen's special Chinese New year puddings will be available for pre-order by the box between 1 January and 4 February. www.hongkong.intercontinental.com
Clipper Lounge
Available for brunch and dinner from 5 to 7 February, the Chinese New Year-themed buffet will be priced at HK$888 per adult and HK$528 per child, with options of free-flow Moët & Chandon Brut champagne at an additional HK$360 per person or free-flow non-alcoholic beverages at an additional HK$128 per person. On 6 February, there will be an additional cost of HK$110 per adult for the dinner buffet. mohkg-restaurants@mohg.com
The Drunken Pot
Hip and trendy hotpot specialist, The Drunken Pot, invites foodies to celebrate Lunar New Year in style with auspicious themed creations and a front row seat to the harbourfront fireworks. From 21 January to 10 February, this epicurean destination will introduce innovative hot pot set menus as well as new a la carte specialities highlighting seasonal flavours to add a touch of warmth this winter. www.thedrunkenpot.com
Spasso
Welcome the Year of the Pig with a bang at Italian restaurant Spasso, located on the waterfront in TST East. There is the option of a pre-firework meal or a five-course firework dinner, which costs $468. www.divinogroup.com/restaurants/spasso/about-us
Kömune
This Chinese New Year, Kömune will offer a delectable two-person Sharing Platter (HK$250) in celebration of the Year of the Pig, available from 2-10 February. The platter includes crispy Shrimp Balls served with house-made fermented hot sauce, roasted Shiitake Sliders with a tangy Sriracha mayo, topped with fresh pea shoots, Long Beans tossed with crunchy candied hazelnuts and ginger, and the juiciest Crispy Pork Belly marinated with a homemade BBQ sauce, all served on a quirky pig-shaped platter. Kömune will also offer a Chinese New Year-inspired cocktail, Yin (HK$90), a balanced mix of bison grass vodka, lemon juice, house-made hibiscus syrup, topped with a splash of soda water, for a limited time only. www.komune.com.hk
TokyoLima
TokyoLima will hold a Year of the Pig Brunch on 26 January between 12.30 and 2.30. It will boast treats such as a Pan Con Chicharron stations, a Suckling Pig station and Mandarin Orange inspired cocktails. info@tokyolima.hk
Edible Gifts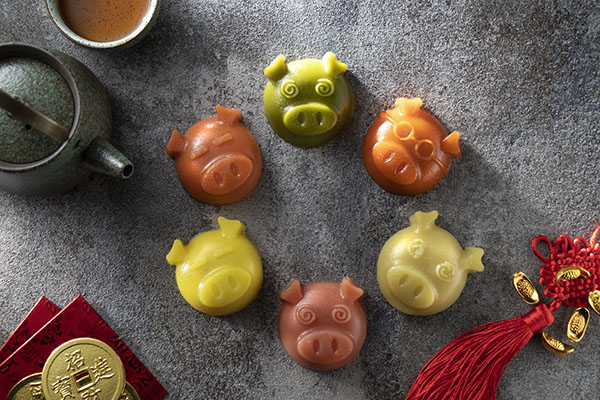 This little piggy likes puddingsThe Marriott Hong Kong Sha Tin has created the perfect edible gift for loved ones. Meticulously crafted into piggy shapes, the homemade Chinese New Year Puddings come in six flavours, and are very cute! A box set of six costs from $128. www.courtyardshatin.com
Vive Cake Boutique
Vive Cake Boutique welcomes the Lunar New Year with an exclusive collection of cakes and gift sets. Specially created and curated by Founder, Vivien Lau, the Lunar New Year collection is designed to bring joy and happiness in celebration of this deeply important festival in Chinese culture. www.vive.hk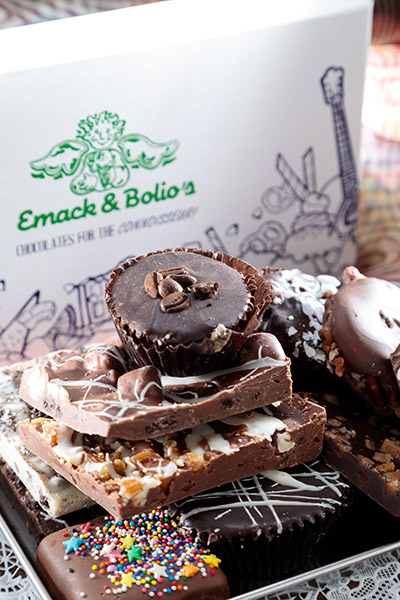 Chocolate Lovers
Between 25 January and 17 February, you can wow your family and friends with a gift box of handmade chocolates from Emack & Bolio. Yes, the company known for its visually stunning Rock'n'Roll ice cream, has been making hand-made chocolates for over 20 years. Featuring funky flavours like Almond Turtles, Cosmic Brownies and Grasshopper Pie Bark, customers can choose to create a chocolate box from 30 different kinds of 100 percent Boston hand-made chocolate in Hong Kong – meaning that every family member or friend can have a tailor-made chocolate experience. Emack & Bolio's hand-made chocolate gift box is priced at HK$198 and can be created at any of the four Emack & Bolio's branches across Hong Kong while stock lasts. https://emackandboliohk.com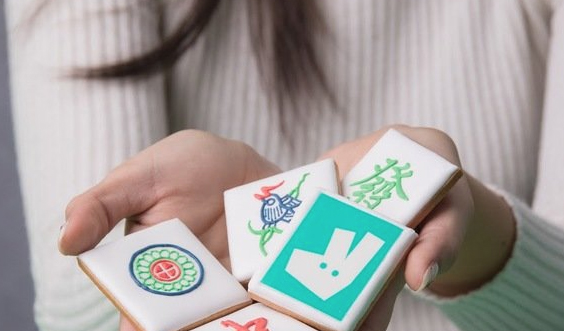 Munch Some Mah-jong with Deliveroo
Mah-jong is an intrinsic part of the lunar new year celebrations and in honour of this festive tradition, Deliveroo has created edible mah-jong tiles so you can play the much-loved game and munch your way to better luck at the same time. The limited edition edible mah-jong tiles are called "Thirteen Terminals" after the most-sought after play in Mah-jong, which is key to winning the most money. Deliveroo's Thirteen Terminals are made of cookies. Starting from 3 pm on 25th January 2019, customers who order over $150 through Deliveroo Food Market in Sai Ying Pun and Wanchai will be receive a free set of special edible mah-jong, subject to availability.