Reading Time: 5 minutes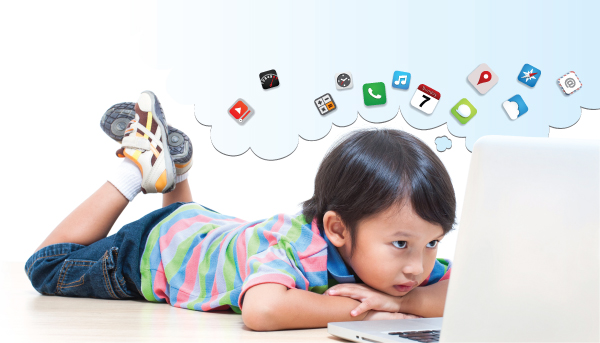 It is Saturday morning and I am listening to a developer showcase the gaming application he is building to a group of peers. He wears dark jeans and a nondescript grey t-shirt; large headphones dangle around his neck, and his fingers (all ten of them) swiftly dance across the keyboard of his laptop, which is connected to a large screen behind him. 
He walks us through his game, which is not yet complete. He describes the software program he is using (Game Salad) and why he chose that one over others. He lists the game's attributes, the music choice and, most importantly, the logic behind the game's concept.
The other developers in the audience nod approvingly. "Nice. I like it," says one. Another enquires how long it took to build and, "Can we see the code?" A third one asks: "Does Game Salad support GIFs?"
None of this would be surprising if the developers in question weren't between the ages of 11 and 15.
As I sat and listened to these "children" present and discuss the mobile apps and games they were creating, I realised these were not just pre-teens and teenagers: They are full-fledged representatives of the latest generational buzzword: digital natives.

Going native
In his 2001 paper "Digital Natives, Digital Immigrants", Marc Prensky described children born after the year 2000 as "native speakers of the digital language of computers, video games and the internet." In other words, children today do not learn how to use technology any more than most of us learned to use a telephone or a television. As omnipresent in our childhood as the phone and TV were for us, so too are mobile apps and computers to these children.
Digital natives don't just react to technology; they interact with it, shape it and mould it to their personal tastes and preferences. And, they take this capability for granted.
"For them, it's more like a new hobby. They don't have the preconception that it's something scary or unknown," says Michelle Sun, co-founder of First Code Academy (www.firstcodeacademy.com), which runs this Saturday-morning workshop, as well as other coding courses for school-aged children.
A Hong Kong native, 27-year-old Michelle started the Academy in 2013 after falling in love with technology while employed as a research analyst at Goldman Sachs. She says that job gave her the opportunity to learn about the dynamics of the industry and opened doors to large corporations in Asia, granting her a first-hand look at the way entrepreneurs and senior managers within the sector operated. She was particularly intrigued with self-made internet entrepreneurs and the way they impacted the lives of so many people through technology.
"My key takeaway was the sheer power of how technology can transform people on such a large scale," says Michelle. Referring to WeChat, the instant messaging mobile application created by Chinese company Tencent, she says the impact in terms of reach is bigger than anything she has ever come across.
Bitten by the technology bug, Michelle launched her first project, a mobile app called Spotick, which allowed users to aggregate loyalty points. The venture was unsuccessful and she says, smiling, "No one heard of it."
Michelle says part of the failure was due to her lack of understanding of key development techniques. "I was working with a team of engineers and I felt almost half-blind or deaf just talking to them and not understanding most of the terms they were using," she says.
Not wanting to feel limited like that again, she tapped into her love of mathematics and curiosity and began to learn about programming. At first, she just read about coding and its uses, but in 2012, Michelle went to San Francisco to attend a three-month bootcamp at the Hackbright Academy, which describes itself as a "training program designed to help women become awesome programmers."
Programming is a notoriously male-dominated environment, and it is not uncommon to hear of a "brogramming" culture. Having attended an all-girls school in Hong Kong, Michelle found the female camaraderie and networking opportunities of the Hackbright Academy comforting. "It was one of the best experiences after college that I could have wished for," she says.
Michelle stayed in the Bay Area after the programming academy and worked for the start-up company Bump Technologies (now owned by Google), best known for its mobile app which transfers content between smartphones when "bumped" together. There she soaked up the quintessential San-Fran start-up atmosphere, where employees brought their dogs to work and weekly yoga classes were held within the company. Michelle also volunteered with a programme that taught middle and high school children to code. She says it was one of the most eye-opening experiences of her life.
"I realised they actually pick it [coding] up so differently than adults," she says. The main difference, she explains, was their lack of preconceptions or apprehension about using new technology.
Back in Hong Kong, she partnered with Google to host a one-day workshop in the summer of 2013 that introduced more than 30 girls from local and international schools to coding. The experience highlighted the demand for such a school in Hong Kong and, since then, First Code Academy has taught more than 150 children.

Up to code
Teaching is mostly done in two age groups: eight to 11 years old and 12 to 15 years old. The first group focuses on inspiring the participants to identify themes that interest them. Children learn general concepts of programming and are taught to think about the concept, logic and structure of what they want to build. "We get them into the habit of thinking about their daily lives and what can be related to some sort of creation with technology," says Michelle. The 12- to 15-year-olds are taught more complex concepts, including databases and functions.
Eleven-year-old Sarah Williams is one student who's working out her problem solving skills. She is designing an app to track her large family's numerous activities. "Right now I'm working on a calendar – the big family calendar – because it's really big and we can't bring it with us everywhere." She tells me it will be Android-based at first, meaning her mother – who has an iPhone – will not be able to access it. But, Sarah says she has a solution: "Next year, I'll do the HTML class and I'll be able to change it to HTML."
Although she uses jargon many adults would not comprehend, Sarah is a typical 11-year-old with a multitude of hobbies and interests that include hip hop, tennis, guitar playing and sewing, which she says is her favourite after-school activity.
Sarah's father, Peter Williams, works in the finance industry, where he sees the importance of programming on a daily basis. Before introducing Sarah and her siblings to programming, he showed them a short video available on the website code.org in which Bill Gates, Mark Zuckerberg, the singer will.i.am and other famous tech stars talk about how and why they got into programming. He says that after watching the video, his eldest daughter exclaimed, "Yeah, I could do that!"
One of the concerns parents often express is the amount of screen time children are already getting from social media, games and schools that make digital learning mandatory. Michelle says this is indeed something she often hears about, although, increasingly, parents now prefer to manage that time rather than limit it. "If you can divert their attention to something like coding, and they can build their own toys, then it is time well spent," she says.
Adrien Pringle is 12 years old and one of the mini-developers presenting at the Saturday morning session. He says he spends between one and two hours a day on Scratch, a free programming language and online community designed for eight- to 16-year-olds by MIT Media Lab. He tells me his father showed him Scratch as a way of introducing him to programming. The program allows users to create games, stories and animations that they can share with friends – or the world.
Today he is showcasing his latest game to his peers. "This is a work in progress," he says. "I've had a little trouble with it, I can't program the bombs." His fellow programmers are quick to offer suggestions, confirming the sense of community these classes nurture.
As he walks me through his Scratch profile, he tells me about his logo. It is composed of the letters MWG, which stand for Mini Wolf Gaming, and he says, "I could have a company one day with that name." After watching him present his latest game, which included a PayPal donation button, "as a joke," he says, I would not be surprised if one day I will be writing an article about MiniWolfGaming – the latest successful global tech start-up.