Reading Time: 2 minutes
Chicken and Vegetable Stir-fry
Makes 6 portions
Serve with noodles or rice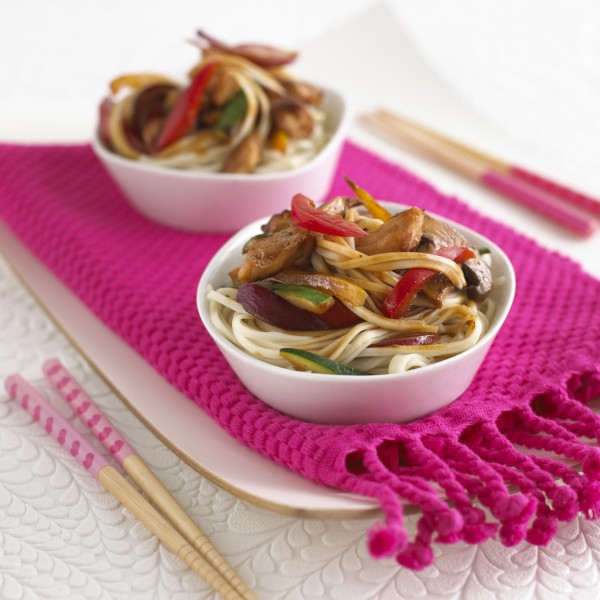 Ingredients
2 chicken breasts, sliced into strips
1 Tbsp honey
Salt and pepper, to taste
2 Tbsp, plus ½ tsp olive oil
1 red onion, sliced
1 clove garlic, crushed
1 red pepper, deseeded and sliced
1 yellow pepper, deseeded and sliced
1 courgette, sliced into batons
250g brown mushrooms, thickly sliced
1 Tbsp oyster sauce
1 Tbsp soy sauce
1 tsp hoisin sauce
Method
Toss the chicken in the honey and season with salt and pepper.
Heat 1 Tbsp olive oil in a frying pan or wok. Fry the chicken over a high heat for 3 to 4 minutes until golden and cooked through. Transfer to a plate.
Heat the other 1 Tbsp oil in the frying pan. Add the onions and fry for 3 to 4 minutes. Add the garlic, peppers and courgette and fry for 3 minutes. Add the cooked chicken.
Heat ½ tsp oil in a separate, small frying pan. Fry the mushrooms for 3 minutes until just cooked. Add to the other vegetables. Add the oyster sauce, soy sauce and hoisin sauce and season to taste. Heat through and toss together over rice or noodles.
You can cheat by using a ready-prepared selection of stir-fry vegetables. And, you can vary the vegetables according to what your child likes.
Teriyaki Beef Stir-fry
Makes 3 portions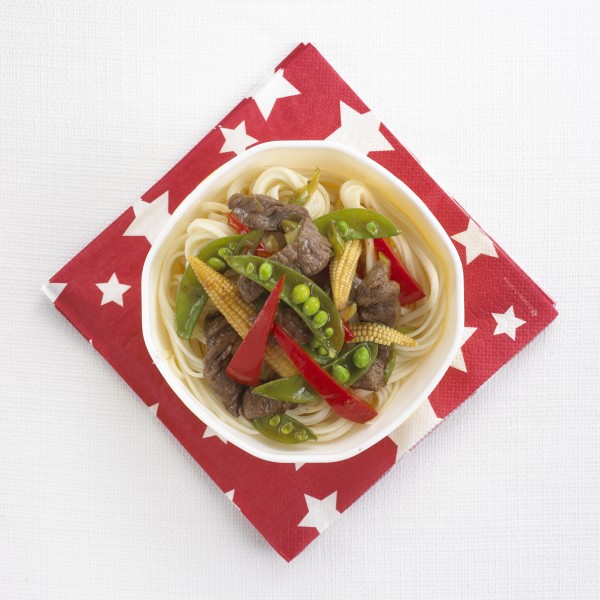 Ingredients
300g sirloin steak
Salt and pepper, to taste
2 Tbsp sesame oil
6 spring onions, sliced
100g baby corn, sliced
1 red pepper, sliced
75g sugar snap peas, sliced
½ tsp ginger, finely grated
For the Sauce
4 Tbsp soy sauce
2 Tbsp honey
2 Tbsp rice wine vinegar
2 tsp cornflour
Method
Cover the steak with cling film and bash out thinly. Season with salt and pepper.
Heat 1 Tbsp oil in a frying pan. Quickly fry the beef until just cooked and brown. Transfer to a plate.
Heat the remaining oil in the pan. Add all of the vegetables and stir-fry for 4 minutes. Add the ginger.
In a separate dish, mix all of the sauce ingredients together. Pour over the vegetables, add the cooked beef and toss over the heat for one minute. Serve at once.
Find these recipes and many more in Annabel's book: Quick & Easy Toddler Recipes.