Reading Time: < 1 minute
Jump your stress away at Hong Kong's first-ever "Puffy Park" art installations inspired by national parks in Japan.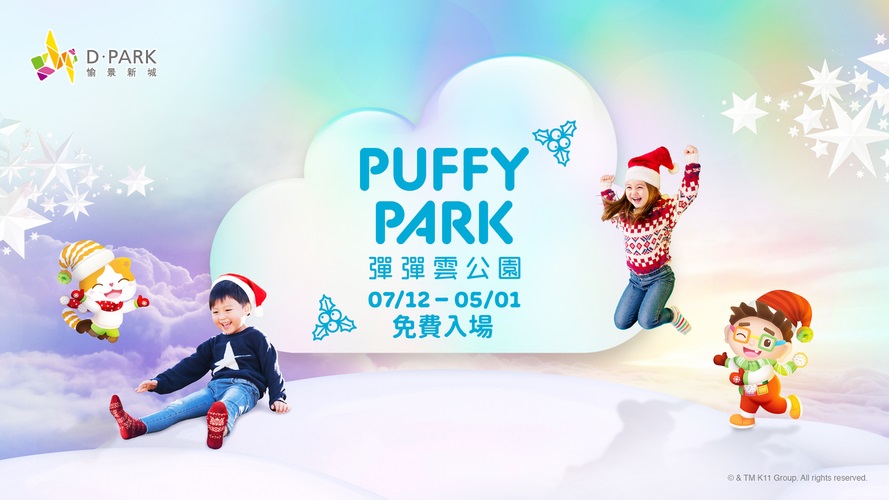 This Christmas, explore the various "Forms of Water" with Hong Kong's first-ever Puffy Park, a unique playground at D‧PARK. D‧PARK has teamed up with Ms. Sanny Ng, a local architect to present a large-scale art installation inspired by the facilities in the national parks in Japan where extra-large trampolines take center stage. Combining public art, modern architecture and state-of-the-art technology to create a fascinating playground experience.
There will be various Christmas themed check in spots for the whole family to explore. An interactive "Puffy Wall" that resembles layers of clouds, allowing guests to imprint their hands and body. An igloo turned into a "House of Bubbles" for kids to play. A "Sparkling Bubble Kingdom", where large and small bubbles gather to form the ceiling of the pavilion allowing you to immerse yourself in a whimsical wonderland. A "Crystal Heaven" where sunlight shines through creating bright colorful rainbows everywhere.
Open from December 7th, 2019 to January 5th, 2020. www.dpark.com.hk
Did you know: According to NASA, 10 minutes bouncing on a trampoline is a better cardio workout than 30 minutes of running. Trampolining challenges your balance, coordination and the use of core muscles.