Reading Time:
2
minutes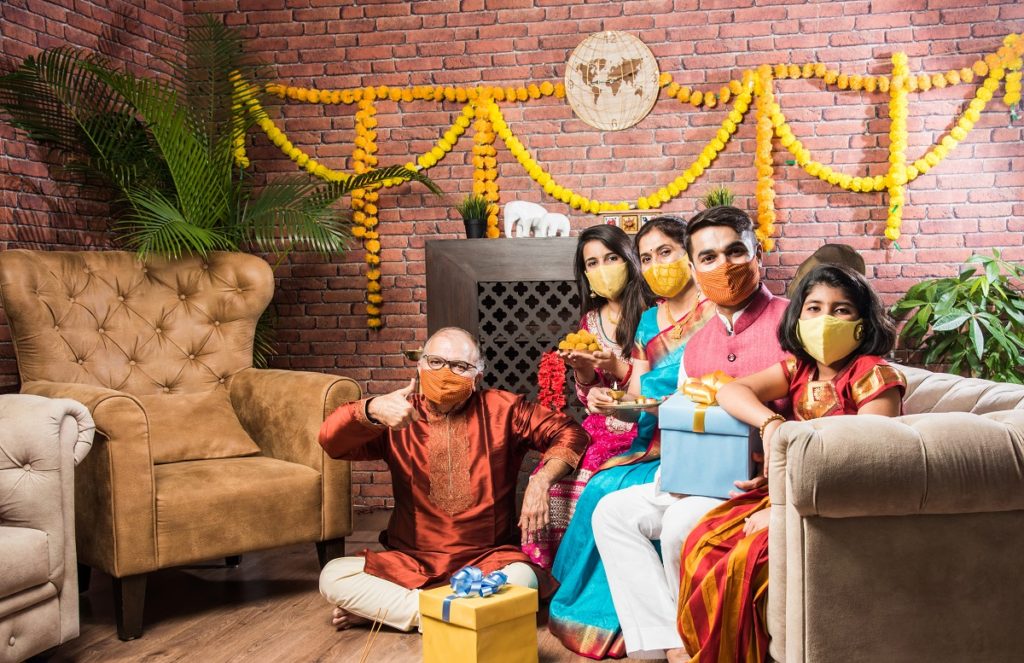 Diwali is called the Festival of Lights and it is one of the most popular Hindu festivals celebrated all over the world. Although Diwali celebrations may vary in different communities, it is the triumph of light over darkness and signifies a new year. Diwali is celebrated over 5 days and is said to be in honour of Rama (incarnation of the god Vishnu), who returned home after 14 years in exile during which he fought and defeated the demon king Ravana. People lit their houses with diyas to celebrate his victory. It is also believed that the Goddess of Happiness and Good Fortune, Lakshmi, roams the earth on this day and the lights act as her guide. During Diwali people wear traditional clothes, and decorate their homes with diyas and rangoli. They will often visit temples and perform pujas at home. It is also a time to be with family and friends and celebrate together with food and gifts.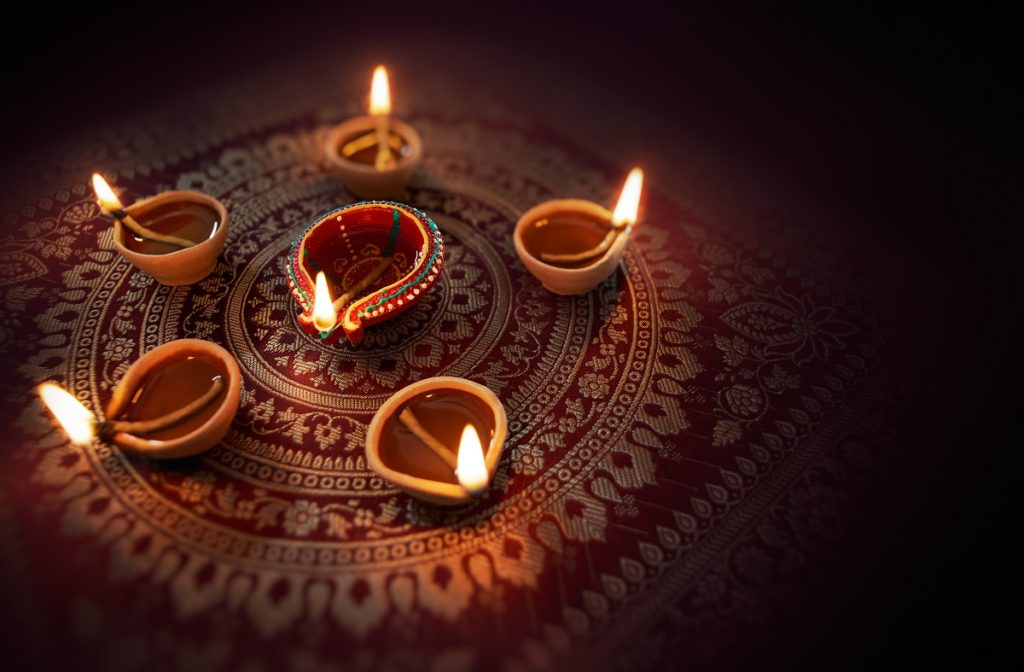 Lighting a diya (or any candle) is an important aspect of the celebration. Growing up, we were told that for all five days there must be a candle lit outside your home, regardless of whether you are home or not. Diyas symbolise many things and are thought to represent goodness, purity and luck. Since Diwali is celebrated on the new moon day, it is also a way to dispel any darkness and bring light into your house. The light from the lamps also helps to guide the goddess Lakshmi into your homes.
Where to Shop
Indian clothing is all about colour! All the outfits, from Saree's to Kurta's are made in vibrant colours and often with intricate detailing. Getting dressed up for Diwali doesn't have to be complicated, simply be bold and vibrant in your choice of clothing. If you are after a more traditional outfit you can try the following online outlets.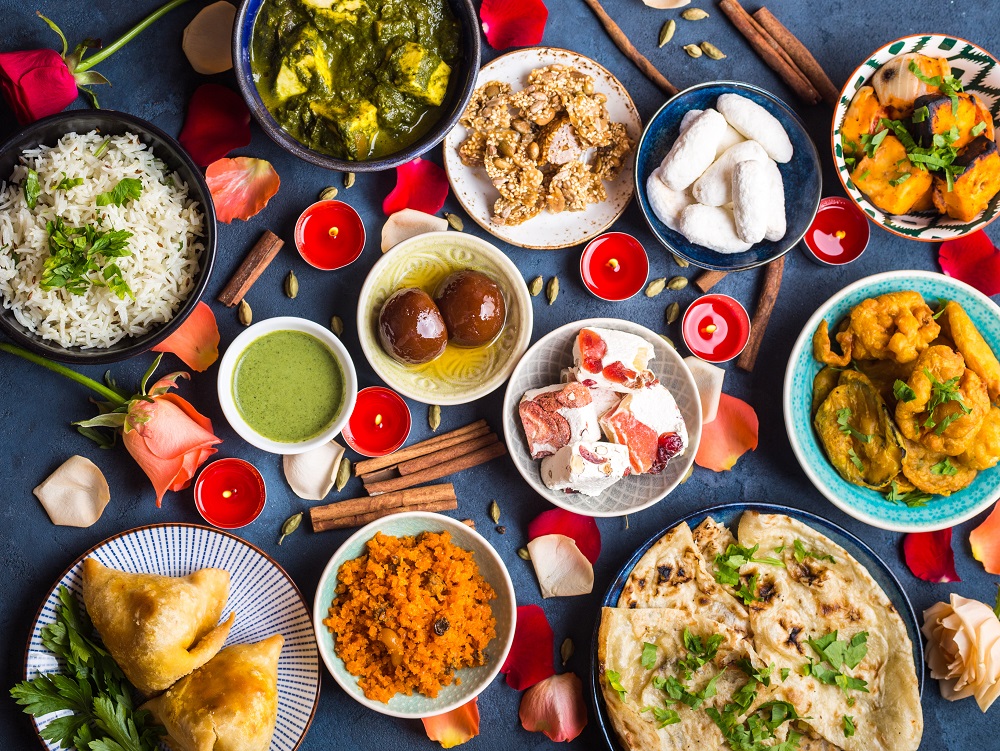 Where to Eat
Diwali is a special time to get together with family and friends and have a big feast. If you're celebrating at home, why not order a festive Diwali menu from Uncle Desi. For the month of November, Uncle Desi will be featuring three celebration menus for big and small gatherings. Chaiwala will be serving up a Diwali menu with firm favourite's like samosa's, aloo tikki, butter chicken, and their signature tandoori platter. There are also many wonderful Indian restaurants across Hong Kong where you can enjoy enjoy a wide selection of Indian cuisine from different regions. We've listed some of our favourites below: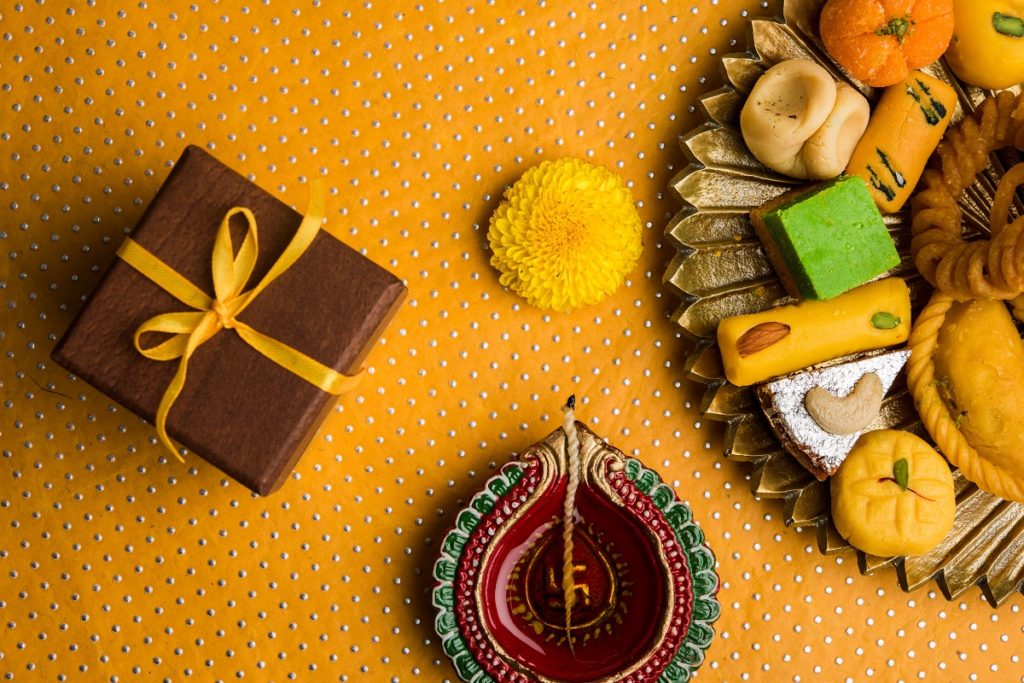 Diwali Sweets
No Diwali celebration would be complete without some traditional Indian sweets (Mithai). Traditionally sweet and savoury dishes are made at home with your loved ones and then gifted to family and friends. It is also common practice to buy boxes of sweets to give as gifts and eat yourself! There are many options to buy Mithai boxes in Hong Kong. Pre-ordering is required. Check out some of our recommendations below:
Read More: Where to eat for Thanksgiving In Hong Kong