Reading Time: 6 minutes
Are you looking to create the perfect children's bedroom? We ask three design experts for their decorating and furnishing tips.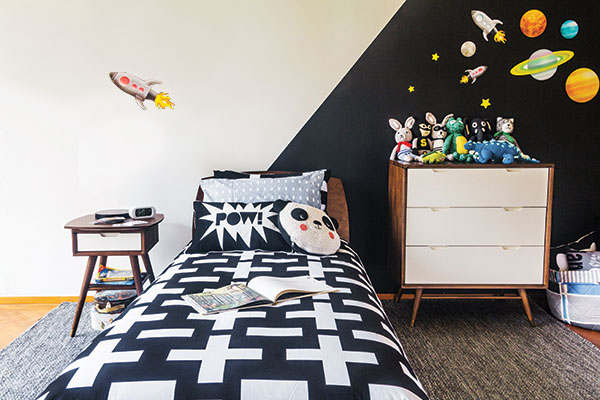 The experts
The Good Studio – Kaye Dong is the founder and managing director of The Good Studio, an interior design practice headquartered in Hong Kong but with regional offices in Macau and Taiwan. The Good Studio's expertise spans across residential, commercial and hospitality projects, both locally and internationally.
The Home Stylist – Founder Alex Sheldon and her team of certified home styling and staging professionals will help you define, create and implement an inspiring home, drawing on a wealth of experience and a comprehensive portfolio of suppliers, to help meet your requirements fully.
The Indigo Living Design Centre – design consultant Kim Leong. The Indigo Living Design Centre is part of the whole Indigo Living company. It consists of a team of in-house stylists, design consultants and interior designers who work across a range of design services. Their Design Centre is currently in the flagship store at Horizon Plaza and will soon also be available at Homesquare in Shatin.
How much say should children get in the design of their room?
The Home Stylist (THS) -– It's good to ask the children what they want from the room and how they want to feel in their space. From there, you can interpret their ideas and make the room into something cohesive and that will work with the rest of your home. Remember, they're the ones who will be playing and sleeping in the room so you want it to be their haven too!
The Good Studio (TGS) – Allowing children to have a say in how their room looks gives them a sense of ownership and means they will love spending time in it. Having said that, I would not suggest asking for their input on absolutely everything. Children's tastes change every day; what they like today may not be what they like tomorrow. There are also many functional elements they do not understand which should be left to the grown-ups.
Indigo (I) – Involving young toddlers and children in the decision-making process is a great idea. They're often very honest and love to have a say in what they like and don't like. You'd be surprised at how you can turn furniture shopping into a fun, educational experience – be it naming colours, counting chairs or naming furniture.
I also find involving them right from the beginning is important when transitioning toddlers to their own bed or room. It makes them feel special, gives them a sense of ownership and excitement that they're a 'big boy' or 'big girl', and it helps them get used to the idea of sleeping on their own.
Introducing colour & personality
I – Space is often limited in Hong Kong homes, which is why light pastels are always a great choice for a child's room. Keep it light & bright and you'd be surprised at how much it opens up the space and makes it feel bigger. Pastel tones also add a calm, soothing ambience to a room, making it perfect for young children. You can inject your child's style and personality into the room with fun toys, wall decals and accessories, such as bedding. Once kids get older they can express their personality through wall colours – a bold red or vibrant orange wall for an active child, for an example.
THS – I would recommend neutral for the wall colours. A bedroom is a haven, even for kids! When adding colour, do this in the accessories. For older children, window dressings are an opportunity to show their style or to be creative (regarding window dressings, I would recommend curtains for small/young children, but don't forget to get them lined, interlined and blackout).
TGS – One of the major mistakes parents make is trying to "over-design". While it is great to design appropriately for the child's age, children will outgrow their rooms very quickly and it is wise to ensure the room can evolve and adapt easily. For instance, instead of choosing Hello Kitty themed wallpaper, it may be better to select a more neutral wall colour and decorate with Hello Kitty accessories and décor, which can be replaced easily when your child outgrows Hello Kitty.
Giving the child the freedom to choose their own accessories and decorations is an easy way to ensure their personality is reflected in the bedroom. Another great idea is to frame some of the children's artwork (because they are precious) and display them around the bedroom. Ikea frames are an inexpensive way to achieve this and will allow you to change the artwork without hassle.
Choosing furniture
I – When designing a kid's bedroom, it's important to consider that furniture pieces should grow and last with them through the years. When selecting larger furniture pieces such as, beds, bookcases or desks, we suggest opting for neutral tones, such as a white or wood finish. Safety is another key consideration. It's important to select furniture that is Formaldehyde, lead & VOC free to reduce the chance of respiratory infections and skin allergies in children. Check that furniture has also passed US and UK safety standards to ensure that furniture is durable, structurally sound for active kids and non-toxic. When purchasing tall furniture pieces, such as bookcases, dressers or a chest of drawers, make sure you have them attached or fixed to the wall to prevent accidents. I also like to select furniture pieces that have rounded edges and slow closing drawer or door mechanisms to prevent bumps and little fingers from getting trapped.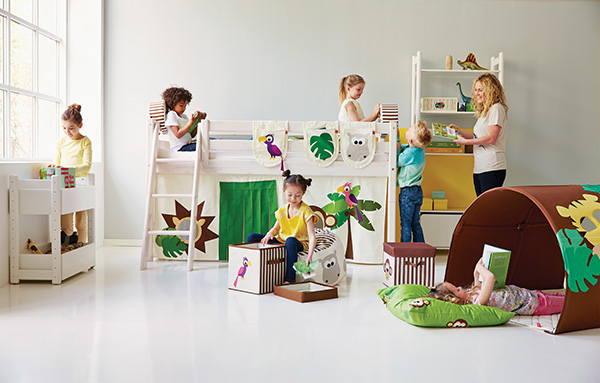 TGS – There are a number of things parents should keep in mind when selecting furniture for their children. Safety is the first and most important criteria to consider. It is a good idea to purchase from a manufacturer that specialises in children's furniture so that you can be sure it is built to a higher standard. Inexpensive furniture made with lower grade materials may not withstand the wear and tear over time and may pose a safety hazard for children.
Function and adaptability go hand in hand. Buying a piece of furniture that is age appropriate, but can adapt to the needs of a growing child is what parents should aim for.
Making the most of the space and storage solutions
TGS – Small spaces are definitely the biggest challenge for interior design in Hong Kong. Children's bedrooms in Hong Kong are often cramped and lack space for play. Lack of storage space is also a very common complaint. Luckily in Hong Kong, designers are very much accustomed to these challenges and can offer many creative ways to maximise space.
THS – The first thing I would recommend when it comes to sorting storage for any room is De Clutter. Also, have wardrobes, shelving, boxes etc. made to measure (not built in) for your space and what your individual child's requirements are. A child with lots of dolls will require something different to a child who has a lot of art or a lot of cars. I say 'not built in' so that you can keep using them in the next home. This can also be cheaper than buying from a store. We recommend Raymond (raymond.namxing@gmail.com) or Tony at MPlus Contracting (mpluskitchen@gmail.com – they don't just do kitchens they've done some great work for us).
For storing art, cars and books etc. Ikea has thin shelving with a small lip. These are great hung around the room (at the right height level for the age of the child) to hold their art, books, cars and the like. This is a way of storing and showing some of their favourite pieces off.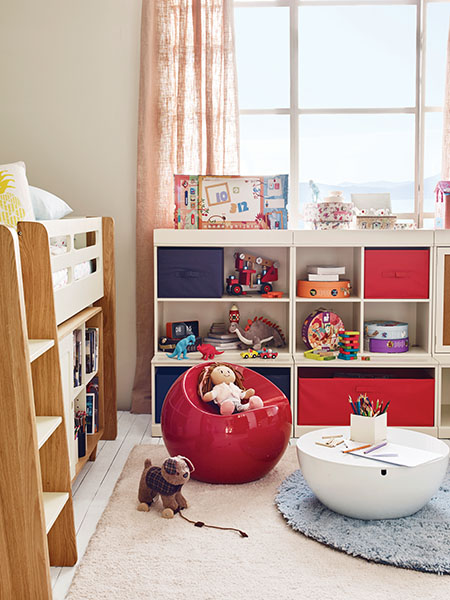 I – The Indigo Living Noah Storage Unit is a bestseller for a reason. For me it's the ultimate storage solution, since it's so versatile and timeless. The different modular components make it customisable and it can be scaled up or down depending on your space and needs. The canvas storage boxes that work with the unit add colour, give kids easy access and yet are practical enough to quickly throw toys in during tidy-up time. The interchangeable cork and blackboard cupboard doors are also great for showing off creative artwork!
What to splash the cash on
THS – Definitely splurge on the right storage and bedding but save on the accessories – kids being kids, these can change on a whim.
I – I think it's important to invest in larger furniture pieces, as they need to grow with your child and the safety factor is essential. Cheaper options can mean that cheaper materials have been used, which can affect the structure and stability of a product. Out of the larger furniture pieces, though, my top splurge is always on the bed and mattress. It's where your child needs to feel the most comfortable (to ensure they're happy and that mum and dad can hopefully get some sleep too!). Mattresses are also essential to your child's developing spine and posture.
Shopping tips
TGS – In Hong Kong, I love to shop in Petit Bazaar & Zara Home for very cute accessories that are sure to be loved by both style-conscious adults and kids. Indigo Living also has a beautiful children's range if you are looking for furniture items. Personally, I love to buy little bits and pieces for the kids when we go travelling. It is nice to have items that also bring back good memories.
Here are also some of my go-to online sites for children's accessories and décor items:
http://www.incyinteriors.com.au
http://www.potterybarnkids.com
Resources
The Good Studio
The Home Stylist
Indigo Living
Flexa
Ikea
www.ikea.com/hk/en/
Zara Home
Petit Bazaar
www.petit-bazaar.com
This article appeared in Playtimes May Issue 2017