Reading Time: 4 minutesThe holiday season is here, which means that it's time for lots of festive cooking and baking. Make it a family affair by getting the kids in on the action too. With these three easy kid-friendly Christmas treats recipes under your belt, you'll have the little ones cooking up a storm and impressing all your guests. Happy holidays! 
Bacon-Wrapped Stuffed Dates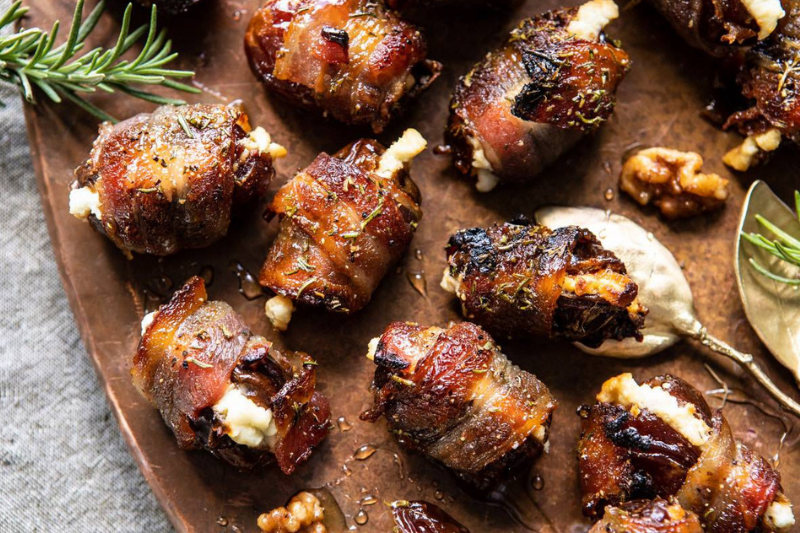 A notoriously easy addition to your Christmas platter, these bite-sized treats are a trusty crowd-favourite with their sweet and salty flavour profile. While there might be a bit of prep work for the grown-ups, the kids will have a jolly time stuffing and wrapping these dates before the scrumptious bites are sent off to the oven.
Ingredients
10 bacon strips (preferably thin)

20 Medjool dates

140g goat cheese or cream cheese

¼ cup honey, for glazing (optional)
Method
Preheat the oven to 200​​°C. Cut each bacon strip in half and set aside. Slice each date in half lengthwise, taking care not to slice the dates all the way. Remove the pit from each date.

Here's where the kids come in: Using a spoon, stuff each date with about a teaspoon of goat cheese or cream cheese. After filling each date, gently press its sides together to close the opening.

Wrap each date with a cut slice of bacon, and run a toothpick through the date to secure the bacon. Place the wrapped dates on a lined baking sheet.

Brush each stuffed date with honey (This is optional – the honey just lends some beautiful caramelisation).

Bake for 12 minutes, and then turn over each date using the toothpicks. Return them to the oven for another 10 minutes, or until the bacon is crispy and browned.

Let the dates cool for a couple minutes on a paper towel, and then serve!
Adapted from Pinch of Yum
Cranberry Brie Pastry Bites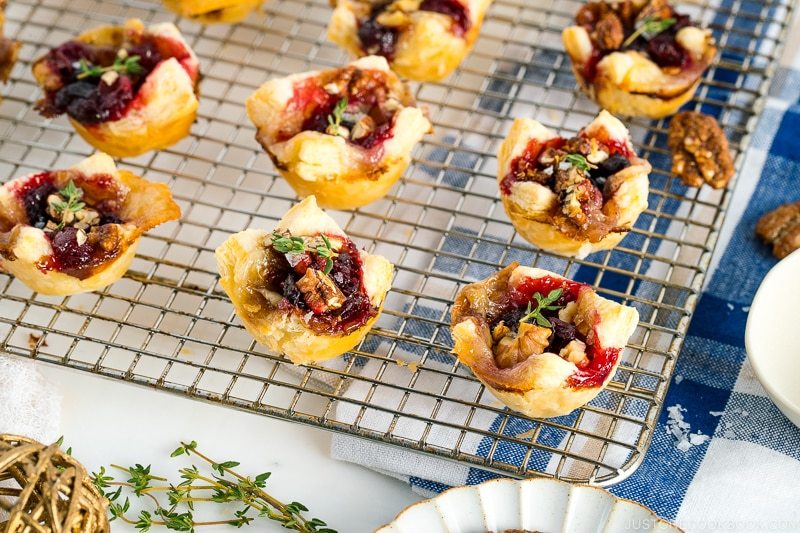 'Tis the season for cranberry sauce, and these Cranberry Brie Pastry Bites are just as simple to make as they are to devour. Frozen puff pastry and store-bought cranberry sauce means that this recipe requires only 15 minutes of active cooking, which can also double as playtime with the little ones. Add a sprig of rosemary or thyme on top of the pastry bites, and you'll have both Christmas colours on your dining table in no time.
Ingredients
1 sheet (245g) frozen puff pastry (you can find this at

City'super

)

120g Brie cheese (about a half round of Brie)

½ cup cranberry sauce

½ cup walnuts, pecans or pistachios, chopped

Rosemary or thyme, for garnishing
Method
About 30 minutes before making the pastry bites, take out the frozen puff pastry from the freezer and leave it to thaw on the counter. At this time, cut your Brie cheese round in half (if you haven't already done so) and place one half in the freezer, saving the other for another use. Freezing the Brie will make it easier to cut into chunks later.

When you're ready to start, grease a 24-cup mini muffin pan with butter or cooking spray and preheat the oven to 190​​°C.

Flour your countertop and place 1 sheet of puff pastry onto the countertop. Unfold the pastry sheet and when it is soft enough to work with (but still cold with a bit of firmness), roll the sheet into a 24cm x 36cm rectangle.

Cut the sheet into 24 squares by first cutting the rectangle into 6 strips crosswise, and then 4 strips lengthwise.

Take each square and gently press them into each muffin cup, letting the corners stick out on top.

Take the Brie out of the freezer, and cut it into 24 chunks. You can cut the rind off beforehand if you wish, or you can leave it on.

Place one cheese chunk into each muffin cup, and then top the chunk with a teaspoon of cranberry sauce. Finally, sprinkle the chopped nuts on top of the cranberry sauce.

Bake for about 16-20 minutes, until the pastry is golden brown and the cheese is bubbly.

Top each pastry bite with a small sprig of rosemary or thyme, and they're ready to munch on!
Adapted from Just One Cookbook
Candy Cane Fudge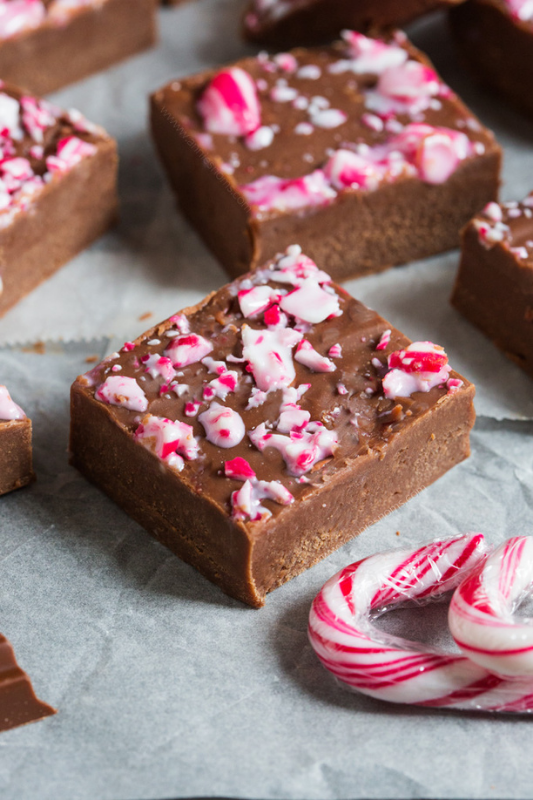 It isn't Christmas without a sweet treat, and homemade fudge is the perfect gift to get your friends and family into the holiday spirit. Better yet, leave these out for Santa on Christmas Eve instead of your typical cookies, and they're sure to be gone in the morning. Since the condensed milk is already so sweet, we like to opt for bittersweet chocolate (around 70% cacao) in this fudge, but semi-sweet chocolate (around 60% cacao) or even white chocolate works, too.
Ingredients
4 mini peppermint candy canes

480g chocolate, chopped into chunks (or chocolate chips)

1 can (397g) sweetened condensed milk

¼ tsp salt
Method
Line a 20cm x 20cm baking pan with parchment paper on the bottom and all four sides.

Place the candy canes into a plastic Ziploc bag, and crush the candy into small pieces using a rolling pin. (The kids will love doing this!)

In a double boiler, melt the chocolate, sweetened condensed milk and salt together, and stir until smooth. Alternatively, melt the chocolate in a bowl suspended in hot water, and then add the condensed milk and salt. Stir to combine.

Pour the chocolate mixture into the prepared pan, spreading it out evenly, and then sprinkle the top with the crushed candy canes. Refrigerate the pan until the fudge has firmed up, about 2 hours.

Cut the fudge into small squares, and serve or wrap with parchment paper to give away.
Variation: Make Cranberry Orange White Chocolate Fudge by using white chocolate instead of dark, and add 100g chopped dried cranberries and the zest of 2 oranges to the chocolate mixture after step 3. Skip the peppermint candy, and you have another fancy Christmas-themed fudge on your hands.
Adapted from The Pioneer Woman
Your Christmas will surely be merry and bright with these three Christmas treats in your recipe repertoire. They're sure to delight both the kids and the adults, so go forth and celebrate the most wonderful time of the year!
Related articles:
Featured picture courtesy of Shutterstock; picture 1 courtesy of Half-Baked Harvest; picture 2 courtesy of Just One Cookbook; picture 3 courtesy of Annie's Noms.