Reading Time: 3 minutesEatology brings delicious Mediterreanean-inspired dishes to your door to make it easier to live a healthier life.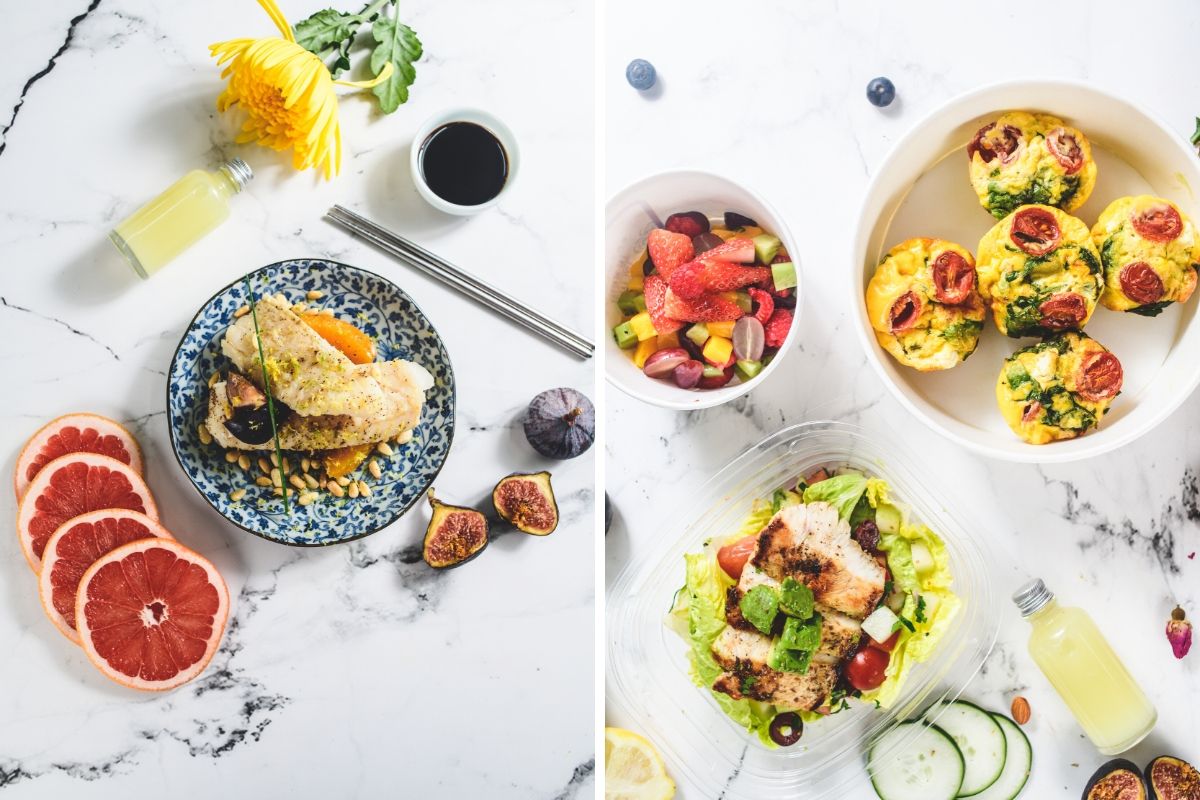 With a focus on improving the overall health of Hong Kongers, tailor-made meal specialists Eatology are taking inspiration from a people renowned for their longevity by launching a meal plan based on the traditional Mediterranean diet – The Diabetes-Friendly Mediterranean Diet – available from 1st April, 2020.
Recent events have led to the world's attention being focused more so than ever on our health and what we can do to ensure we stay in good physical shape. What we eat is central to this. Eatology's new Diabetes-Friendly Mediterranean Diet, created by Michelin starred chefs in collaboration with advice from leading dieticians, is rich in fresh vegetables, fruit, and fish which studies have shown restores a balance of intestinal bacteria linked to all-round good health*. The Mediterreanean diet has been much investigated by researchers and linked to numerous health benefits, including a lower risk of cancer, cognitive disease and cardiovascular disease as well as metabolic syndrome, obesity, and type 2 diabetes. In Hong Kong there are over 500,000 people suffering from type 2 diabetes. Eatology's Diabetes-Friendly Mediterranean Diet will be the first-of-its-kind for diabetics in Hong Kong offering a delicious, reliable and hassle-free service.
Their Diabetes-Friendly Mediterranean Diet consists of large quantities of fresh fruits and vegetables, nuts, fish and olive oil. A Diabetes-Friendly Mediterranean Diet rich in important unsaturated fats such as Omega-6 and Omega-3 (and replaces consumption of saturated and trans fats) can help the body maintain healthy cholesterol levels while reducing the risk of high blood pressure and cardiovascular disease. The science-backed dishes feature organic superfood ingredients that pack a powerful punch of health-promoting nutrients such as fibers from green beans, omega-3s from cold pressed organic olive oil, vitamin A from sweet potatoes, antioxidants from blueberries and many more.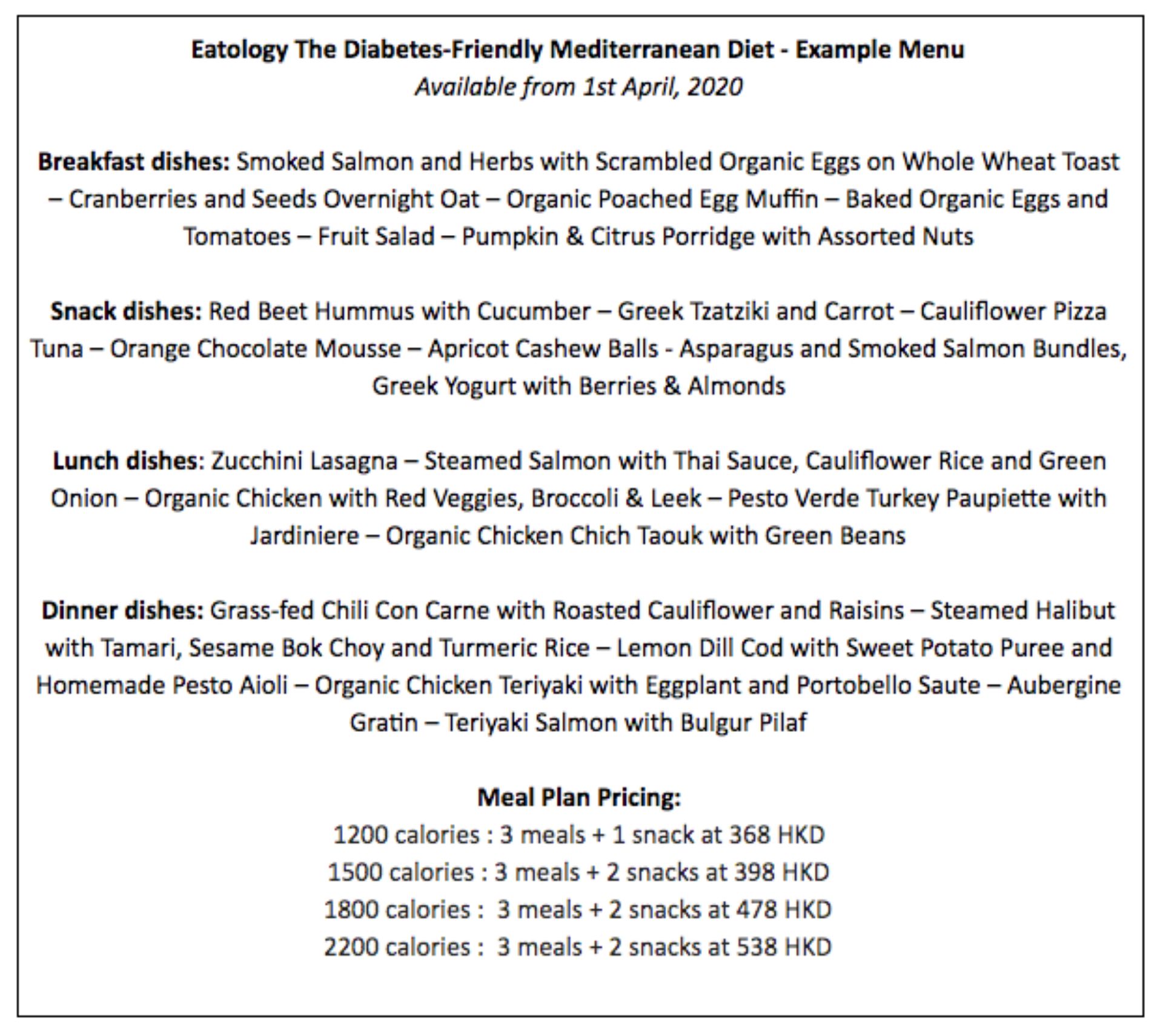 "We launched Eatology to provide healthy convenient food for busy health-conscious professionals like ourselves. We always seek to tailor meals to the needs of clients and so we created our new Diabetes-Friendly Mediterranean Diet to serve people who are living with type 2 diabetes and cardiovascular disease or at risk. With large quantities of fresh fruits and vegetables, nuts, fish and olive oil, the Diabetes-Friendly Mediterranean Diet is rich in unsaturated fats such as Omega-6 and Omega-3 which are super important as they cannot be made in the body, while the plentiful plant-based foods are also good sources of antioxidants." – Guillaume Kaminer and Christophe Daures, Founders of Eatology.
Asides from the Diabetes-Friendly Mediterranean Diet, they offer a range of meal plans catered to your own individual needs. Every new customer has a one-to-one consultation with Eatology's in-house dietician to discuss their goals and create a program that is tailor-made to them – whether they want to lose weight, increase energy levels, build muscle, improve general health or follow a specific diet such as ketogenic, paleo or plant-based. While calorie quantities can be tailor-made for each client, the meal plans offer 3 meals a day plus a number of snacks with prices of The Diabetes-Friendly Mediterranean Diet and other meal plans starting from 368 HKD.
Whatsmore, their delivery service is designed to fit seamlessly into your daily schedule. Fresh meals prepared each morning are delivered to your door within a timeslot you choose free of charge on Hong Kong Island and Kowloon (charges for New Territories and the Outlying Islands vary in accordance with the distance and the mileage related to the delivery address).
For more information visit www.eatologyasia.com
*To consult with your doctor or nutritionist if you want to start this meal plan