Reading Time: 10 minutesWhen it comes to technology to help with our children's education, we are spoilt for choice. Your child's school will no doubt have its favourite technology, but as a parent it's good to know which EdTech apps or websites are best.
We've picked some of our favourites to share with you. From ABCs to complex math and science problems, there really is an app or website for every learner. While some are totally free of charge, other EdTech tools may require a subscription. Let's begin.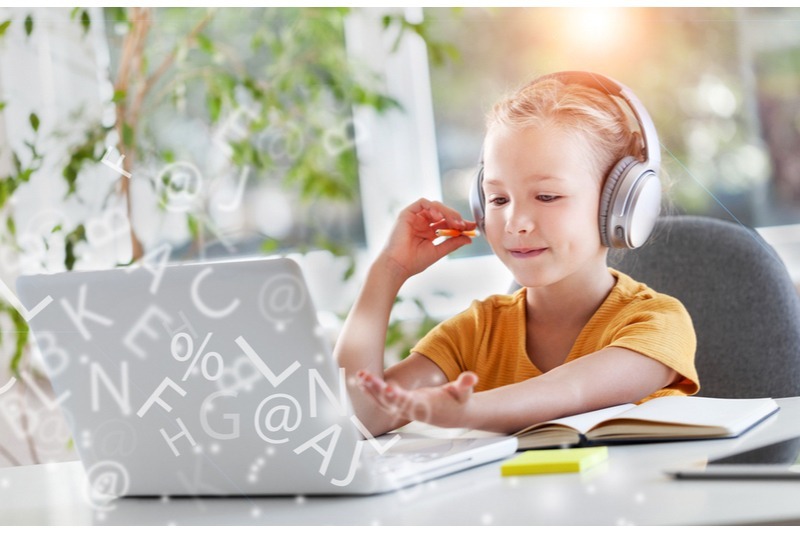 What is Education Technology (aka EdTech)?
Before we dive into the myriad of ways that education technology can and is helping kids, as well as the EdTech apps most recommended by experts, let's first breakdown exactly what EdTech is.
EdTech encompasses everything from the use of computers to teach a subject to the use of the Internet to submit homework. Basically, EdTech uses digital technology in order to deliver a new way of learning. It includes learning platforms, websites and apps alike. If it was in demand before the pandemic, now it's become an absolute necessity!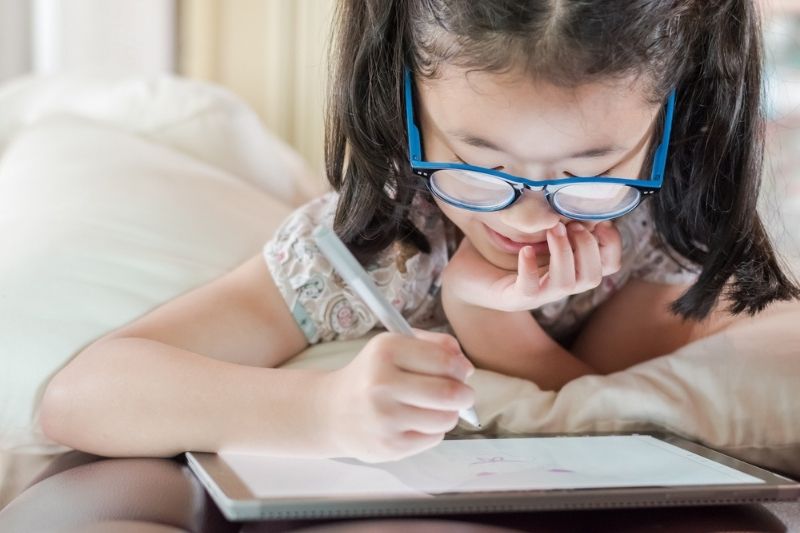 Reading and writing skills
Starfall ABCs – This EdTech app and website are a good place to start with young ones learning the letters of the alphabet and moving up to phonics and reading skills. Children can explore and play while receiving positive reinforcement along the way. They will see, hear, and interact with letters and sounds in words, sentences, and games, helping them to develop the skills they need to become confident readers. 
Reading Eggs – An interactive learning app that teaches phonics, spelling, vocabulary, sight words and more to children age two to thirteen years. Created by a team of educators, animators and writers, this award-winning app covers a range of educational areas. There is also a website and you can get a monthly subscription. The subscription offers access to:
Reading Eggs Junior (ages two to four): pre-reading skills such as phonemic awareness and alphabet knowledge with fun activities, games, videos, and read-aloud books.
Reading Eggs (ages three to seven): first steps in learning to read, covering phonics, sight words, spelling, vocabulary, and comprehension.
Fast Phonics (ages five to ten): a systematic, synthetic phonics program to help emergent and struggling readers build key phonics skills.
Reading Eggspress (ages seven to thirteen): continues the learning journey by helping children learn to read for meaning and enjoyment.
Mathseeds (ages three to nine): develops essential early numeracy skills, covering numbers, measurement, shapes, patterns, and more.
Printable teaching materials: printable worksheets reinforce essential skills and concepts covered in the programs.

 
Night Zookeeper – Unlocking creativity with a gamified learning platform, Night Zookeeper helps children aged 5 to 12+ years (Grades 1 to 6) develop reading and writing skills. Offering a full language arts curriculum whilst transforming "boring school work" into fun and engaging games, challenges, interactive lessons and collaborative projects – children often don't even realise they're working! All content shared within the program is reviewed by a team of highly qualified tutors to maintain children's online safety. Join the awesome community and check out the blog pages. Children are free to explore and use these resources to further improve reading and writing skills. The subscription offers:
Families get full access to all the features included in the program, so there are no hidden costs.
A risk-free trial for those who wish to try the program out before subscribing.
Currently offering an exclusive, 50% discount for all new subscribers.
Read Along by Google – This is a learn-to-read app, currently still under development. It uses speech recognition to help identify which words kids are stumbling over as they read one of over 500 stories. The app underlines a word that's skipped and awards stars for correctly read words. Kids can click on a word they don't know and a "reading buddy" will help. It works best for children who already have some basic knowledge of the alphabet.
After the initial download, the app works securely offline, so you don't have to worry about kids having unsupervised Internet access. Each child using the app has a unique profile, advancing on their own reading journey with recommended stories based on their reading level. Children can read a variety of engaging stories in different languages. .
Wordscapes – A super fun spelling game, the Wordscapes app keeps your mind sharp with new challenges. There's a daily puzzle with letters to spell with and a grid to complete. It's a spelling and word game in one fun app. The aim is to connect letters and find as many hidden words as you can. It's not just for kids! My eight-year-old daughter loves this app and we often play together.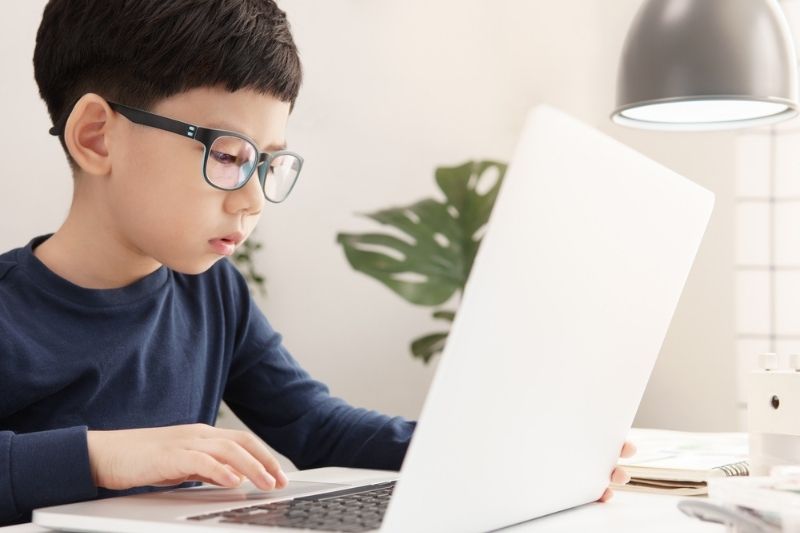 Language resources
DuoLingo – For a little extra help with a second or foreign language, check out the DuoLingo website or app. Older kids can practice through audio, word identification, and oral exercises for over 30 languages. Some parents use this app, too!
Mandarin Matrix –If your child is learning Mandarin at school, chances are they are already using Mandarin Matrix. The online learning platform is designed to support learners from kindergarten through middle school. Full of fun videos and games, the online classroom is a great way to keep up on Mandarin learning skills from any device. The materials have been designed by teachers, language specialists and examination boards to ensure the best possible way to learn Mandarin. Parents can view their child's proficiency progress through the Parent Portal which was developed to help parents gain greater insight into their child's learning journey.
See also: Top-up your Language Skills at the Hong Kong Institute of Languages
First numbers and counting
Elmo Loves 123s – This EdTech app motivates toddlers and young children to get excited about learning their first numbers. The app has songs, videos, games, and drawing to help kids identify number shapes and learn how to count. Kids can trace numbers to unlock surprises, like classic Sesame Street clips, colouring pages, hide-and-seek games, jigsaw puzzles, counting games and more. There's also a 123s tracker for parents to see what their child is learning.
Trouble telling time?
Tic Toc Time – Telling the time is a tricky task. The Tic Toc Time app is here to help, making it easier for kids to understand how to read an analogue clock. It's the world's first time-telling app to teach young children how to read a clock face using the sun, shadow, night and day. While not free ($US 3.99), it's a helpful app with no ads, external links, in-app purchases, social media access and no personal information request.
Help for mathematics
Maths is a hot topic in our house and I hear many parents fretting over how best to support their children. Here's our pick of some of best EdTech apps to help your child progress in maths.
PhotoMath app – If your child asks for your help solving a maths problem, one that you don't know right off the top of your head, try the PhotoMath app. Simply use the app to scan the problem and the app outputs a step-by-step solution. Used with some parental guidance, this app can really help kids who might be struggling. The app is free but if you opt for the paid upgrade, you will be able to access more detailed explanations.
Quick Math Jr – For younger children looking to gain number sense, try Quick Math Jr, an app that uses math games to encourage children to practice using fundamental math skills and concepts. It includes the essential foundations of mathematics, including counting, addition and subtraction, place value, and writing numbers. The difficulty of the questions adapts to the level of each individual player, while the interactive buildable characters provide a fun way to develop mathematics skills and confidence.
Number Run – An EdTech app developed by graduate students by Stanford University and the University of Southern California, Number Run helps kids from age six master math drills – from single-digit addition to division – by playing a fun, 52 level game. Baron von Count has stolen the four Mathemagical crystals of the land. Chase him down and bring him to justice or humanity will be forced to count on their fingers forever!
Moose Math – With Moose Math kids aged three to seven years can go on five mathematical adventures where they learn about counting, addition, subtraction, sorting, geometry and more. Check out the Moose Juice Store, Puck's Pet Shop and Lost & Found, where kids earn rewards to help build a city and decorate the buildings. Join The Dust Funnies – characters designed to help master math skills – in some math skill-building fun.
You may also be interested in: A Guide to Hong Kong's Best Math Tutoring Centres
Comprehensive and mulitple skills
Khan Academy – Sal Khan, Khan Academy founder and CEO, was quoted telling parents to look to online resources when they can't replicate the expertise of a classroom teacher; good advice these days while so many schools are doing distance learning. In addition to the well-known Khan Academy website, the app makes lessons easily accessible, offering a wide range of resources for students to tap into while learning from home. There are sample schedules, tips for parents and livestreams with teachers, alongside free online courses and test prep materials. Khan Academy's free personalised learning library is an amazing resource for students, teachers, home-schoolers, principals, and even adults returning to the classroom after 20 years. 
There are thousands of interactive exercises, videos, and articles on topics including math, science, economics, finance, grammar, history, government, politics, and much, much more. Kids can follow along with what they're learning in school, or practice at their own pace. With a free account, you can track progress and recommendations will be made according to the current learning levels. 
Learning materials include expert-created videos, interactive exercises, and in-depth articles in math (arithmetic, pre-algebra, algebra, geometry, trigonometry, statistics, calculus, differential equations, linear algebra), science (biology, chemistry, physics), economics (microeconomics, macroeconomics, finance and capital markets), humanities (art history, civics, finance, US history, US government and politics, world history), and more (including computer science principles).
The Khan Academy Kids app is full of early learning lessons for ages two to seven years. Children have access to early literacy, reading, writing, language, math, social-emotional development, and problem-solving skills. The program is designed to focus on whole child learning. Five adorable animal characters guide kids through the activities and stories. 
The app features tools to support teachers, new activities added on a regular basis, award-winning content, and a personalised learning experience – all created by a team of experts. This free app has no ads or subscriptions to manage which is another big plus for parents. 
Learn with BBC Education
Everything from design & technology to geography, maths, music, food tech, cooking, health, PE, and more are covered through various BBC avenues. 
While nothing beats real-time, interactive, in-class activities to engage children in their learning, BBC has developed some great lessons to do outside the classroom. BBC Teach hosts a number of 30 to 40-minute interactive programmes called Live Lessons, originally designed for use in the classroom, featuring leading experts and some of the BBC's biggest brands and talent, including Doctor Who, Blue Planet Live and CBeebies.
With accompanying printable resources covering a range of subjects, you can ensure your kids are learning something with all that screen time.
BBC Teach has thousands of free, short curriculum-linked video resources designed for ages five to 16 years. BBC Bitesize and the accompanying app are designed for student use and cover every topic under the sun. Content, for children from age three to 16+ years, is accessed easily saving parents having to need to brush up on skills they've long forgotten. GCSC study materials and quizzes are available to GCSE students, charting progress and adapting to learning as they go. The fun, educational games designed for primary-aged children come with built-in rewards and levels so kids will want to keep coming back for more.
Is it snack time yet? BBC Food has a brilliant guide on how to teach children through cooking – including conveying concepts from fractions to adjectives and even foreign languages. Check out the simple recipes with everything from chocolate chip cookies to pancakes. Satisfy your hungry kids while keeping their brains in gear.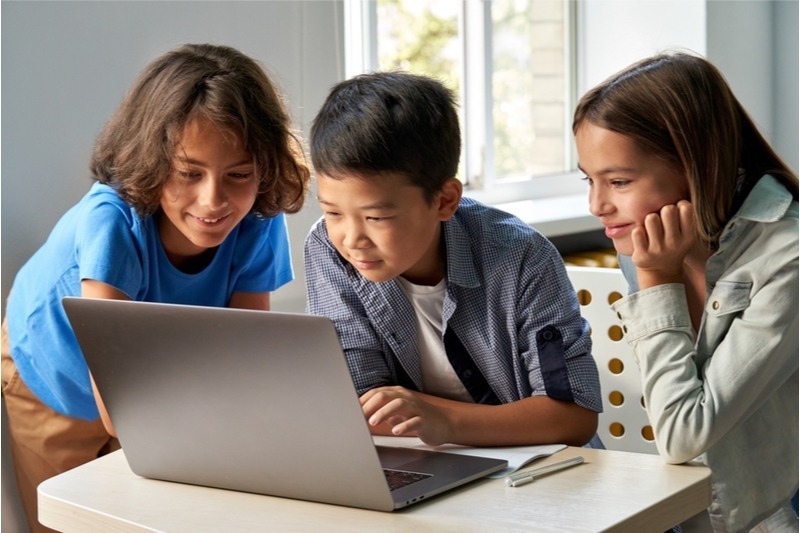 Early learning skills
The Hungry Caterpillar Play School – Featuring colourful characters from Eric Carle's books, this learning app for toddlers to kindergarten-age kids is a decent introduction to online learning. From mathematics to language and literacy, science and nature, plus creative arts, there's something for every child to learn.
There are even relaxation techniques using Brown Bear to encourage mindful breathing. The maths section includes some coding and there are puzzles to help with reasoning techniques. All subjects have songs and videos to enhance and support the learning process.
ABCMouse – If you're after a full set of online curricula for your young children, check out ABCmouse, which is suitable for children age two to eight years. The EdTech app covers reading, maths, art, music, and more. It was created by teachers and education experts and includes thousands of learning activities for children at all academic levels.
The reading curriculum includes letter recognition, phonics, rhyming words and word families, sentence structure and the parts of speech. Once children learn the names of each letter and the sounds they represent, they can move on to eventually being able to read books. Over 450 books are available online from beginning readers (a few words per page) and advancing to books with paragraphs.
For maths, children will learn addition and subtraction, shapes, patterns, measurements, and more. The goals include recognizing and counting numbers 1–120, understanding place value, plus learning length, time, and money measurements.
Science and Social Studies lessons cover the topics of the body, health, plants, animals, weather, climate, and the seasons, the solar system and so much more. The arts curriculum covers primary and secondary colours, paint-by-number activities and number and letter dot-to-dots.
Throughout the 10 different levels of learning (with over 850 lessons), there are rewards and tickets to help motivate children in a fun and engaging way. Along with animations, games, books, songs, puzzles, and printables for coloring in, there is also an interactive zoo, farm, and aquarium. Kids can create their own avatar, making lessons and activities more personalized.
Primary school subjects on BrainPOP
Many schools in Hong Kong use BrainPOP to teach a wide variety of subjects. There are hundreds of videos covering a dizzying number of topics and they are done in quite an entertaining way with a funny robot as the cohost. So if you find yourself homeschooling and need some back-up, peruse the topics on the BrainPOP website or app and you will likely find the perfect video and follow up quiz. The topics are explained well and at the appropriate level for young children. The quizzes at the end of each video are helpful in gauging comprehension and reinforcing the newly acquired knowledge.
On the app, a free Featured Movie topic rotates daily and ties in to current events, historical milestones and figures, holidays, and more. BrainPOP is full of entertaining and informative animations and is recognised internationally as a unique and engaging learning resource. All videos/movies are close captioned, making it easy to read along. With the award-winning BrainPop website, you can explore hundreds of topics including Science, Math, Social Studies, English, Engineering & Tech, Arts & Music, Health, and many others.
For younger children there's BrainPOP Jr.
Like the original BrainPOP, there are many topics and subjects to choose from and they are done in the same fun format. The BrainPOP Jr. app has a Movie of the Week featuring a new animated movie every week along with related quizzes and educational activities. You'll find Science, Social Studies, Reading, Writing, Math, Health, Arts, and Technology all covered. Like BrainPOP, the characters Annie and Moby are the guides of each topic.
PBS Parents Play & Learn
PBS Parents Play & Learn app is designed to help parents of young children make every day experiences into important learning opportunities. The app is full of games centred around relatable daily activities such as grocery shopping, bath time, going to the park, or eating in a restaurant.
Games include notes for parents providing information about the maths and literacy skills woven into each game. You'll also find ideas for how best to maximize the learning experience with your child. The games automatically adjust to a child's level and there are easy hands-on activities and game-related resources which get updated regularly. 
Wrapping up
And thus concludes our round up of the EdTech apps that educators swear by. For more lists like these, be sure to subscribe to our newsletter in the box below. Happy learning!
Related articles: