Reading Time: 6 minutes
With nine sounds and six tones, Cantonese is a difficult language to master for those who didn't grow up speaking it as their mother tongue. In Hong Kong, you can definitely get by as a non-native Cantonese speaker, but certain situations are far easier to navigate if you can speak a bit of the local tongue. That's why we've created this handy survival guide of Cantonese phrases for you and your kids to learn to help you chat with newfound fluency (maybe not quite!) in no time. 
Before launching into these phrases, it's important to understand the subtle differences between the six different tones of Cantonese, as similar-sounding words can have vastly different – sometimes comedic, sometimes offensive – meanings depending on how they're pronounced. To a non-native speaker, it can be difficult to distinguish the tones from each other, but as they always say, practice makes perfect. 
So, as you begin your quest for language fluency, it's helpful to watch some videos so that you can listen to the differences between the six Cantonese tones – an easy family activity. Otherwise, you can leave the kids to watch the videos on an iPad for some productive screen time. Here are a couple of our video recommendations: this one provides a quick overview, this one gives a breakdown and this one gives a further in-depth explanation and compares the tones to words in English.
Below, we've included the translations of each of the words or phrases in jyutping (romanticised Cantonese) as well as written Cantonese. While most sounds in jyutping are pronounced how you would expect, there are some that can be confusing. Here's a quick list to help you demystify a couple of them.
n – In Cantonese, "n" is often replaced with the "l" sound, but both are correct, so don't worry too much about which one you use.
k – For terms that end with "k," like "haak" or "sik," you don't need to pronounce the "k" sound explicitly. You should still form the "k" sound with your mouth, but keep it very soft, almost inaudible.
j – Characters that begin with "j" should actually be pronounced as if they start with "y." For example, "jing" sounds like "ying."
ng – Sounds like the "gn" in "gnaw."
eo – This soft sound varies based on the ending vowel or consonant. "Heoi" sounds like "hoi," while "leon" sounds like "lun."
c – The "c" sound is akin to the "ts" sound, so "ce" is pronounced like "tse."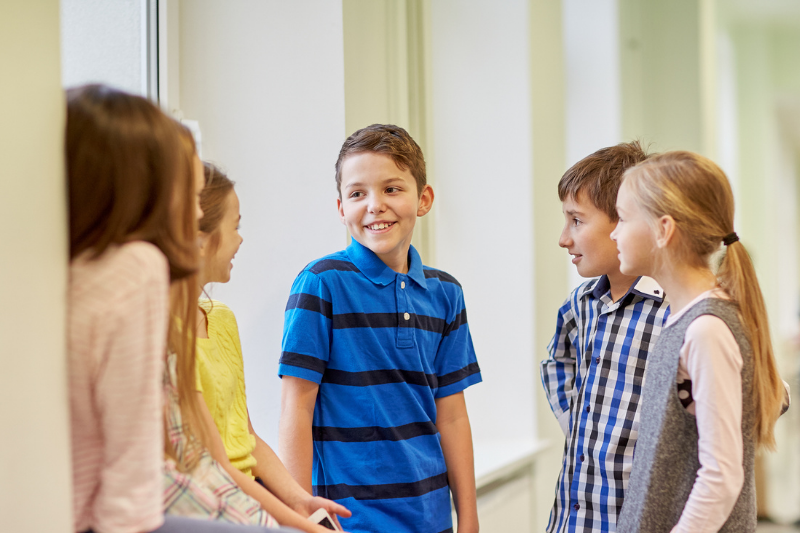 General Cantonese Terms
Hello: haa1 lo4 (哈囉), nei5 hou2 (你好)

– Most Cantonese speakers greet each other with the casual "haa1 lo4" in day-to-day circumstances, but for more formal occasions (and in writing), people will opt for the more polite nei5 hou2.
Bye bye: baai1 baai3 (拜拜)

– A fail-safe way to announce one's departure.
Please, thank you, excuse me: m4 goi1 (唔該)

– This one's a triple whammy. You can say "m4 goi1" before or after a request to say "please," but the term also means "thank you." Otherwise, you can also use "m4 goi1" to mean "excuse me."
Thank you: do1 ze6 (多謝) – If someone has given you a gift, or red pocket money, instead of using "m4 goi1," you should say "do1 ze6." If you're extra grateful for a gift, you can use "do1 ze6 saai3" (多謝晒) to say "thank you very much

."
You're welcome: m4 sai2 haak3 hei3 (唔使客氣), mou5 man6 tai4 (冇問題)

– If someone has thanked you for something you've done or given, you can respond with "m4 sai2 haak3 hei3," which directly translates to "no need to be gracious," or "mou5 man6 tai4," which means "no problem."
Do you know how to speak English?: nei5 sik1 m4 sik1 gong2 jing1 man4 (你識唔識講英文)

– If you remember nothing else from this article, having this phrase in your back pocket might be your saving grace.
Directions and Public Transport
Where is it?: hai2 bin1 dou6 (喺邊度)

– This is a good one to teach your children in case they ever get lost anywhere. When using this phrase, say the name of the place you're looking for before "hai2 bin1 dou6." Alternatively, pull up your destination on Google Maps so that you can easily point to where you're headed.
(Bus) stop, please: baa1 si2 zaam6, m4 goi1 (巴士站,唔該), jau5 lok6, m4 goi1 (有落,唔該)

– If you're on the minibus and you don't speak Cantonese, we applaud your bravery (it's daunting!). If your minibus doesn't have bells, you'll have to shout to the driver ahead of your stop. The easiest way to do this is to call out "baa1 si2 zaam6, m4 goi1." Otherwise, shortly before you arrive to your destination, you can say its name before "jau5 lok6, m4 goi1."
Bring me here: daai3 ngo5 heoi3 (帶我去)

– Just tell the taxi driver "daai3 ngo5 heoi3" and then point to an address or map of where you're going. Generally, though, this phrase isn't necessary if you know how to pronounce the address in Cantonese; in that case, just say the name of where you're headed followed by "m4 goi1."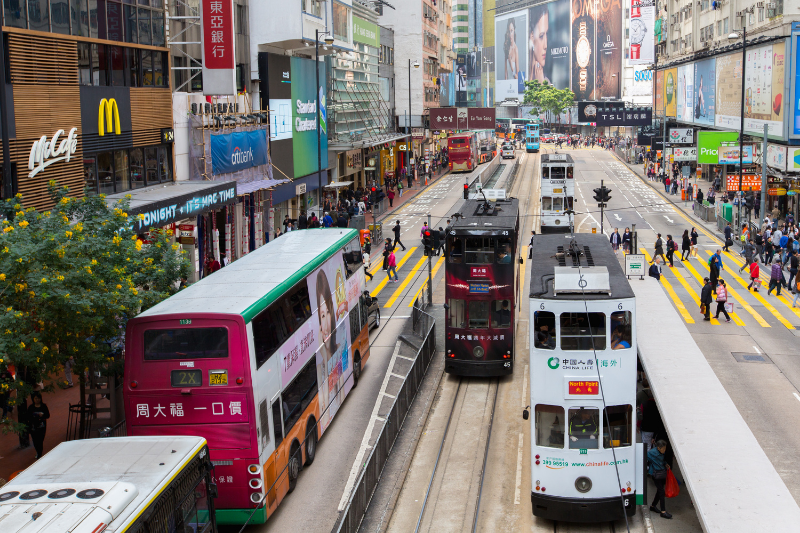 Types of Public Transport
MTR: dei6 tit3 (地鐵) – Hong Kong's pride and joy of public transport. Say "dei6 tit3 zaam6" (地鐵站) for MTR station.
Bus: baa1 si2 (巴士)

– Say "

baa1 si2 zaam6" (巴士站) for "bus stop."
Minibus: siu2 baa1 (小巴)

– Remember that green minibuses operate on fixed schedules and routes, while red minibuses don't necessarily.
Taxi: dik1 si6 (的士)

– Red taxis mostly operate on the Island and Kowloon (but will go almost everywhere), green taxis roam around New Territories, and blue taxis are found only on Lantau Island.
Tram: din6 c

e1 (電車)

– Affectionately called the "ding ding," Hong Kong operates the world's largest double-decker fleet in service!
Ferry: dou6 leon4 (渡輪)

– "Seas" the day by taking a ferry to c

ross the harbour or explore an outlying island for a fun family day trip. Instead of using the ferry's proper name in daily language, though, most people will just simply say that they're going to "take the boat" – "daap3 syun4" (搭船).
Octopus card: baat3 daat6 tung1 (八達通)

.
Restaurant
Menu, please: caan1 paai, m4 goi1 (餐牌,唔該)

.
The bill, please: maai4 dan1, m4 goi1 (埋單,唔該)

– Unless you need to pay at the front of the restaurant (this applies to most cha chaan tengs), in which case the waiter will point in the appropriate direction, your bill will be brought to you.

 
Where is the bathroom?: ci3 so2 hai6 bin1 (廁所係邊)

.
Eat here: hai2 dou6 sik6 (喺度食)

– If the restaurant is smaller or more of a stall, the waiter might ask if you want to stay and eat, or if you're going to take away your food. If you're willing to brave the more-than-likely cramped seating, just simply say "hai2 dou6 sik6" and you'll be ushered in.
Takeaway: daa2 baau1 (打包), ling1 zau2 (拎走), ngoi6 maai6 (外賣)

– While these three terms all mean "takeaway" and are mostly interchangeable, they vary ever so slightly in daily usage. We usually say "daa2 baau1" when there's leftovers from a restaurant meal that we'd like to box up and take home, "ling1 zau2" to say we're going to take away our food if we're ordering directly at the restaurant and "ngoi6 maai6" when we're getting food delivered, perhaps through Foodpanda or Deliveroo.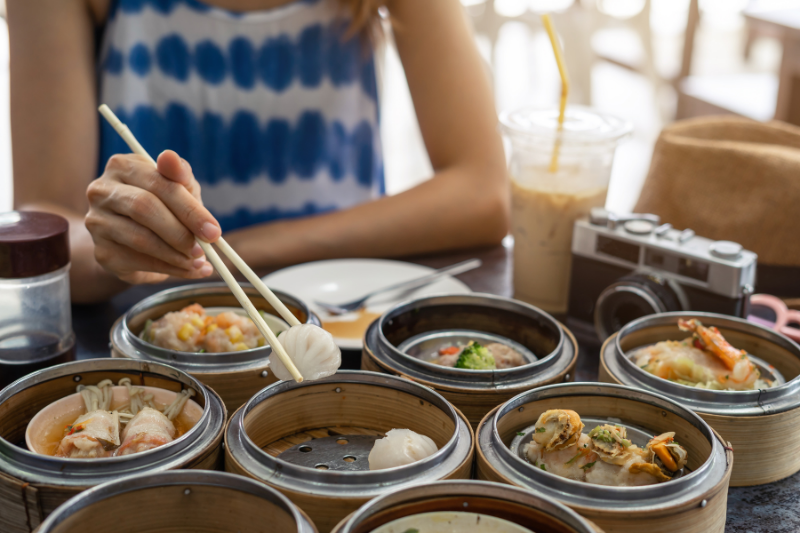 Market
How much money?: gei2 do1 cin2 (幾多錢)

.
This one: ne1 go3 (呢個) – Highly applicable for when you're spotted the ripest mango at the fruit stall or found the painting of your dreams at Stanley. To say "I want this one," say "jiu3 ne1 go3" (要呢個), or if you want to ask how much, combine with the phrase above and say "ne1 go3 gei2 do1 cin2" (呢個幾多錢).
That one: go2 go3 (嗰個)

– Same as above, but for something that you might be pointing at instead because it's a bit further away or not directly in front of you.
Can it be cheaper?: ho2 m4 ho2 ji5 ping4 di1 (可唔可以平啲)

– It wouldn't be a Cantonese phrases survival guide if we didn't at least attempt to teach you how to haggle! Say this at Ladies' Market and you'll likely come away with a bargain.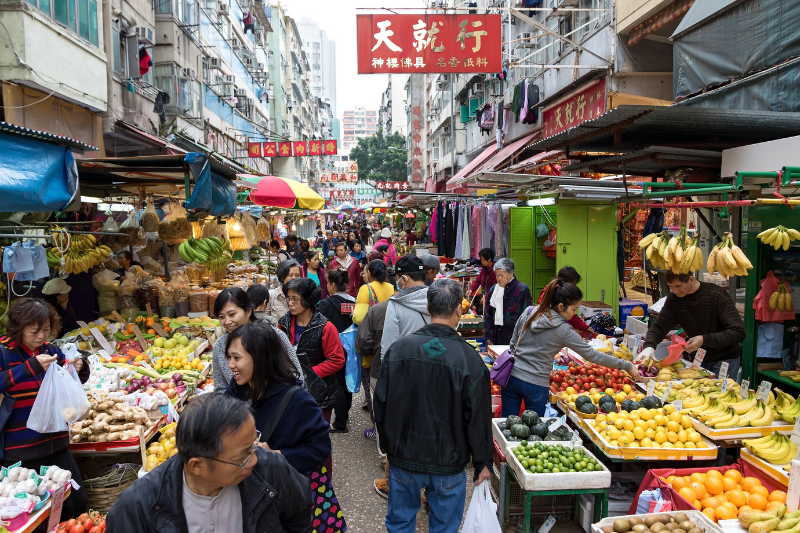 Major Districts
Hong Kong Island
Central: zung1 waan4 (中環)
Sheung Wan: soeng5 waan4 (上環)
Admiralty: gam1 zung1 (金鐘)
Wan Chai: waan1 zai2 (灣仔)
Causeway Bay: tung4 lo4 waan1 (銅鑼灣)
North Point: bak1 gok3 (北角)
Aberdeen: hoeng1 gong2 zai2 (香港仔)
Stanley: cek3 cyu5 (赤柱)
Kowloon
Tsim Sha Tsui: zim1 saa1 zeoi2 (尖沙咀)
Yau Ma Tei: jau4 maa4 dei6 (油麻地)
Mong Kok: wong6 gok3 (旺角)
Sham Shui Po: sam1 seoi2 bou6 (深水埗)
Kowloon City: gau2 lung4 sing4 (九龍城)
New Territories
Shatin: saa1 tin4 (沙田)
Tai Po: daai6 bou3 (大埔)
Yuen Long: jyun4 long5 (元朗)
Sai Kung: sai1 gung3 (西貢)
Outlying Islands
Lamma Island: naam4 aa1 dou2 (南丫島)
Lantau Island: daai6 jyu4 saan1 (大嶼山)
Cheung Chau: coeng4 zau1 (長洲)
Even if it doesn't make you fluent, this list of essential Cantonese phrases will help you in sticky situations and make you feel more a part of this wonderful and crazy city that we call home!
Related articles: