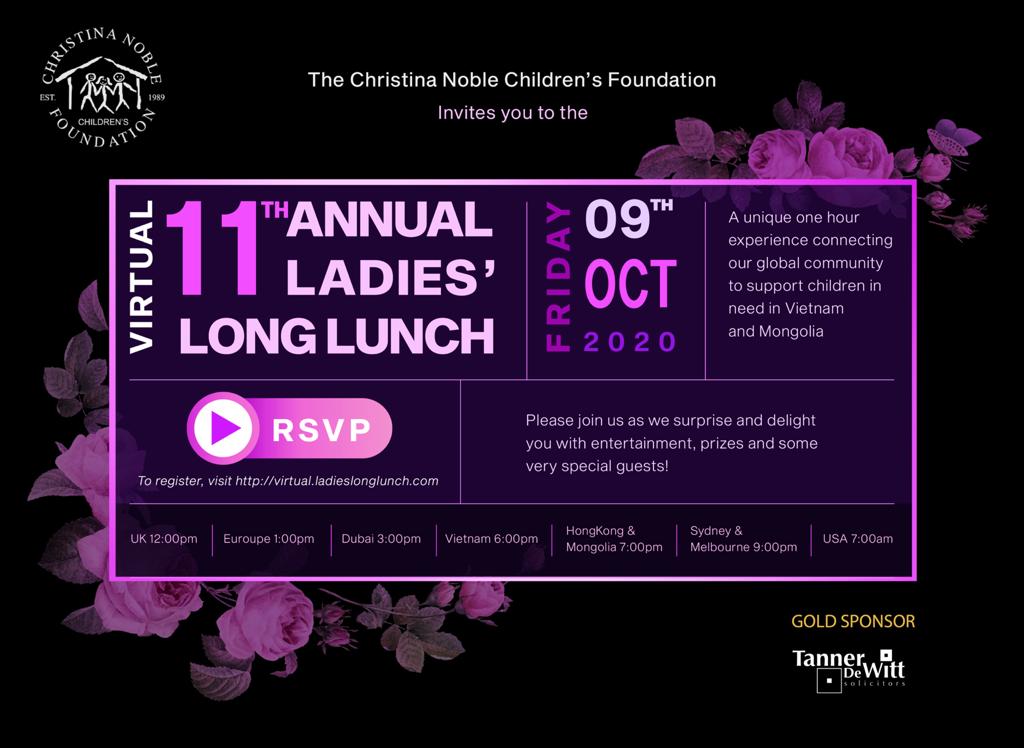 Christina Noble Children's Foundation (CNCF) launches first 'Virtual' Ladies' Long Lunch
The Christina Noble Children's Foundation (CNCF) is proud to launch our first 'Virtual' Ladies' Long Lunch on Friday, October 9, 2020. Previously held in person in Hong Kong, this legendary sell-out luncheon traditionally kicked off the celebrated Hong Kong Rugby 7's weekend in true style. But with the world turned upside down in 2020, the CNCF team has leveraged technology to re-imagine this ever-popular fundraiser, creating a unique hour-long celebration that will allow our guests to spread the LLL spirit worldwide.
Now in it's 11th year, LLL is more important than ever. With the United Nations estimating up to 700 million children are likely to be living in poverty by the end of 2020 due to the devastating impacts of COVID-19*, the holistic care CNCF provides abandoned and orphaned children in Vietnam and Mongolia is vital. Proceeds from this year's LLL will focus on funding CNCF's various education projects designed to enable children under our care to reach their full potential and break their cycle of poverty.
Not to be held back by COVID-19, LLL 2020 promises to be one to remember with an exciting silent auction, a lucky draw to win an iPad mini and a fabulous prize for top pledge including a Gucci leopard print 'Sylvie' bag. "We may not be able to physically come together this year, but like every LLL in the past 10 years, the event will be entertaining and filled with surprises!" says CNCF Hong Kong Director Sandra Burgess.
With appearances from our long-term partners Penguins International Rugby, along with surprise guests from the world of music, TV and sport and last but not least our beautiful children in Vietnam and
Mongolia, LLL 2020 is not to be missed.
For the first time ever, Gents will be able to experience the magic of LLL too! Guests are encouraged to host a group of friends and join from the comfort of their homes or round up colleagues to join from the office. Whether joining over lunch in the UK or pre-dinner drinks in Hong Kong, this is a fantastic opportunity to have some fun and make a positive change for the children.
CNCF is grateful to this year's gold sponsor Tanner de Witt for their support of Virtual LLL 2020. Event details are as follows:
Date:
October 9th, 2020
Time:
UK 12pm | Europe 1pm | UAE 3pm | Vietnam 6pm | Hong Kong and Mongolia 7pm | Sydney and Melbourne 10pm | New York 7am
Registration
Registration is FREE! The event will be live-streamed exclusively to registered guests. Registration is required to receive streaming log-in information.
This year's event is scheduled for October to ensure the parents among us have the
opportunity to settle our kids back into school beforehand.