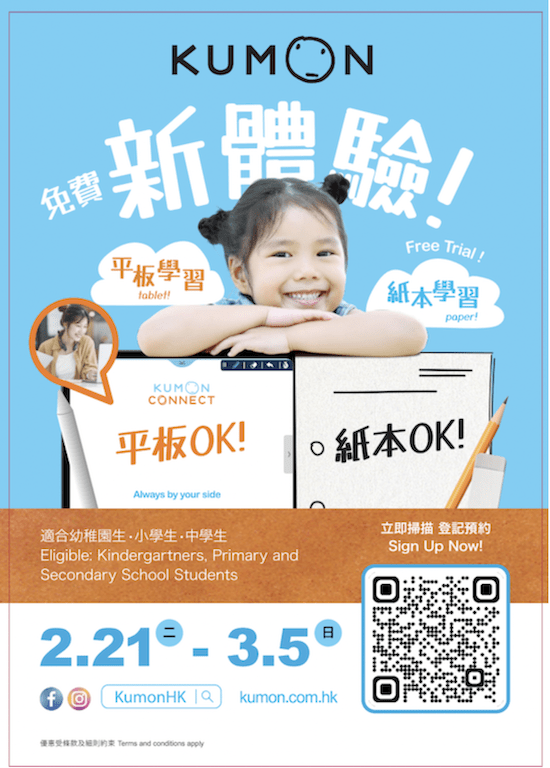 Kumon FREE Trial
Excel in Maths, English & Chinese with Kumon
Kumon was first established in Japan and has developed over the past 60 years to become a worldwide phenomenon. Classes have been opened in over 60 countries and regions with over 3.6 million students worldwide.
The Kumon Method is child-centred and individualised, allowing each student to study at a comfortable level, regardless of age or school grade, and to advance beyond his or her current school grade level.
Rather than teaching children how to solve problems directly, Kumon Method guides children to rely on their own strengths, fostering in them a sense of self-assurance.
KUMON helps children to:
Develop self-learning habits
Improve academic performance
Enhance concentration
Discover more unknown potential
Kumon Free Trial Now Open for Registration
Enrolment dates 🗓️|21 February to 5 March 2023
Eligible students🎒|Kindergarten, primary, and secondary students
Programme📖|Maths / English (ERP/EFL) / Chinese
Children can enjoy learning in classic paper-based format or via a tablet with Kumon Connect.
Website: https://kumon.com.hk
Telephone: +852 2890 6533
Email: info@kumon.com.hk
Address: Room 3403-3408, 34/F, Chubb Tower, Windsor House, 311 Gloucester Road, Causeway Bay