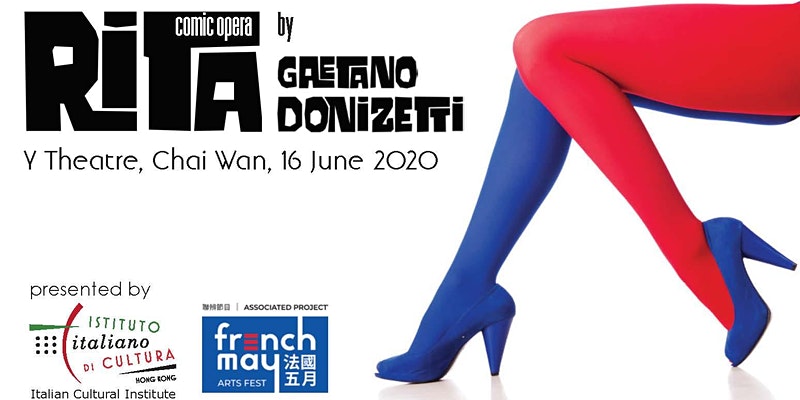 "Rita" – Comic Opera in One Act by Gaetano Donizetti – FREE EVENT
Rita, ou Le mari battu (Rita, or The Beaten Husband) is delicious farce is the best traditions of Italian opera buffa. But it was written at the end of Gaetano Donizetti's life he was living in Paris. Donizetti's music and Gustave Vaëz's French libretto result is in Italian take on French opéra-comique with a story so familiar that it could be set anywhere — even Hong Kong.
Rita has a small restaurant and two husbands. She thinks the first husband dies in an accident, but he had in fact decamped to Canada. He hadn't treated her very well, something which with her new freedom, she now takes out on her timid second husband. Husband number one thinks that Rita is also dead. He's come for her death certificate so he remarry. Husband number two sees his arrival of his predecessor, clearly still alive and still married, as a chance to escape his marriage to Rita. The two men agree to play a game, with the winner getting to keep Rita. Both try to lose…
Music Director:
Marco Iannelli is an award-winning Italian composer, musicologist and educator living in Hong Kong. He has worked with Teatro alla Scala (Milan), Maggio Musicale Fiorentino (Florence), the Opera Berlioz (Montpellier), and Deutsche Oper (Berlin). His compositions have been played around the world: Milan, Rome, Paris, San Francisco, the Athens Olympics and Hong Kong. He was most recently music director for the Italian Cultural Institute's October 2019 production of "Waitress on Top", a Hong Kong retelling of Pergolesi's "La Serva Padrona".
Director:
Peter Gordon has been active in Hong Kong opera, drama and literary circles for two decades, including a previous Le French May outing in 2015. He wrote the dialogue and directed "Waitress on Top", as well as two one-act operas, including Wolf-Ferrari's "Il Segreto di Susanna", at Macau's Teatro Dom Pedro V. He has been named "Cavaliere dell'Ordine della Stella d'Italia" for his work in local opera.
The cast includes:
Etta Fung is one of Hong Kong's leading coloratura sopranos. Known for her acting as well as her singing, she recently created the roles of Serpina in the Italian Cultural Institute's production of "Waitress on Top" and of Keiko in the world premiere of Elena Langer's "Beauty and Sadness". She has sung widely in both Europe and the United States.
Isaac Droscha frequently performs leading baritone roles in Hong Kong, most recently Uberto in "Waitress on Top", Baron Zeta in "The Merry Widow" and Conte Almaviva in Mozart's "Le Nozze di Figaro". He frequently performs in recital and teaches at HKUST.
Register here