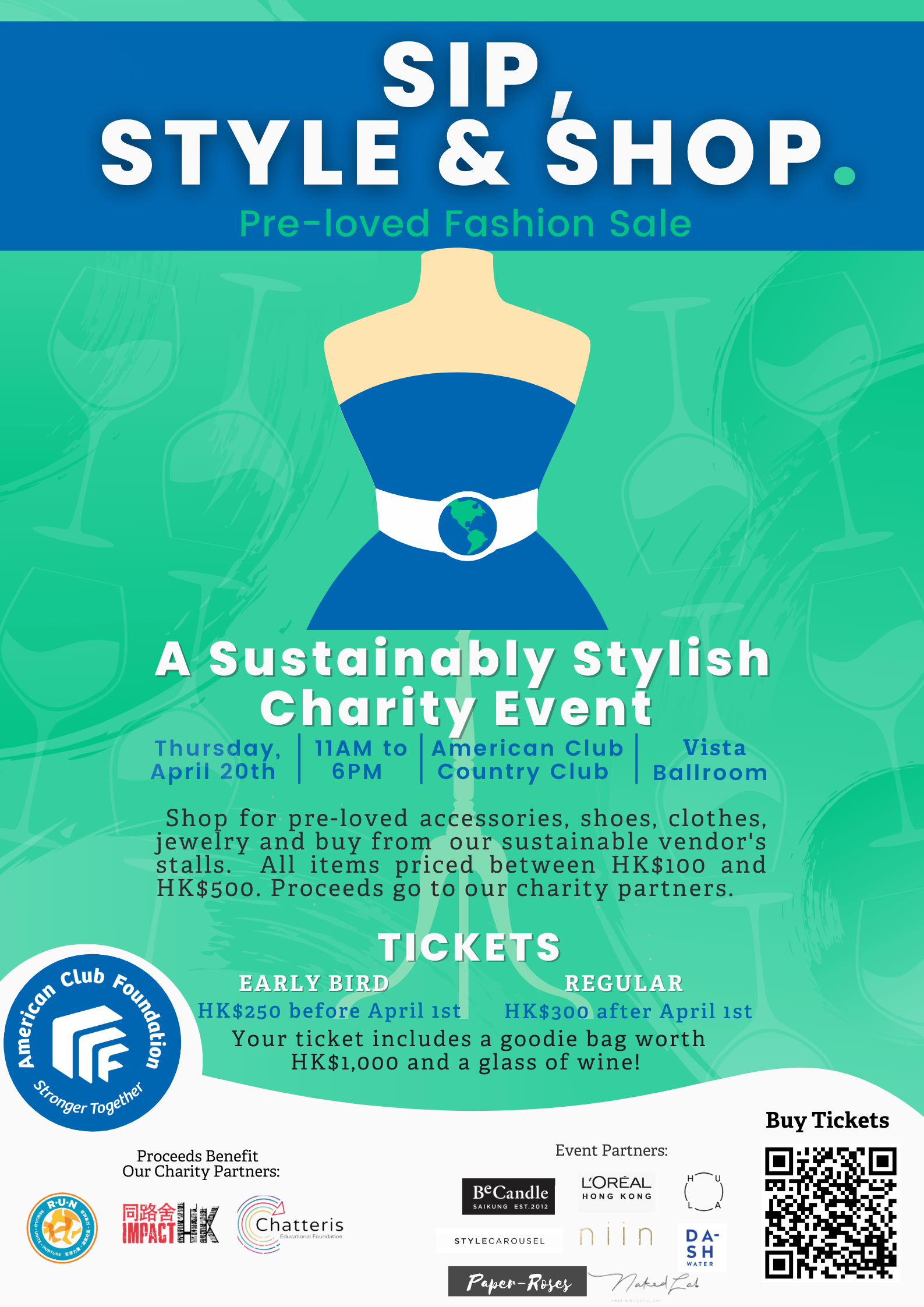 "Sip, Style & Shop" Sustainable Fashion Event
Giving pre-loved fashion a new life whilst raising funds for charity. 
The American Club Foundation is hosting its first ever "Sip, Style & Shop" charity fashion event, bringing women together to shop for a good cause. Over 1,000 pre-loved items will be on sale, including clothes, accessories, and jewellery as well as new items from brands including Rue Madam, Autopilot, Whistles, Kibo, Style Carousel, Frey, Excuse my French and Lane Bryant.
All items are priced at either HKD$100, HKD$250 or HKD$500.
All proceeds from the event go to the Foundation's 2023 charity grantees: ImpactHK, RUN HK and Chatteris Educational Foundation.
In addition, local female-led brands including Be Candle, Naked Labs, Niin, The Hula, and Paper Roses will also be selling a wide selection of their own sustainable products with a portion of their proceeds also going to the charities.
"The fashion industry's environmental impact is sizeable, and more and more people are trying to shop responsibly," says American Club Foundation CEO Libby Vaughan. "This event is a great way to build awareness of the issue while bringing people together to raise money for some very worthy causes."
Tickets are HK$300 each, with an early-bird discount price of HK$250 available until April 1st. Each entry ticket includes a goody bag worth over HKD$1,000, sponsored by L'Oreal, and a complimentary glass of wine or a can of Dash Water fruit-infused sparkling beverage.
The event will be held at the Vista Ballroom at the American Club, Tai Tam, from 11am to 6pm, and is open to the public.