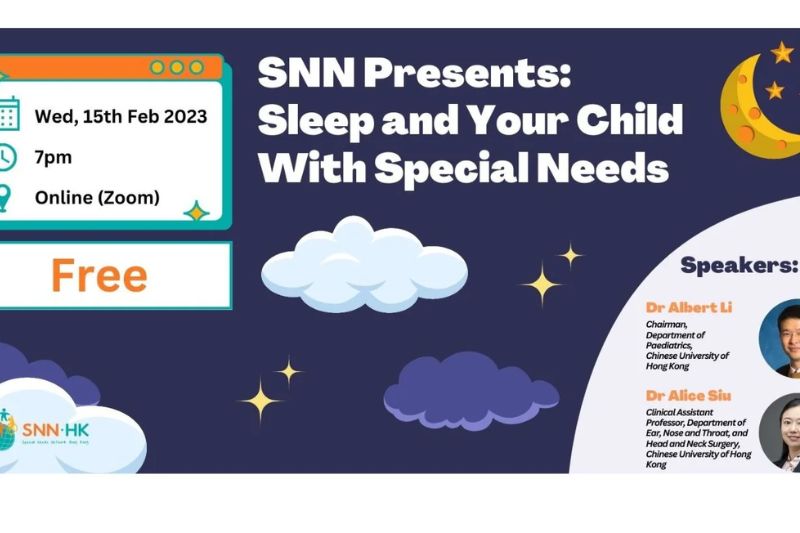 Sleep and your child with special needs
Special Needs Network Hong Kong are delighted to kick off 2023 with an event on a topic of great importance to all parents, and which comes with additional challenges for many of our parents of children with special needs: Sleep.
Difficulty falling asleep, disturbed sleep and shortened sleep are common problems encountered by children with special needs. Autism, ADHD and Down syndrome, among other conditions, are associated with a higher risk of certain sleep disorders. While a good night's rest is important for all of us, it is even more critical during a child's early developmental years, and disrupted sleep patterns have unwanted knock-on effects.
In this online seminar, paediatric sleep specialists Dr Albert Li and Dr Alice Siu from the Chinese University of Hong Kong, will talk about common sleep issues in children with special needs.
Obstructive sleep apnoea (OSA) – presentation, diagnosis and complications, and prevalence among preschool and primary school-aged children.
Management options for OSA.
Extra precautions and considerations for children with special needs.
Learn how you can support your child's sleep and come away equipped with knowledge for recognising and tackling common sleep problems in children with special needs.SNNHK-sleep-flyer.pdf
Date: Wednesday 15th February 2023
Time: 7pm-8:30pm
Online event, free of charge