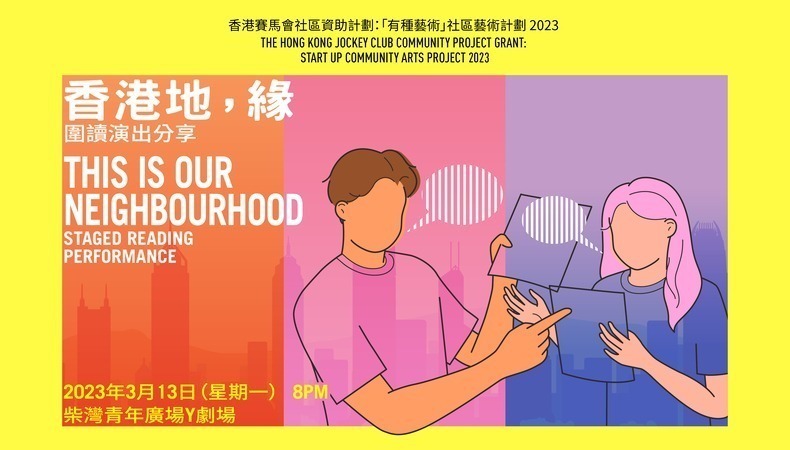 The Hong Kong Jockey Club Community Project Grant: stART Up Community Arts Project 2023 Playwriting Programme: Story Weavers "This is Our Neighbourhood" Stage Readings
This March, join us for a stage reading performance of three selected scripts created as part of our Story Weavers playwriting programme.
Hong Kong is home to an eclectic mix of individuals and communities from all over the world, each with their own culture and identity. This year's Story Weavers playwriting programme brought together eight young playwrights to write scripts inspired by the community stories of their home districts. Working with stage actor and playwright Melody Yue they explored themes of community and cultural symbolism.
The stage reading performance runs for 60 minutes including a Q&A section. Free admission, suitable for people of all ages. To register for free tickets, please visit here.
Scripts
​
Fly Away, Geezer 
(Written by Esther Chung)
In a nursing home in Ngau Tau Kok, three residents and a janitor play a bizarre game of mahjong.
Six Bowls of Rice Noodles – Act 1
(Written by Tang Kiu)
After sitting their DSE exams, six students sing their hearts out at a rice noodle shop.
22°15'N 114°08'E
(Written by Yiu King-hei)
In the depths of the towers of Wah Tai Building in Wah Fu Estate, a middle-aged man waiting for a UFO quarrels with a homesick young girl.
Performance 
Date: 13|03|2023
Time: 8pm
Venue: Y Studio, Youth Square, Chai Wan
Suitable for: Ages 10 and above
Free admission, online registration required.