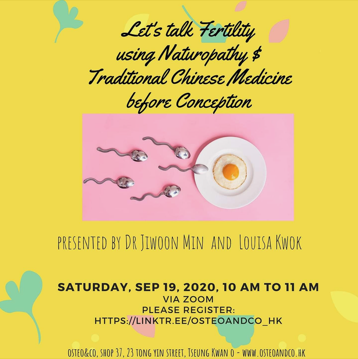 Using Naturpathy and Traditional Chinese Medicine for Conception
Osteo & Co is please to present a discussion on strategies and considerations for optimising your fertility and achieving a successful pregnancy. Led by our Naturpathic Doctor, Ji Woon Min and our TCM doctor, Louisa Kwok, they will be discussing the different strategies that can be used in tandem to achieve optimum fertility and conception.
Ji Woon will provide a framework to start drawing up your supplementation guide to maximize and enhance your chance of natural conception and nourishing a healthy pregnancy.
Louisa will discuss using the TCM approach for fertility treatment. She will offer TCM views to better understand the menstrual cycle, TCM dietary and lifestyle advice and TCM applications to achieve better conception probabilities.
Together, Ji Woon and Louisa can help you customise a 3 months fertility treatment program for your family planning objectives.