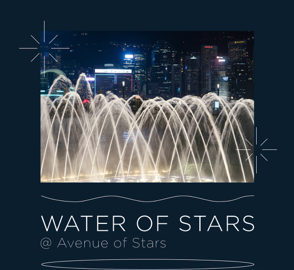 'Water of Stars' Trial Show @ Avenue of Stars
AOS Management Company has brought in a brand new water music fountain show 'Water of Stars' at the Avenue of Stars to rejuvenate Tsim Sha Tsui harbor, bringing visitors a more diversified waterfront experience.
'Water of Stars' is a remarkable musical fountain show with lighting effects. Imagine each sprout of water to be like a graceful ballerina on the tip of her toes, swaying her elegant arms forming beautiful lines and curves to the choreography with a magnificent light show and contemporary music performed by a 68-person orchestra. The fountain is equipped with rainwater collection facilities and solar panels. The unique environmental protection design echoes the social responsibility of sustainable development.
The musical fountain trial show will start from November 20, 2020 and each show lasts between 3 to 5 minutes and follows the tentative schedule.
Announcement on official show details will be published at a later stage.
Mon – Fri 6:00pm | 7:00pm | 8:10pm* | 9pm
Sat – Sun 5:00pm | 6:00pm | 7:00pm | 8:10pm* | 9pm
*With music and lighting effects
Schedule of testing and trial runs are subject to change at any time without prior notice.
More Info here