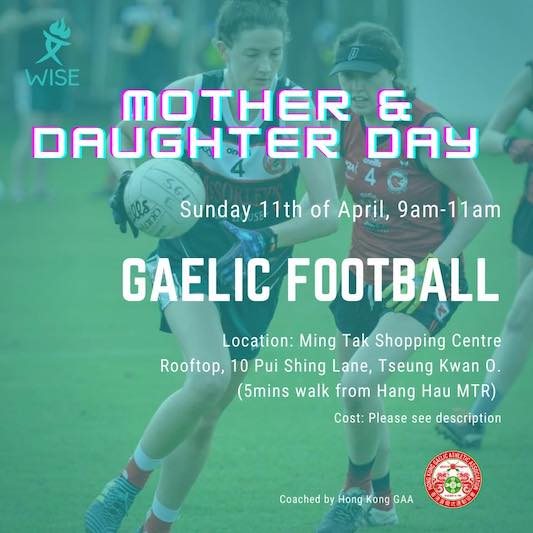 WISE Mother & Daughter Day – Gaelic Football
Women in Sports Empowerment (WISE) will be hosting their first Mother and Daughter Sports Day event for 2021 – Gaelic Football. WISE will be teaming up with the Gaelic Athletics Association (GAA) to hold a sporty morning where mothers and daughters have the opportunity to have fun together whilst learning Gaelic Football. The GAA expert coaches will be there to guide you through some skills and game play within a fun atmosphere. The event is free but a any donation* will support WISE in future work to:
Deliver sports activities for women and girls from marginalised communities in Hong Kong
Start and sustain our Sports Leadership Program targeted at youth
Start and sustain our S.H.E. program targeted at university students in Hong Kong to foster mentoring relationships through the lens of sports
*A minimum donation of $50 is suggested. Donations of $100 or more are eligible for tax deduction.
About GAA
GAA is Ireland's largest sporting organization. Ladies Gaelic Football is the most popular ladies sport in Ireland and the fasted growing female sport in Europe. A record breaking 56,114 attended the All Ireland Ladies Final in 2019. Hong Kong GAA was founded in 1995 and is one of the most successful clubs in Asia. HK Ladies are the current Asian Gaelic Games Champions.