Reading Time:
2
minutes
During a visit to Fairchild Academy, Jo Allum discovers that there really is a smile on every face.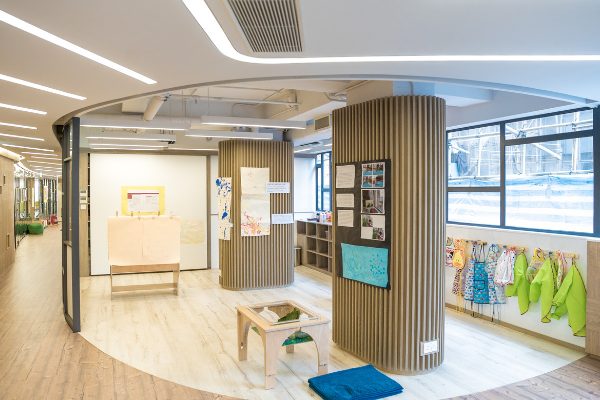 In February 2016, the first Fairchild Academy opened in Tin Hau – just over a year later, the school is celebrating the opening of their second campus, in Sai Ying Pun. Conveniently located opposite the HKU MTR station, and just down the road from a branch of Classified, this area now has a nursery that befits its up-and-coming status.
The school's curriculum is a balanced mix of Canada's British Columbia and Ontario teaching frameworks, with a good dose of Reggio Emilia added in. What all source curriculums agree on, and what Fairchild focus on most, is that the best outcomes, and the happiest children, come from a play-based, child-centered environment. It's not just the academic development of the children that concerns the teachers at Fairchild – much importance is put on the children's social skills; how they interact with each other and their teachers. While there is a structure to the teaching day (circle time, healthy-snack time, messy play etc.), there is lots of uninterrupted – though properly supervised of course – free choice and free play. There are 'shared discovery spaces' so that children age two to six can interact with each other, and many of the toys are open-ended: blocks, shapes and different materials, to enable truly creative play.
The dream of the founder, Joseph Fung, is to form a through-school; currently they accept children aged six months to six years. And with a strong team of educators on the board, this looks like a definite future possibility. Vice Principal Betty Yau, Kathy Nutting, Head of Early Childhood Education, and Dave McMaster, Head of Education, between them have over 100 years of educational experience. They are not currently a 'feeder' into any particular Hong Kong school or group of schools, and they don't have any 'graduates' yet, but Kathy firmly believes that children who attend Fairchild are given a strong foundation for learning, and will be capable of success wherever they go.
"Literacy and numeracy are woven through everything we do; there are just many more ways to learn without copying everything down," explains Kathy.
There are Mandarin immersion classes, in traditional characters, and Chinese language is a key part of the development. "If you want your child to be fluent and literate in Mandarin by grade school, you have to start young," says Kathy.
All fixtures and fittings, toys and materials, are natural, high-quality and environmentally friendly. Mainly Canadian-sourced, the furniture is constructed of soy-based glue and buffed with beeswax, for the inevitable moments little mouths get involved! However, you can't beat Ikea for the accessories!
"When you create an environment that is safe, appealing, and age-appropriate, the children do the rest," Kathy explains. "Our educators don't stand at the front and disseminate information. Children have to be excited to learn; learning should always be fun, from age zero to 100!" She goes on to say that
" 'A smile on every face' is our motto – not just the children, but the educators, teachers and parents as well."
And judging by the faces I saw on my visit, they are well on the way to achieving that.
This article appeared in Playtimes June Issue 2017.
More about schools in Hong Kong here