Reading Time: 5 minutes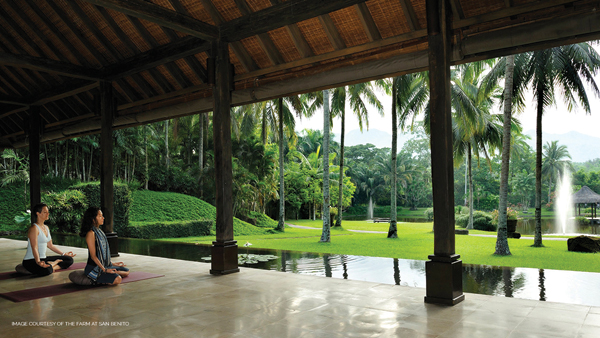 "Ohhhmmmmm….ohmmmmmm……" It is six in the morning and I have never felt so wide awake. In fact, I could say I am delighted to be awake as I soak in the most spectacular view from the amphitheatre in this paradise. There are male peacocks fanning their glorious tails metres away from me and carp are jumping up and down in the pond that surrounds the platform on which I sit, cross-legged. With me are a handful of people who have also chosen to start their day surrounded by the hanging gardens and emerald green mountains and meditating.
I am at The Farm in San Benito to undergo a revitalization of my mind, body and soul, as they invite me to "rediscover the wellness within", and I intend to do just that.
I have arrived for a four-day stay to celebrate a friend's big birthday, a plan long in the making. There are four of us: Karen, an awe-inspiring gentle, tenacious life coach; Pat, my unfailingly positive, supple-as-elastic yoga teacher; Amanda, a ball of energy and craziness and mindfulness-expert… and me. There isn't much I can contribute to the party with all these amazingly talented women, and I look forward to imbibing all their peacefulness. I have left my husband with the children and no helper (his choice) and no sooner are we on the bus to the plane than he calls me asking for the car keys. I have accidentally brought them with me… work, three children and all the goings- on take their toll and it is clear my mind needs this long-awaited break.
The Farm at San Benito is located 80 kilometres south of Manila in Batangas on an organic coconut and coffee plantation at 1,025 feet above sea level. A private driver takes us there and we pass countless village fiestas along the way. We arrive at paradise on earth. There are 24 rooms, suites and villas, each with their own spacious garden providing an additional personal sanctuary, all inspired by the local Filipino traditional houses and surrounded by 49 hectares of luxuriant tropical gardens. The Master Villa is up for grabs in the centre of the grounds with its own private pool, garden and stunning views of Mount Malarayat. There are single or double hanging bungalows with the coolest chill-out area below and views of the mountains, and we are in the Anahaw Family Villas, a sort of upside-down bunk-bed arrangement for four. I learn that children are allowed at the Farm at no additional cost, but with the silence before us I wouldn't dare to bring mine.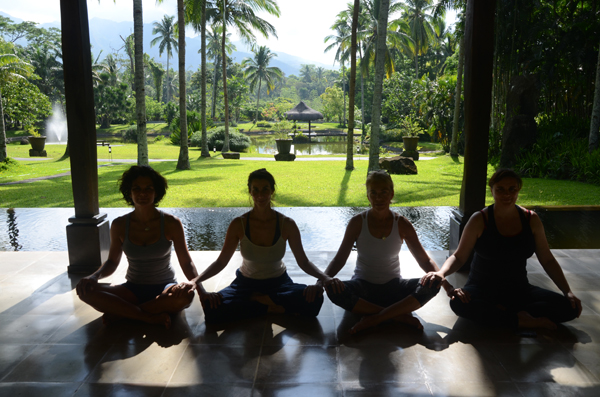 The water at The Farm comes from a well located 1,000 feet below the ground, and has earned the classification of 'healing water'. The Farm offers European-inspired Holistic Wellness Services under the supervision of on-site medical doctors, and 100% natural and organic spa treatments made fresh daily and given by incredibly trained hands and smiling faces.
Though the choice of what you do is entirely yours, for me my mornings begin at 6am with Mantra Meditation with Yogi Francis (and the carp and peacocks) at the amphitheatre – here I become familiar with my internal energy, my life forces (qi, Ki, Prana) and my breath. I am training my mind to induce a mode of consciousness to get to my true nature and develop compassion, love, patience, generosity and forgiveness. What a perfect way to start the day. At 7am I moved on to Gentle Flow Yoga with Yogi Bee – a slow-paced class focusing on the foundations, alignment and Vinyasa sequence of breath, body awareness and flexibility. By 8.30am I am in Yogi Stella's Qigong class, where she is enlightening me about my energy flows which connect my mind and body and I am trying to refocus the flow to where it is most required to heal and energise my body. And this is all before 10am when I head to a breakfast of raw granola and coconut yoghurt, an energy juice that is to die for, and gluten-free pancakes with some local, home-made honey.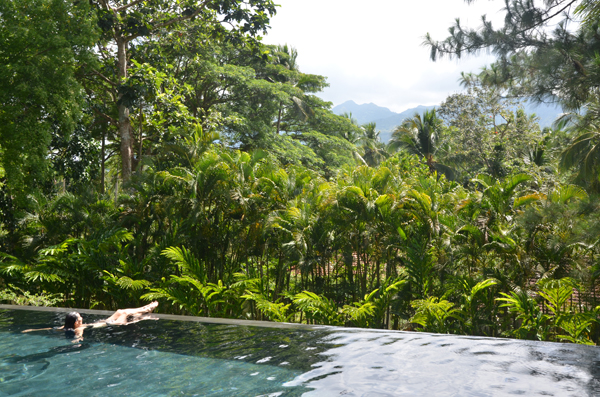 By 11am I am lying by the pool enthusiastically exchanging stories with my buddies. Karen has been to a Mandala Flower Arranging class, Amanda has been at the Oil of Life coconut oil class, and Pat has been at Yogalates. The environment induces a natural forced relaxation and this is a welcome break from the busy pace of Hong Kong. I cannot recommend it highly enough to all the multi-children working mums out there.
If the complimentary classes aren't enough, there are endless spa treatments to choose from. The Spa – Salus per Aquam – pays homage to the true meaning of "healing through water". All treatments have been selected and developed to directly support the healing of the body by removing toxins from within the tissues and organs, providing nourishment through the skin, restoring energy balance and decreasing the acidity of the body. From the signature Hilot Massage to the Tropical Bliss Coconut Scrub, or the Chlorophyll Body Wrap, there's something for everyone.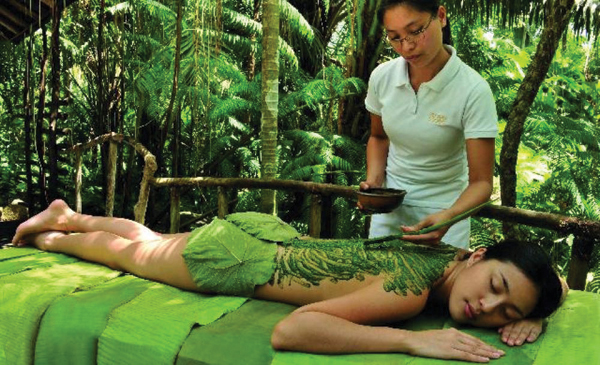 Founded in 2003, The Farm has won countless awards, including more recently the Senses 2013's Best Medical Wellness Resort, and there are many and varied treatments on offer – Liver and Gallbladder Flushes, Internal Organ Compresses, Craniosacral Therapy, Acupuncture, Intravenous Vitamin Infusions, Capillary Scans and so on. I choose the Colon Hydrotherapy – a coffee colema. Having often thought I would like to try one out, I had never been brave enough to do so and this was my chance. Spurred on by my three advisors, I take the plunge – and without going into the details, I feel kilos lighter and am an absolute convert.
Something that is little mentioned but quite exceptional here is the cuisine – the Alive! Restaurant provides organic and grown on-site 100% vegan, 85% raw cuisine, where maximum cooking temperatures are 42ºC, thereby retaining the pure goodness of all the raw ingredients. Sprouts and wheatgrass are grown daily in the kitchen garden, and the menu changes from vegetables, nuts, seeds and fruits to home-made ice-creams, cookies, organic wines and champagne and coffee, should you so fancy. I had been concerned that there wouldn't be any wine, and asked myself whether I could possibly manage, but the reality is that your mind and body are so utterly cleansed that the mere thought of wine is removed almost instantaneously – hard to believe I know! This is apparently the only vegan five-star health and wellness resort in the world.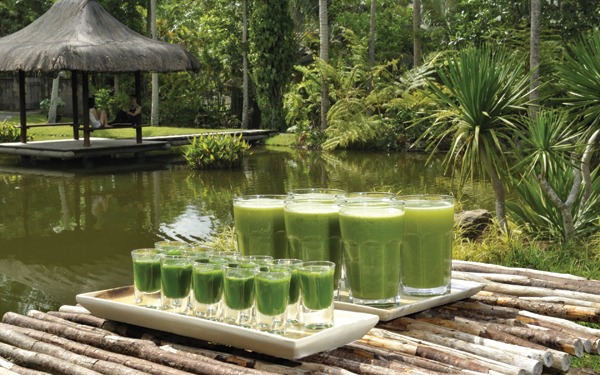 After a lunch of beetroot ravioli and a detox cleansing juice of papaya, orange, carrot and chia seeds, it's time for Fitness Muay Thai with Coach Jess – a training technique that involves working different muscle groups, strengthening and cardio. It's tougher than the rest of the day but we keep going because
he's rather something to look at!
We all meet at 4pm for tea under the pagoda where we exchange more stories, eat home-made coconut crackers and drink fresh tea picked from the organic herb garden.
And then the sun starts setting on our four days at the Farm at San Benito. Our bodies have been thoroughly cleansed (though the first day we all confessed to having had a headache from the detoxing), our minds are clear and fresh with the wise words of those around us, and our souls are at peace with the earth. There can be no doubt that we have found the wellness within