Reading Time: 4 minutesSome feel good food from the Deep South by Jamie Oliver and brought to you courtesy of the Pomegranate Kitchen.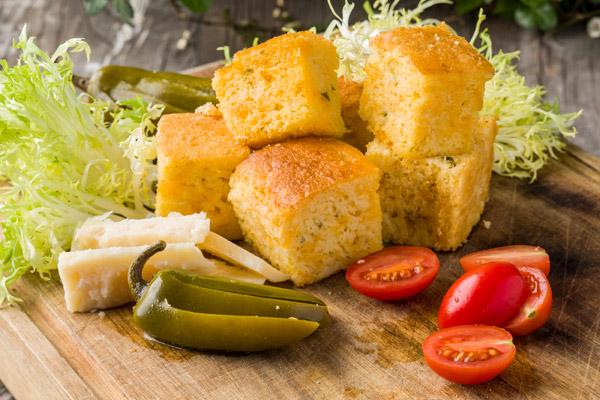 Cheesy Jalapeno Cornbread
Yield: 8 servings
Ingredients
• 1 cup yellow cornmeal
• ½ cup all-purpose flour
• 1 tablespoon baking powder
• Pinch of salt
• 1 cup buttermilk
• ½ cup milk
• 2 whole eggs
• ½ teaspoon baking soda
• 1 cup grated Cheddar cheese
• ¼ cup shortening
• 2 tablespoons butter
• 1 red bell pepper, finely diced
• 1 fresh jalapeno, seeded and diced
• ½ onion, diced
Instructions
1. Preheat the oven to 180ªC.
2. Combine the cornmeal, flour, baking powder and salt in a bowl. Stir together.
3. Measure the buttermilk and milk in a measuring cup and add the egg. Stir together with a fork. Add the baking soda and stir. Pour the milk mixture into the dry ingredients. Stir with a fork until combined. Fold in the cheese. Set aside.
4. In a small bowl, melt the shortening in the microwave. Slowly add the melted shortening to the batter, stirring until just combined.
5. In an iron skillet, melt the butter over medium heat. Sauté the peppers and onions for 4 to 5 minutes or until soft. Pour the batter into the hot skillet with the veggies. Spread to even out the surface. (Batter should sizzle.)
6. Cook for 1 minute and then transfer to the oven and bake until golden brown, for 20 to 25 minutes.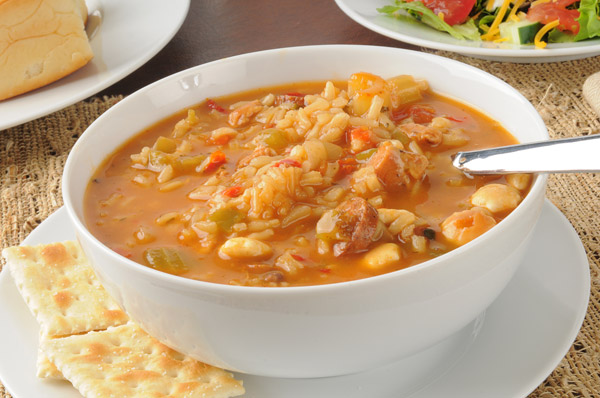 Gumbo
Yield: 8 servings
Ingredients
• 1 (3-4 pound) chicken, cut up
• 1 tablespoon + 2 teaspoons Cajun Rub (see below for recipe)
• 1 cup finely chopped onions
• 1 cup finely chopped green bell peppers
• ¾ cup finely chopped celery
• 1¼ cups all-purpose flour
• Vegetable oil for deep frying
• 7 cups chicken stock or water
• ½ pound Andouille (or any other good pure smoked sausage) cut into ¼-inch cubes
• 1 teaspoon minced garlic
• Hot cooked rice (preferably converted)
Instructions
1. Remove excess fat from the chicken pieces. Rub a generous amount of Cajun Rub on both sides of each piece, making sure each is evenly covered.
2. In a medium-size bowl combine the onions, bell peppers and celery and then set aside. Thoroughly combine the flour with 1 tablespoon of Cajun Rub in a paper or plastic bag. Add the chicken and shake until the pieces are well coated. Reserve ½ cup of the flour.
3. In a large skillet (preferably not a nonstick type) heat 1½ inches oil until very hot (375º to 400º).
4. Fry the chicken pieces until crust is brown on both sides, about 5 to 8 minutes per side. Drain on paper towels.
5. Carefully pour the hot oil into a glass measuring cup, leaving as many of the browned particles in the pan as possible. Scrape the pan bottom with a metal whisk to loosen any stuck particles, then return ½ cup of hot oil to the pan. Place pan over high heat.
6. Using a long-handled metal whisk, gradually stir in the reserved ½ cup flour.
7. Cook, whisking constantly, until roux is dark red-brown, about 3½ to 4 minutes, being careful not to let it scorch or splash on your skin.
8. Remove from heat and immediately add the reserved vegetable mixture, stirring constantly until the roux stops getting darker.
9. Return pan to low heat and cook until vegetables are soft, about 5 minutes, stirring constantly and scraping the pan bottom well. Set aside.
10. Place the stock in a 5½-quart saucepan or large Dutch oven.  Bring to the boil.
11. Add the roux mixture by spoonfuls to the boiling stock, stirring until dissolved between additions.
12. Add the chicken pieces and return mixture to the boil, stirring and scraping pan bottom often.
13. Reduce heat to a simmer and stir in the andouille and garlic.  Simmer uncovered until chicken is tender, about 1½-2 hours, stirring occasionally and more often toward the end of cooking time.
14. When the gumbo is almost cooked, adjust the seasoning if desired with Cajun Rub.
15. Tuck in!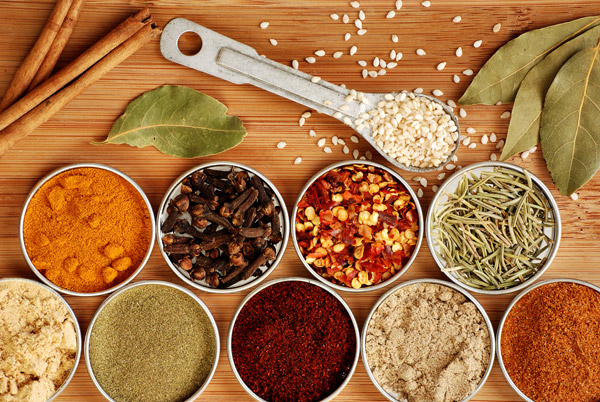 Cajun Rub
Ingredients
• 1 ½ tsp salt
• ½ tsp smoked paprika
• ¼ tsp cayenne
• ¼ tsp onion powder
• ¼ tsp garlic powder
• ¼ tsp black pepper
• ¼ tsp thyme
• ¼ tsp oregano
• ¼ tsp sage
• ¼ tsp ground cumin
• ¼ tsp ground coriander
Instructions
Combine all ingredients and it can be used to flavour soups, stews and meats.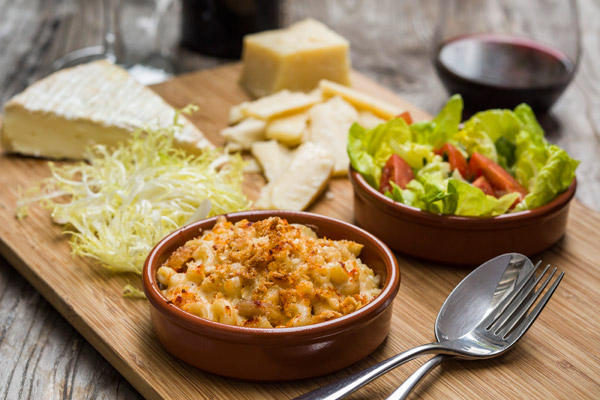 Five Cheese Mac and Cheese
Yield: 4-6 servings
Total Time: 1 hour
Ingredients
• 8 ounces macaroni
• ¼ cup unsalted butter
• 3 tablespoons all-purpose flour
• 2 cups whole milk
• ¼ teaspoon cayenne pepper
• ¼ teaspoon smoked paprika
• salt and black pepper, to taste
• 3 ounces Cheddar cheese, shredded (about 1 cup shredded)
• 3 ounces Gruyere cheese, shredded (about 1 cup shredded)
• 3 ounces Pecorino cheese, finely shredded (about 3/4 cup shredded)
• 3 ounces Camembert cheese, rind removed and cut into small chunks
• 3 ounces Smoked Mozzarella cheese
• ¼ cup Panko bread crumbs
• ¼ cup cornflakes
• ½ cup Parmesan cheese grated
Instructions
1. Place an oven rack in the top half of the oven. Bring a large pot of salted water to a rolling boil.
2. Add macaroni and cook for 5 minutes or until just barely al dente. Strain and set aside.
3. Heat butter in a 10-inch cast iron skillet or oven-proof saucepan set over medium-high heat.
4. When butter is melted and foamy, sprinkle over flour, whisking to incorporate into a smooth paste.
5. Continue to whisk until frothy and light golden brown, about 2 to 3 minutes.
6. Slowly drizzle in milk, whisking vigorously. If at any point the mixture clumps, continue to whisk until smooth before adding more milk.
7. Continue whisking until all the milk has been added. Cook, whisking regularly, for 7 to 8 minutes or until sauce has thickened to the consistency of heavy cream and just barely starts to simmer around the edges.
8. Whisk in cayenne, paprika, and salt and pepper to taste. Remove from heat.
9. Set aside ¼ cup of cheese (a mix of Cheddar, Gruyere, and Pecorino).
10. Slowly add remaining cheese to skillet, one handful at a time, whisking well until melted and smooth. If the sauce still has noticeable chunks in it, return pan to low heat and continue whisking for no more than 1 to 2 minutes or until cheese is completely melted.
11. Fold cooked macaroni into cheese sauce until evenly coated.
12. Sprinkle with reserved shredded cheese, bread crumbs, cornflakes and Parmesan cheese and broil on high for 4 to 5 minutes or until cheese is bubbly and breadcrumbs are golden brown.
13. Remove from oven and let cool for 5 minutes before serving.