Reading Time: 3 minutesEach month, our undercover spa spy samples some of the city's top treatments. This month: Body and bump pregnancy massage at the Mandarin Oriental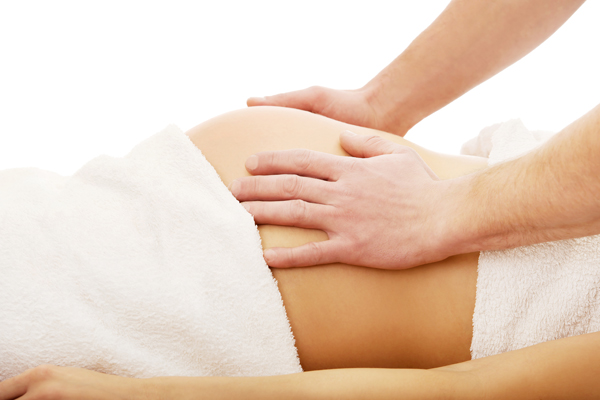 The low-down:
This luxurious massage for mothers-to-be uses rose-scented oils and body balms to deeply nourish the skin, aiding the prevention of stretch marks and soothing fluid retention. The treatment ends with a hydrating facial and hair mask. This treatment is performed on a revolutionary pregnancy comfort cushion, using only all-natural ingredients.
The experience
I arrived on the 24th floor of the Mandarin Oriental and entered the sweet-smelling haven of the spa reception to be greeted with a refreshing jasmine tea.
My therapist Angel thoughtfully offered me the option of smelling the oils to make a choice before the treatment started. I really appreciated this as my sense of smell has gone into overdrive in the last few weeks. I chose a light rose oil, which I was informed was also great for preventing stretch marks – bonus!
Angel helped me manoeuvre myself on to the massage bed and place my bump into a hole created with a special cushion so that I could lie safely on my front. As someone who likes to sleep on their front, this was heaven in itself. The treatment started with a foot scrub before a wonderful back massage to take away all the strain and stress carrying a baby can put on your back and neck. The beauty of this treatment is that after the back massage, you get to turn over and have a facial, moisturising hair treatment, and then an invigorating hand and foot massage. Your entire body – the wonderful vessel giving shelter to a new growing life – is revitalised.
This was a totally indulgent and much-appreciated spa visit for a pregnant woman.
Who should go?
Pregnant women past their first trimester who are tired, weary or simply want to feel amazing!
The nitty gritty
Duration: 1 hour and 30 minutes
Mon – Thu: $1800
Fri – Sun: $2040
To book, call 2825 4888 or visit
www.mandarinoriental.com/hongkong/luxury-spa/
---

Ask the beauty expert!
Anna Treier, the name behind Sense of Touch, Sense of Touch Laboratories Skincare, and Capelli salon, answers your beauty question.
Q. Are there any tips to avoid split ends?
A. Heat-styling hair tools are major culprits when it comes to getting split ends. Hair cuticles weaken when they get exposed to heat, causing dry, damaged hair and split ends. The only true way to get rid of them is to have them snipped.
But there are ways to protect our silky strands from getting dehydrated. Freshly washed hair is at its most sensitive and brittle stage. Apply a no-rinse, leave-in conditioner like Moroccanoil or coconut oil to soften the strands, then gently run a wide-toothed comb through. Make sure tangles are combed with care, as brushing them roughly causes the hair to break off. Hair moisturisation is essential, so find products that suit your hair type, which might take a bit of trial and error.
Do some research when purchasing heating tools like blow dryers, straighteners and curling irons. The cheaper the make, the higher chance of the gadget dangerously over-heating, causing hair to suffer. If you invest in top-quality tools (such as GHD), your hair and pocket will benefit in the long term.
You also need to be vigilant about using too much protein in your products. Although protein is good for the hair, overloading on it can cause hair breakage.
Another thing you can do to help prevent split ends it to visit your favourite stylist for a regular trim and hair treatment. Home hair care masks also do the trick. I swear by Phytokeratine Ultra Repair Mask by Phyto Paris – I wrap my hair in cling film for about 20 minutes then wash off for hair that feels salon worthy! Lastly, keep scalp clean and use high-quality hair products to maintain lustrous locks.