Reading Time:
3
minutes
Known as Asia's World City, Hong Kong is the beautiful, cosmopolitan place we call home. It might be a surprise to learn that Hong Kong has a staggering poverty population of over one million. This translates to roughly 20 per cent of residents living below the poverty line. With so many people struggling to put food on the table and alongside mounting levels of food waste in the city, Food Angel strives to bridge these two enormous social gaps. They rescue edible surplus food from the food industry (that would otherwise be wasted) and prepare it as nutritious meals for the underprivileged. Not only does Food Angel help address food insecurity, they also make community connections. Food Angel: Filling Stomachs and Hearts.
"The poverty rate is rising, and the volume of food waste is rising. So, we try our best to expand and offer new services to help the situation." said Zoe Lee, Associate CEO of Food Angel.
How did Food Angel come about?
When Food Angel first started, they produced hot meals which had to be consumed within a short period of time. However, two years ago they ventured out to create "cook-chill" meals that can be stored in the fridge for up to four days. This meant Food Angel beneficiaries could not only enjoy a hot meal at the community centre but they could also bring back meals to eat for dinner or on the weekends.
Managing during a pandemic
Prior to the COVID-19 outbreak, Food Angel was producing 8,000 hot meals, 4,000 cook-chill meals, and 2,000 food packs each day. Due to the virus outbreak, Food Angel had to halt all of its hot meal production as it required beneficiaries to gather in the community center daily. Luckily, Food Angel was able to quickly scale up their preparation of food packs which allowed beneficiaries to come to the community center just once and receive five meals at a time.
Soon after the COVID-19 outbreak began in February, Food Angel managed to distribute 4,500 to 5,000 food packs. This equates to 22,500 to 25,000 meals per week from February to May. From the end of May onwards, it resumed its cook-chilled meals production for the needy community. They also sourced personal protective equipment (PPE) from donors and distributed them through their networks to the needy population.
Food security and community connections
Food Angel not only strives to serve food and reduce food waste, they also provide a much-needed sense of interpersonal connection to the elderly and others in need. While Food Angel may appear to solely focus on food security for those living in poverty, there is another component of their work that is not as visible. The social bonds that come along with these free nutritious meals can fill the heart and the stomach.
Around 70 per cent of Food Angel's beneficiaries are elderly people. Not only do they receive food assistance, they also need a sense of connection. Many of the elderly beneficiaries do have some family. However, not seeing them enough can cause strong feelings of loneliness.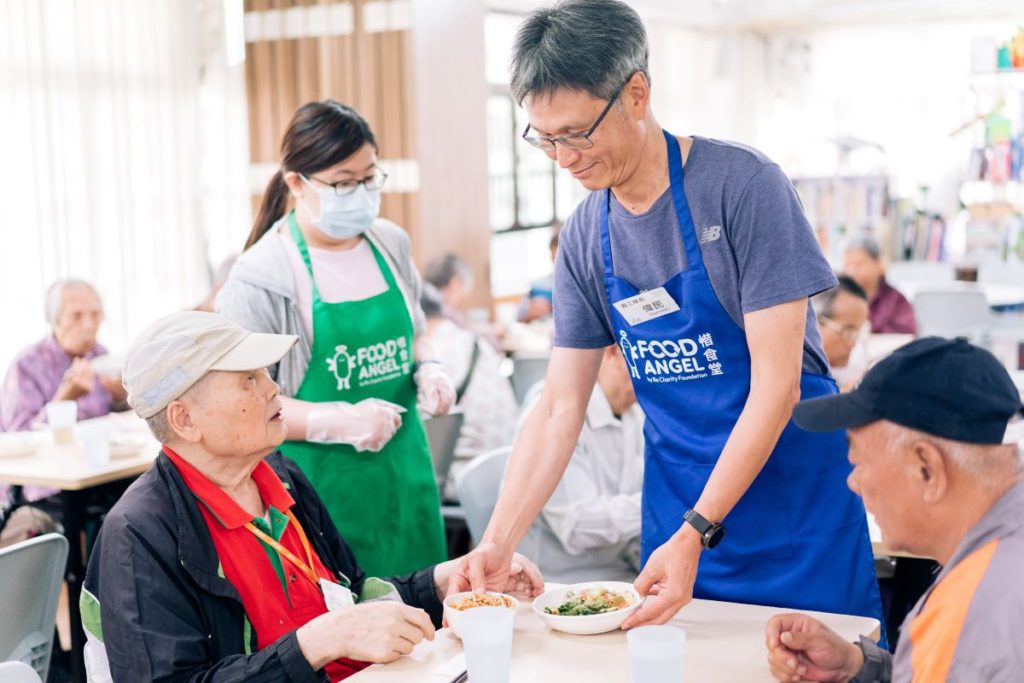 One man's struggle
Mei Yee, a social worker at Food Angel, visited the home of a 90-year-old man who was living on his own. He didn't have any close family and many of his friends had passed away. Sadly, one had even succumbed to suicide. This elderly man felt there were no reasons for him to keep hanging on and he said he was jealous of the man who had committed suicide.
Mei Yee struggled to find ways to convince him his life was worth living. She searched for ways to steer the conversation in a more optimistic direction and tried her best to find positive points in his life. After she registered him for Food Angel's services, an outreach team began regularly delivering food packs to him. The outreach team remained relatively stable with the same staff members visiting him each time. Through four years of food deliveries, they slowly saw his demeanor shift. He started to smile more. He became more cheerful.
After four years, the elderly man could no longer eat the food deliveries due to difficulties in swallowing, but the team continued to visit him and celebrate his birthday with him. He passed away this year from physical health issues and not from suicide, as his friend had.
"As long as one beneficiary becomes happier after receiving our service or we helped them with whatever their need is, then that's enough for me to feel very happy," said Mei Yee, reflecting on her work at Food Angel.
The aging population in Hong Kong makes a variety of social issues more apparent. These issues are not limited to the elderly population, however, as around 20% of Food Angel's beneficiaries are non-elderly people with low income.
Get involved
Thanks to founder Gigi Tung participating in Asian Charity Services workshops, Food Angel has grown by leaps and bounds in the past few years, expanding their services to help more people in need. As they battle increasing poverty rates and food waste, visit Food Angel's website for ways to support them, from donating to volunteering.
Food Angel is just one of many charities serving their communities and supporting the city through a pandemic. Visit Asian Charity Services' Community Support platform for opportunities to uplift fellow Hongkongers in times of hardship.