Reading Time: 19 minutesHong Kong is never short of new restaurant openings, new menus, food related exhibitors, new pop ups, you name it. Check out all the latest food news around Hong Kong NOW…and bookmark this page for the latest updates.
Chôm Chôm – reinvigorated!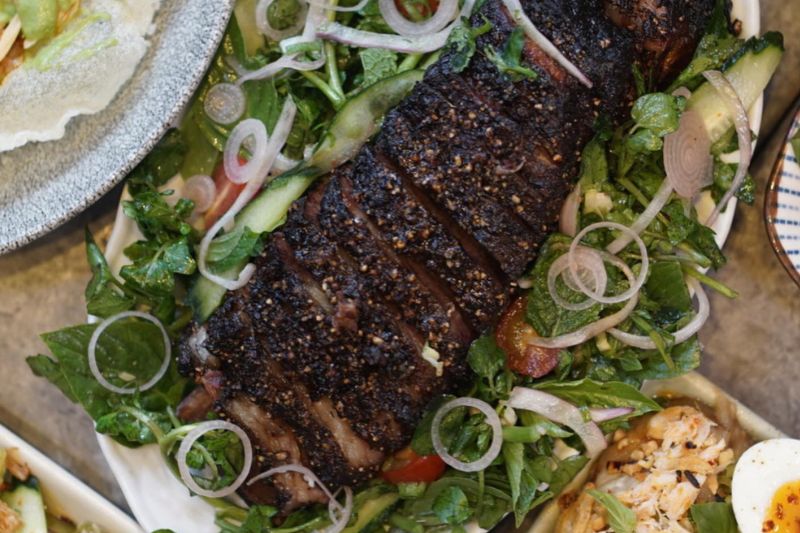 For over a decade Chôm Chôm has been a SoHo neighbourhood mainstay and it has recently been reopened and reinvigorated. Having spent a month in Vietnam, the team has come back refreshed and rejuvenated, ready to offer up vibrant new cocktails, beers and a fresh menu. Along with Vietnamese street food-inspired dishes, Chôm Chôm brings the frenetic, fast-paced energy of late-night Vietnam to life in the heart of SoHo.
Get ready for the grand reopening celebration on 1 October (from 6pm until late). The riotous affair will more than likely take over the SoHo street corner.
Try a slice of Italian pizza at Alice Pizza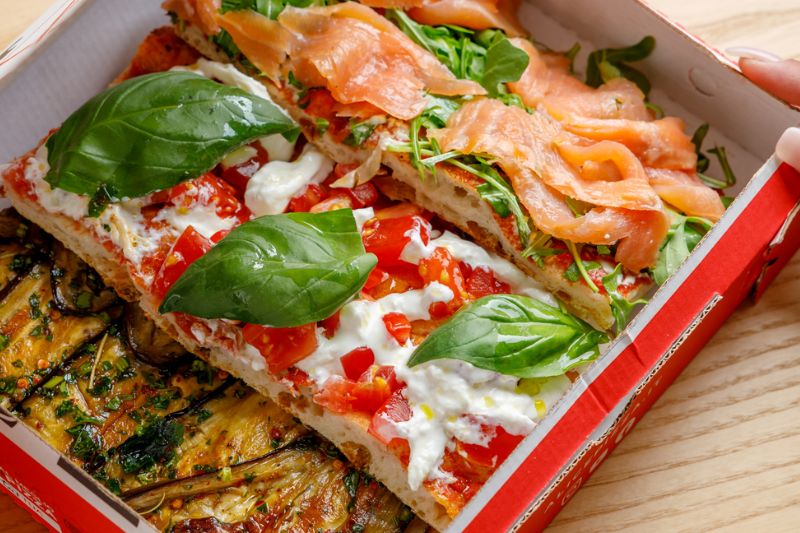 Alice Pizza, a leader in Roman teglia pizza and named among the Top Pizzerias in Italy 2023 by platform Gambero Rosso, has made its way to Hong Kong. Located in the bustling Queen's Road East, Wan Chai, Alice Pizza stays true to Rome's culinary heritage of thin, light, and crispy pizza sold 'al taglio' (by the cut). With most ingredients imported from Italy, this is the brand's first shop in Asia. The Hong Kong location offers seating for up to 28 customers, with takeaway and delivery options available. The pizzeria features an extensive menu of classic flavours, vegetarian and vegan options, and innovative choices cooked in an Italian-made electric oven.
Address: Alice Pizza, G/F, 92 Queen's Road East, Wan Chai, Hong Kong
Nana's Green Tea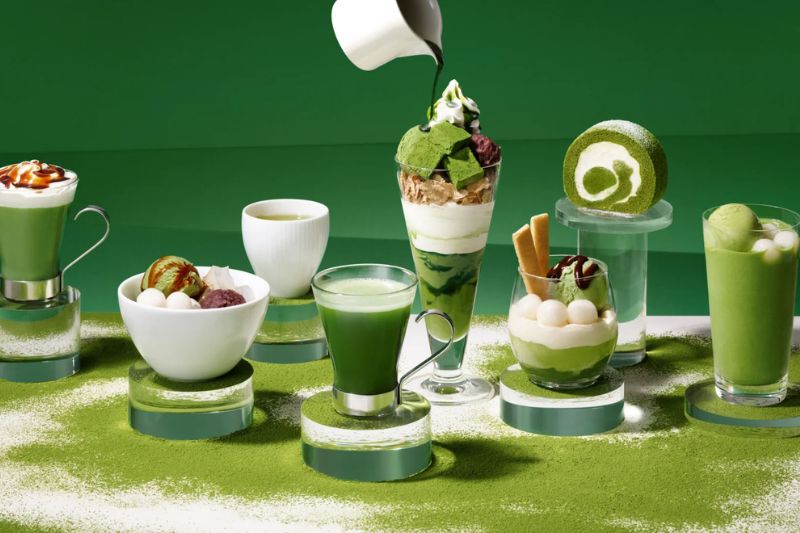 Introducing Nana's Green Tea – Matcha magic from Japan's premier teahouse. With 76 outlets across Japan, North America, Taiwan, and Singapore, Nana's Green Tea now arrives in Hong Kong. This revered Japanese cafe brand offers an array of beverages and sweets infused with vitamin- and antioxidant-rich matcha green tea powder. Alongside comforting Japanese staples, their menu boasts hojicha and genmaicha teas. Using sun-dried agar and organic rice, their desserts feature luscious soft-serve, handmade matcha pudding, and Hokkaido's red beans. The location exudes a modern tea-ceremony aesthetic, providing a bright and airy space for up to 60 guests.
Address: B128, AIRSIDE, 2 Concorde Road, Kai Tak, Kowloon, Hong Kong.
Bistro La Baie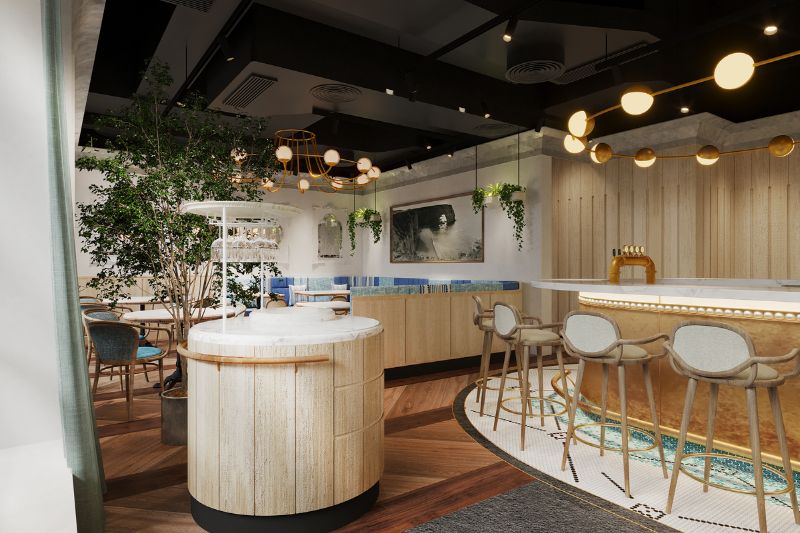 Bistro La Baie in Tseung Kwan O offers a captivating blend of traditional and modern French cuisine. Led by Chef Devon Hou, the restaurant combines classic French flavours with the freshest ingredients, all against the backdrop of stunning waterfront views. From refreshing cold dishes like the Seafood Platter and Foie Gras Terrine to warm starters such as Roast Bone Marrow with Escargot and French Onion Soup, each dish is crafted with care and attention. Main courses include Duck Fat Confit Halibut, "La Baie" Bouillabaisse, and Steak Frites, while the 9 Hour Slow Roasted Beef Chuck is a standout favourite. The meal concludes with the Citrus Crème Brulée Tart, a delightful twist on a classic dessert. www.bistrolabaie.com.hk
Tomacado in Causeway Bay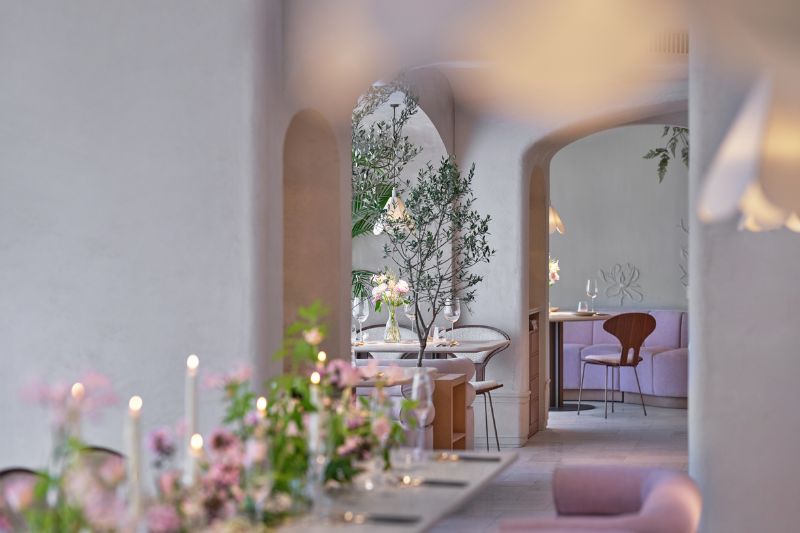 Tomacado, a restaurant brand that marries culinary creativity with floral artistry, has opened its doors in Causeway Bay at the wwwtc mall. Founded in 2015 and already boasting 12 branches across mainland China, Tomacado aims to offer Hong Kongers a sanctuary of natural, healthy, and sustainable living. The name "Tomacado" combines "tomato" and "avocado," ingredients that amplify each other's health benefits. The restaurant offers a diverse menu that blends Western, Chinese, Southeast Asian, and Japanese flavours. Notable dishes include Roasted Sanhuang Chicken with Herbs and Wagyu A4 Rib Eye Steak. In line with its dual focus, the restaurant features an entrance flower shop and exclusive tea brand, Teablooms, enriching the overall guest experience
Longtail Thai Restaurant opens at Fashion Walk
Step back in time at Longtail Thai restaurant and cocktail bar. The cosy restaurant is located on Fashion walk and seats just 26. The vibrant venue nods to old-school Thai dining experiences through thoughtfully curated, retro-inspired interiors, whilst the tempting menu showcases tasty Thai street food made using the best ingredients. The leafy al fresco area is perfect for whiling away an afternoon or sipping on a tropical cocktail in the evening and there's a pet friendly patio equipped with dog bowls and cooling fans, too.
Italian Summer at La Favorita
Flamboyant trattoria La Favorita is bringing the taste of Italian summer to Hong Kong with its new summer dinner menu.
Until the end of August, indulge in a specially curated four-course Summer feast (from Sunday to Thursday) priced at $398 per person. The Summer Dinner experience begins with a selection of Antipasti, featuring the creamy Burrata Classica with Sicilian tomatoes, the luxurious Fancy Beef Tartare, the delightful Prosciutto e Melone, and the refreshing Raw Tuna Carpaccio.
For Secondi, choose from a range of irresistible options including the Ziti Seafood Puttanesca with baby octopus and baby cuttlefish, the succulent Galetto e Cipollotto al Vin Santo featuring braised Italian Chicken, the luscious Risotto ai Funghi for vegetarians, and the carnivore's dream come true – Beef Involtini with thinly sliced beef rump in tomato sauce and pecorino cheese.
Indulge in a decadent finale with Dolci, featuring the Grande Tiramisu for two, the Liquorice and White Chocolate panna cotta, or the zesty Lemon Sorbet, a refreshing palate cleanser capturing the spirit of summer. Make a reservation.
Dine out on Mastercard this summer
From now until December 31, holders of all Mastercard cards issued in the Asia Pacific region can enjoy a complimentary main course when dining out at partner restaurants, not only in Hong Kong but all over Asia Pacific. Restaurants in Hong Kong include Jiangsu Club, OMG, ADDA, WOK 15 KITCHEN. Reservations can be made at www.onedinesfree.com for instant confirmation
Champagne Brunch at Jiangsu Club
Check out The Splash Bottomless Champagne Brunch at Jiangsu Club. Start the meal with a cold, crisp glass of Moet accompanied by seaweed covered peanuts, follow this with six different types of dumplings or bun, two crispy roles and a turnip cake, and you will be more than full by the end! The exclusive brunch deal is set in a comfortable private dining room, complete with lively music.
Cost: The weekend brunch starts at the introductory price of $278 per person
90 minutes of free-flow champagne:
Moët & Chandon Impérial (add HK$388 per person);
Moët & Chandon Rosé Impérial (add HK$458 per person); or
Dom Pérignon Vintage (add HK$888 per person).
Jello & Mellow Opens in Quarry Bay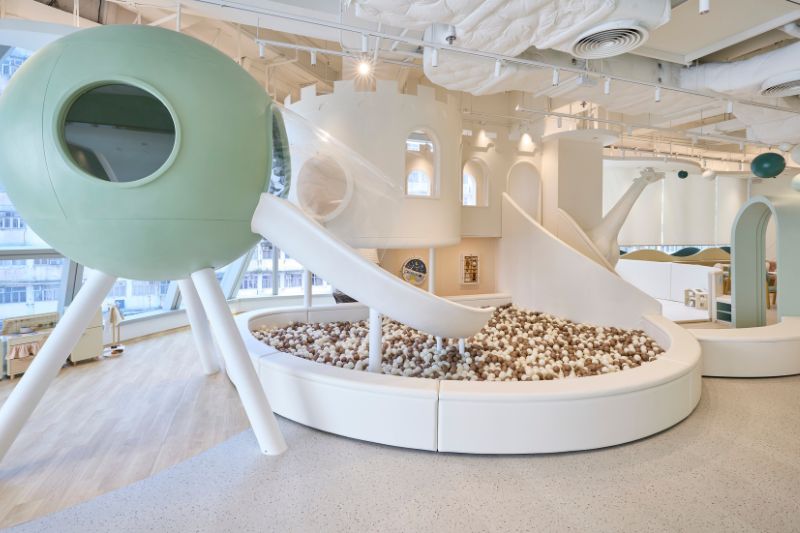 Offering a beautifully designed multifunctional space, Jello & Mellow is the perfect spot for families. The immersive kid-centric dining and recreation sanctuary is spread across 5,700 sq ft and features five themed sections including dining rooms seating up to 90 people and an indoor playground where little ones can safely work up an appetite. Open from 9:30 am. to 7:30 pm daily, it entices families for breakfast through lunch and onto teatime and early evening bites. Food offerings include a lunch set of soup or salad, signature main – such as pizza or pasta trio – and a drink and costs just $128.
Pane e Latte Opens for Dinner
Stanley's seaside panetteria has expanded its offerings to include dinner! The brand new dinner menu is available daily from 6pm – 9pm and showcases an array of dishes including Grilled Mediterranean Octopus, Roasted Zuvvhini and Tomatoes, Lobster Ravioli, Pan Fried Sea Bream Fillet and Stripling Steak – and of course a selection of delectable desserts! Reservations
Staunton's Returns!
The SoHo icon that first opened in 1997 has returned under new management with a fresh approach to the gastropub experience. Taking up residence in the original Staunton's location (on the corner of Staunton and Shelley Street) the restaurant serves gastropub fare that pays homage to the UK's most iconic foods – from the curries of Brick Lane to the best Bangers & Mash. Staunton's is open noon until late Monday – Friday and from 10am until late on Saturday, Sunday and public holidays. www.stauntonshk.com
Enjoy a "Mediterranean Voyage" at Café East
Experience the taste of the Mediterranean this summer at a new, themed dinner buffet at Café East at New World Millennium Hong Kong. Savour signature creations from Italy, Turkey, Greece, Spain and Portugal. The buffet runs 6:30pm – 9:30pm until 31 August and is priced at $738 per adult and $518 for children age 3-11 Monday -Thursday, or $788 for adults and $548 for children at the weekends. www.newworldmillenniumhotel.com
Forty-Five at LANDMARK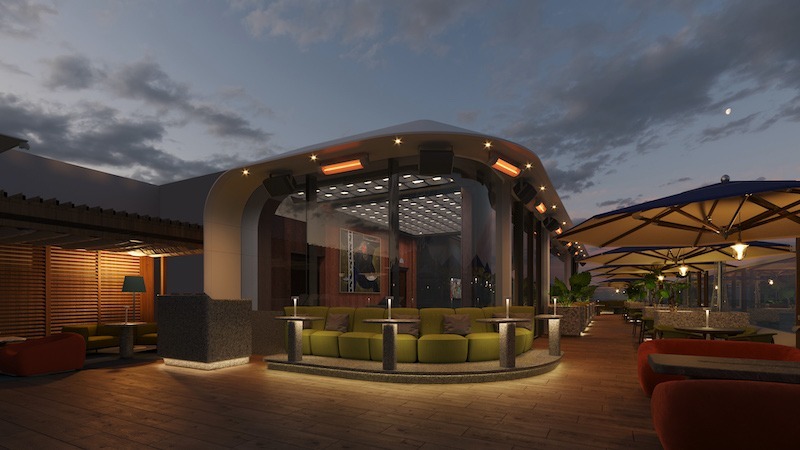 Adding to Hong Kong's vibrant arts and culinary scene, Forty-Five is a food and beverage lifestyle destination where art meets gastronomy. Explore five stunning new experiential concepts in one location. Head to the Sky Terrace for magic hour cocktails and indulge in food created by one of the most decorated female chefs in the world with a total of 10 MICHELIN stars across her restaurants. Under the same roof, you will also find refined traditional Shanghainese dining, a world-renowned teppanyaki experience, and a private members' arts club for entrepreneurs and creatives. "Forty-Five embodies a unique convergence of the culinary and creative arts and will define the next generation of hospitality," says Gerald Li, co-founder of Leading Nation, on the opening of Forty-Five.
Address: 45/F Gloucester Tower, LANDMARK, 15 Queen's Road Central
For more about brunches in Hong Kong
Jello & Mellow immersive playhouse café to open soon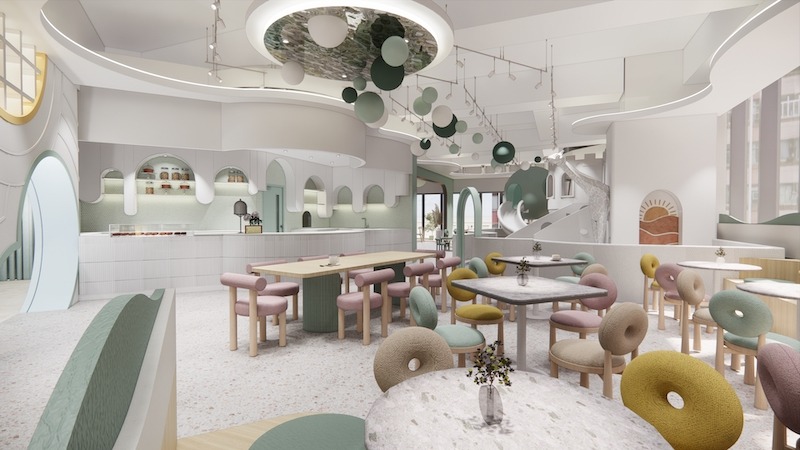 Opening at the end of May 2023, Jello & Mellow will offer an enticing all-day, wholesome family dining menu and an interactive indoor play area for little ones. Brought to you by Vivien Lau, the founder of celebrity-loved cakery Vive Cake Boutique and newly opened café VIVE, Jello & Mellow overlooks Quarry Bay Park (close to Taikoo Shing MTR station).
This exciting new dining and recreation sanctuary spans an impressive 5,700 sq. ft, offering a peaceful refuge from the hustle and bustle of the city. Pop in for breakfast or any meal right through to dinner. Even better, hold your next children's party, private event, workshop, or community activity there. Regular cake decorating classes will be hosted at Jello & Mellow by international guest chefs so be sure to book in.
"It is a dream come true to introduce a dining concept that caters to the needs of both children and those young at heart, where the youngsters can play happily, creatively and safely, the adults can relax and everyone can enjoy fresh, nourishing meals," says VIVE group founder Vivien Lau. "Jello & Mellow is for families to connect in a welcoming environment, with the added attraction of offering space for the local community to come together for a roster of engaging activities."
Jello & Mellow is located at 9/F, 1001 King's Road, Quarry Bay, Hong Kong. For reservations or enquiries email hello@jelloandmellow.hk.
Transformers restaurant lands in Causeway Bay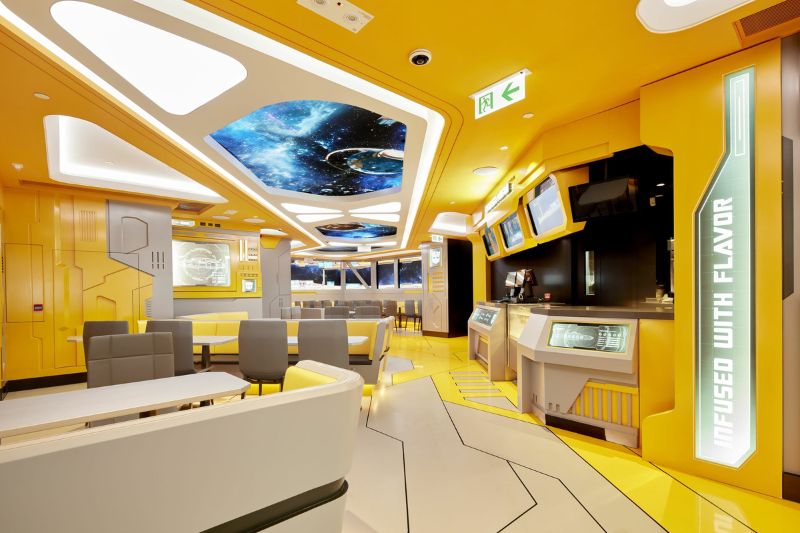 The world's first Transformers themed restaurant, Transformers: The Ark, opened in Causeway Bay recently, with large queues marking the occasion. Through 3D technology the interactive restaurant tells the story of how the Autobots came to Hong Kong. It's not fine dining; rather an upper scale fast-food option, but the kids won't care! Offerings include burgers, prime chicken.
Location: Shop A&B, G/F and 1/F, Soundwill Plaza, 38 Russell Street, Causeway Bay.
Chic café, Vive, opens in Central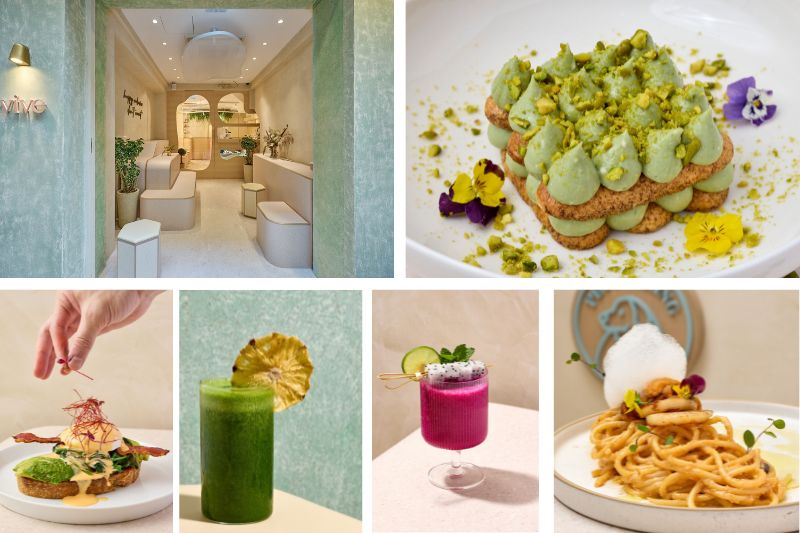 There's more to Vive than cakes following the opening of the stylish daytime dining spot on Gough Street, Central. While Vive might be small, the impression the food leave is large! The well-priced menu features a selection of daytime dining staples, from avocado toast ($108) with a perfectly cooked egg, generous amount of avocado and a crispy slice of bacon, to fish and chips ($148), to the impressively presented Uni Mentaiko with meaty scallops, fresh pasta and a foam flourish. Dessert, unsurprisingly, is also a stand out. The Thai Milk Tea consists of incredibly light chiffon cake and crumbs of honeycomb. There is no alcohol on the menu, but two delicious juice options and list of teas and coffee options. Tables are small, so this is a place best suited to breakfast, brunch or lunch with a girlfriend. www.vive.hk
Dough Bros Hits Kowloon
Dough Bros arrives in Jordan this May! The grand opening of the latest Dough Bros takes place on 5 May and is extra special as it celebrates the first Dough Bros to arrive in Kowloon. To celebrate, Dough Bros are launching two new products – The Mexican Chicken (HK$158) is a fiery masterpiece – expect Mexican spiced chicken, charred corn, grilled peppers, jalapeños, crushed nachos topped with house-made guacamole and served on our signature Italian tomato and mozzarella base. The wackiness doesn't stop there! Behold, the Banoffee Pie Doughnut (HK$38). Banana, caramel, cream and crumbled biscuit, combined and injected into a doughnut… The Jordan Dough Bros branch is located 14-20 Pilkem Street, Jordan, Kowloon and is open 11am until 11pm every day. www.doughbroshk.com
Rosita – Latin American Cuisine in Ship Street
Offering a new take on "new" Latin American cuisine with influences from Japan and France, Rosita opened in Ship Street, Wanchai in January 2023. Starting 24 April, and running on select Mondays thereafter ( 8th May, 15th May, 29th May, 12th June, 19th June, 3rd July, 17th July, and 31st July) the restaurant is adding a new fun twist with the launch of its TacOmakase Nights where guests can enjoy modern interpretations of the beloved taco via an omakase-style menu. The exclusive TacOmakase menu is priced at HK$888+10% per guest.
Falcone Napoletana pizzeria – c
oming Soon to IFC
A brand new Black Sheep eatery is on its way to IFC in April 2023. Introducing pizzeria Napoletana FALCONE, a concept inspired by the chaos and beauty of travelling through the Italian city of Napoli in the Campania region. The new pizzeria is energetic, colourful, and flamboyant, with an uncomplicated menu (pasta and neo-Neapolitan pizza) exploring the culinary traditions throughout the Campania region. Neo-Neapolitan pizza takes its basic inspiration and baking process from the authentic Neapolitan pizza, but employs techniques, flavours and ingredients outside of the strict Neapolitan tradition. FALCONE channels the proud and welcoming spirit of this new wave of pizza makers who dare to break the rules of tradition.
Italian Week Hong Kong
Dates: 29 May to 4 June
Savour the flavours of Italy in the heart of Hong Kong during this year's Italian Week events. Come celebrate the rich flavours, culture, and traditions of Italian dining with wonderful experiences, special promotions, and events. The week-long festival features six amazing chefs from participating venues (Spiga, Ramato, Aria, Vista, Angelini and Lucciola) to give you a real taste of Italy without leaving the city.
Pret A Manger's Spring Menu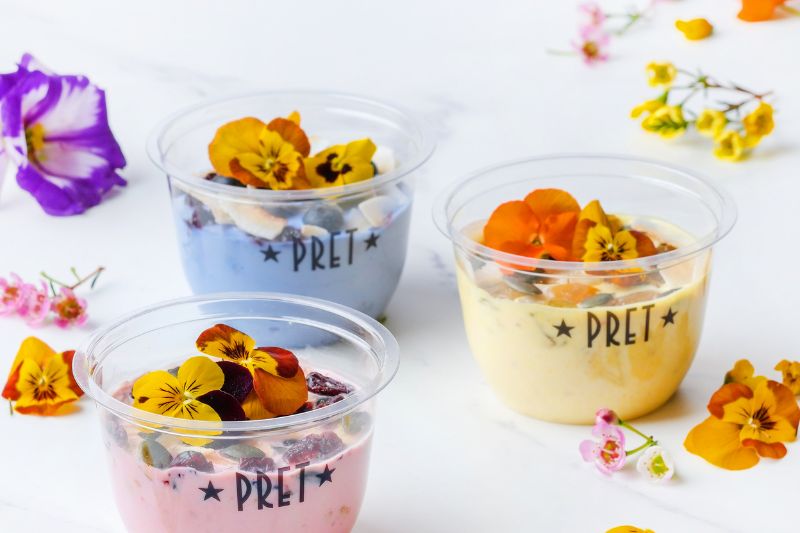 Spring is bursting into bloom at Pret A Manger this Spring with the addition of edible flowers to a number of the products. Try a Pink Goodness Bowl made with beetroot, raspberries and lychees, dried cranberries and pumpkin seeds; or try a turmeric-laced Yellow Goodness Bowl which combines passion fruit, raisins and roasted coconut flakes with honey; or nutritious blue spirulina, blueberries and other berries in the superfood Blue Goodness Bowl.
The Tiffany Blue Box Cafe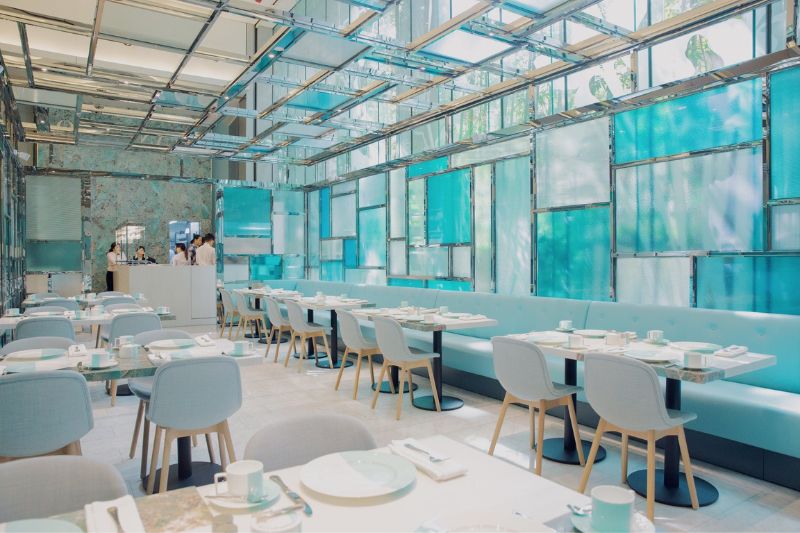 Breakfast at Tiffany's? Well how about lunch! Newly opened @ 1 Peking Road is the world's second The Tiffany Blue Box Cafe. Indulge in creative dishes with unique Tiffany characteristics. The all-day dining and afternoon tea menus are extensive and cater for all tastes. Choose from a 2 or 3 course set, celebration set with 4 starters plus soup and main course or go a la carte. The afternoon tea set is luxurious as is the beverage menu. Enjoy afternoon tea 2:00 -7:00pm daily (including public holidays). All Day Dining is from 12:00 – 2:00pm and 7:00 – 9:30pm Monday to Friday with an extra hour on weekends and public holidays (11am – 2pm, 7 – 9:30pm). There's also a takeaway option with 24-hour advance ordering. The Blue Box Cafe®, 1 Peking Road, TST
Yakiniku Ishidaya
Yakiniku Ishidaya, the Kobe specialty yakiniku restaurant, announces the opening of its branch at Causeway Bay's World Trade Centre. A rare Kobe Beef designated and registered store (as recognised by the Kobe Beef Marketing & Distribution Promotion Association), is overseen by brand founder Kiyonori Ishida who has more than 30 years industry experience and is passionate about yakiniku. He insists on hand-picking Wagyu beef of the finest quality selected from the three designated ranches in Hyogo Prefecture, including cuts boasting the Kobe beef purple chrysanthemum trademark denoting the highest quality, as well as the highest grade A5 Wagyu. With sweeping panoramic views of Victoria Harbour, the new restaurant showcases the ultimate in Japan's most beloved culinary traditions. All staff has in-depth training in Kobe to ensure Hong Kong diners will enjoy the most authentic yakiniku experience. Lunch sets are a highlight at Yakiniku Ishidaya, and present excellent value. 10th Floor, World Trade Center, 280 Gloucester Road Causeway Bay, Hong Kong. https://www.facebook.com/yakinikuishidaya.hk/
The Peak Lookout
It's time to revisit the iconic destination at the top of The Peak, The Peak Lookout restaurant! Popular for both locals and tourists alike, this scenic attraction offers unparalleled international dining. A solid dining destination for over 21 years, The Peak Lookout is a place full of fond memories for the young and old. The beautiful and charming heritage building has been through extensive renovation and the newly-refurbished space marks a new chapter. The traditional English architectural style has been maintained with its French design accents, a reference to Hong Kong's colonial past. The Peak Lookout's modernised menu showcases an array of international dishes, a nod to the alliance of east and west. Select from authentically prepared international recipes and savour the best flavours of India, Europe and Hong Kong. To accompany your meal, there's an expansive range of wines, creative mocktails and cocktails, and draft beers. Families with children are always welcome.
The Pizza Bar on 38th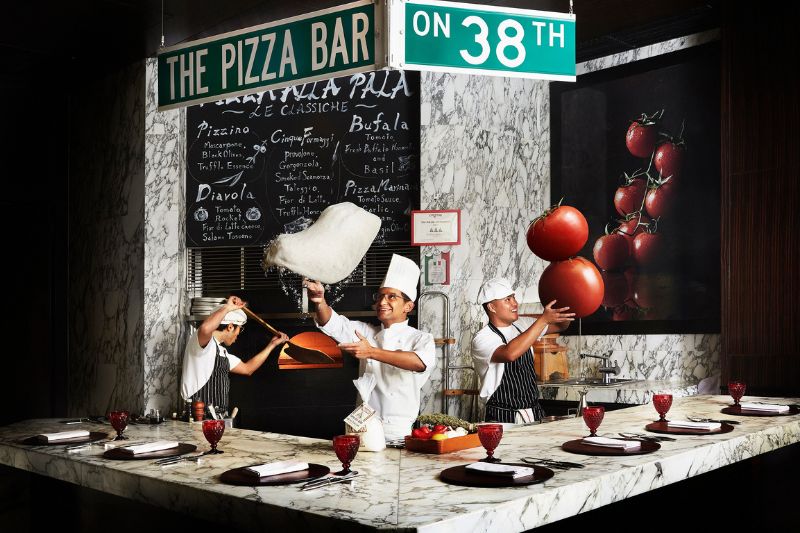 February sees an exciting new pop-up restaurant at The Landmark Mandarin Oriental, Hong Kong. The hotel's Private Dining Room will be transformed into a pop-up pizza bar serving gourmet pizza. The original Pizza Bar on 38th is located in Mandarin Oriental, Tokyo and has won numerous accolades and has been recommended by Michelin Tokyo for six consecutive years. The Hong Kong pop-up, which runs 14-26 February 2023, will offer freshly baked gourmet pizzas with seasonal flavours and top class ingredients. It will serve lunch from 11:30am to 1:30pm and 1:45pm to 3:45pm, and dinner from 6:00pm to 8:00pm and 8:30pm to 10:30pm, with a signature 'degustazione' menu priced from $798 per person which includes one starter, seven slices of signature gourmet pizzas, and one pizza dessert. (added 16 Jan 2023). For reservations 
Where to find the best Italian style Pizza in Hong Kong
Pirata's Latest Restaurant: Calle Ocho
Say "olá" to new Spanish restaurant Calle Ocho, the latest offering from the Pirata group. Located on Fashion walk in Causeway Bay and split across two floors, the tapas restaurant is inspired by one of Madrid's historic neighbourhoods. The menu boasts delights such as a squid ink Paella, clams clay pot, grilled cuttlefish, croquetas, Spanish suckling pig terrine and 48 months Iberia ham. Visit on a Saturday or Sunday between noon and 3:00pm to enjoy the special brunch menu. (Added 15 Jan 2023)
Dough Bros NEWS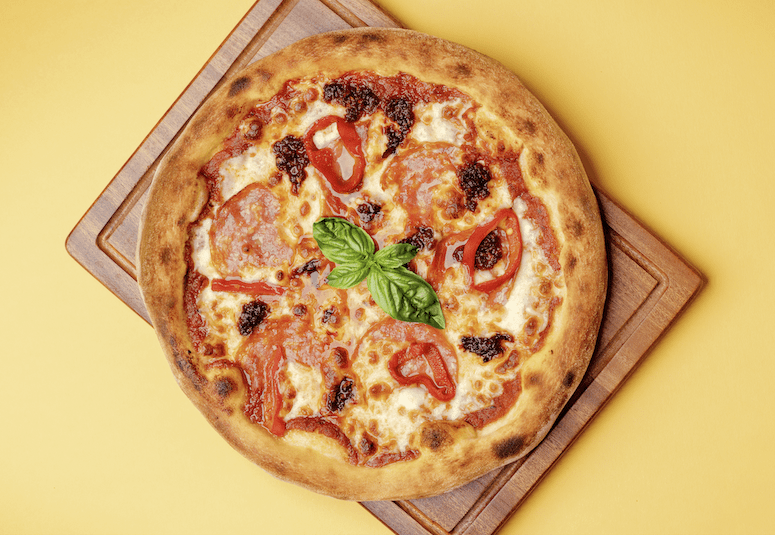 How much do you love Dough Bros artisanal sourdough pizza…and generously filled, freshly made indulgent doughnuts? Now there's even more to love with a new location and some new flavours. Their newest (and 10th) location is on the Tseung Kwan O waterfront. Along with the new location, they're introducing some new flavours – The Italian (HK$158), packs a kick with spicy Calabrian sausages and the Festive Feast Pizza (HK$148) is topped with tomato, mozzarella and brie cheese, turkey ham, bacon-wrapped sausage, cranberry sauce and toasted rosemary. Dough Bros will also be launching a Chocolate Bailey's Doughnut (HK$38, HK$98 for three) with Bailey's Irish Cream Liqueur. YUM!
Vive Cake Boutique Pop-up @ Landmark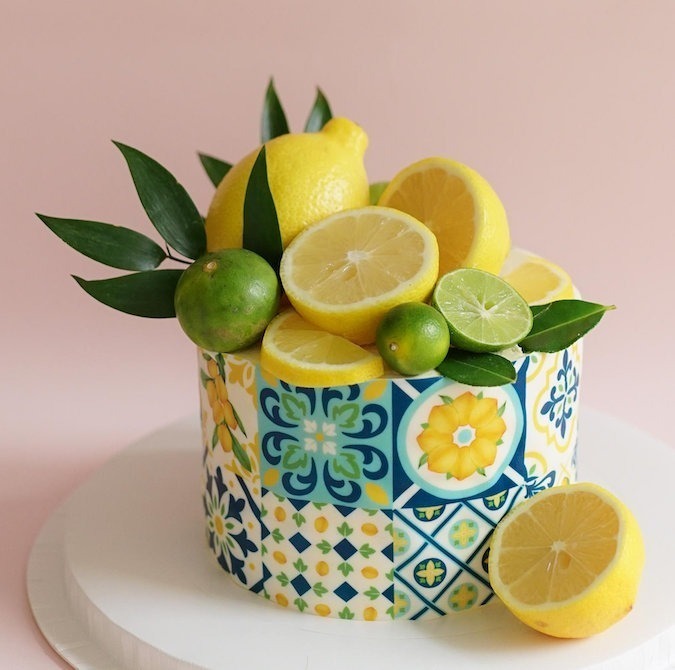 Just in time for holiday celebrations, the new Vive Cake Boutique pop-up will be at Landmark Prince's Building until 31 December 2022. Check out the artisan cakery's latest black sesame temptation and the complete collection of edible art, from buttercream and chiffon signatures to imaginative seasonal and festive offerings. The bespoke cakery offers a personal delivery service that allows your beautiful cake to reach you in immaculate condition. The service is priced from HK$200 according to location (outlying islands excluded). Order three days in advance of the expected delivery or date of collection (recommended).
Where to Buy Baking Supplies in Hong Kong
Taco Pizza: The Pizza Project x 11 Westside

Come experience the taco-inspired pizza, only available until 31 October. It's a combination of everything you love about tacos and enchiladas on a pizza created by executive chefs of The Pizza Project and 11 Westside. The Chicken Enchilada Pizza is colourful and bursting with bold Mexican and Italian flavours. Featuring freshly made 11 Westside enchilada sauce on The Pizza Project's pillowy handmade soft dough, the pizza is layered with marinated hand-shredded chicken, mozzarella, pickled onions, cotija, sliced avocado, coriander, sour cream and fried corn tortillas, with a squeeze of fresh lime juice to finish it off. The Chicken Enchilada Pizza is available all-day with the brunch menu or tasting menu for dinner at both Peel Street and Star Street Precinct Pizza Project venues. 
Pici Opens in Taikoo Place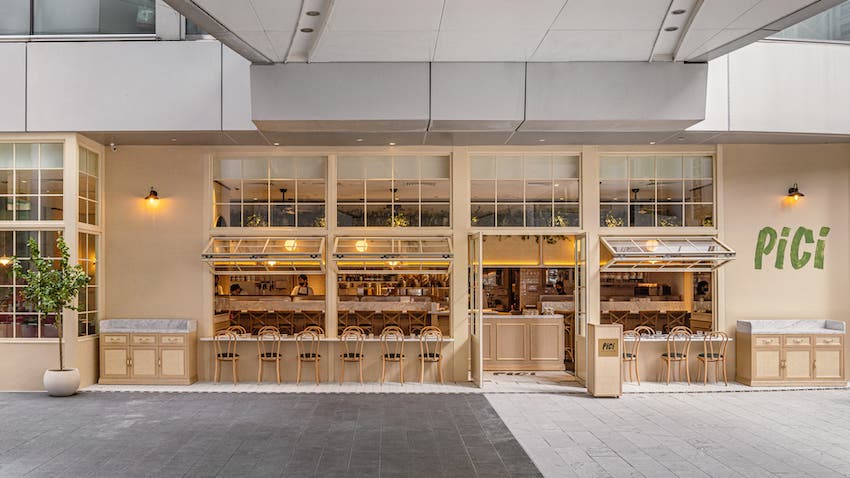 Pasta lovers rejoice! Popular pasta bar, Pirata Group's Pici, debuts its largest venue to date at Taikoo Place. With huge indoor and outdoor space to hold 155 seats, bring the whole family and tuck in to one of four exclusive dishes made just for Quarry Bay-bound guests. Indulge in traditional hand-rolled Italian pastas while soaking in the breezy atmosphere.
After all that pasta, you might consider joining the Pici Pasta Run on 23 October. Grab your friends and enter as a group of four via runnerreg.com. Journey through the first ever Pici venue in Wanchai all the way to the newest venue at Taikoo Place. All teams will be rewarded with Pici souvenirs, free food and a medal. The best costumed team will also get a chance to win free pasta for an entire month. Don't miss out while tickets (HK250 per person) are still available and with all fees being donated to Mind HK.
FINI's Open For Al Fresco Dining @ Elements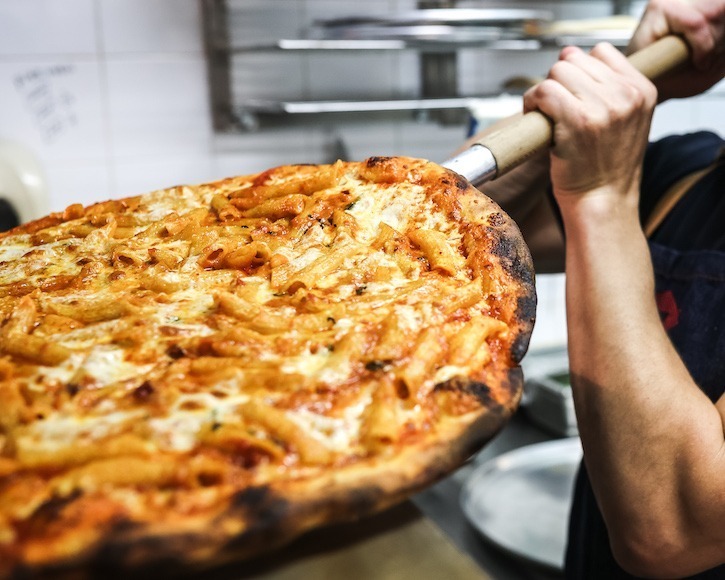 Italian American restaurant FINI's adds a fabulous new rooftop restaurant in Elements mall. The generous space has capacity for 150 people including outdoor seating, and is the perfect place for family gatherings or large parties. This new FINI's location is the 5th for Red Sauce Hospitality Group under Chef Vinny in Hong Kong and gives all you've come to expect from FINI's – great food, farm-to-table dining, and community pride with its support of neighbourhood artists, local sources and organic producers. Don't miss the Italian American homemade "red sauce" classics like New York style pastas, pizzas, and house-cured meats and sausages. Exclusive for Elements, Chef Vinny is premiering 'Pasta on Pizza' entrées to celebrate the new opening. 
FINI's Italian American NEW location: R001, 3/F & Roof, Civic Square, Elements, 1 Austin Road West, West Kowloon
Contact: 2736 4887
New Japanese Izakaya: Ozakaya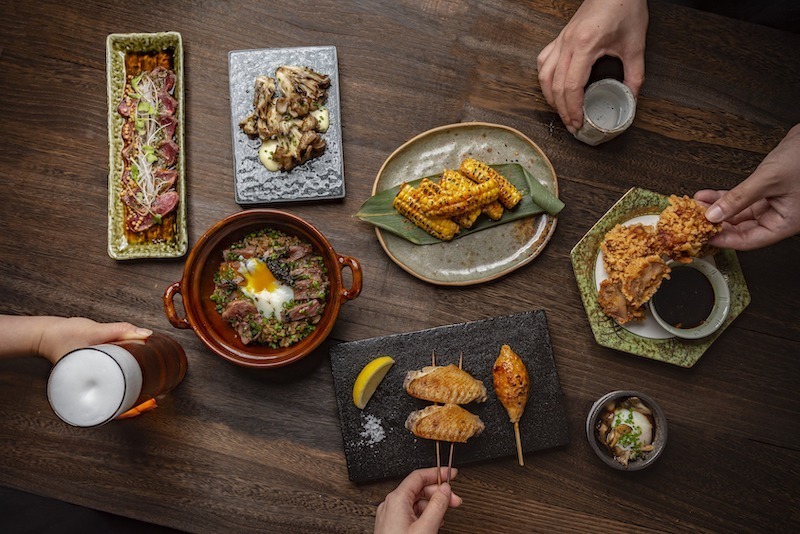 Focusing on the cuisine of Osaka (Japan's food-paradise), this new dining hotspot OZAKAYA is a vibrant contemporary Japanese-inspired concept. The lively new izakaya stands out for its innovative but approachable dishes, most of which are the creations of young and talented head chef Jason Luk. Using jet-fresh ingredients from Japan, Luk has created dishes that feature complexity, depth and layers of flavour. With an upbeat and fun atmosphere, OZAKAYA offers a range of imaginative cocktails, wines and sake, including an extensive list of premium sake from Osaka's Daimon Brewery. To celebrate the first two months of opening, OZAKAYA is offering an opulent caviar delight with premium French caviar from Caviar House & Prunier.
Address: 1/F, 74-80 Johnston Road, Wan Chai, Hong Kong
Reservations: +852 3702-5245 / 9506-1245 or online
Fashion Walk Happy Hour Fun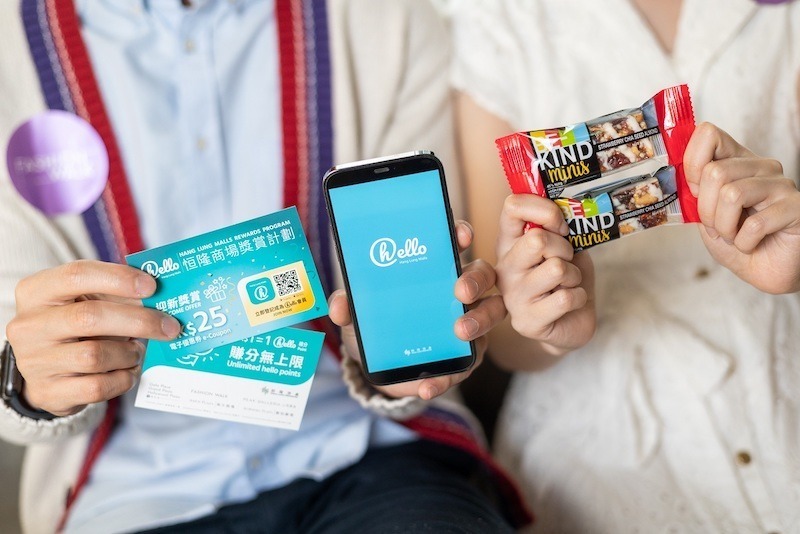 From now until December 15, Fashion Walk is launching its "Happy Hour Fun" wine and dine promotion in collaboration with a variety of restaurants and F&B merchants. Participate in the hello Hang Lung Malls Rewards Program to enjoy exclusive privileges like half-price on your second cocktail, half-price signature drinks, buy one get one free beer and a discount on the "Oktoberfest Beer Pass". There are 30 restaurants to choose from, offering a wide variety of cuisines. Offers are launched on the Hang Lung Malls App so don't miss out.
Terrace by LQV launching in Stanley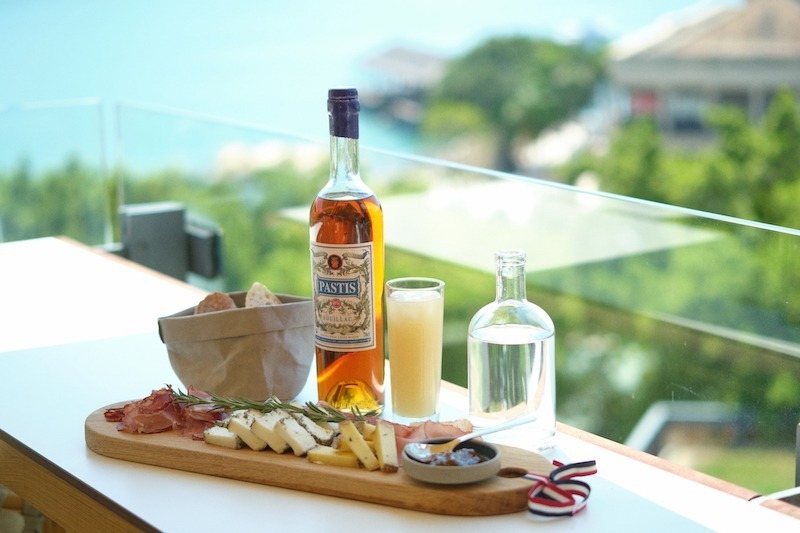 Unwind with a relaxed bottle of wine and a French Mediterranean menu at Terrace whilst you experience the French en terrasse way of life right here in Hong Kong. Offering an ideal alfresco experience with stunning panoramic views, Terrace will offer a selection of French artisanal spirits, wines and signature dishes like vegetable tian, grilled French sea bass and pastis flambée grilled prawns served with linguine and Provencal tomatoes. Terrace by LQV highlights the lighter side of French cooking, preparing high-quality ingredients (sourced directly from France) fresh with olive oil instead of butter. The extensive À La Carte and children's menus are available every day from noon while simple breakfast is served from 10am during the week and from 8am on weekends. They will also have a retail space with a range of specialist French produce including artisanal cheeses, wines, cold cuts, jams, fresh baked bread and pastries.
Terrace by LQV will be open for breakfast, lunch and dinner, seven days a week from 14 October 2022. You can make a reservation online and find their location here.
Good Fortune Club Dim Sum Afternoon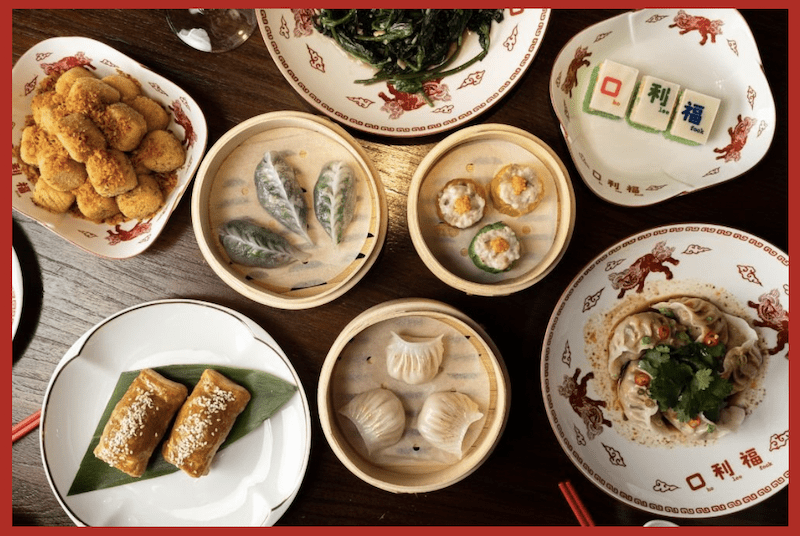 On 9 October from 12pm, savour an opulent afternoon spurred by Chef ArChan's homage to the city's most beloved dining tradition and let Good Fortune serve up never-ending delectables dim sum-style. All paired with a bottle of Champagne of your choice from their collection of eight distinctive Champagne vintages and producers.
Have a look at the menu online to get your mouth watering.
Contact info@holeefook.com.hk or +852 2810 0860 for reservations.
New Menu for Umami Japanese Izakaya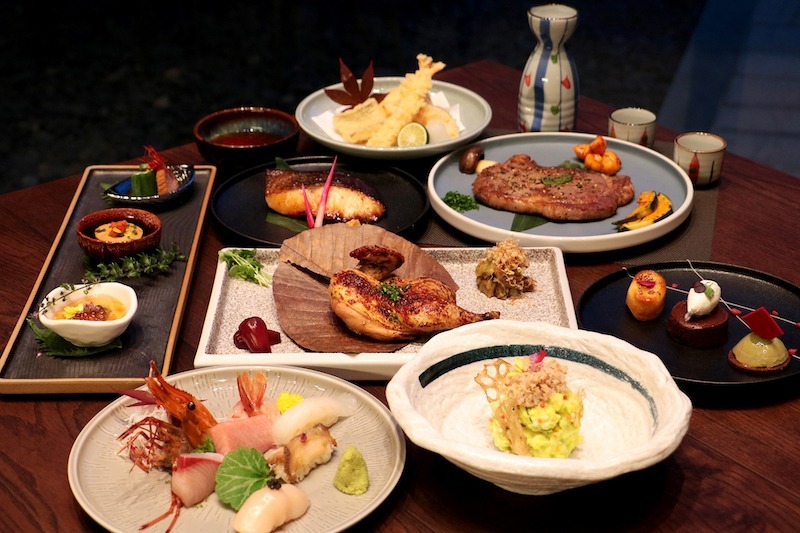 Explore the revamped menus this September at the Japanese Izakaya, Umami for lunch, dinner and even Japanese brunch. Relax in the simple elegance of the outdoor Japanese garden, complete with a petite fish pond. The garden is a lovely location for a refreshing late afternoon drink or snack and you can bring your pet. Umami is located in Cyberport at Le Meridien Hotel.
Summer Pop Up at Osteria Marzia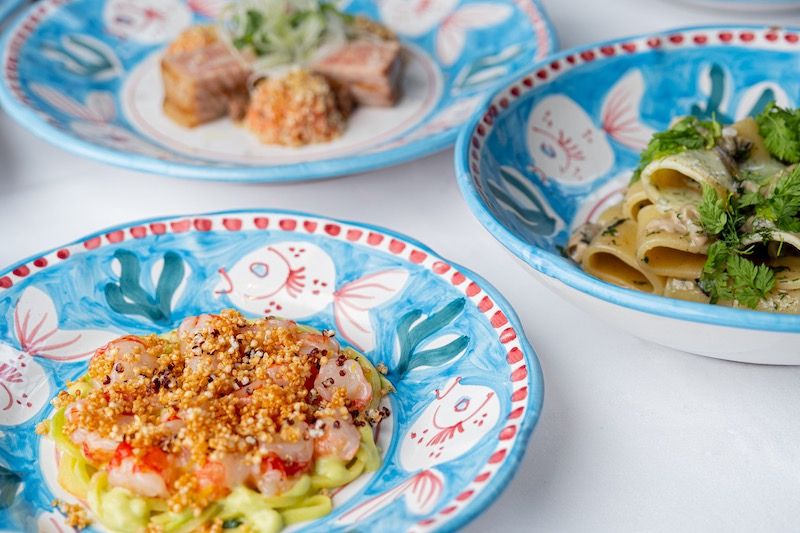 On 15, 22, and 29 September, OSTERIA POSITANO will pop up at Osteria Marzia, bringing the Amalfi Coast experience back to Hong Kong for a limited time as part of Black Sheep Restaurants' 10-Year Anniversary Summer Festival celebrations. The venue will evoke warm nights in Amalfi, and will serve up a traditional ocean-inspired menu celebrating the diverse cuisine found in the seaside regions of Italy. Priced at $988 per guest with a total of ten dishes.
The full Osteria Positano pop-up menu can be viewed HERE.
For reservations or enquiries, visit www.osteriamarzia.com.hk or email to reservations@osteriamarzia.com.hk.
Butter now at K11 Musea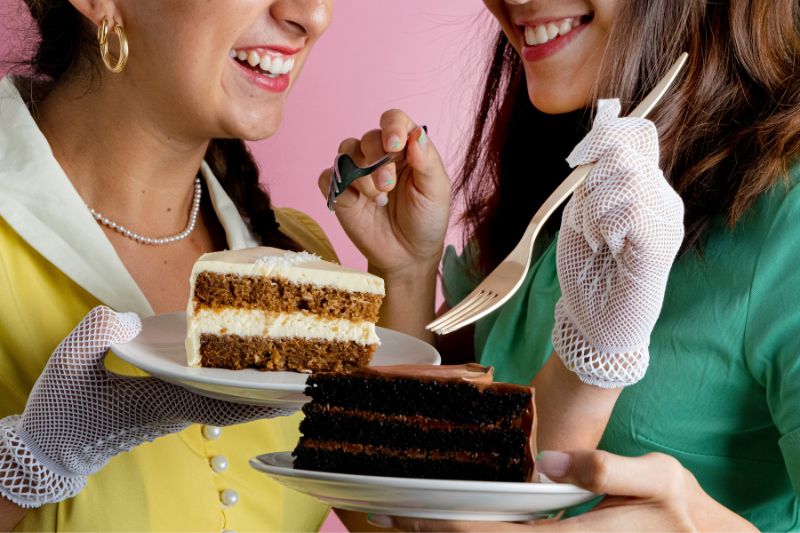 Hong Kong's favorite cake shop Butter crosses the harbor to set up its brick and mortar shop at K11 MUSEA this September 2022. Nine of Butter's most popular cakes and pies will be available by the slice seven days a week. In addition to classic line-up there will be three exclusives for K11 MUSEA including the new Lil' Checkerboard Cake, Itty-Bitty Banana Cream Pie and Kitchen Sink Bar. 
The Matcha Tokyo
Offering a vast range of matcha-based food and drink options, The Matcha Tokyo offers foodies the taste of high-quality matcha alongside a range of options such as soup, salad and cloud eggs. Originally hailing from Omotesando, Tokyo, all four branches of The Match Tokyo have, until now, been located in Japanese hot spots. But now Matcha Tokyo can be found at The Mills in Tsueng Wan, Hong Kong. Visitors on a Friday or Saturday can enrol onto a Matcha Experience Workshop in which a tea master will lead you on a journey through a tea ceremony. The workshop lasts 30 minutes and costs $98 per person.
Address: G01, G/F, The Mills, 45 Pak Tin Par Street, Tsuen Wan
Cruise Brunch
Looking for a fun new brunch to try with friends? Cruise at Hyatt Centric has stepped up its brunch offering this summer with its Cruise Brunch. Held on Saturdays the brunch offers two and a half hours of bottomless punch, Mumm Champagne, unlimited appetisers and grazing main courses, alongside drinking games, best dressed competitions, and a DJ playing top summer tunes. The brunch costs $788 per person for a minimum of two persons.
Address: 23/F, West Tower, Hyatt Centric Victoria Harbour Hong Kong, 1 North Point Estate Ln, North Point, Hong Kong. Tel: +852 3896 9898.
Crust Amalfi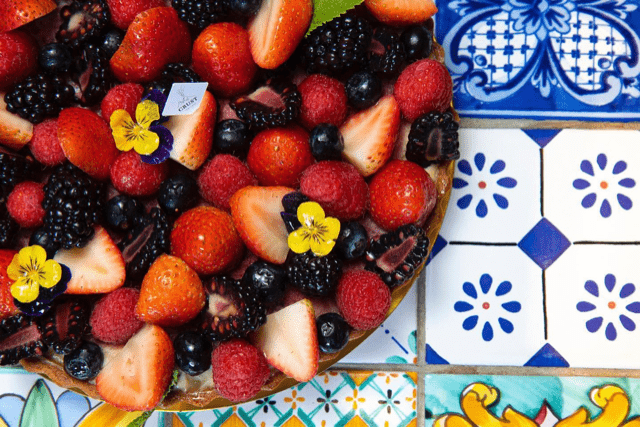 CRUST Italian has expanded with the opening of CRUST Amalfi in K11 Musea. Offering Neapolitan style decedent cakes such as Neapolitan Baba, a show stopping baba using aged rhum or limoncello; Bellini Millefoglie, a gorgeous combination of peach chantilly, peach puree and puff pastry; and Bronte's Pistachio Cheesecake, which features noted ingredients, Sicilian pistachio and Amarena cherries. In addition to delectable cakes, the intimate, colourful space also displays and sells a range of unique, handmade ceramics, radiating the colours of the Amalfi Coast.
Address: B201, Basement, K11 MUSEA, Victoria Dockside.
Porkcentric in Tai Hang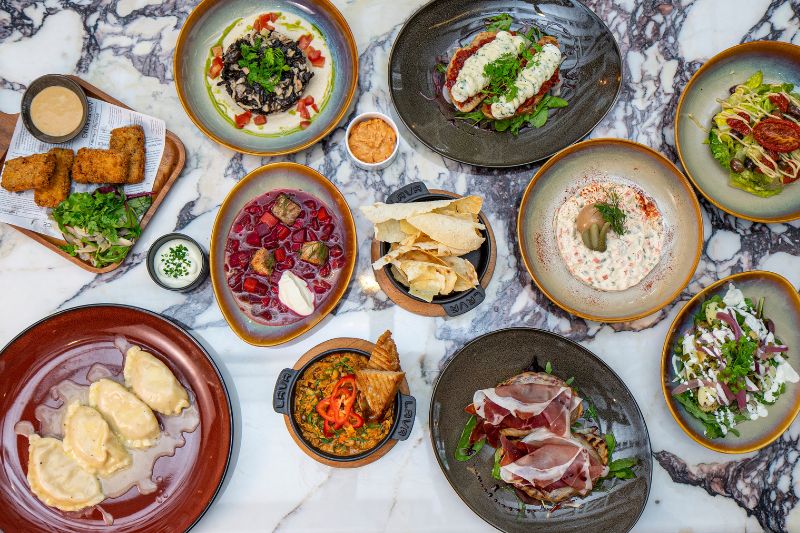 A new venture from the team behind Ask Alonzo, Porkcentric's menu will focus on Central European offerings, taking inspiration from street food vendors from Germany, Hungary, Poland and more. It will be home to Hong Kong's biggest dine-in selection of cold cuts, and the only place in the city offering Polish cold cuts complemented by a diverse range of European cheese. Main courses offerings will be a variety of grilled meats, alongside seafood and vegetarian-friendly dishes.
Address: Porkcentric is located at G/F, 98 Tung Lo Wan Road, Tai Hang, Hong Kong Island, 9169 0298
benko by nüte at Basehall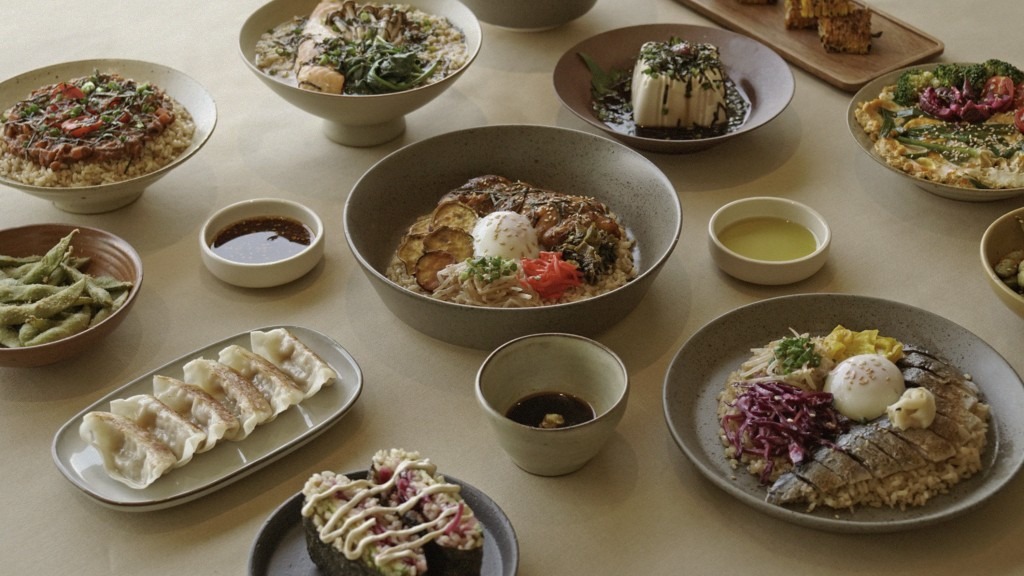 Following the success of their residency last year, nüte is returning to BaseHall to showcase their modern "Japaneasy deli", benko by nüte, serving hearty and healthy Japanese-inspired bento bowls designed to be eaten on the go. Since early 2021, the brand has established itself in Hong Kong's wellness scene with a range of innovative products including Icebar Smoothies along with their sweet and savoury granolas and zero plastic packaging.
Address: LG9 Jardine House, 1 Connaught Place, Central, Hong Kong
Kicho opens in Central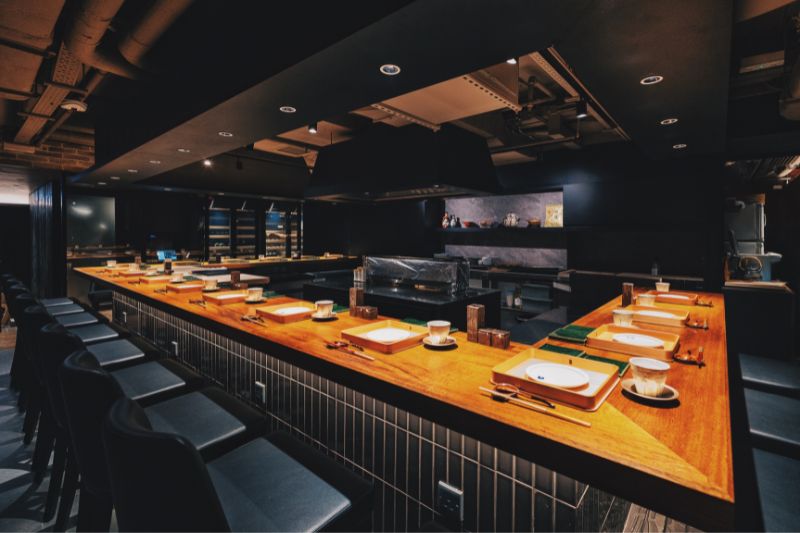 Kicho, the celebrated omakase-style Tori Kappo restaurant Kicho that first launched in Tokyo, has arrived at Manning House, Central. Offering an authentic dining ritual from Japan, the culinary team, who all hail from Japan, specialise in serving Kuro Satsuma chicken with a tempting array of delicacies. The multi-course 'omakase adventure' is priced at HK$1,000 per person and spans soup, appetisers, creative yakitori skewers, vegetable dishes, rice or noodles, and dessert. Currently the restaurant is in its soft opening. Alcohol is currently not available and opening hours are 6pm – 10pm.
Address: Kicho, Shop 2A, 1/F, Manning House, 38-48 Queen's Road Central
For reservations, visit www.kicho-ushidoki.com.hk.
For Coca-Cola Fans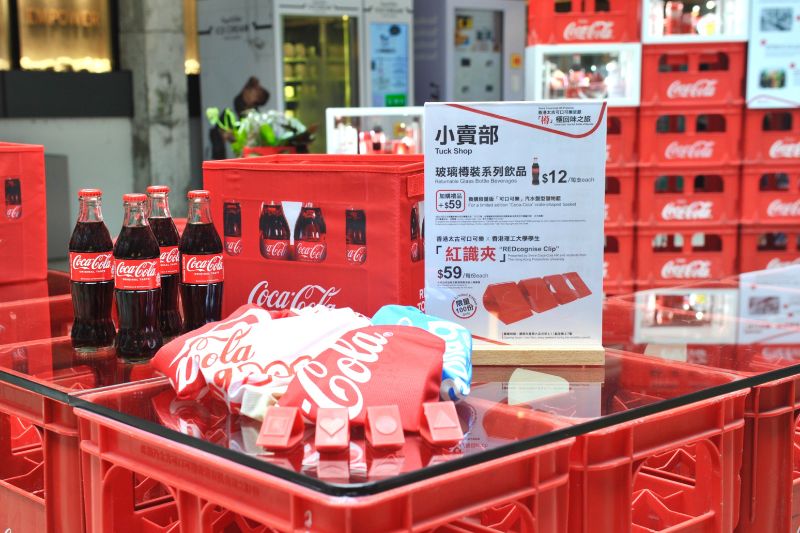 'Coca-Cola' and the Bottle of Secrets", is an exhibition that explores the evolution of the iconic "Coca-Cola" glass bottle. The glass bottles and the now retired red crates used to store them have been upcycled by students of The Hong Kong Plytechinc Universsity School of Design to create artwork and to raise awareness of
Ho Lee Fook Introduces NEW Seasonal Menu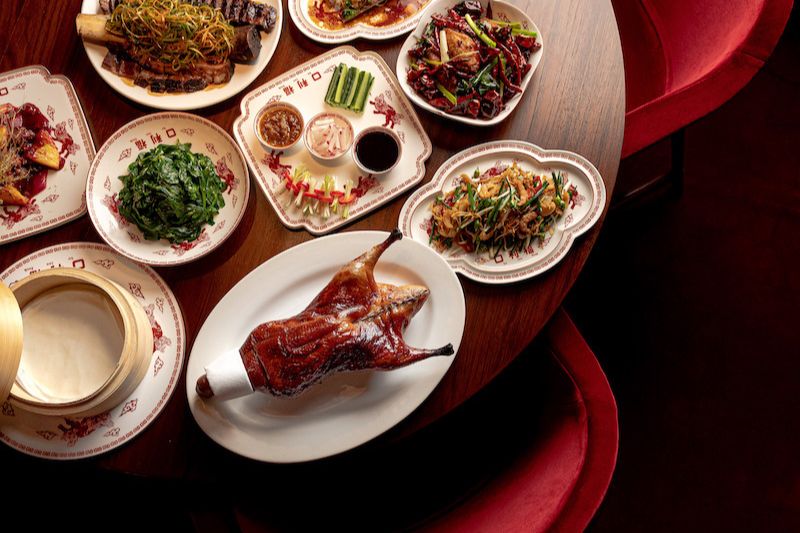 Ho Lee Fook began a new chapter with newly appointed Head Chef ArChan Chan and a renovated space. The restaurant will offer a new seasonal menu to reflect the new energy of the restaurant, featuring creative new additions by Chef ArChan. Dishes include Raw Hokkaido Scallop, Shredded Mushroom Salad, Rolled Pork Belly, and classic Cantonese dishes like Wok-fried Jade Tiger Prawns, Wok-fried Clams with garlic, ginger, and a vegan stir-fry of Three-Cup Fried Chinese Zucchini. The menu will also feature the new Ho Lee Duck, a succulent early addition which undergoes a days-long marination and preparation process.
BluHouse opens at Rosewood Hong Kong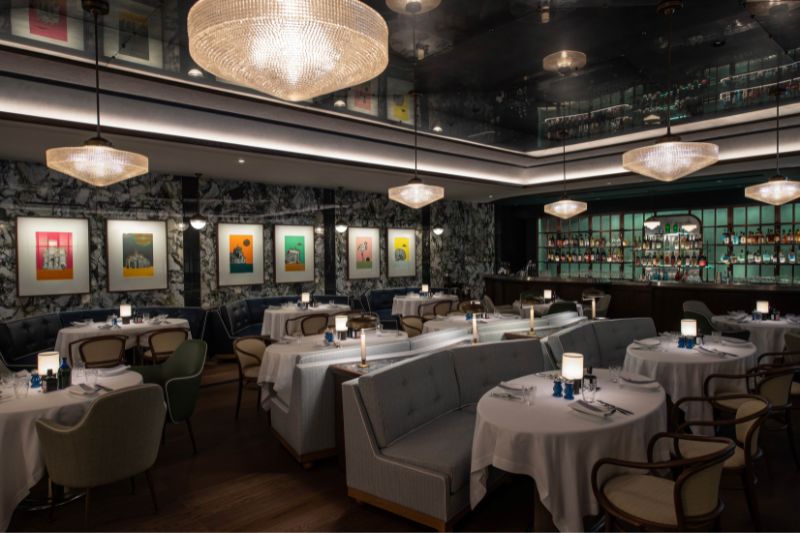 Bringing a taste of everyday life from the streets of Italy, BluHouse opened at Rosewood Hong Kong on 9 June 2022, with Italian Chef de Cuisine Giovanni Galeota at the helm. BluHouse is named after the Chinese translation of the former Holt's Wharf ('Blue Funnel Wharf'), where Rosewood Hong Kong is located. Whether you are after a more laid-back Italian meal or something bit more special at The Dining Room, the BluHOue has you covered. From by BluHouse. Expect high-quality Italian-sourced produce, authentic Italian starters, casual bites and hearty main courses and the Pizza Al Taglio station, which houses eight types of authentic Roman-style pizzas by the slice.
Address: G/F, Rosewood Hong Kong, No. 18, Salisbury Road, Tsim Sha Tsui, Hong Kong, 3891 8732
New Tasting Menu at MEATS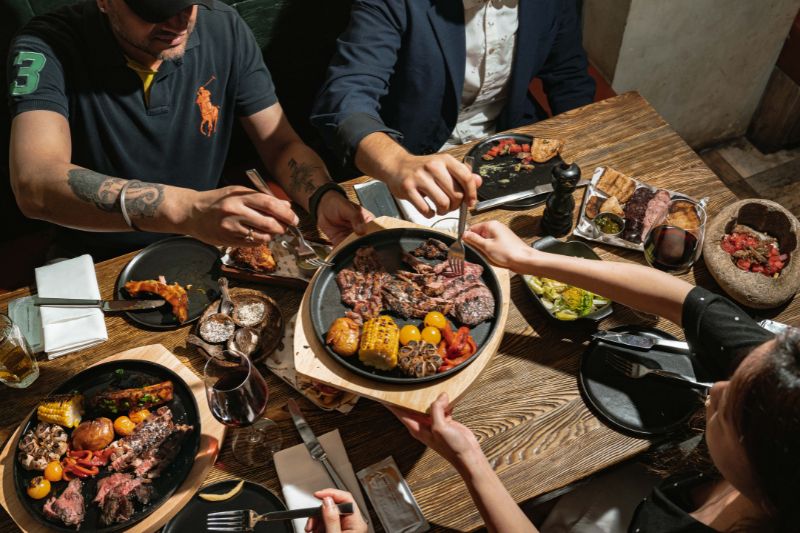 A delightful spread for meat lovers, with Meats signature carnivorous classics, and some new surprising dishes. The tasting menu kicks off with a trio of small plates featuring crispy Fish Tacos, Ultimate Fried Chicken U.F.C and Duck Salad. Following that guests van tuck into a Sausage Platter featuring A grilled special Chorizo and Blood Sausage from Argentina. The Meats Platter hits the table next with Ribeye, Flank, and feather cut pork, Pluma Iberico. There will be plenty of condiemtns to hand, as well as sides, and a fudge brownie to end! The menu is priced at $498 per person.
Address: G/F Soho 28, 30 Staunton St, Central, 2711 1812
If we haven't wetted your appetite with the latest food news around Hong Kong, check out the following articles for more inspiration.
Related Articles: