Reading Time: 3 minutes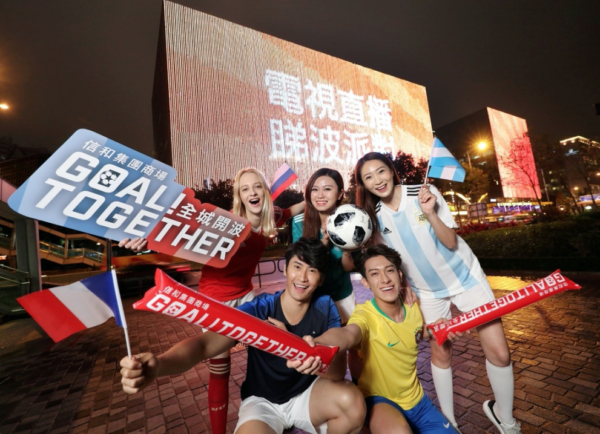 (Picture credit goes to SINO Malls)
Where are the best places to watch the games?
Ciao Chow – Perfect for those who never want to miss a match, Ciao Chow has three flat screens and two maxi projectors so you won't miss any of the action! The restaurant will be serving made to order pizzas and a special free flow package for the finals on July 15 so be sure not to miss out!
Address G/F California Tower 30-32 D'Aguliar Street Hong Kong
Forbes 36-Kennedy Town Sports Bar Football fans looking to indulge their passion for the game and good food and drink should head to Forbes 36, offering unbeatable free flow deals priced at $520 for two and a half hours of non-stop eating and drinking, which include dishes as appetizing as mac n cheese, Quesadillas, and 12 hour slow cooked barbeque ribs!
Address G/F 36 Forbes Street, Kennedy Town Hong Kong
Dock Yard Rise and wine – you can't drink all day if you don't start in the morning!
Dock Yard at the Kerry Hotel will be showing all the action throughout the tournament no matter what time of the day/night it is.
On offer will be free flow Carlsberg for as low as $150 per person throughout the final on July 15.
Address Dockyard, L1 The Kerry Hotel, 38 Hung Leun Road, Hung Hom Bay, Kowloon Hong Kong
The Globe– With the best selection of meat pies in town British gastro pub will not only be showing all the games(apart from those at 2am) but like true brits will be offering happy hour, so be sure to head there early with drinks as low as $50 you would be footie mad to miss out!
Address The Globe, Garley Building 45-53, Graham Street, Hong Kong
De Belgie –A buzzing bar Showing all the games and offering free flow throughout the tournament ,enjoy 3 hours of free flow drinks and snacks for $380 during group stage and $480 during knockouts (see website for more details)
Address 21 Elgin Street, Central, Hong Kong.
MCSorleys You can rely on 'good ale' Mcsorleys all year round when it comes to showing sports, so it will come as no surprise that they will be showing all the games live on its big screens, head there and be sure to have a fun afternoon of excited fans enjoying draughts beers as low as $50 during happy hour.
Address G/F 46 Staunton street, Soho, Hong Kong
London House – There's nothing quite like Burger and chips to go with your beer, and this isn't any old burger, world renowned chef Gordan Ramsays brings a touch of London to Hong Kong, London house will be bringing diners an extra special World Cup Diners menu, as well as the opportunity to watch all the exciting action live every day.
Address London house G/F & UG15 Tsim Sha Tsui Centre and Empire Centre, Salisbury Road Tsim Sha Sui, Kowloon Hong Kong
WWW.diningconcepts.com/restaurants/London-House
Grappa's cellar – An Italian restaurant situated in the heart of central, will be transforming its usual dining space in to a fun buzzing football lounge, not only will they be screening the matches on 2 TV screens they are also prepared to open their doors for the 2am fixtures booking is highly advised.
Address Basement 1, 1 Jardine House, 1 Connaught place, Central
http://elgrande.com.hk/restaurant/grappas-cellar
G.I.G at OVLO  – OVLO Southside will be celebrating the FIFA world cup with a makeshift pilsner beer garden on the ground floor of the hotel. Matches taking place before midnight will be shown live on three big screens so fans will be able to kick back and enjoy the games in comfortable settings with a free flow on offer for $250 or 3 hours for $350.
Address G/F 64 Wong Chuk Hang Road, Southside, Hong Kong
Spasso– The team at Spasso are bringing FIFA World Cup directly to you, and screening all the matches throughout the event. Even more exciting is that they are offering overnight match parties! Will that mean wearing your pajamas and take a sleeping bag? There's only one way to find out!
Address G5-8, 12-17, Empire Centre, 68 Mody Road, Tsim Sha Tsui East, Hong Kong
http://www.divinogroup.com/restaurants/spasso/about-us/