Reading Time: 5 minutes
What's not to love about Seattle, the birthplace of Starbucks and home to Microsoft, Amazon and Boeing, among many other well-known and well-loved household names. Summer is a great time to visit this vibrant city and its surrounds.
A major highlight of traveling to Seattle is seeing the famed Space Needle in person. Built for the 1962 World's Fair, the Seattle skyline is defined by this tower which boasts a new all-glass rotating floor (the world's first and only) on the lower level and floor-to-ceiling glass on the upper level.
No trip to Seattle would be complete without a visit to Pike Place Market. With a history going back to 1907, this outstanding farmer's market is right on the waterfront and offers a vast variety of booths to browse. The market is full of beautiful flowers, fresh fruits and vegetables as well as sweets, baked goods, jewelry and gifts but it is definitely most famous among tourists for its fish throwing, where fish sellers throw fresh fish to each other after customers choose them for purchase. It's a whole show in itself. Thankfully Pike Place also has cafes, restaurants and a brewery in case you need a break from all the browsing.
Just south of the city, at Boeing Field in Tukwila, is the Museum of Flight. This is the largest independent air and space museum in the world. It is a museum not to miss and is appreciated by children and adults alike. The museum is immense.
The things you can see and touch here are absolutely incredible. In the outdoor, under cover area of the museum, you can enter a Concorde as well as the very first jet Air Force One, used by JFK, Johnson and Reagan. Inside there is a space gallery with NASA as well as Russian equipment. The day we visited the museum, we were lucky enough to see the Blue Angels (the US Navy's incredible acrobatic flight team) in their F/A-18 Hornet twin-engine, supersonic, all-weather, carrier-capable, multirole combat jet, designed as both a fighter and attack aircraft. It was breathtaking to see them take off and do a few overhead maneuvers.
From above ground to the underground is the quirky and fascinating Underground Tour. After a large fire blazed through downtown Seattle in 1889, the city was rebuilt one to two storeys higher than the original city streets. A cavernous subterranean space where the old storefronts used to be was left behind. It's a unique tour full of interesting historical tidbits.
If you need a coffee break from your sightseeing tour, it's a serious treat to step into the Starbuck's Reserve Roastery & Tasting Room. You can watch beans being roasted, taste some of the delicious foods on offer and do a coffee tasting flight. There's an "experience bar", main coffee bar and the incredibly indulgent Milanese bakery. Reserve coffees are roasted daily and you can order ahead to sample three at a time.
After a few days in this awesome city, it was time to head north towards the gorgeous San Juan Islands. From Seattle, an hour and a half drive north takes you through small, charming towns to Skagit Valley, home of spring Tulip festivals and mountain to sea adventures. The lovely little town of Anacortes (on Fidalgo Island via the bridge at Deception Pass) is where we would catch a ferry headed for Victoria, British Columbia in Canada.
Crossing the Deception Pass bridge is a breathtaking experience and stopping in the adorable town of La Conner for lunch is well worth it.
While in Anacortes, we enjoyed a walk and play in Washington Park. This seafront park not only has walking trails but a full playground too, all with stunning views of the Puget Sound. A few other fun activities we did in this area included paddle boarding and kayaking around Lake Padden, which also has a fantastic walking or running path circumnavigating the lake. For a bit more hiking we headed to the renowned Chuckanut Drive, a 20-mile cliff-hugging roadway that takes you along the northern Puget Sound.
After making a reservation for the ferry from Anacortes to Victoria, we arrived an hour early (per requirements of the ticketing) at the ferry terminal and awaited our journey. The scenic 3 hour ferry route winds through the San Juan Islands (past Lopez and Orca Islands) amidst spectacular scenery. The ferry carries both cars and walk aboard passengers and we were told we may see Orca whales on this trip but we were not fortunate to spot any this time.
Our first stop in Victoria was Butchart Gardens, quite likely the best-known gardens in western Canada and beyond. Thousands of flowers bloom in season each year in the Sunken, Rose, Japanese and Italian theme gardens. It is a truly stunning scene to behold.
From the gardens we made our way to Victoria's inner harbour, a picturesque locale surrounded by the most beautiful buildings and tourist attractions including the Empress Hotel, the BC provincial Legislative Buildings as well as museums and galleries.
A great place to take kids while visiting Victoria is Beacon Hill Park in the downtown district. We had the best time at the Beacon Hill Children's Farm, a hands-on petting zoo with lots of baby animals, miniature horses, alpacas, rabbits and guinea pigs, a goat-petting area, and many other critters to meet and pet.
When it was time to head back to Washington state in the US, we opted for a different route: From Victoria, BC to Port Angeles, Washington a 1 ½ hour ferry (directly from Victoria harbour) landed us on the magnificent Olympic Peninsula. From Port Angeles we drove to Sequim (a town known for its vast lavender fields) on our way to the charming coastal Victorian seaport, Port Townsend for the second ferry we had to take to get back to Fidalgo Island.
Unfortunately, we missed out on taking one of the Port Townsend ferries, having not booked ahead…thinking, wrongly, it wouldn't be that busy. Fortunately, that allowed us some time to explore this little gem of a seaside village with its Victorian architecture and natural beauty. A quick hotel booking later, it was an easy walk to the downtown area with access to small beaches and docks (where some brave young locals were plunging into the chilly seawater).
Port Townsend is full of boutiques, art galleries, and restaurants. The heart of downtown Port Townsend is right on the waterfront so you can enjoy a coffee and watch the boats go by. Before it was time to leave, we discovered a café called Better Living Through Coffee – a fantastic spot for coffee and worth the 7am open time wait – (I had to park the car in a standby ferry line up at 6:30am…though the ticket guy casually arrived at 6:35).
At last, the next day, we boarded a ferry even though there were a couple cancellations due to weather and tides, meaning our ferry (meant to be the third of the morning) was the first to set sail. Guess who was in the first standby passenger car? That's right…we were. The early morning queuing paid off.
The Port Townsend Ferry provided a quick and pleasant trip across the sound, eliminating lots of driving time. It was a beautifully scenic trip back to Fidalgo Island and further north to Anacortes and across Deception Pass… because you can't do that just once.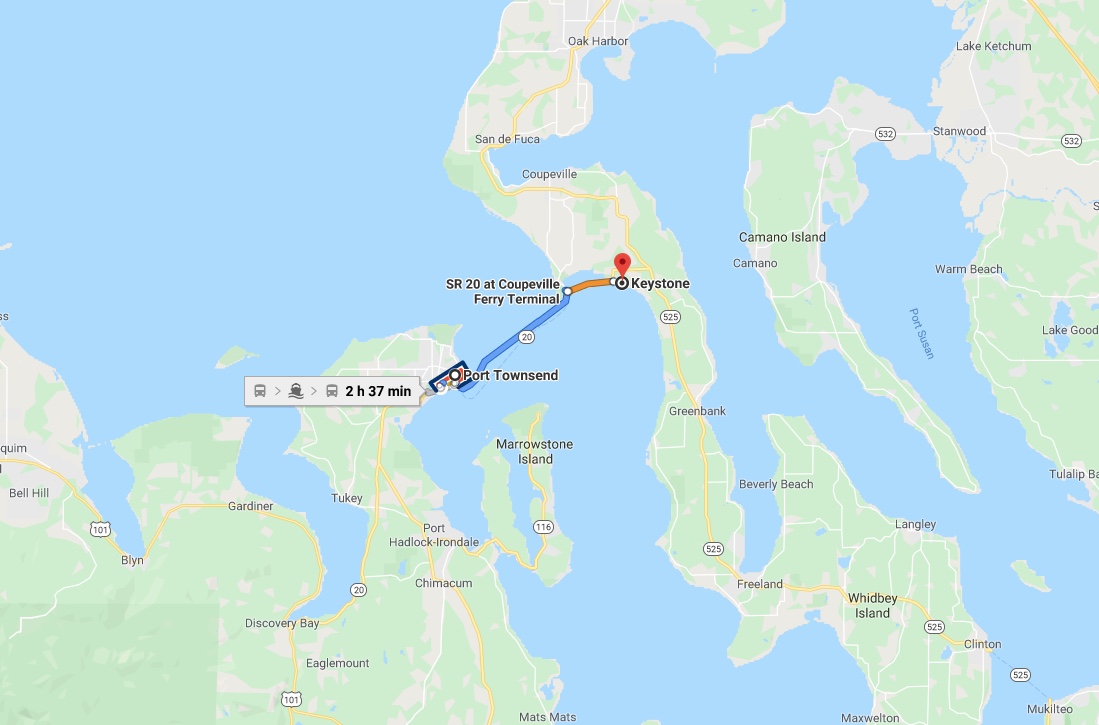 The San Juan Islands are an archipelago in the U.S. state of Washington known for rural Pacific Northwest landscapes and wildlife. Horseshoe-shaped Orcas Island, one of the main isles, is home to Moran State Park's old-growth forest and Mt. Constitution. San Juan Island is distinguished by the lively seaside town of Friday Harbor and Lime Kiln Point State Park, an orca-whale lookout.
In the Pacific Northwest of the United States between the U.S. state of Washington and Vancouver Island, British Columbia, Canada. The San Juan Islands are part of the Washington state.
Ferries, seaplanes, parks, museums
Ferry info & reservations: https://www.wsdot.com/Ferries/Schedule/default.aspx
Whale watching – many companies and boats to choose in Washington and BC
Had it been Sep – Port Townsend Wooden Boat Festival. The festival happens each year in early September and features three days of activities, workshops, boat tours, music, and more https://woodenboat.org/