Reading Time: 4 minutesFinally, we can travel again, and where better to head than Phuket with its white sand beaches and warm Andaman sea. But if you like to do more than relax with a book while you're on holiday – or perhaps you'd love that but the kids like a bit more action – check out these suggestions for things to do while you're there. It's likely there are a few new attractions since you last visited…
Located in Amphur Kathu – about 15 minutes from Phuket Old Town – Andamanda Water Park spans a whopping 100,000 square metres. The design is inspired by Thai mythology, which already sets it apart from the somewhat generic water parks found in many places. There are slides and activities to suit all ages, and bravery levels – from Wonder Waterland with its interactive jelly fish swings and Mr Krab waterslide for younger children, to the more daring Cobra Curls and Garuda Soars. There is also an evening parade that's well worth staying for. Outside food is not allowed, but there are plenty of dining options in the park, including Sand Bar – a swim up bar at the first transparent acrylic edge pool in Asia, or Floating Market Boat which serves delicious noodles. Private cabanas are available to rent. www.andamandaphuket.com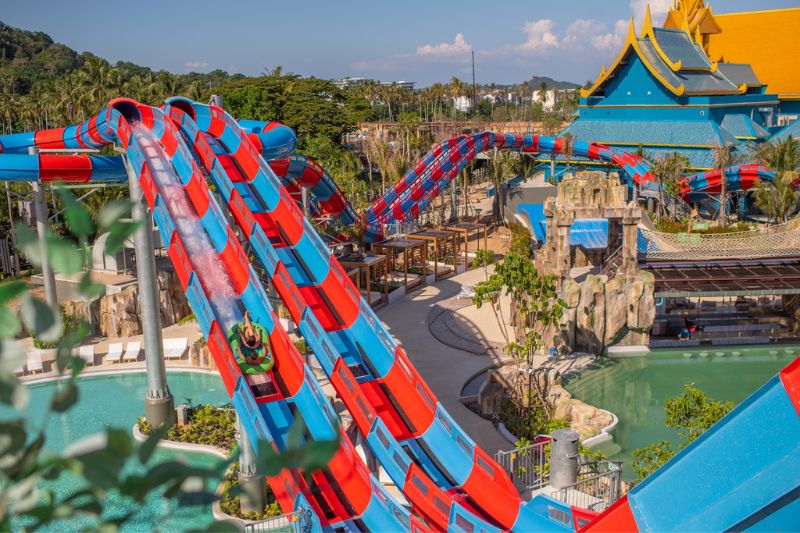 Thrill seekers need look no further. Fly through the forest on a 400 metre zipline, taking in the stunning views, with the odd abseil thrown in for good measure. There are a number of different zipline package options: the Zipline 32 platforms includes 16 ziplines, 3 abseils, 2 spiral staircases, 1 honeymoon sling, 5 sky bridges. For those not wanting quite as much the Zipline 18 Platforms has 9 ziplines and 2 sky bridges (the rest is as with the 32 platform version). Or the Ziplines 10 platforms with just 3 ziplines. For those who dare, the Roller is the highest speed roller zipline in Thailand and curves and twists through the trees – you'll be travelling at 40km/h!  There is also a Skywalk and Jungle Roller Coaster. www.hanumanworldphuket.com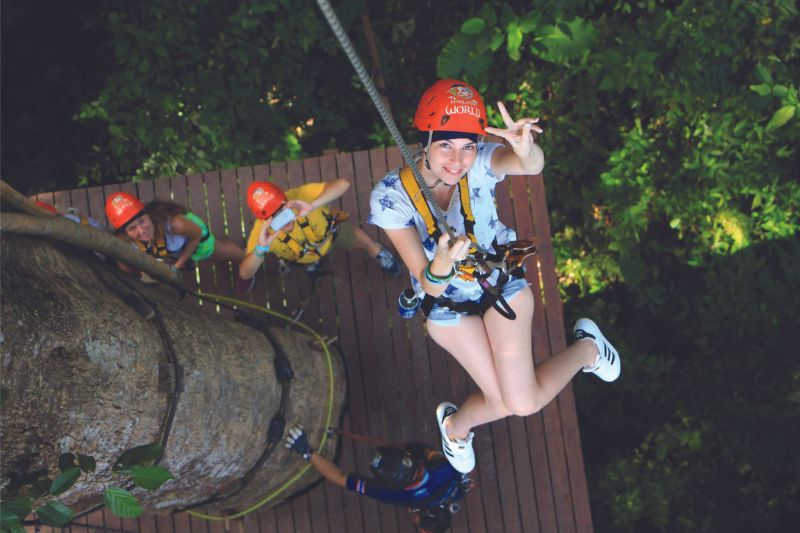 This unassuming place is set high up in the jungle with stunning sea views and a relaxed atmosphere, making it perfect for all the family to enjoy. It boasts 42 platforms, 18 ziplines and 15 swing bridges, but you have the choice to do half of it or the complete circuit, which takes around an hour. Safety is paramount, with Coudou Pro Technology providing an un-detachable carabiner all the way round and experienced staff who are attentive to your every need. For those doing the activities, they have a "no shake, no fun" policy, which the kids will love, or there's a large seating area where parents and those too young to join can chill with an ice-cream. With typical Thai hospitality, someone turns up with bottles of water half-way round the course and there's cold watermelon to enjoy at the end. Open daily from 9-5 with pickup from your villa or hotel.
Tips: Recommended booking at least 1 day in advance.Plastic shoes provided.
https://www.facebook.com/tarzanphuket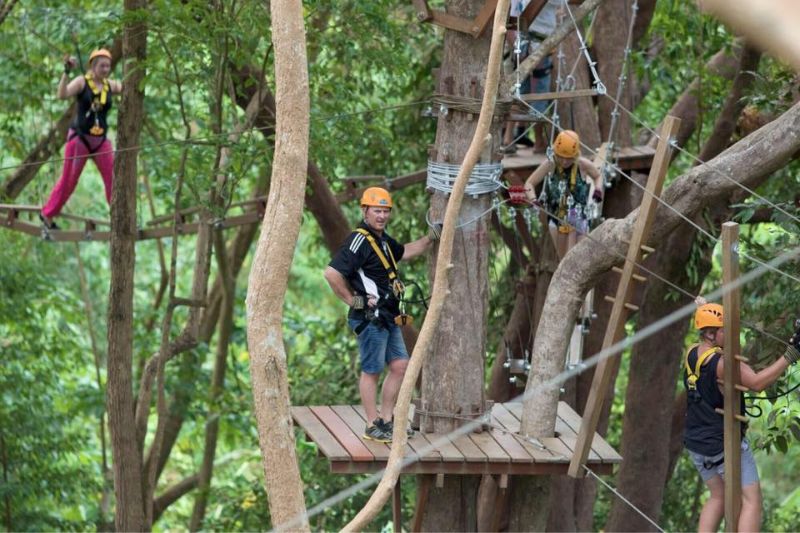 If you fancy a night out without the kids, head to 'A Night at the Junkyard' for a unique and quirky experience you'll never forget. Full of over-the-top musical numbers and decadently crafted sets, this comedic dinner cabaret promises a fun night of entertainment inspired by Thai and Expat experience, plus a delicious 3-course menu. If you'd rather keep the family together, the restaurant is still worth a visit– the huge space is filled with upcycled artworks and theatrical sets including custom-made kinetic props conceptualized and designed by the Underwood Art Factory, lead by father and son design duo, John and Zac Underwood. The menu full of contemporary Thai flavours with a twist has something for everyone from chicken wings to Thai pomelo salad; the Bang Bang cauliflower is to die for!
Shows every Saturday night, must be 16+ due to mature themes
https://junkyardtheatre.com/, Bookings@junkyardtheatre.com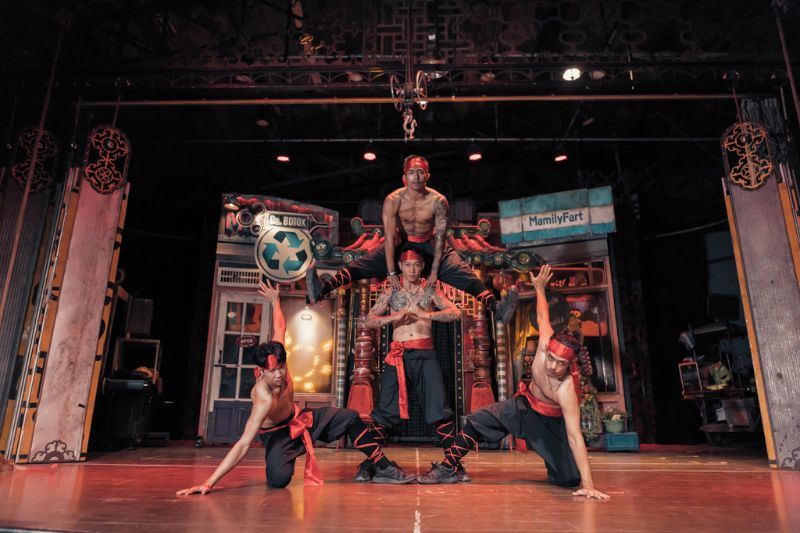 Baan Teelanka – The UpsideDown House Museum
This small but entertaining museum is a great place to visit if you feel like a break from the sun, sand and sea. The 13-metre high house on stilts, is built standing on its head, so that you enter through the roof at the bottom and go upstairs to the main living area. It's slightly disorienting, but the fun really begins when you start to take photos of your family standing on the ceiling–the kids really enjoy flipping the camera to see it look "normal."  The house is full of clever details like the real fish in the aquariums swimming upside down and, the highlight, a real Tuk Tuk with which to pose as if you're flying off the back. If you're unsure how to take the photos, simply ask the incredibly helpful and knowledgeable staff. There's also a maze and an escape room if you have longer than the recommended hour.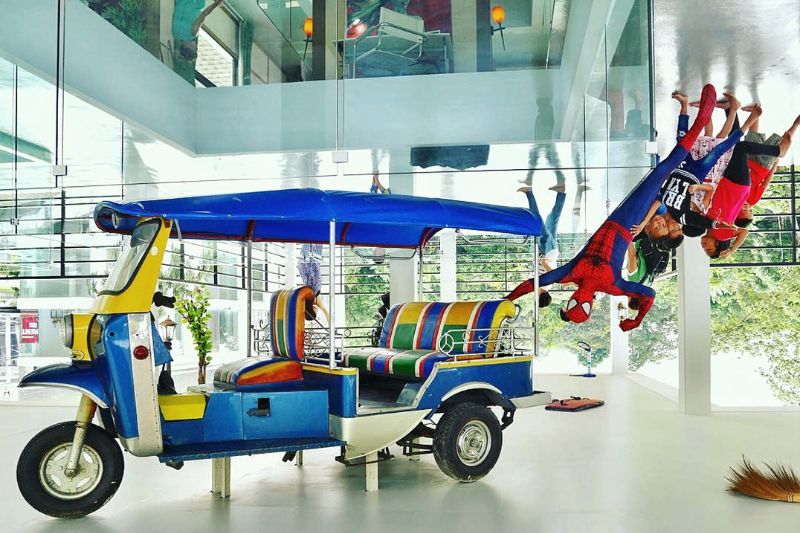 The Gibbon Rehabilitation Project
Unlike many of the attractions which feature animals doing tricks for tourists, this sanctuary aims to educate people about the cruelty involved in domesticating these wild animals. Set up in 1992 to rescue, rehabilitate and repopulate gibbons, the large rainforest space in the national park currently houses 15 gibbons which have been saved from the illegal pet trade. Some will be reintroduced back into the wild, while others will spend their lives being cared for at the centre for various reasons. Since Covid, guests are no longer able to wander freely between the cages, but hourly slots are available for booking in which members of the team will share their experience of getting gibbons ready to go back to the wild. Kids will enjoy choosing their gibbon to "adopt" at the end! You can also visit the beautiful Bang Pae waterfall next door (bring swimmers if you want to get in!) and enjoy amazing food at Peang-Prai restaurant next door. https://www.gibbonproject.org/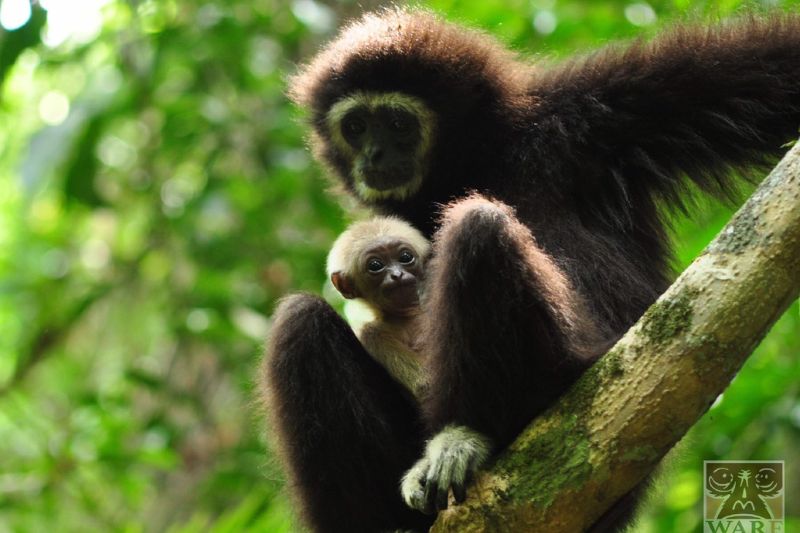 You might also like to read:
Take a virtual tour of Thailand