Reading Time:
< 1
minute
Vanilla Cupcakes, serves 12, vegetarian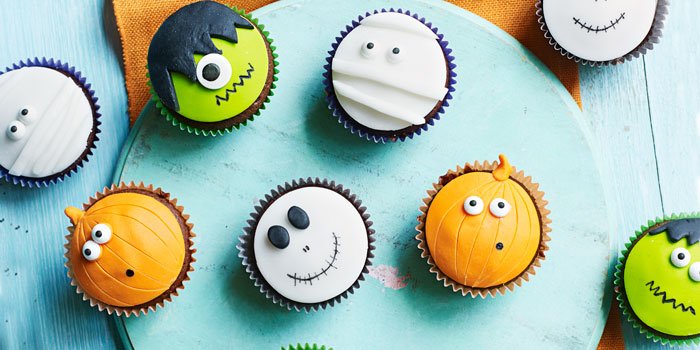 Ingredients
100g butter, cubed
100g plain chocolate
100g golden caster sugar
1 egg
½ tsp vanilla extract
125g self-raising flour
250g white fondant icing
500g mixed pack coloured fondant
You will need
paper cases
icing pens
icing eyes
Method
Heat oven to 160C/140C fan/gas 3. Line a 12-hole cupcake tin with paper cases. Gently melt the butter, chocolate, sugar and 100ml hot water together in a large saucepan, stirring occasionally. Set aside to cool a little.
Stir the egg and vanilla into the chocolate mixture. Put the flour in a large mixing bowl, then add the chocolate mixture and stir until smooth. Divide the mixture evenly between the paper cases; they should be about three-quarters full. Bake on a low shelf in the oven for 20-22 mins. Press on the cupcakes to check if they're cooked; the tops should spring back. Remove from the oven and leave to cool.
Use the image above as a guide to decorating the cupcakes. Packet fondant can often be quite sticky; if yours is, pat walnut-sized lumps of fondant over the surface of each cake, rather than trying to roll it all out. Knead yellow and red fondant together to make orange icing. Make extra decorations, like hair and mouths, out of fondant and stick them on using a little water. Use the icing pens to draw lines in the fondant. Add icing eyes wherever you like.
Recipe from Good Food magazine, October 2018