Reading Time: 4 minutesA night under the stars and breakfast with goats? Does such an experience exist in Hong Kong and if it does, is it any good? We try out Glamping in Hong Kong with a stay at Saiyuen in Cheung Chau
I've never been completely sold on the idea of camping. To be honest I'd rather stay in a hotel than in a tent. So when I suggest visiting a campsite for two nights (two nights?!) my family and friends are understandably surprised.
I've set my sights on Saiyuen Camping Adventure Park, located on the island of Cheung Chau and probably the closest thing to 'glamping' I can find in Hong Kong. This is no ordinary stick-your-tent–up-in-a-field campsite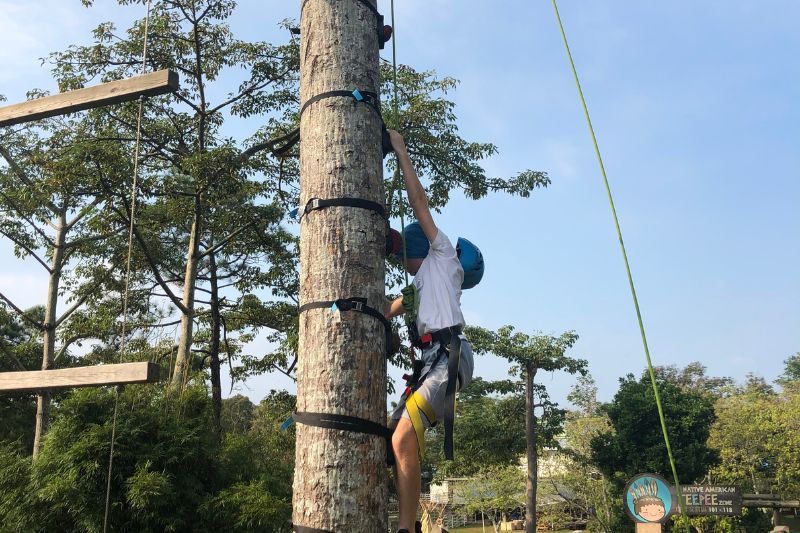 Getting There
There's something about taking off on a ferry that makes it feel like we are really going on holiday (or maybe that's just the ridiculous amount of luggage, and the fact that we've not been overseas for what feels like years). When we arrive in Cheung Chau there's a different vibe compared to other parts of Hong Kong; bicycles take the place of cars, making the pace of life seem slower, and stalls sell dried fish along the seafront. All of this helps enhance that holiday feeling.
After a spot of lunch at one of the seafood restaurants (the squid is generally very good in Cheung Chau) we take the short sampan trip and 10-minute walk to reach the campsite.
Saiyuen is hidden behind high walls and a big red gate; but the expanse of green grass that welcomes us has the kids whooping with delight. There is space. There is real grass. There are trees to climb. And there are activities to enjoy – albeit overpriced (more on that later).
Accommodation
First the accommodation. Saiyuen has a range of tents inspired by different parts of the world and to suit different group sizes. There's the African Safari Tents which come in three sizes; the Mongolian Ger; the Native American Tee Pee, the Star Gazing Geodesic Dome and the Sunset Vista – which appears in lots of photo shoots but seems to always be booked. You can also pitch your own tent in specific areas within the grounds.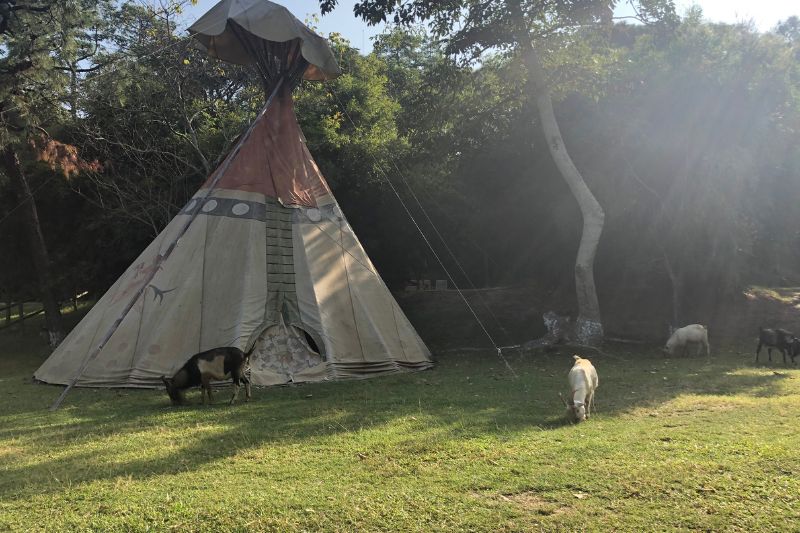 We stay in a large African Safari Tent; after all, it's the closest I'll get to an African Safari anytime soon. The tent is set up with two double and two single camp beds, complete with bed linen and pillows. There are two ceiling fans, lights and there's even an air conditioning unit. There's a sink outside and a picnic bench. It surpasses all expectations. The XL Safari Tents have a bathroom, like a portacabin, attached to the rear of the tent. Guests of the Medium and Large Safari Tents, and American Tee Pees use the shower and toilet cubicles located nearby, but they are clean and work well. It's not too much of a challenge to use them. The shower block is clearly the place to be for the local mosquitoes, though, so be ready to swat!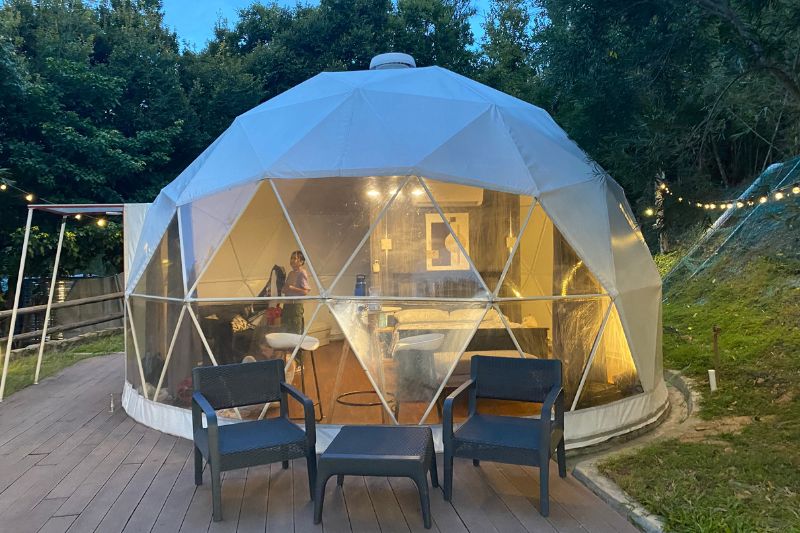 Each of the three Mongolian Ger have their own small garden with fairy lights and a BBQ, but for the African Safari, Tee Pees or pitch your own tents you'll need to rent a BBQ. Arguably this should be part of the overnight accommodation package, but in Hong Kong it's not a surprise to be charged for all the extras. It's also worth noting that the BBQ won't be placed near your tent; all BBQs are located in a covered BBQ area with seating, which you will be allocated once you've reserved the BBQ. Meat and vegetables can be pre-ordered and collected at reception to save you lugging them with you (leaving more capacity to bring specialised items or a bottle of nice wine). You can also rent an esky and buy ice. There is a shop at reception, but it sells mostly crisps and sweets, ice cream and drinks etc.
As well as being a campsite, Saiyuen is also an adventure park. Day passes are available, dependant on COVID-19 restrictions. Recently only staying guests have been able to enter the park and enjoy the activities. Activities available include Bubble Soccer, Disk Golf (which looks fun, but seems expensive for what it is), Bubble Waffle Workshop, Beggars Chicken, Archery, Climbing Monkeys, Junior Abseiling and Tree Top Canopy Walk.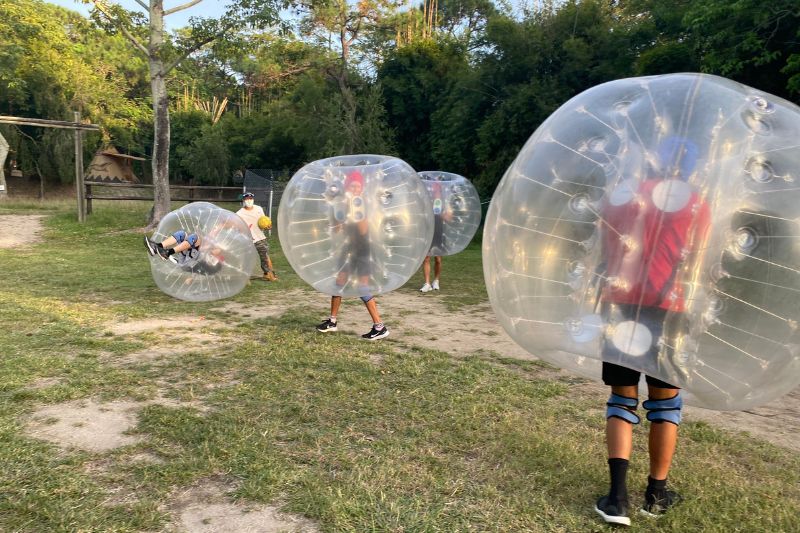 Activities
As we are here for two nights we have time for the kids to try the climbing package, which consists of several of the climbing activities and costs $780 per person. This activity is suitable for children age 12+. For our older children the Tree Top Canopy Walk is a hit while the younger ones like the Monkey Climb. Both are smaller than they appear in the pictures but if you manage everyone's expectations, the children will still enjoy them. The cost of the activities soon adds up, but it's all part of the fun and if it's your first visit to the camp, I recommend getting stuck in.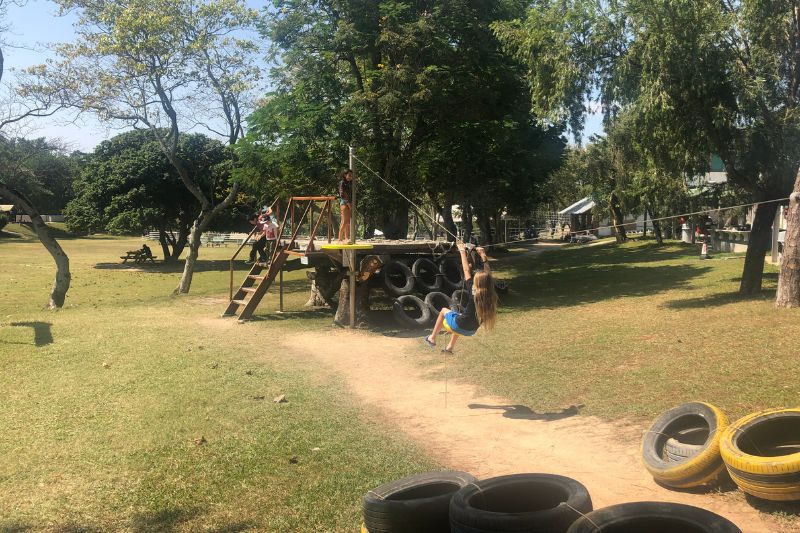 We also sign up for Beggars Chicken. While this initially seems a bit expensive, if you think of it as providing dinner, it actually works out to be good value. We put the children to work (making Beggards Chicken is actually a pretty strenuous task) and they really get stuck in. It also means we can eat in the outdoor area where the activity took place.
Saiyuen has lots of places to sit outside, and it is just a few minutes walk to a small ungazetted beach, so families are well entertained even without booking any activities. There is also a wooden climbing frame with a small zip line that has no charge. Plus plenty of trees to climb and space to kick a ball around. And there are goats. Younger children love seeing the goats, which are released to roam around the grounds several times during the day. Be warned, though, they do like to join you for breakfast and will eat whatever is within their reach! And I mean Whatever!
Cheung Chau
Cheung Chau itself has lots of great cycling and walking paths and plenty to see and do. Take a stroll to the To Cheung Po Tsai Cave, or try some watersports at Cheung Chau beach. If you find yourself craving food that you didn't bring, there is a lovely little French restaurant called Pirate Bay within walking distance. It's pretty small so best to book during peak times. The crepes are delicious.
All in all, our group thoroughly enjoy our stay at Saiyuen. While it may not be cheap, and arguably we could have booked a hotel package for less (given current promotions) it is an unforgettable experience and one that I'm very happy we tried. Visiting with a few families works especially well and will ensure your children, and you, have a blast.
*As a disclaimer, when we visited the weather was perfect. Blue skies; warm enough to swim at the beach, but cool enough not to need the air conditioning. I still consider myself a fair weather camper, or should I say "glamper". I'm not so sure I'd brave it in hotter and wetter climes.